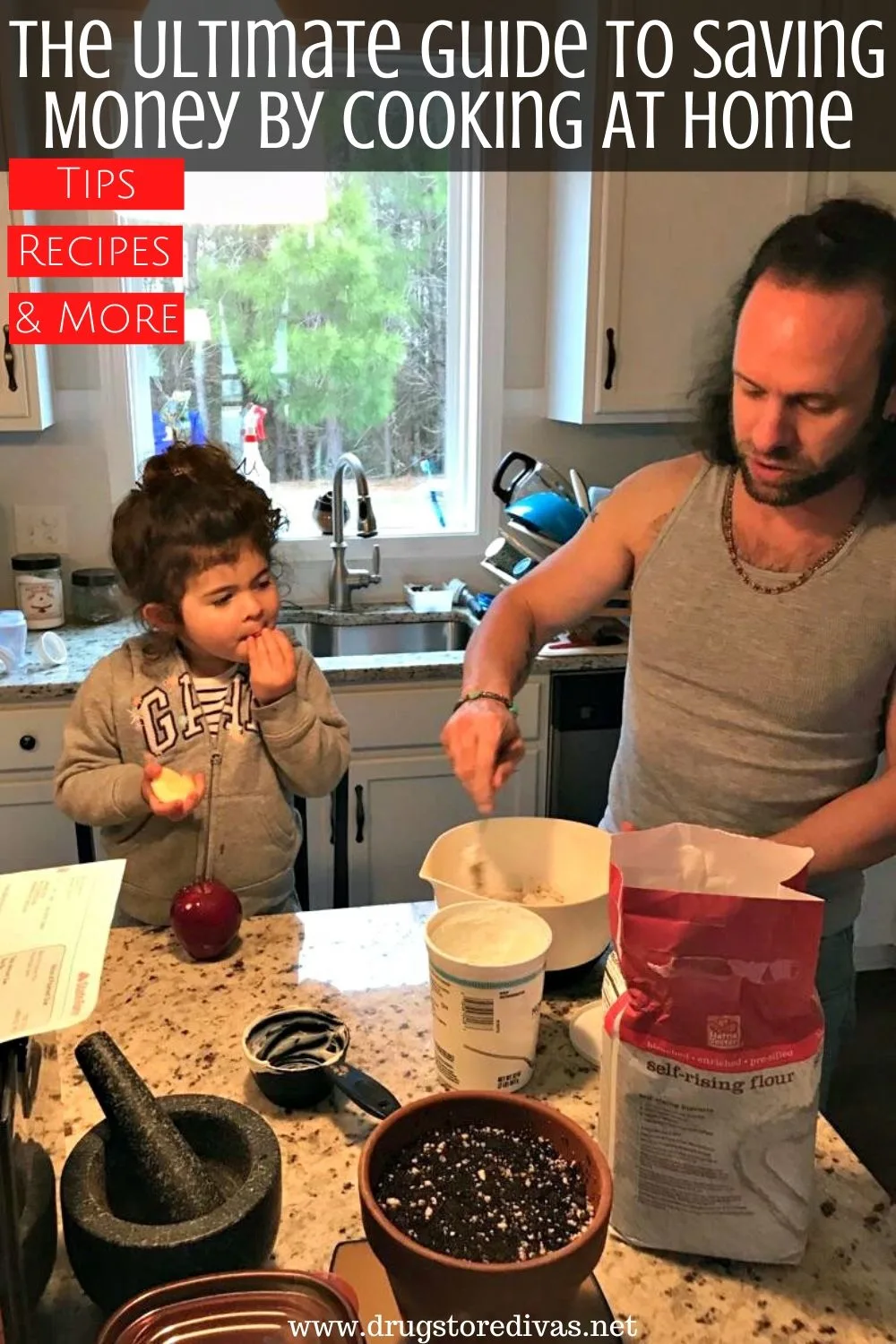 Right now, you're probably cooking at home a lot more than usual. It's a great way to save money. But coming up with ideas night after night can get challenging. Plus, you might be looking at that bad of potatoes thinking, "What the heck can I do with these?" To help, I put together The Ultimate Guide To Saving Money By Cooking At Home.
This guide starts with a bunch of tips to help you get start cooking at home.
Then, the rest of this guide is recipe lists broken down by ingredient. And they're in (mostly) alphabetical order.
What I did to make those recipe guides easier is I put everything in a list. So that means the page is actually searchable. You just need to hit "Ctrl" + "F" on your computer and a box will appear at the top. Type in the ingredient you're looking for and if we have a list featuring that ingredient, you'll see it highlighted.
They're broken into the following sections: Recipes With Vegetables, Recipes With Fruits, Snack Recipes, Appetizer Recipes, Breakfast Recipes, Dinner Recipes, Drink Recipes, and Dessert Recipes.
Of course, there could be a little overlap between some, so I used my best judgement.
As I add more recipe lists, I'll be updating this guide. So be sure to bookmark it and check back regularly.
The Ultimate Guide To Saving Money By Cooking At Home
Tips For Cooking At Home
Don't Worry About Equipment
If you're just getting started cooking at home, you need a few kitchen items, but not all of them. Measuring cups, measuring spoons, and at least one large pot with a lid are a necessity. A large saute pan would be great, but If you need to saute some vegetables, you can get away with doing that in your pot if you have to. But you can't make a batch of spaghetti sauce in a pan, so if you have to choose between the two because you're on a budget (and that's why you're cooking at home in the first place), get the pot.
Sheet pans are pretty helpful. A muffin pan is great, and I use ours a lot, but it's not something you have to buy if your money is limited. Non-metal cooking utensils are something you want to buy or you'll ruin that large pot of yours. Metal cooking utensils will scratch the bottom of your pots and pans and you'll end up having to toss them.
Other than that, don't worry about it.
Eventually, as you cook more, you'll add more skills and more equipment to your kitchen.
You Don't Need Cookbooks
Cookbooks are great. My brother and his wife got me Bravetart for my birthday this year and it's filled with recipes for classic American desserts and it's amazing. And I have a baking book, with recipes for bread and pretzels and desserts, that I bought myself and moved into my first apartment and I still reference.
But cookbooks can be really expensive. And if you're trying to save money, you don't have an extra $25 to drop on a book. That's fine. Pinterest has so many recipes out there. And if you check out Drugstore Divas on Pinterest, we have a full board of just our recipes that you can check out.
Many recipes on Pinterest lead to blog posts. Keep in mind that these are free recipes. So much cheaper than the cookbook, right? But even though the recipes are free, it's not free for the blogger to post them and put them online. So some bloggers will tell you a story about how their recipe is inspired by their first blind date or the time they adopted a cat before telling you how many eggs to put in a cake. Just let them. You're getting their work for free. The least you can do is find out why the cat is named Snowball before you get to a recipe for homemade snowball pastries.
Read The Recipes
I can't stress this tip enough. Read the recipes. Before you start cooking, read through the entire recipe so you know what you're doing. You want to make sure you have all the steps down and understand what you have to do. Then start cooking.
If you don't read the recipe first and just dive right in, you may end up missing something that can ruin the whole recipe. And then you end up frazzled and trying to fix it on the fly. Except (and this I've learned from experience) if you're just learning to cook, you don't know how to fix things on the fly. Which leads me to my next tip …
Don't Substitute … Yet
If a recipe calls for self-rising flour, like our very popular 2 Ingredient Dough, and you only have all purpose flour, don't google recipes to see how to turn all purpose flour into self-rising flour. Yes, it's possible. But will your recipe come out right? Maybe not. And then that will turn you off from the recipe and potentially from cooking.
So read the recipe and make sure you have the right ingredients. If you don't, go out and buy them or pick a new recipe to make.
Shop Responsibly
For me, every item has a price point. I like paying $.25 a roll for toilet paper, for example. I have price points for specific grocery items too. If you know what price things go on sale for, you know if it's a good time to buy it or not. Like right now, asparagus is on sale all over for $1.49. It can go over $3. So now is a great time to make asparagus pesto. When asparagus is over $3, it's not.
If you check the sales fliers before you head out to the store, you can see what's on sale. Then, you can check back here and look for recipes using those ingredients. That will definitely help you save quite a bit on your grocery bill.
Focus On Easier Meals
You don't need to be Gordon Ramsey right away. Like, don't start with the beef wellington. Everyone on Hell's Kitchen messes up the beef wellington, and those people are trying to cook for a living. You're just cooking for dinner.
Start simple. Start with mashed potatoes. No. Seriously. People mess that me. Me. I'm people. When I was first teaching myself to cook, I was just winging it. I thought mashed potatoes was just baked potatoes with the middles pulled out and mixed with milk and butter. So, honestly, those tips about finding and following recipes? I needed those tips. But I went from sauce sandwiches (literally, just sauce and shredded cheese on white bread because I had my mom's marinara sauce recipe but not her meatball recipe) to freaking gourmet meals. There's nothing that I feel like I can't cook now. So start realistically and work your way up to that beef wellington.
Stick with us and you got this.
Recipes With Vegetables
Recipes With Fruit
Snack Recipes

Appetizer Recipes

Breakfast Recipes
Dinner Recipes
Recipes Using 2 Ingredient Dough
Fish Recipes (Plus Salmon Recipes)
Meals You Can Make During A Hurricane
Recipes Using Taco Seasoning … That Aren't Tacos
Vegetarian Green Salad Recipes
Weight Watchers Grilling Recipes
Zero Point Weight Watchers Freestyle Program Recipes

Drink Recipes
Dessert Recipes