It's always the perfect time to take out the slow cooker and make some soup. Get inspired with The Best Slow Cooker Soup Recipes and tips on how to make them.
If you want more soup ideas, even non-slow cooker ones, check out all our soup recipes.
I love soup. It's probably my favorite meal. I make soup all the time during the fall and winter. And of course, some of my favorites are slow cooker soup recipes.
I'll put the ingredients in the slow cooker in the morning, and our home smells delicious all day long. By dinnertime, the soup is ready.
If you're looking for new recipe ideas, check out our list of slow cooker soup recipes. I collected our favorites for you to try.
As we add more slow cooker soup recipes to Drugstore Divas, we will update this list. So be sure to bookmark it so you can come back later.
Soup is just one of the types of slow cooker recipes you can make. For more ideas, check out our list of Budget-Friendly Slow Cooker Recipes.
Best Slow Cooker Soup Recipes
Affiliate links are included in this post and Drugstore Divas may make a small commission if you use them.
Slow Cooker Chicken Soup
Chicken Soup is so easy to make in the slow cooker. It's a lot more hands off as compared to the stove top version, which is good if you're making this when you're not feeling well.
Slow cooker chicken soup freezes well too, so you can make it when you're feeling good and defrost it when you're feeling sick.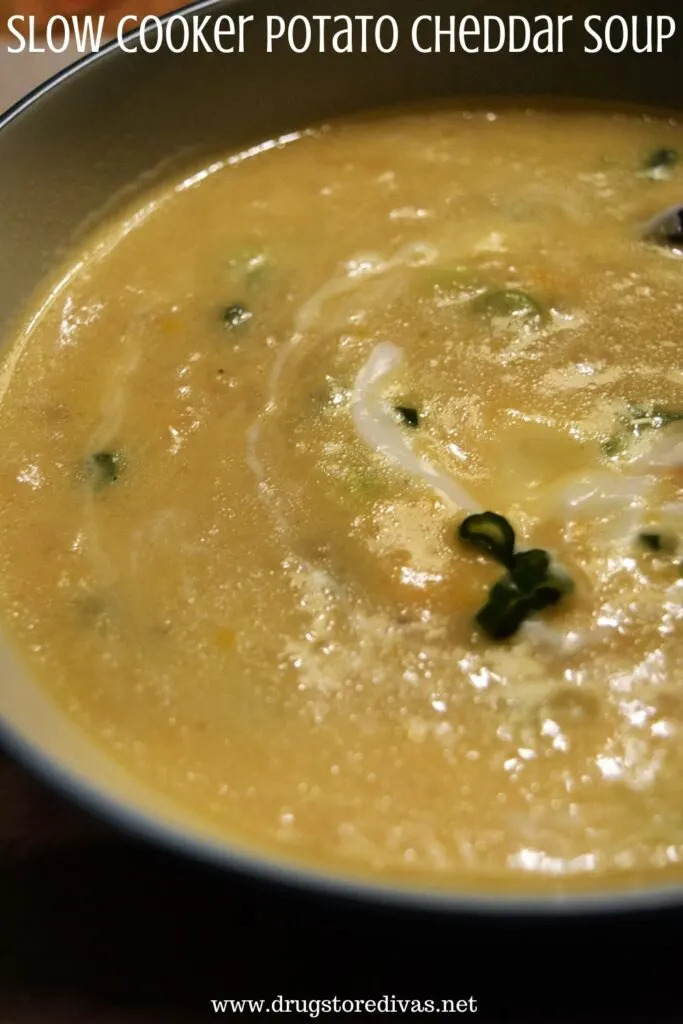 Slow Cooker Cheddar Potato Soup
I make this Cheddar Potato Soup all the time during the winter. There's a bit of chopping involved, but after that, this soup is pretty much hands off.
Slow Cooker Taco Soup
Taco Soup has all the flavors of tacos with the comfort of a soup. You do need to cook the meat before putting it into the slow cooker, so account for that time when you're thinking about making this.
What slow cooker should I buy?
I love our slow cooker and use it all the time to make dinner. I use it to make soup (obviously), dinners, appetizers, and side dishes. You can make either your whole meal or part of it in the slow cooker. It's a great kitchen appliance.
We specifically have this Cook & Carry slow cooker, if you want to get the same one as us. It is a 6-quart and that's enough space for me to make six servings of dinner comfortably.
What I really love about that specific model is that there are latches on both sides, so you can transport the slow cooker when dinner is done. My parents live two doors down from us to the left, and Pete's dad just bought the house two doors down from us on the right.
So, this is perfect for us to cook something in, then close the latches and carry it over to one of our parents' houses.
This slow cooker is great because the removable stone insert doubles as another cooking vessel. It can safely go in the microwave and the oven (up to 400 F). Not all slow cookers can do that, so this model means you're getting a few different uses out of it.
We actually paid for our slow cooker (we didn't get it as a review and weren't asked to post this). I just really, really love this specific one.
Slow Cooker Soups: Frequently Asked Questions
When should you cook the meat for slow cooker soup?
If you have time, cook the meat first.

Sometimes, you just don't have time, so you dump everything into the slow cooker and forget about it. And that's fine.

But if you do have some extra time, marinate meats like beef and sear them on the stove before adding them to your slow cooker. They'll impart more flavor into your soup that way.
Does vegetable size matter in slow cooker soups?
In order for everything to cook evenly, cut uniform vegetables.

You want to make sure everything in your slow cooker soup is roughly the same size. Plus, it's just easier to eat soup when everything is the same size.
How should I layer ingredients in slow cooker soups?
You don't want to haphazardly put all the ingredients into the slow cooker.

Put longer cooking ingredients at the bottom because they will cook faster due to the surface area of the bottom.

Keep the more fragile ingredients, the ones that will burn quickly, on top. Carrots and potatoes are good at the bottom; butter should stay at the top.
Can you add pasta to slow cooker soups?
If you want to add pasta to one of these slow cooker soup recipes, add it at the very end.

Pasta will get incredibly mushy if you add it too early. It will also absorb a lot of your broth, leaving you with hardly any soup.

Boiling pasta on the stove, then tossing it into the slow cooker after the soup is done is your best bet.
Can you overcook soup in a slow cooker?
Soup can't really overcook in a slow cooker because the temperature of a slow cooker is generally so low. So don't worry about overcooking your soup.
Slow Cooker Soup Cookbooks:
If you want more slow cooker soup recipes, you should definitely grab one of these cookbooks below:
For more slow cooker cookbooks, not ones that are specifically for soups, check out the following stores:
Remember to check a store's minimum cart total to qualify for free shipping. Also, consider instore or curbside pickup to avoid shipping charges.
Which of these Slow Cooker Soup Recipes are you going to try first? Let us know in the comments.