Your sides will outshine the turkey if you make one of these Thanksgiving Side Dish Casserole Ideas to go with your holiday dinner.
Make this the best holiday yet with help from the rest of our Thanksgiving posts.
I can't believe it's almost Thanksgiving. This year is so weird. The calendar says it's November, but my brain still says its summer. Mostly because it was shorts weather yesterday. North Carolina weather is nice, but it's never that nice this late in the year.
But somehow, it's November and it's time to plan Thanksgiving. At least I know which of my Thanksgiving side dish casseroles I'm making.
Corn casserole, if you're wondering.
It's my favorite. And I know everyone else likes it (because it's one of the best Thanksgiving side dishes), but no one else will make it. So if I want it at Thanksgiving, I have to be the one to make it.
I always feel like I should make two, though, because I never end up with leftovers. If only I had more than one casserole pan.
Thanksgiving Side Dish Casseroles
Affiliate links are included in this post and Drugstore Divas may make a small commission if you use them.
Vegetarian Brussels Sprouts Casserole
Brussels sprouts are such a staple at the Thanksgiving table. But so many people serve really boring, bland, boiled Brussels. End that right now.
Instead, serve your family this Vegetarian Brussels Sprouts Casserole. It's packed with flavor and Parmesan cheese. And the flavor of the Brussels sprouts come through. Most Brussels sprouts recipes hide their flavor with bacon, but this doesn't need to.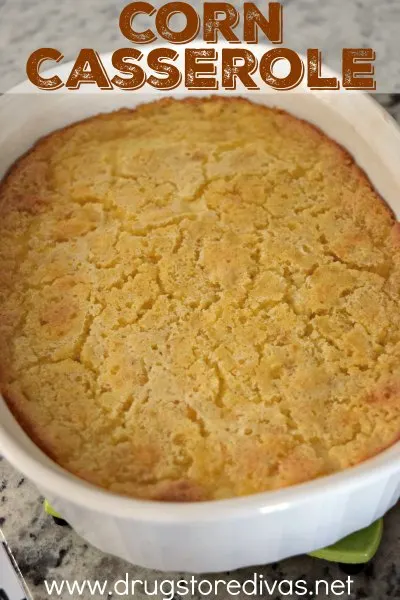 Corn Casserole
Corn Casserole is my favorite Thanksgiving side dish recipe, so of course, it had to kick off the list.
It's so easy to make. You just put all the ingredients into a casserole pan, stir, and bake. There's nothing to cook ahead of time, so it's super simple. Which you need on Thanksgiving because everything else you make is really hands on. So this dump and go casserole will be your new favorite.
And, if you have leftovers, it's even better then. Heat it up in the microwave with a dollop on butter on top and it's incredible. Trust me.
Baked Sweet Potato Casserole
I wait for sweet potato season so I can buy them and make this Baked Sweet Potato Casserole. What I really love about it is you don't need a casserole pan. You can just bake the "casserole" right in the sweet potato itself.
Plus, this is a really fun way to serve sweet potato casserole on Thanksgiving. You aren't making one huge casserole where someone can take all the marshmallows and leave the next person with too much potato. Instead, everyone gets the perfect ratio.
Mushroom And Rice Casserole
I usually make this Mushroom And Rice Casserole as dinner for me and Pete, but if you're having a crowd over for Thanksgiving dinner, you can serve it as a side dish.
It's easy to make and really hearty. The rice cooks in the casserole pan, so you don't have to cook it ahead of time, which is less steps for you.
A lot of vegetarian recipes call for mushrooms to substitute for meat (like our Vegetarian Philly Cheesesteak recipe) because it's pretty substantial and filling. So, if you needed something to serve as a main dish casserole, this would work as that.
Cheesy Zucchini Cornbread Casserole
You can't go wrong with this Cheesy Zucchini Cornbread Casserole. It's a delicious twist on traditional cornbread that's more moist than the plain recipe. It's packed with a full pound of zucchini and a ton of cheese (inside and on top!).
Plus, this is most interesting than regular cornbread. That one is served at nearly every Thanksgiving dinner, but no one really wants to waste the room in their stomach on it, so it's usually all left over. If you jazz up the cornbread with zucchini, you'll have way less left at the end of the meal.
Mushroom And Kale Pasta Casserole
If you can't decide between pasta salad, veggies, or a casserole, you can combine all of them with this Mushroom And Kale Pasta Casserole recipe. Plus, part of the fun of Thanksgiving is mixing all your food together and trying to eat as much of it as you can. This casserole basically does that for you.
This one is also really good reheated the next day (just add a drizzle of olive oil), so if you make it and have some leftover, you can eat it for lunch. That way, you're not the one stuck eating leftover turkey for the rest of the weekend.
Mini Hash Brown Casserole
Don't mind that this says it's a breakfast casserole. We actually eat this Mini Hash Brown Casserole as dinner more often than breakfast. But hash browns just feel like breakfast most days. But not on Thanksgiving. On Thanksgiving, hash browns feel like a great side dish and an alternative to mashed potatoes.
This hash browns are cute because they're served in individual ramekins. So, if you're having a small Thanksgiving, these will be perfect. If you're having a lot of guests, you can just make this in a casserole pan instead.
What casserole pan do I need for side dish casseroles?
For these side dish casseroles, I would use a 1.5-quart round casserole pan. That's the perfect size for a side dish.
For our main dish casseroles, I use a 2.5-quart oval casserole pan. For side dishes, though, that's too much. You'll pull it out and people will think it's a main dish since the pan is so large, and they'll fill up on it. Then, no one will have any room for your actual main course.
If you use a smaller casserole pan, they'll understand it's just a side and scoop out an appropriate portion.
Main dish casseroles for Thanksgiving:
If you're looking for main dish ideas, check out our list of Thanksgiving Main Dish Casseroles. These aren't substitutes for turkey, but they're casseroles you can serve in addition to your turkey.
Order side dish casseroles for Thanksgiving online:
If you want a casserole for Thanksgiving, but you don't have the time to cook one, you can just order a casserole online with the following delivery services:
Just be mindful of the dates for when some of these places can deliver. Thanksgiving is right around the corner, so you want to make sure you can get your casserole on time.
More Thanksgiving Ideas:
If you want a little inspiration for your Thanksgiving turkey this year, deep fry it. Read our Tips For How To Deep Fry A Turkey before you start.
If you want an easy dessert, try our No Bake Thanksgiving Nutter Butter Acorns Recipe. And, finally, don't forget to hand out Thanksgiving Blessing Mix so your guests really think about the reason for Thanksgiving.
Which of these Thanksgiving Side Dish Casseroles is your favorite? Let us know in the comments.