Salads are such a good side dish. And, you can really vary them so they're not boring. Get inspired with our list of Quick Vegetarian Salad Recipes.
For more ideas of what to make, check out all of our vegetarian recipes.
I love salad. We have a green salad almost every night with dinner. A salad is a perfect side dish. But, what constitutes a salad really varies. There are so many different ways to define "salad," right? There are pasta salads, green salads (which include any green vegetables as a base), and side salads that (most likely) don't include anything green.
This list covers them all.
We broke the salads down into those three categories so you can quickly scroll through and find some new side dishes to serve with your main dishes.
To make this list, there were two major caveats: The salad had to be vegetarian and the recipe had to have the word "salad" in the title.
Also, I excluded any type of sandwich salads. We do have a very popular Egg Salad Sandwich, which is vegetarian, but doesn't fit with the spirit of this list.
If you're looking at these vegetarian salads because you're trying to add some more vegetarian meals in your life, check out our Meatless Monday Vegetarian Recipes list for more inspiration.
10 Quick Vegetarian Salad Recipes
This salad recipes list is broken into three categories: pasta salads, green salads, and side salads. Of course, some of the recipes could fit into multiple categories, but I added them to the list that felt most fitting.
As we add more vegetarian salads to Drugstore Divas, we'll be sure to update this post. So be sure to save it (pin it, bookmark it, etc.) and come back to it from time to time to see what new recipes are on the list.
​Pasta Salads
Many pasta salad recipes are packed with salty meat, but not these. They use fresh vegetables and pasta to tantalize your taste buds.
Orzo Greek Salad
Orzo is usually reserved for soup, so it's fun to use the pasta in this Orzo Greek Salad. It's unexpected. Unless, of course, you shop at ALDI often because this recipe is a twist on a packaged Greek salad that's sold there. Making this pasta salad at home, rather than purchasing it already made, is an easy way to save a little bit of money (which we're all trying to do these days).
This is packed with bell peppers, olives (kalamata olives make the most sense, but you can use any), and feta cheese. You can serve it warm or cold.
Taco Pasta Salad
Two years ago, this Taco Pasta Salad was my go to pot luck recipe. Everyone was asking me to bring it over. Since it's so easy to make — and super tasty — I didn't mind.
Pasta, tomatoes, olives, and green onions combine with seasoning, salad dressing (that's the secret ingredient), and tortilla chips (that's the best part) to make a pasta salad that's accidentally vegan.
Vegan Pasta Salad
Chickpeas add such a great depth of flavor to this Vegan Pasta Salad. It's accidentally vegan, not vegan by omitting meat, so you really get a tasty bite from building up flavors.
This pasta salad also has roasted eggplant and tomatoes in it, so it's pretty interesting for a pot luck.
Green Salads
As long as some type of salad greens acts of the base of the fresh salad, we added the recipe to this section of the list.
​Mexican Corn And Zucchini Salad
The green in this salad comes from two fresh zucchini. But, that's not the only ingredient in this delicious veggie salad. There's also fresh corn and red onion.
It's seasoned with Mexican forward flavors: Tajín seasoning, lime crema, and queso fresco. It'll be your new go to recipe to enjoy all that tasty summer produce.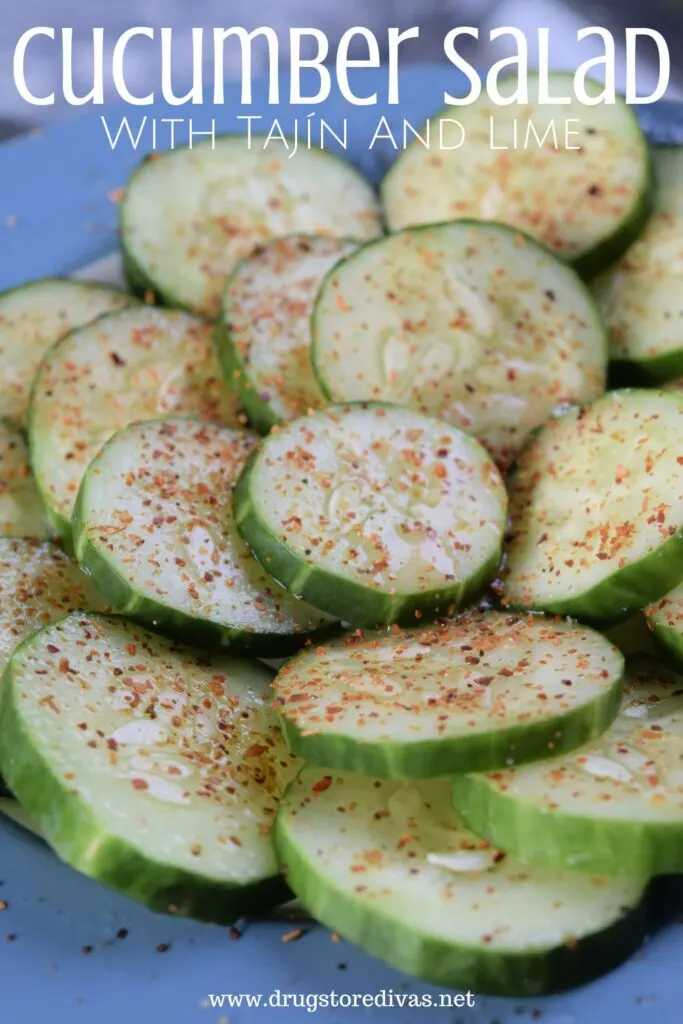 Cucumber Salad With Tajín And Lime
​If you're looking for a way to use the cucumbers growing in your garden this summer, make this Cucumber Salad With Tajín And Lime. It takes less than five minutes to make. You just slice the cucumber, top with lime juice, Tajín seasoning, and salt.
We always serve this big salad family style, but you could serve everyone their own salad in a small bowl if that's easier for you.
Grilled Caesar Salad
This Grilled Caesar Salad is such a fun twist on a traditional Caesar Salad because yes, you actually do grill the Romaine lettuce. The result is a charred, crisp lettuce that's so good. It's super easy to eat the entire serving.
What's fun about this delicious salad is you actually grill the croutons on the salad too (which is a lot easier than it sounds).
Shaved Asparagus And Radish Salad
A green salad means the base of the salad is a green vegetable. It doesn't strictly mean leafy greens. Which is how this Shaved Asparagus And Radish Salad makes the section.
This salad does take a little bit of time because you're shaving the asparagus with a vegetable peeler and the radish with a mandolin. But it's worth it for this really fresh side salad, dressed only with lemon juice and olive oil.
Red, White, And Bleu Kale Salad
We originally made this Red, White, And Bleu Kale Salad for a patriotic party. It's a great addition to your Memorial Day or July 4th party spread. But, you can serve it anytime and it still tastes as good.
Kale is the base and berries and croutons are added, then drizzled with salad dressing. This summer salad is best when berries are in season.
Cucumber Feta Salad
Fresh, garden cucumbers are the base of this incredibly simple green salad. If you don't have garden cucumbers, store-bought (and especially English cucumbers, the ones that are generally wrapped in plastic in the store) work too.
Dress them and feta cheese with extra virgin olive oil and red wine vinegar for a really great side dish.
Side Salads
This section is a little bit of a free for all, but that's what makes it fun.
Garden Tomato Salad
This Garden Tomato Salad is a great way to use the fresh tomatoes and fresh herbs growing in your garden. But, if you don't have a garden, cherry tomatoes from the grocery store are the perfect substitution.
You get the best flavor from this tomato salad if you let it rest overnight in an airtight container. But, if you don't have that kind of time, it's fine. You can serve this accidentally vegan salad as soon as you dress it.
Mexican Street Corn Salad
This Mexican Street Corn Salad (also called esquites) was our go to pot luck salad from last year. Everyone who eats it is obsessed with it.
You grill corn on the cob and a jalapeno pepper, then combine them with the traditional flavors of Mexican Street Corn, and serve it to your guests in a large bowl. Make it once as is, but next time, I bet you'll make a double batch because this salad is always a big hit.
Vegetarian Main Dish Recipe Ideas:
If you're trying to eat more vegetarian recipes, and you're looking for ideas of what to pair these vegetarian salad recipes with, you're in luck. We have a ton of vegetarian recipe lists to help you.
We have your three main courses covered. Start your day off with our Vegetarian Breakfast Ideas. Then, go with our Vegetarian Lunch Ideas (or, specifically, we have a Vegetarian Sandwich list if you bring sandwiches to work). And finish your evening with our Vegetarian Dinner Ideas.
If it's summer, make something from our list of Tasty Vegetarian Grilling Recipes, with grilled toppers for a veggie burger, vegetable kabobs, and more. And if it's winter, our Vegetarian Soup recipes will keep you warm.
And, if you're looking for snacks for a sports game, we have a great list of Vegetarian Game Day Recipes.
I you're just starting out and are looking for an overview, our list of Meatless Meals For Ash Wednesday & Fridays During Lent is a good start. Sure, it's not the Lenten season now, but Catholics can't eat meat on Fridays during Lent and Ash Wednesday, so that round up is all vegetarian ideas.
Which of these vegetarian salad recipes are you going to try first? Let us know in the comments.