If you following me on Instagram, you see our garden growing. It does great this year … with the exception of cucumbers. As soon as I plant them, they die. Or, if they grow, they hardly fruit. I try to vary when I plant them year by year, but it doesn't matter. I'm always so bummed because I love cucumbers and cucumber recipes.
Gotta go with store bought every year.
If you grow your own, or if you're shopping at the store like me, you'll love this ultimate list of cucumber recipes. Scroll through to choose between salads, sauces, drinks, and more.
At the end of the post, we have some tips about cucumbers too.
The Ultimate List Of Cucumber Recipes
3. Breadless Cucumber Sandwiches
7. Naruto Rolls
9. Chickpea Tomato Cucumber Salad
10. Cucumber Mint Pineapple Smoothie
12. Cucumber Tea Sandwiches – 3 Ways
13. Creamy Cucumber Radish Salad
14. Cucumber Salad With Avocado And Cashews
15. Smoked Salmon Cucumber Bites
16. Cucumber Avocado Watermelon Salad
19. Persian Mint and Cucumber Cooler (Sekanjabin)
21. Cream Cheese and Cucumber Sandwich
24. Cucumber Dip
26. Cucumber Gazpacho With Mango Habanero Salsa
27. Sugar Glazed Cucumber Bread
28. Cucumber Sorbet
29. Refreshing Cucumber Lemonade
30. Cucumber Salad (Asian Style)
32. Cucumber Sandwiches With Cream Cheese
33. Jalapeno Cucumber Mint Lemonade
34. Cucumber Salsa
35. German Cucumber Dill Salad
37. Cold Cucumber Buttermilk Soup
38. Cucumber Melon Cocktail Slushie
41. Sweet And Sour Cucumber Noodles
42. Cucumber Ginger Lemon Detox Juice
43. Tarator – An Albanian Cold Cucumber and Yogurt Soup
45. Bacon And Egg Cucumber Bites
48. Cucumber, Avocado, And Strawberry Salad
49. Chilled Avocado Cucumber Soup
53. Smoked Salmon Cucumber Bites
58. Cucumber Radish Dill Salad
59. Potato Cucumber Salad With Dill And Garlic
60. Cucumber Bites With Sun Dried Tomato Spread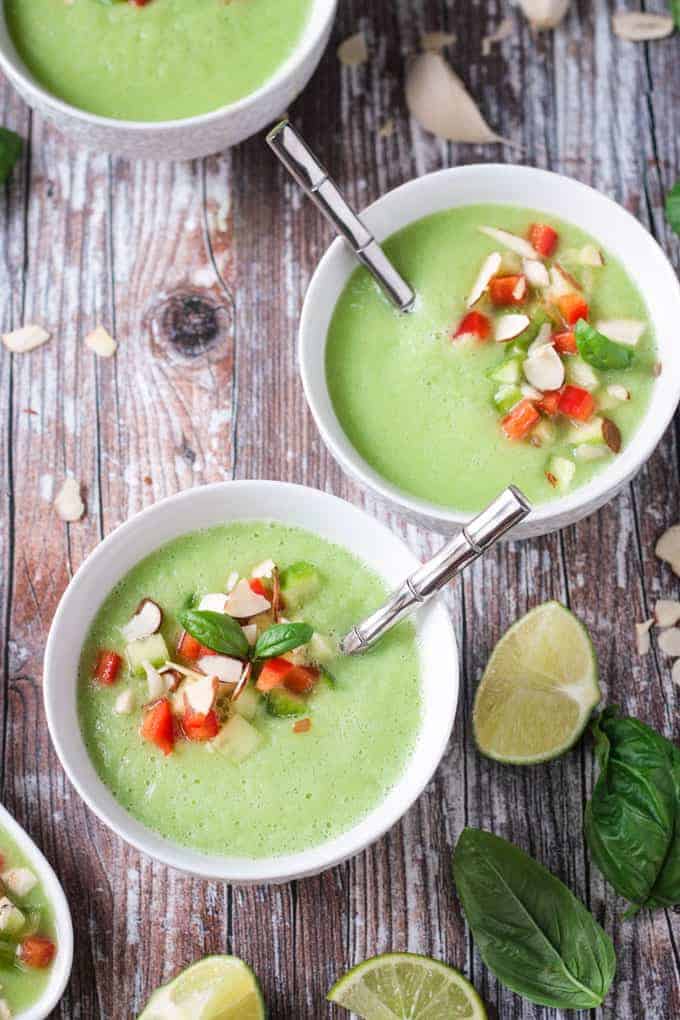 67. Kani Salad
68. Cucumber Grapefruit Basil Mojito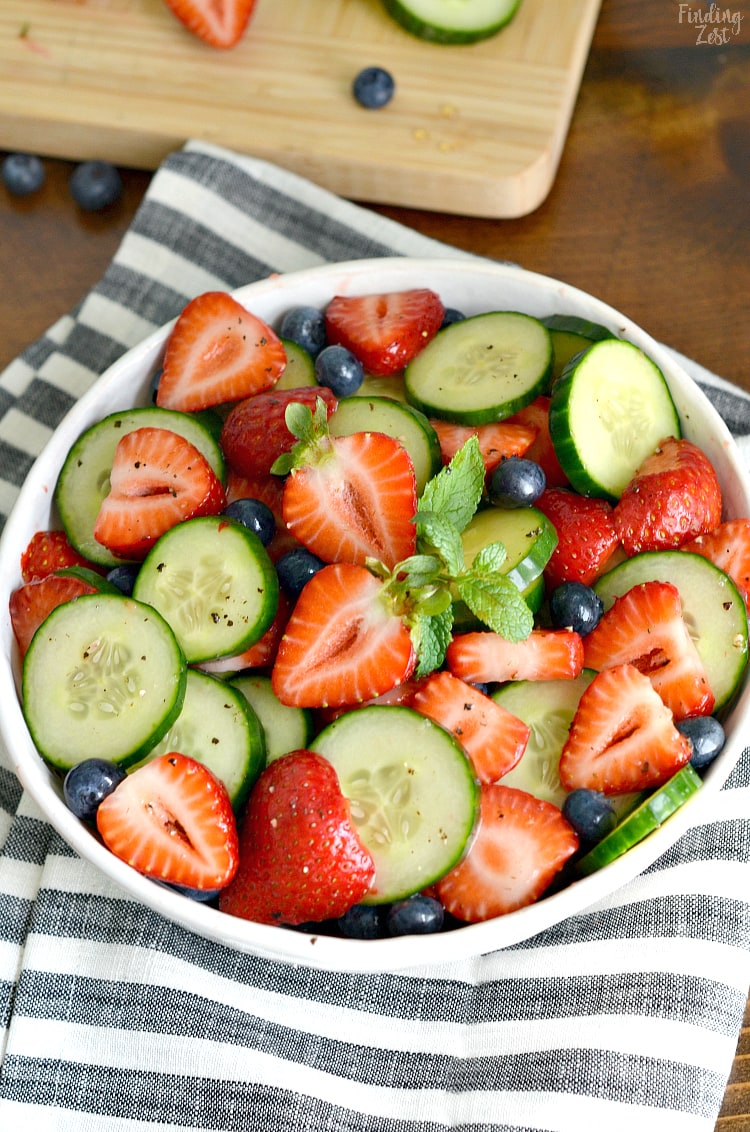 72. Hoisin Honey Pulled Pork with Pickled Cucumber Salad
73. Pickled Cucumber And Red Onion Salad
75. Spicy Cucumber Tomato And Water Chestnut Salad
77. Avocado Tzatziki Cucumber Appetizer
80. Spicy Shrimp Cucumber Salad
82. Low Carb Smoked Turkey Cucumber Sandwiches
84. Spicy Spiralized Turmeric Tahini Cucumber Noodles
87. Macaroni Salad with Cucumber and Radish
88. Israeli Couscous Tabbouleh Salad
90. Persian Yoghurt with Cucumber Recipe
91. Fresh Lemon Cucumber Mint Water
Do you have to peel a cucumber?
Most of the cucumber is water, and many of a cucumber's nutrients are in its skin. So eating the cucumber's skin is a great idea — especially if you have cucumbers in your garden and you know you grow them organically.
If you buy them at the store, you don't know if chemicals or pesticides have been sprayed on the cucumber. So, our rule of thumb is if we're eating the skin (like cucumbers, tomatoes, etc.), we buy organic. If we're not eating the skin (like oranges, bananas, etc.), we don't buy organic.
If you want to save some money and buy non-organic cucumbers, but still want to eat the peel, that's fine. Just be sure to clean it well with something like a veggie wash (or just really well in the sink).
Can you freeze cucumbers?
If you're like us and only going grocery shopping once a month, or if you are growing an abundance of cucumbers, you're probably wondering if you can freeze cucumbers.
Good news, you can.
Wash (and peel, if you want) the cucumber. Slice it, then put it on top of parchment paper and put it in the freezer for at least two hours or overnight. Once the slices are frozen, you can put the in a freezer-safe bag and keep them in the freezer.
If you don't freeze the cucumber slices first, they'll all stick together.
Frozen cucumbers will thaw out with a mushy consistency, which is different than fresh cucumbers. So you will get the cucumber taste, but not the texture. So your best bet is to use frozen cucumbers in a sauce or infused water rather than a salad.
Can you grow cucumbers from scraps?
If you know me, you know I love gardening from scraps. I regrow lettuce from scraps every chance I get. You can do that with celery, onions, and technically that's how to grow potatoes at home too.
But not everything can be regrown that way, and cucumbers cannot be regrown from scraps. So you can't just cut off the end of a cucumber, put it in fertile soil, and expect another cucumber.
Can you regrow store-bought cucumbers?
If you read the tip above, you know you can't regrow store-bought cucumbers by cutting off an edge and just planting that in dirt.
But, you can harvest some of the seeds from store-bought cucumbers, sprout them, and plant them.
We have a couple posts about that process (not with cucumbers, but with strawberries and spaghetti squash), so I don't want to complete rehash those here, but here's a quick tutorial.
When you're slicing the cucumber, set aside some of the seeds that land on the cutting board. Rinse off any remaining cucumber flesh from them. Set them in a bowl and let them dry about a week. Place them in the center of a piece of paper towel. Put that paper towel in a plastic bag affixed to your window (or somewhere that gets great sunlight). Water them with a tablespoon or so of water every other day. When the seeds start to sprout, you can either transplant them to a small container until they are stronger or just put them directly into your garden.