If you have an overabundance of cucumbers growing in your garden, you're probably looking for ideas of what to make with them. Get inspired with this list of Budget-Friendly Cucumber Recipes.
For more ideas of what to make, check out all of our recipes.
If you following me on Instagram, you see our garden growing. It does great every year. But this year, our cucumbers are exceptional.
Most years they're just okay. So we get a cucumber a week and I just add sliced cucumber to our salads. That was a great way to use the few we got. But, this year, we're getting a few a week and I'm making sure to come up with a new, but easy recipe to use them every time. That way, I'm serving something different and we're not getting bored of cucumbers.
If you're looking for some new cucumber recipes to start serving on a regular basis, you've come to the right place. This list is filled with all of our favorite Budget-Friendly Cucumber Recipes. You're bound to find a new go-to recipe on this list.
You'll also find a bunch of answers to some of your cucumber questions as well.
Cooking at home, with budget-friendly ingredients, is one way to save on your food bill every month.
If you need a little help with that, The Ultimate Guide To Saving Money By Cooking At Home can help.
5+ Budget-Friendly Cucumber Recipes
Affiliate links are included in this post and Drugstore Divas may make a small commission if you use them.
These are our most popular cucumber recipes. As we add more to Drugstore Divas, we'll update this list. So, be sure to save it (bookmark it, pin it, or however you save posts) and come back to this post from time to time for more simple recipe ideas.
Spicy Tuna Cucumber Bites
If you're looking for a unique way to use up your garden cucumbers, this Spicy Tuna Cucumber Bites recipe is it. Plus, it takes less than five minutes to make.
Slice the cucumber, mix a can of drained tuna fish with some mayo, and top the cucumber with the mayo. Add some fresh cilantro for garnish and flavor and you have the perfect quick lunch.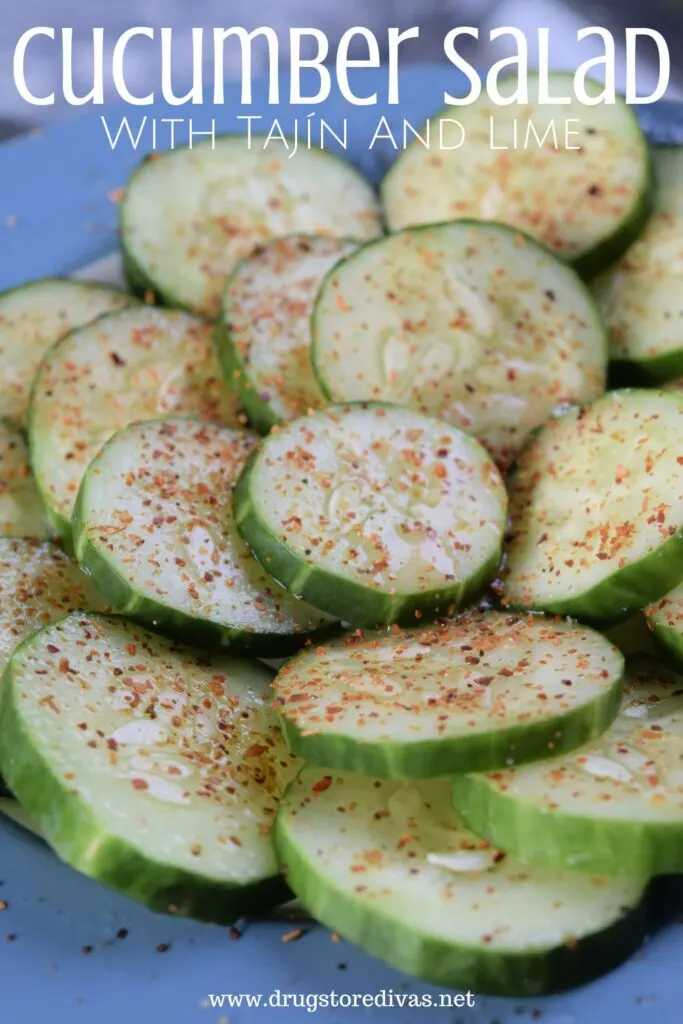 Cucumber Salad With Tajín And Lime
This Cucumber Salad With Tajín And Lime is the best and most simple cucumber salad you'll ever make. Plus, this easy side dish takes barely five minutes to make.
You cut the cucumber into slices, drizzle with lime juice, and sprinkle with Tajín seasoning and a little salt.
You only need one cucumber to make this delicious salad too, so you can make it anytime you have one ripe cucumber in the garden, ready to go.
Mediterranean Grain Bowl
A cucumber is just one of the fresh vegetables you'll find in this Mediterranean Grain Bowl. It's actually a copycat of a Panera Bread recipe (which is delicious, just way out of my budget).
This grain bowl is really good for a family dinner because everyone can choose how much they want of the toppings: feta, hummus, olives, etc. It's really easy to customize this recipe to fit everyone's personal preference — without having to make a separate dinner for everyone.
Refrigerator Pickles
Once you realize how incredibly easy it is to make your own pickles at home, you'll never buy them from the store again. We use Kirby cucumbers in our Refrigerator Pickles, but you can really use whatever crisp cucumber type you can find at the store or whatever type of garden cucumber you grew this season.
​Fill mason jars with a dry mixture made from fresh herbs and seasoning. Add garlic. Then, use a sharp knife to cut the cucumbers into spears or rounds and add them to the mason jar. Finally heat water and apple cider vinegar, pour it on top, and close the jars.
If all this feels a little too daunting, we have an easier homemade pickle recipe (that just reuses the brine from store-bought pickles). Try those first, get your confidence, then next time make the full version.
Homemade Tzatziki Sauce
Half a cucumber gets blended with Greek yogurt, lemon juice, dried or fresh dill, garlic, and salt. And that's it. They're such simple ingredients, but combined, they made a great dip with the best flavor. It's really light and refreshing.
Tzatziki sauce is the perfect dip for pita chips or acts like a creamy dressing for fresh vegetables, like carrots, celery, or broccoli. It's one of our favorite summer snacks.
Cucumber Feta Salad
You only need four ingredients to make this Cucumber Feta Salad. It doesn't get much easier than that.
Cut the cucumber. Put it in a bowl with Feta cheese. Drizzle extra-virgin olive oil and red wine vinegar on top and give it a good stir. It's the perfect summer side dish because really, it's the perfect amount of effort you want to put into dinner on one of those real hot days (which is, basically, zero).
Cucumbers: Frequently Asked Questions
Do you have to peel a cucumber?
Simple answer: No, you don't have to peel a cucumber.

Some people say cucumbers have a bitter skin, and that's why they prefer to peel it. Personally, I never thought it was bitter.

Most of the cucumber is water, and many of a cucumber's nutrients are in its skin. So eating the cucumber's skin is a great idea — especially if you have cucumbers in your garden that you grow organically.

If you buy regular cucumbers at your local grocery store, you don't know if chemicals or pesticides have been sprayed on the skin. So, our rule of thumb is if we're eating the skin of fruits or vegetables (like cucumbers, tomatoes, etc.), we buy organic. If we're not eating the skin (like oranges, bananas, etc.), we don't buy organic.

If you want to save some money and buy non-organic cucumbers, but still want to eat the skin, that's fine. Just be sure to clean it well with something like a veggie wash (or just really well in the sink).
Should you store cucumbers in the refrigerator?
Cucumbers are best fresh picked and eaten within the first two days of harvesting them. During that time, it's best to store them at room temperature.

If you need to store them for longer than that, you can put them in the fridge, although cucumbers are subject to chilling injury at low temperatures. So, if you are going to refrigerate them straight from the grocery store, be sure to store cucumbers in the crisper bin or in the warmest part of your fridge (so not all the way in the back).

You can also wrap them in plastic (English cucumbers usually are sold this way) and put them in an airtight container in the fridge to prevent chilling injury (as much as you can, anyway).
Can you freeze cucumbers?
If you're growing an abundance of cucumbers, you're probably wondering if you can freeze cucumbers. Good news, you can.

Wash (and peel, if you want) the cucumber. Slice it, then put it on top of parchment paper and put it in the freezer for at least two hours or overnight. Once the slices are frozen, you can put the in a freezer-safe bag and keep them in the freezer.

If you don't freeze the cucumber slices first, they'll all stick together.

Frozen cucumbers will thaw out with a mushy consistency, which is different than fresh cucumbers. So you will get the cucumber taste, but not the texture. Your best bet is to use frozen cucumbers in a sauce, like tzatziki, or infused water rather than a salad.
Can you grow cucumbers from scraps?
If you know me, you know I love gardening from scraps. I regrow lettuce from scraps every chance I get. You can do that with celery, green onions, and technically that's how to grow potatoes at home too.

But not everything can be regrown that way, and cucumbers cannot be regrown from scraps. So you can't just cut off the end of a cucumber, put it in fertile soil, and expect another cucumber.
Can you regrow store-bought cucumbers?
If you read the tip above, you know you can't regrow store-bought cucumbers by cutting off an edge and just planting that in dirt.

But, you can harvest some of the seeds from store-bought cucumbers, sprout them, and plant them.
We have a couple posts about that process (not with cucumbers, but with strawberries and spaghetti squash), so I don't want to complete rehash those here, but here's a quick tutorial.

When you're slicing the cucumber, set aside some of the seeds that land on the cutting board. Rinse off any remaining cucumber flesh from them. Set them in a bowl and let them dry about a week. Place them in the center of a piece of paper towel. Put that paper towel in a plastic bag affixed to your window (or somewhere that gets great sunlight). Water them with a tablespoon or so of water every other day. When the seeds start to sprout, you can either transplant them to a small container until they are stronger or just put them directly into your garden.
Which of these budget-friendly cucumber recipes are you going to try first? Let us know in the comments.