Vegetarians sandwiches are perfect for lunch during Lent, when Catholics can't eat meat. Our list of Vegetarian Sandwiches For Lent has some unique non-meat sandwiches ideas for Lent or just a regular day when you don't want to eat meat.
For more meatless recipes, check out our list of vegetarian recipes.
I really like sandwiches, but if I'm going to choose one, it's usually roast beef. Not exactly Lent-friendly. But what if you're craving a sandwich on a Friday during Lent? Cold cuts are a no no. But you can have a vegetarian sandwich.
To help, I put together a great list of vegetarian sandwiches that are perfect for Lent.
What's great is you can have these for Meatless Monday too, in case that's one of your goals for this year.
The requirement for any sandwich to get on this list is that they are required to be completely vegetarian as is. If a sandwich was originally made with any meat, it didn't make the cut.
So you can make all these sandwiches as is; you don't have to modify them to be a Friday during Lent.
For more meals you can eat during Lent, check out our list of 40+ Meatless Meals For Ash Wednesday & Fridays During Lent.
Vegetarian Sandwiches That Are Perfect For Lent
Affiliate links are included in this post and Drugstore Divas may make a small commission i
As we add more Lent sandwiches ideas to Drugstore Divas, we'll add them to this post. So be sure to bookmark this page so you can come back and check it out later.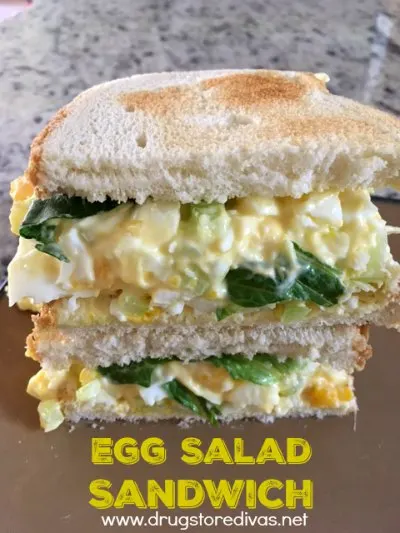 Egg Salad Sandwich
This Egg Salad Sandwich is the perfect vegetarian sandwich. It's packed with eggs, of course, but also has celery and Romaine lettuce in it too. That gives the sandwich a little bit of color and texture.
This sandwich comes together in mere minutes, so it's perfect for when you have limited time. And, you can make the egg salad ahead of time, then assemble the sandwich when you're ready for lunch, making your life just a little bit easier.
It's definitely one of our favorite simple cold vegetarian sandwiches. We make it all the time.
Caprese Grilled Cheese Sandwich
This Caprese Grilled Cheese sandwich is a spin on a caprese salad. A caprese salad is mozzarella, tomato, and basil, plus a drizzle of balsamic. This sandwich has mozzarella and tomato — but a basil pesto instead of the basil. And no balsamic.
This Caprese Grilled Cheese is great with a traditional pesto, but even better with homemade kale pesto.
This falls under the category of meatless sandwiches that you plan to eat at home. It's best served warm, because of the melted cheese, so you don't want to make this for lunch that you're packing for the office.
If you did really want to have this at work, just layer the ingredients as a cold sandwich instead of turning it into a grilled cheese. It would still be delicious.
Cheesy Egg Sandwich
This Cheesy Egg Sandwich is my go to breakfast sandwich, even when it's not Lent. It's just so delicious and the perfect way to start a day.
The cheese oozes out of this sandwich, which is just so good. It also makes it messy, so you definitely want to sit down while you eat this. It's not a grab and go breakfast idea, that's for sure.
Pair it with homemade home fries and you have a really great breakfast for dinner idea for when you want to skip pizza night on a Friday during Lent.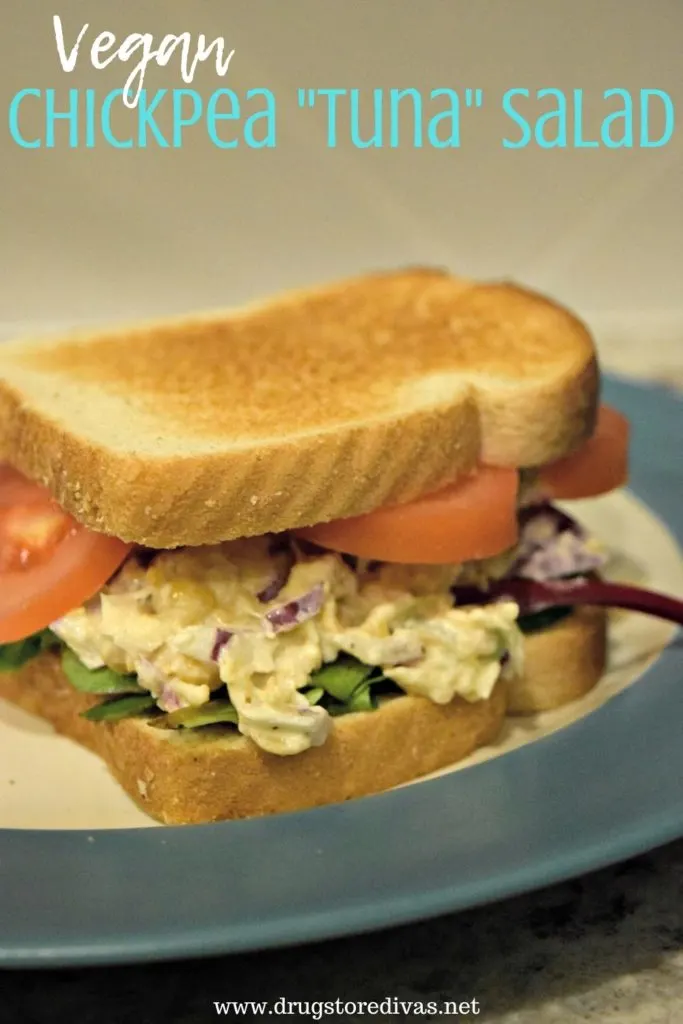 Vegan Chickpea "Tuna" Salad Sandwich
Tuna, obviously, isn't vegan. Technically you could make a tuna sandwich for a Lent lunch, but a tuna sandwich wouldn't make this list of vegetarian sandwiches, obviously.
So if you want tuna, but you want something vegetarian, go with mashed chickpeas. If you mash chickpeas with seasoning and vegan mayo, you come away with a sandwich that tastes like tuna but is actually vegan.
Be sure to mash down the chickpeas to a "tuna" consistency, then top it the way you'd top a tuna sandwich, to really enjoy this dupe.
In our option, this is one of the best vegan sandwiches there is.
Portabella Mushroom Cheesesteaks
These Portabella Mushroom Cheesesteak sandwiches are definitely one of my favorite recipes ever. I make this all the time, even when it's not Lent.
If you take the time to really cook down the portabella mushroom slices, it does take just like steak traditionally used in cheesesteaks.
Salad Wrap
If you're trying to come up with meatless sandwiches that would make sense on a wrap instead of a sandwich, just go with this Salad Wrap. It's intended to be made on a wrap, so you don't have to modify anything.
It's basically a good house salad, but served in a wrap instead of in a bowl. And that makes it easier to transport to work because you don't need to find a container, wash it after, and then remember to bring it home. Just wrap this in foil, eat it, and throw the foil away.
Much easier.
Purchase Vegetarian Cold Cuts Online:
If you really want to have something meatlike for lunch, and these vegetarian sandwich ideas aren't gonna cut it, you can actually purchase the following vegetarian cold cuts online:
We haven't tried these, so you'll have to try them and let us know what you think.
Want more recipes for Lent?
You can eat more than just sandwiches during Fridays in Lent. Check out our other posts with tons of recipes for Lent below:
Which of these vegetarian sandwiches are you going to try first? Let us know in the comments.