Celebrate National Cheese Pizza Day with The Ultimate List Of Homemade Pizza Recipes. There are traditional pizza recipes, non-traditional pizza recipes, dough recipes, and more.
For more pizza ideas, check out all our pizza posts.
Believe it or not, today is National Pizza Day. Yum. To celebrate, I put together The Ultimate List Of Homemade Pizza Recipes.
It's all our favorite pizza recipes because, unsurprising to anyone who knows Pete, we eat a lot of pizza. Honestly, I joke that Pete only married me because my name rhymes with pizza.
I broke the list into four categories: Traditional Pizza Recipes, Non-Traditional Pizza Recipes, Pizza Dough Recipes, and Pizza Restaurant Reviews.
At the end of the post is a lit of a few supplies that you'll want to buy if you make homemade pizza on a regular basis.
If you know someone who would get excited over this list of homemade pizza recipes, they'll probably love everything on our Gifts For Pizza Lovers list. So be sure to check that out for a great gift idea.
The Ultimate List Of Homemade Pizza Recipes
Affiliate links are included in this post and Drugstore Divas may make a small commission if you use them.
Traditional Pizza Recipes
2 Ingredient Dough White Pizza
There's isn't any red sauce on this pizza. Instead, the sauce ricotta cheese and it's topped with mozzarella cheese. This pie has cherry tomatoes and basil on top, but you could top it with any vegetables to meat.
My favorite white pizza topping is actually sautéed broccoli. It's so good and reminds me of the pie from Franco's Pizza in Nanuet, NY.
Portabella Mushroom Pizzas
Low-carb lovers can rejoice over these pizzas. Instead of a traditional flour-based crust, these ones use portabella mushroom caps as the crust.
Those are filled with your traditional pizza toppings: sauce, cheese, and spices. So it's all the elements of pizza without the heavy breadiness of your typical pie.
Ground Chicken Crust Pizza
Speaking of pizzas for low-carb lovers, this is another option. This pizza's crust is actually made from ground chicken, molded into a circle.
This definitely looks like a pizza, but it's a little different tasting obviously. You don't get the crunch of a typical pizza crust, but you do get a delicious pizza-like meal for dinner without all the carbs of a typical pizza crust.
Pull Apart Pizza
This pull apart pizza is a really fun way to have pizza for dinner. You take garlic breadsticks, bake them, then dress them up with your favorite pizza toppings. Make a couple and vary the toppings on them.
Serve them as whole pizzas when you bring them to the table, but let everyone "pull apart" the pizzas to grab a slice.
Heart-Shaped Pizza
If you love pizza, you'll love these adorable mini pizzas — that are shaped like hearts. They use two ingredient dough, which is basically the easiest pizza crust there is. One batch of dough makes a dozen heart-shaped pizzas.
You can top them with any toppings you want, but I think they look prettier topping free.
Pizza Bagels
If you're a fan of handheld pizzas, you'll love these pizza bagels. Just split a bagel in half and turn it into a pizza.
This Pizza Bagels recipe actually also has a recipe to make the bagels first, so you can make these completely from scratch. Or you can just buy bagels at the store.
Barbecue Chicken Flatbread
This Barbecue Chicken Flatbread recipe is a really fun twist on pizza. The crust is made from 2 Ingredient Dough, which just makes pizza night so much easier.
This one is topped with a barbecue-flavored shredded chicken, which adds a lot of taste to this recipe.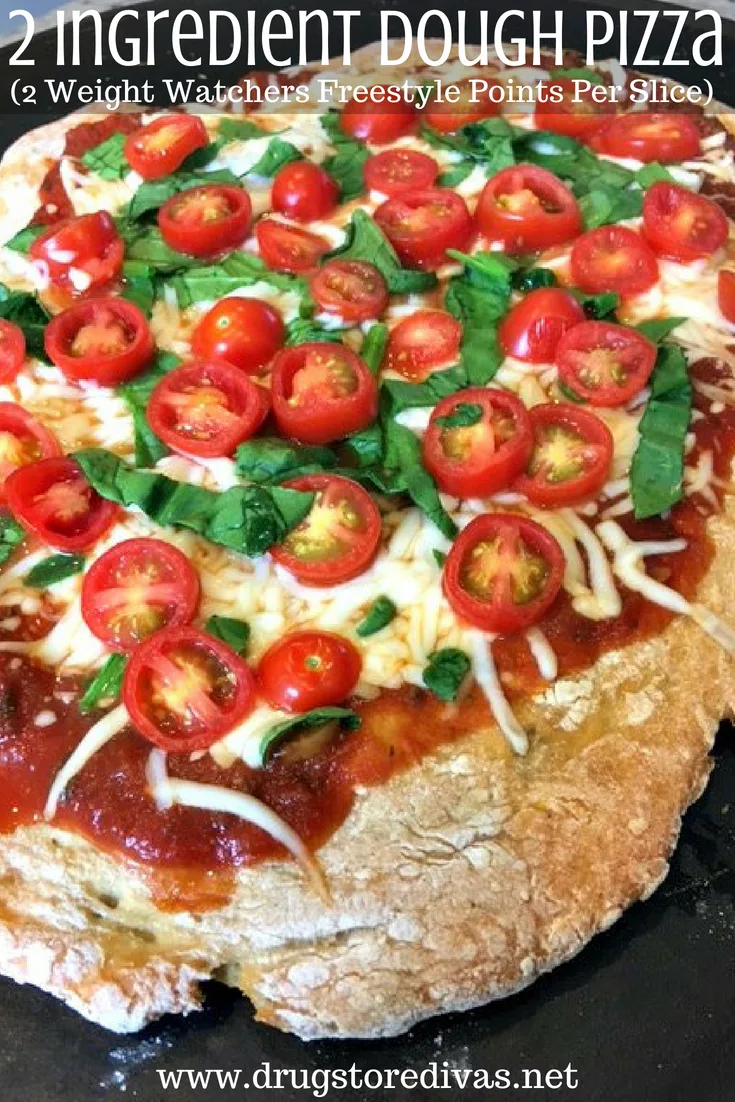 2 Ingredient Dough Pizza
This is our go to recipe for weeknight pizza dinners. The dough comes together in minutes and only requires two ingredients, which we always have at home. There's no waiting for the dough to rise or rest, so you can have dinner on the table in no time.
You can top it however your family likes it and it will be delicious.
Homemade Pizza
This homemade pizza recipe is pretty simple because it uses a boxed pizza crust mix.
Did you even know there was such a thing? I didn't until Pete made me this pizza about a decade ago.
Naan Pizza
Packaged naan bread is toasted and then used as pizza crust to make these naan pizzas.
Just a side note: If you don't toast the naan before you make these pizzas, you'll end up with more a sauce and cheese topped pita rather than something that resembles pizza.
Shredded Chicken And Arugula Flatbread
True pizza enthusiasts may argue that a flatbread isn't a pizza, but for the sake of this round up, we are 100% okay with including this incredible flatbread on this list.
Just don't tell Pete. He's one of those true pizza enthusiasts.
Egg Pizza
This pizza, topped with a half dozen eggs, was inspired by a pizza Life of 2 Snowbirds had at Pizzeria Paradiso in Washington, DC.
The pizza crust is rolled out and then grilled, giving it a nice smoky base for the eggs, parmigiano reggiano, chopped anchovies, and the rest of the pizza's ingredients.
Foccacia Bread Pizza
This pizza is a little involved because you make a round loaf of foccacia bread first, so it can be the crust of the pizza pie.
You have to wait for the yeast to start to bubble, and then you'll need the dough to sit for an hour before you can shape and bake the crust. So this pizza takes a little pre-planning, but it's so worth it.
Non-Traditional Pizza Recipes
Pizza Cones
These pizza cones are the perfect party appetizer. They bake together in a ring, then you just pull one off as you want it. Dip it in the pizza sauce in the middle of the ring and carry on.
You can fill these with pepperoni or spinach, or really anything you can think of. Just don't overfill them because the weight could collapse the ring.
Wonton Pizza Cups
Wonton wrappers are the perfect vessel for basically anything. But they really work well as a thin pizza crust to house sauce, mozzarella cheese, and mini pepperoni slices.
Once you make these pizza cups, you'll be making them for every party, every Sunday football game, every snack dinner … every excuse you can think of.
Air Fryer Pizza Rolls
You can easily make homemade pizza rolls with a couple simple ingredients. You can fill them with cheese and sauce, plus add any of your favorite fillings like mini pepperoni.
They taste just like the store-bought pizza rolls and they're easy to make in the air fryer.
Homemade Pizza Bombs
These pizza bombs are basically balls of pizza.
You roll out the dough, fill it with sauce and mozzarella cheese, and then roll it into a ball. Bake with a garlic butter on top and dip in sauce. It's the perfect compliment to a spaghetti dinner.
Pizza Dough Recipe
2 Ingredient Dough
This 2 Ingredient Dough recipe is my go to pizza dough recipe. It's so simple. You just need two ingredients, literally. Mix them together, form a ball, and your pizza dough is done.
What's really great is neither of those two ingredients is yeast. So you don't have to worry about waiting for it to proof or rise.
Pizza Restaurant Reviews
Old Chicago Pizza & Taproom Review
Pete and I went on a pizzaventure to check out Old Chicago Pizza & Taproom. We actually enjoyed it and ourselves so much that we wrote an entire, non-sponsored Old Chicago Pizza & Taproom review post.
Blaze Pizza
Every since Blaze Pizza opened in Wilmington, NC, I've been obsessed. I take everyone I can there and everyone enjoys it. It's so much fun.
Basically, it's like "Subway for pizza." You add any or all of the 40 toppings you want, and your pizza is ready in three minutes.
Tools for making homemade pizza:
We make pizza at home all the time, so we've accumulated some gear that makes it a lot easier. If you're planning on making homemade pizza, you might want these for your kitchen too.
Cheese shredder
Your homemade pizza will be so much better if you buy a block of mozzarella and shred it as opposed to buying a bag of shredded cheese.
Shredded cheese is filled with preservatives to make sure the cheese stays in shreds in the bag. Those preservatives keep it from melting together. But, they also prevent the cheese from really melting on your pizza too.
Blocks of cheese don't have those preservatives, so the cheese will melt better.
Pizza stone
Pizza ovens can get a lot hotter than the oven in your kitchen can. That's why you get that nice char on the crust of a pizza from a pizzeria, but you can't really achieve that at home.
A pizza stone can help.
You heat up the stone in your oven while you're preheating the oven. Then, you bake your pizza directly on the stone.
That will help your pizza cook at a higher temperature than what the oven reads. And you'll really get a better crust than if you cook the pizza on a cookie sheet in the oven.
Pizza peel
We use a pizza peel twice during the pizza making process.
First, we shape our pizza crust on the pizza peel, then use it to transfer the pizza to the pizza stone. Second, we use it to remove the pizza from the oven.
We use the same pizza peel for both tasks, although some people will swear you need a bamboo pizza peel for putting the pizza in the oven and a metal pizza peel for removing it.
Pizza wheel
You can't cut homemade pizza with a knife. I mean, you can in a pinch, but it's so much easier if you use a pizza wheel to do it.
We actually had a 5-year-old over the other day who wanted to help me cut cookie cake, so I gave her the pizza wheel to do it … under my supervision, of course. It's a lot safer to use that than a knife. And I've used this to cut homemade dough too because it's smoother than a knife.
So this pizza wheel isn't just a unitasker for your homemade pizza. You can find other ways to use it.
Which of these Homemade Pizza Recipes will you try first?