Candy Bark is an easy dessert. Plus, it's easy to gift too. Make it with just chocolate, adding in chocolates, topping crackers, and more.
I love making candy bark. Candy bark is so easy and can be changed for every holiday. Plus, candy bark doesn't have to be made from chocolate. Yes, of course, there is chocolate bark — and we have a few chocolate barks on this list of unique candy bark recipes. But there are so many candy bark ideas. You can also make candy bark with candy melts, yogurt, crackers, and more.
The only real "rule" behind candy bark is that it has to be made as a single sheet, then cut into pieces after the candy bark cools. If you make each piece individually, instead of as a whole, it's not considered bark. In that manner, it's just candy.
If you're worried about how to keep chocolate bark from melting, which is a legitimate concern, just keep it in the fridge until you're ready to eat it. As long as your chocolate bark isn't paper thin, it'll have enough integrity to sit out a while.
Candy bark sits out a lot better then chocolate bark because candy melts don't melt like chocolate does. So keep that in mind.
A lot of these recipes call for candy melts. If you're unfamiliar with them, check out our post of tips for using candy melts.
10+ Unique Candy Bark Recipes
Affiliate links are included in this post and Drugstore Divas may make a small commission if you use them.
Fantasy Football Candy Bark
Fantasy Football Candy Bark is absolutely perfect for your Football Sundays.
What's great about it is you can make it in your team's colors, no matter what they are. Just pick up candy melts in your team's colors, then follow this recipe.
Mardi Gras Candy Bark
Mardi Gras is know for red, yellow, and green, plus beads. You have all of that incorporated into this candy bark.
The pearls are a little hard to chew through, so I would recommend you use them sparingly. But they do add to the charm of this.
Halloween Chocolate Bark
I'll be honest. This Halloween Chocolate Bark is my favorite candy bark on this entire list. I just love the way it looks. The colors, the candies, the creepy eyes looking at you … it all works. Unfortunately it only works for Halloween. Don't try recreating this for someone's Christmas gift.
And this bark is so incredibly easy to make. It looks like you spent so much time on it, but it's really simple.
Potato Chip Chocolate Bark
Why choose between salty and sweet when you can have both in this Potato Chip Chocolate Bark?
This chocolate bark is so incredibly easy. And it's literally only two ingredients: chocolate and potato chips. It's a lot easier to make than chocolate-dipped potato chips, which end up tasting the same, but taking a lot more work.
Don't want to make it? Purchase the inspiration here.
Chocolate Cracker Bark
This Chocolate Cracker Bark is one of my mom's most famous recipes. She used to make it every year as part of her Christmas cookie platter.
It sounds like a strange dessert when you think about it. It's crackers, topped with chocolate and walnuts (there's also some butter in there). But trust me when I tell you, this cracker bark is delicious. It's impossible to eat just a little of it. At least, it is for me.
Homemade Peppermint Bark
If you have some leftover candy canes, this Homemade Peppermint Bark is the perfect way to use them. Just smash up the candy canes and use them to top melted chocolate.
If it's not candy cane season, but you still want to make this, you're not out of luck. You can actually order crushed peppermint candy online. You might want to do that even it if is candy cane season. It's a lot easier and cleaner than smashing up your own.
Oreo Chocolate Bark
This Oreo Chocolate Bark is such a hit every time I bring it somewhere. I make a single batch, but always regret it and should make a double batch because it goes so quickly. So keep that in mind when you're making this.
It's only four ingredients, which you may actually already have at home right now. At least, I always have these ingredients at home. So, if you bake on a regular basis, I bet you do too.
Valentine's Day Graham Cracker Chocolate Bark
I absolutely love how pretty this Valentine's Day Graham Cracker Chocolate Bark is. It's really eye catching, with all its colors and hearts. And it's really delicious, just like a super sweet graham cracker.
Side note: Chocolate-covered graham crackers were one of the first treats Pete and I shared, so it holds a special place in my heart.
Layered Chocolate Mint Bars
These Layered Chocolate Mint Bars (also known as Layered Chocolate Mint Bark) is based on a famous candy that you can pick up at the grocery or drugstore. You know the ones.
Those are delicious, but this is great for when you don't feel like going to the store. Well, that's assuming you have bags of chocolate and mint chips at home (which, I do because I bought a boatload of it on clearance).
Don't want to make it? Purchase the inspiration here.
Shark Candy Bark
If you love Discovery's Shark Week, you'll love this Shark Candy Bark (aka Shark Bark).
It's only three ingredients (two of which you probably have at home if you make candy bark often) and shark gummy candies. It's perfect for your shark-themed birthday party, Shark Week viewing party, or whenever you need an easy dessert.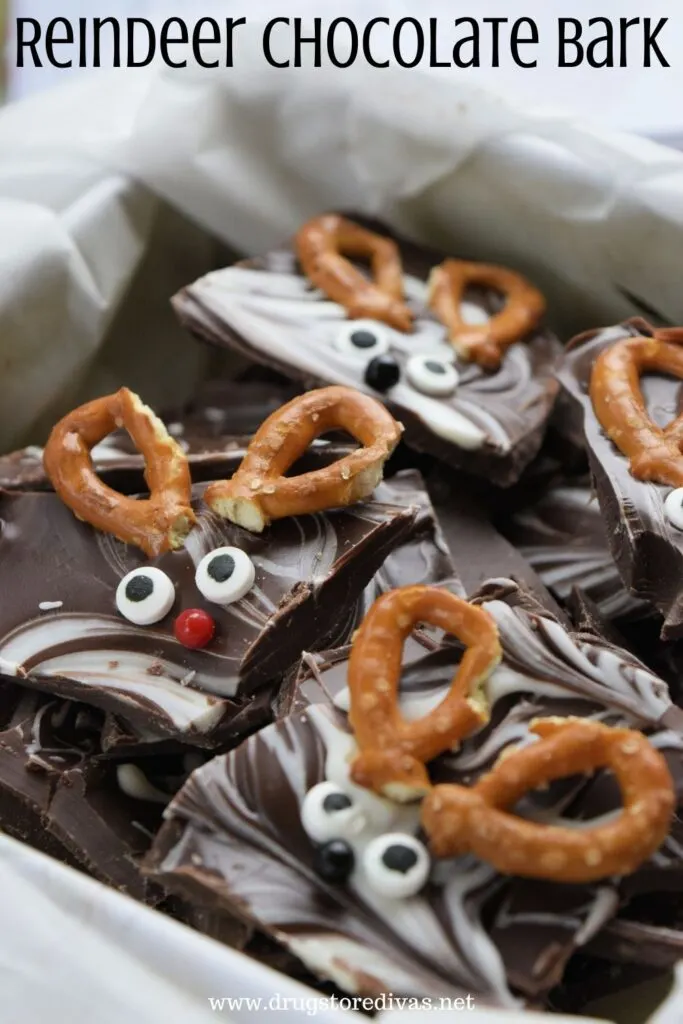 Reindeer Chocolate Bark
If you're looking for a Christmas-themed chocolate bark, this Reindeer Chocolate Bark is the perfect recipe.
It's super simple to make the candy bark, then add pretzels and candy to make reindeer faces in parts of the bark. Cut the Rudolph chocolate bark, as I like to call it, and add it to gifts for your friends and neighbors.
Mint Chocolate Bark
This Mint Chocolate Bark is the perfect recipe for St. Patrick's Day because it's green and white, the colors associated with the holiday.
It has pieces of mint chocolates covering the top, giving a bit of taste and texture to the candy bark.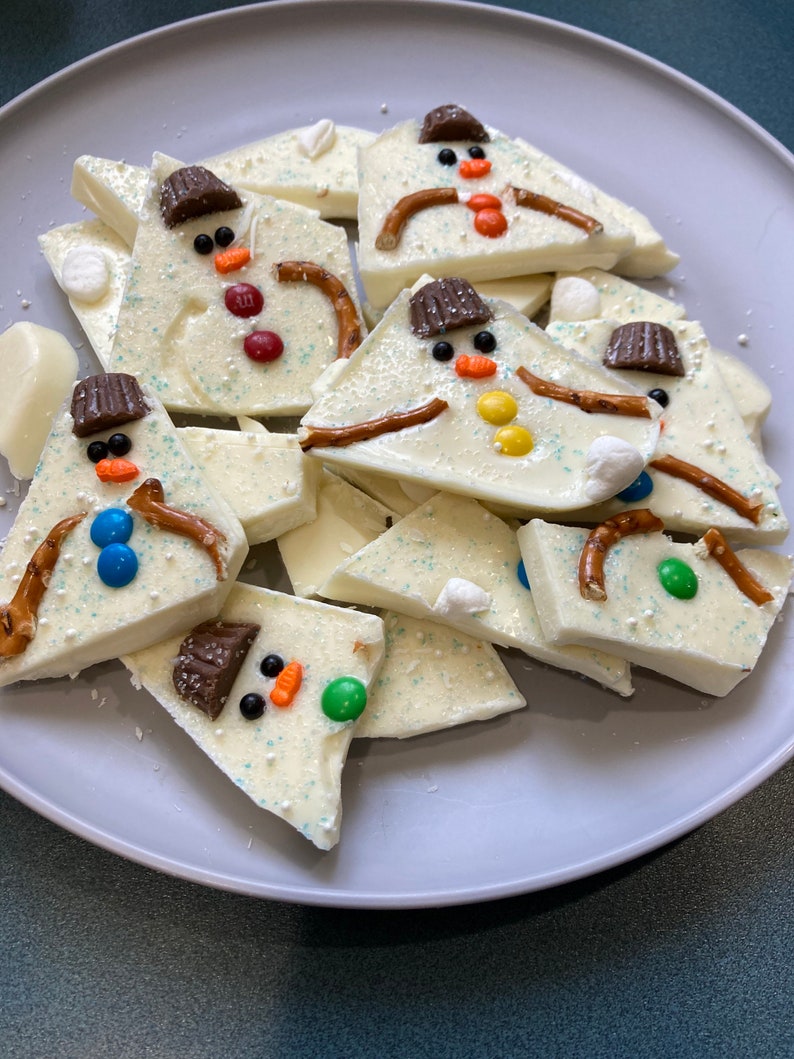 Purchase Candy Bark Online:
These are all candy bark recipes you can make at home. If you like the idea of candy bark, but you don't have the time to make it, that's okay. You can just purchase candy bark, like the Snowman Candy Bark above, online at the stores below:
Be mindful of a store's minimum purchase for free shipping. Also, keep curbside and in store pick up in mind in order to save on shipping.
Which of these 10+ Unique Candy Bark recipes will you try first?