Potatoes are such a good staple to keep in the house. They're really budget friendly and very diverse. They can be hash browns at breakfast, mashed potatoes at dinner, and chips as a snack. There are so many budget potato recipes, it's hard to choose between them.
What I love too is that it's actually not that hard to learn how to grow potatoes either. We grow a handful of them in the backyard every year.
If you're looking for dinner inspiration, and you want some cheap meals to make with potatoes, check out the potato recipes list below.
Those are all our tried and true, favorite potato recipes — none of which will break the bank.
20 Budget-Friendly Potato Recipes
Homemade Home Fries
Home fries are the perfect breakfast side dish. They're soft and crunchy, warm and inviting. And really easy to make.
They take a while to make in the oven, so be sure to start them before you start cooking the rest of breakfast. By the time everything else is ready, you'll have perfect homemade home fries ready to serve.
Grilled French Fries
If you're already grilling burgers and hot dogs for dinner, you might as well go ahead and grill your French fries too. It makes so much more sense than making them in the oven, then running back and forth between the oven and the grill.
Loaded Poutine Twice Baked Potatoes
I can't even describe to you how much of hit these poutine potatoes are. Everyone loved them fresh out of the oven and even reheated too. The ingredients sound like a little much if you've never had poutine before (it involves brown gravy and cheese curds), but trust me when I tell you these are delicious.
I also made myself laugh hysterically when I started nicknaming these "Pu-tatoes," so please, steal my joke when you make these.
Fully Loaded Totchos
A local bar makes these insanely delicious totchos, but we can't go to the bar every time we feel like having them. We would be poor. So of course, we had to recreate them.
And once we perfected that recipe, we decided to blog it. Which means now you too can enjoy these Totchos without having to go to the bar.
Air Fryer Baked Potatoes
Baked Potatoes are delicious, but they take about an hour to cook in the oven. And that's a long time when you're hungry.
So I love that when you make baked potatoes in the air fryer, they only take half that time. And they still come out fully cooked and delicious.
Skillet Pumpkin Sauce Hash Browns
Hash browns take a bit of time to make it the oven. If you don't have that kind of time, you can make them a lot quicker in a skillet.
And if you're looking for a little pop of flavor to add to your hash browns, this pumpkin sauce is great.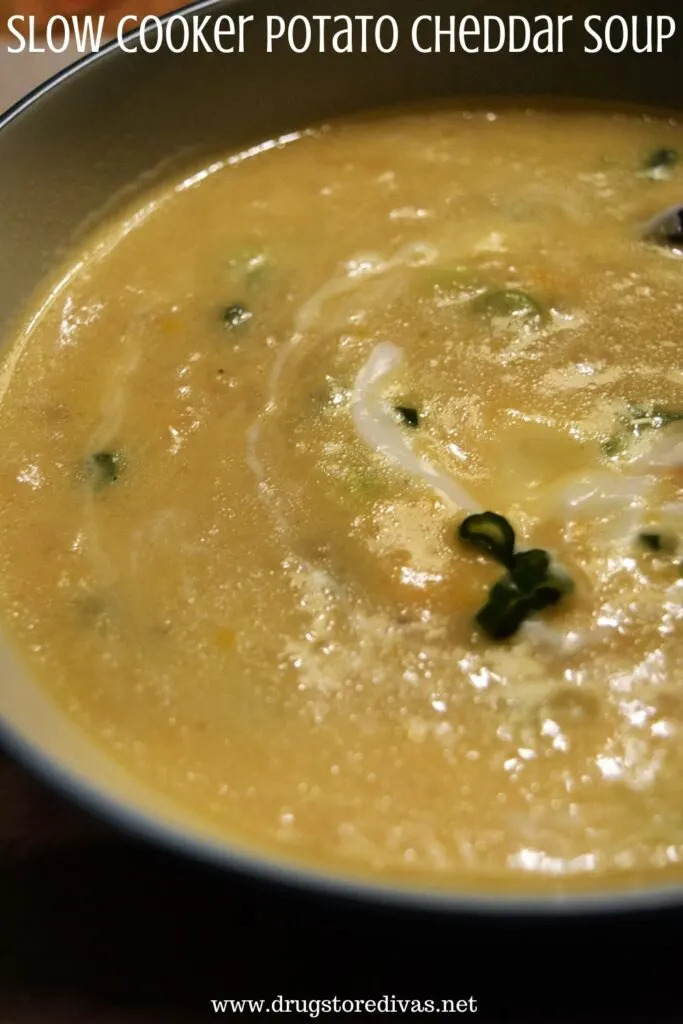 Slow Cooker Potato Cheddar Soup
Potato soup is one of my favorite meals to make when the weather drops. It's so warm and hearty and filling. Plus, the recipe makes a lot of soup, so you can enjoy it for days.
And, trust me. After you make this potato cheddar soup, you'll never eat it from a can again.
Tater Tot Waffles
When we have tater tots in the house, Pete turns them into waffles for us for breakfast. It's an easy waffle maker hack.
We love putting a fried egg on top, but you could just serve eggs on the side.
Loaded Potato Salad
Potato salad is a backyard barbecue staple, but it can sometimes be pretty bland. And then there are a ton of leftovers because no one wants to waste their stomach on bland food.
But, this loaded potato salad completely ups the game. Every time I've made it, every bite has been eaten (which is a bummer because I wouldn't mind leftovers of that).
Hasselback Potatoes With Bacon
Hasselback potatoes are really fun. You slice the potato up, and then fill it with whatever deliciousness you can think of. Bacon and cheese are usually standard, but the recipe above was when we were featuring bacon on the blog, so we only stuffed it with bacon.
Mini Hash Brown Breakfast Casserole
These mini hash brown bakes are a really fun breakfast idea. Hash browns, eggs, cheese, and a few other ingredients are combined in a ramekin and baked.
They're done in about 20 minutes, and taste as great as they look.
Parmesan Potato Rounds
I serve these potato rounds as a side dish at parties, just to have something a little substantial in people's stomachs as they are hanging out.
You can cook them longer to make sure they're all crispy, but the variation in textures really makes these delicious.
Cheesy Steak Fries
Homemade fries are so much better than store bought, especially when you go ahead of lather them in ranch, sour cream, and cheese. Chives and bacon are optional additions too.
These cheesy steak fries are definitely indulgent, and you'll definitely be making them all the time.
Avocado Potato Salad
One of Pete's specialties is avocado potato salad. The first time he made it for me was for the family barbecue he came to, so it's really special.
Chunks of potato and avocado mix together in this dairy-free potato salad. It isn't intentionally vegan, but ends up that way.
Mini Pommes Anna
We love these mini Pommes Anna, so I don't know why I don't make them more often. The prep time on them is pretty simple because you don't have to peel the potatoes.
The recipe is basically just putting them in the oven and waiting for them to cook, so you have time to cook your full meal in between.
Homemade Waffle Fries
I love waffle fries and will order them as my side every time they're on a menu. And that's honestly the only reason I bought a mandoline slicer at a fair a zillion years ago. You can use it to make waffle fries.
The fries come out amazing every time, and you don't even have to leave your kitchen to get some.
Air Fryer Potato Chips
One potato is all it takes to make two tasty servings of potato chips. And since potato chips are so easy to make in the air fryer, you may never buy potato chips again.
Baked Potato On The Grill
If you're grilling dinner, make this Baked Potato On The Grill too. It's easier than running to the oven to check on your sides when you're making dinner on the grill.
Air Fryer French Fries
You can easily turn a couple potatoes into French fries quickly. These aren't much harder to make than frozen fries and are so worth the extra effort … especially when you want fries, but don't have a bag of frozen ones at home.
Grilled Garlic Parmesan Potatoes
If you're looking for a potato recipe that you can make in bulk, this Grilled Garlic Parmesan Potatoes is it. You can make a ton at once, and the recipe is mostly hands off. You do have to chop the potatoes, but the cooking only involves tossing everything in a pan and setting that pan on a grill.
Which of these budget potato recipes are you going to try first?