I love snacks. I think I've said that a million times, but it's true. We have a snack day once a month and snack dinners all the time. I usually make the snacks from scratch, which is how I've come up with a lot of recipes using wonton wrappers.
Although (and this is funny to me), I've never made wontons.
That's on my list of things to make, so I will make them soon. But for now, I just make snacks and snack dinners with wonton wrappers … with the exception of the time I used them to make a crunchy topping on top of a recipe.
You can pick up a pack of wonton wrappers at your local grocery store, usually in the produce section. But, if you pick them up, you might be wondering about what to make with wonton wrappers. You don't just have to make wontons. You can use them to make one of these fun recipes.
Recipes Using Wonton Wrappers
Affiliate links are included in this post and Drugstore Divas may make a small commission if you use them.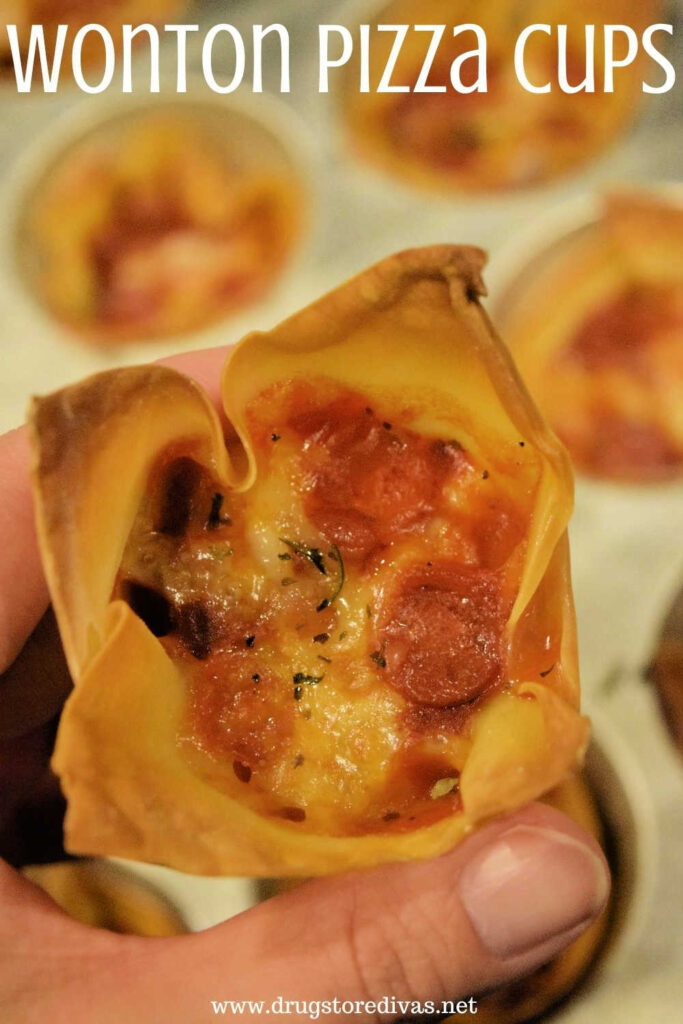 Wonton Pizza Cups
Wonton Pizza Cups are a really fun way to use wonton wrappers. It's also a better way to enjoy pizza since there are way less carbs in a wonton wrapper than there is in a pizza crust.
The pizza cups in the recipe post are filled with sauce, cheese, and mini pepperoni, but you can use anything you want to top these pizza cups. Just be sure to stick with sauce and cheese or they won't resemble pizza.
Jalapeño Popper Wonton Cups
Jalapeño poppers are tasty, but not everyone wants a huge bite of a jalapeño. That's fine. Instead of using the jalapeño as a base, this recipe uses wonton wrappers as the base. It's then filled with cheese and jalapeños to give the flavors from a jalapeño popper.
These are — dare I even say it — more poppable than traditional jalapeño poppers, so definitely make a double batch when you make these.
Air Fryer Pizza Rolls
Pizza Rolls are great, but they're even better when you can whip up a batch easily when you're in the mood for them. This version is really one of the most unique uses for wonton wrappers, in my opinion anyway. You use the wonton wrapper as the outside and then the pizza rolls are heated in the air fryer.
Don't let the air fryer part deter you from these pizza rolls, though. The post also talks about making these in the oven as well.
Yaki-Udon (Udon Stir Fry)
There are wonton wrappers in this Yaki-Udon, but they're used as a garnish rather than a base.
In this recipe, you cut the wonton wrappers into pieces, then fry them on the stove. Set them off to the site while the rest of the meal is cooking, and then use them as a garnish at the very end.
Wonton Taco Cups
Wonton Taco Cups are a really fun appetizer version of tacos. Instead of having a full taco, you can just have a handful of these taco cups instead. What's great about them is you still get the crunch of the taco shell, but the crunch is from a wonton wrapper not an actual shell.
These are a basic version, filled with meat and cheese, but you can really dress up these taco cups by choosing a variety of toppings.
Air Fryer Crab Rangoon
Crab Rangoon are so easy to make at home. The delicious filling of crab and cream cheese combine and sit in a wonton wrapper. Air fry these, or deep fry them on a stove top, for a tasty treat.
If you air fry them, they only take five minutes, so you can have these on your table in just a handful of minutes.
Guacamole Wonton Cups
These Guacamole Wonton Cups are such an easy party recipe. You make guacamole, bake wonton wrappers, and then fill them with your guacamole.
If you don't have your own guacamole recipe, don't worry. There's one in that post as well.
Wonton Wrappers: Frequently Asked Questions
Where are wonton wrappers in grocery stores?
You can find wonton wrappers in the produce section of your local grocery store. Look in the refrigerated section, where packaged products such as tofu, are located.

If you can't find them in store, you can order wonton wrappers online.
What are wonton wrappers made of?
Traditionally, wonton wrappers are made from eggs, flour, and water.
Can you make homemade wonton wrappers?
I've never used any wonton wrappers recipes myself because to make homemade wonton wrappers because all our stores around here sell them.

But, if you're having trouble finding them, you can check out this homemade wonton wrappers recipe to make your own at home.
Are wonton wrappers vegan?
Wonton wrappers generally aren't vegan. I buy the Nasoya brand wonton wrappers, solely because that's what my local grocery stores sell, and eggs are one of the ingredients.

So, while wonton wrappers are vegetarian, they're not vegan.
Nasoya sells a vegan egg roll wrapper, but I haven't seen the brand sell any vegan wonton wrappers, though.

You can make homemade vegan wonton wrappers.
Are wonton wrappers gluten free?
Since wonton wrappers traditionally have flour in them, wonton wrappers are generally not gluten free.

You can sort of purchase gluten free wonton wrappers online. The majority of them are marketed as either potsticker wrappers (which are a different shape) or egg roll wrappers (which are a different size), but at least there are options available.

If you want, you can also make homemade gluten free wonton wrappers.
Are potsticker wrappers and wonton wrappers the same thing?
Potstickers, which is a Chinese dumping, and gyoza, which is a Japanese dumpling, use the same thin, round wrappers to hold their fillings. Most potsticker or gyoza wrappers are more delicate on the outside so that the outside can be easily sealed.

A wonton wrapper is a square wrapper that doesn't pleat as well as a wonton wrapper.

In theory, they're interchangeable, although not authentically.
If you do want to use a wonton wrapper to make potstickers, gyoza, or dumplings, you'll need to cut it into a circle before using it in the dumpling mold.
How can you store leftover wonton wrappers?
If you purchase a package of wonton wrappers, but don't use the entire package, you can store the leftovers in the fridge.

Make sure to put them in an air tight container in the fridge or else they'll dry out and need to be tossed. Wonton wrappers can be stored in the fridge for 10 to 14 days in an air tight container.

If you need to store wonton wrappers for longer than two weeks, you can freeze any unused portion in a ziptop container in the freezer for a couple months.

To thaw them, put them in the fridge overnight or leave them on the counter at room temperature for an hour. Once they're thawed, use them immediately. And make sure to use all of them. You can't thaw and then refreeze them. The wonton wrappers will get too dry and brittle.
Which of these Recipes Using Wonton Wrappers will you try first? Be sure to let us know in the comments.