Rolo chocolates are really delicious. I love the way the chocolate and caramel mesh together. But you don't need to eat them just as a chocolate. There are actually a lot of recipes using Rolo chocolates.
I put together this list of over 10 recipes using Rolo chocolates. I haven't made all of the recipes myself (just the first one in the list), so I collected recipes from some other bloggers who have used the chocolates to make treats.
At the end of the post, I have a few tips for using Rolo chocolates in recipes, plus a quick tutorial about how to make homemade Rolo chocolates.
Side note: This recipes using Rolo chocolates post has no association with Rolo or The Hershey's Company (the brand that makes Rolo chocolates). You can use brand named Rolo chocolates, off brand ones, or you can make your own. Any of those options work with these recipes.
10+ Recipes Using Rolo Chocolates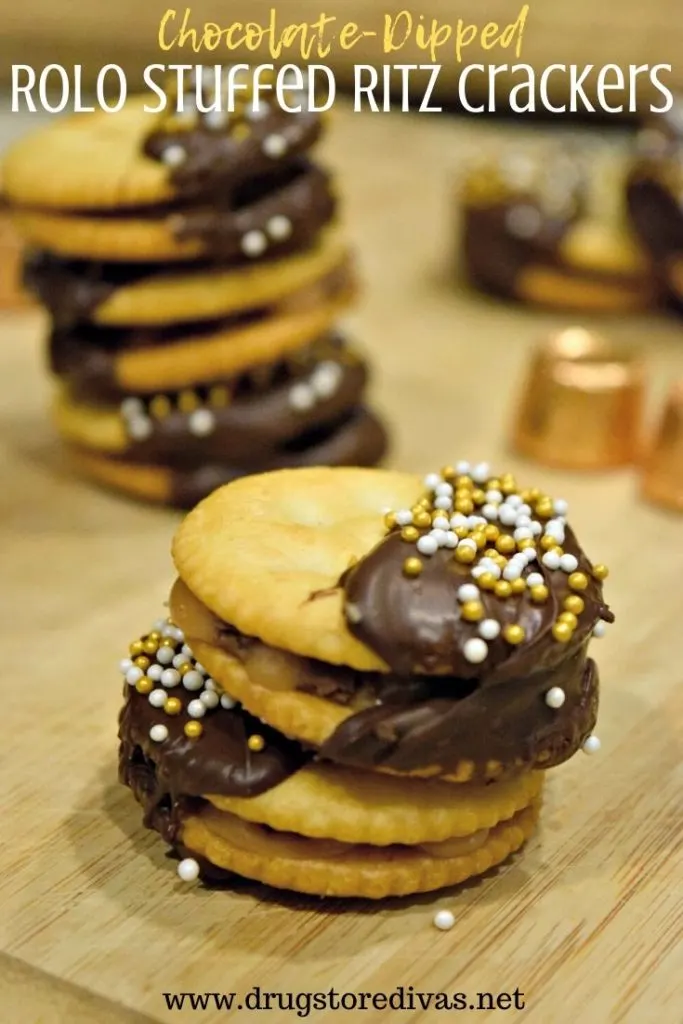 1. Chocolate-Dipped Rolo Stuffed Ritz Crackers
2. Rolo Cookies (Caramel-Filled Chocolate Cake Cookies)
3. Chocolate Chip Rolo Cookies
6. Rolo Cheesecake Cookie Bars
8. Rolo Cookies
9. Salted Caramel Chocolate Cookies
10. Bright Blooms Pretzel Turtles
11. Turtle Pretzels
Which of these recipes using Rolo chocolates are you planning on trying first? Be sure to let us know your recipe choice in the comments.
Tips For Using Rolo Chocolates In Recipes
– Use the Rolo chocolates at room temperature. If you live somewhere that's hot, you might store your chocolate in the fridge. That's fine if you're just going to eat them one at a time. But if you're going to use them in one of these recipes, you want to make sure they're at room temperature first.
If the chocolate is hardened from the fridge, the recipes might not work the way that they're supposed to.
– Unwrap the chocolates right when you need them. Don't unwrap them ahead of time and have them waiting. They could end up melting. And if you have them in a bowl together, they could melt together and form one big blog. And that makes a big mess for you.
Even if you're bringing them out of the fridge, getting them to room temperature (because you're taking the advice of the tip above), keep them in the wrappers first. When the Rolo chocolates are at room temperature, that's when you can unwrap the chocolates.
– Don't overheat the Rolo chocolates. If your recipe calls for baking the Rolo chocolates in the oven, keep a close eye on the time more than the Rolo chocolate themselves. The Rolo chocolates most likely won't actually show any sign of melting, like chocolate chips do. They may start to bead and sweat a little bit, though, so you can keep an eye out for that happening.
Even if the Rolo chocolates show no sign of heating, they will be melting and warm enough to squish (which is what you have to do for many of these recipes). If you wait to see the Rolo chocolate to start melting, you'll actually end up burning your Rolo chocolates. And then you'll have to throw them away and start your recipe over.
– Warm Rolo chocolates squish, so be careful when you're using them in a recipe. If you're using them in a recipe, like between crackers, be careful with how much pressure you put on the crackers. You may end up with the Rolo chocolates oozing out more than you intended. Keep this in mind, too, if you are using warm Rolo chocolates on the bottom of a recipe. They might not be the right integrity to hold up.
How To Make Homemade Rolo Chocolates
If you don't have any Rolo chocolates handy, of course, you can purchase Rolo chocolates. That's the easiest route. But, you can also make your own.
This isn't a full recipe post for Rolo chocolates. I don't have measurements in this because my intention was to just spell out the method of how to make your own Rolo chocolates, but not how to actually make them. If you want a full homemade Rolo chocolates recipe, just click that link to be brought to one I found.
But, just for an overview, here's a quick tutorial on how to make homemade Rolo chocolates.
Start with a silicone dot chocolate mold. What's great about silicone chocolate molds is that they are non-stick, so you can pop everything out easily.
Just a quick note about using a silicone mold. You'll want to wash it before you use it, obviously, but then let it dry completely. Any water droplets left behind will create dents and holes in your chocolate and your homemade Rolo chocolates won't be perfect.
Now that that's out of the way …
Melt chocolate. Use a pastry brush to paint a layer of chocolate on the bottom and sides of the mold. Freeze until the chocolate is hardened.
Melt caramel candies and a bit of milk together until the mixture is smooth. Put a dollop of caramel in each candy mold. Let that harden.
Melt more chocolate and pour a layer on top of the hardened caramel. Freeze until that chocolate is hardened.
Pop the homemade Rolo chocolates out of the mold. Keep them in the fridge until you're ready to serve or use in one the recipes above.
Rolo Chocolates Alternatives
The only alternative I know for Rolo chocolates are Hershey's Caramel Kisses. You can use those in any of these recipes that call for Rolo chocolates.
What's funny to me, actually, is that the only alternative I can find are actually another chocolate made by the same parent company. In the United States, production of Rolo chocolates is done by The Hershey's Company. Worldwide, Nestle makes Rolo chocolates.
If you know any other Rolo chocolate alternatives, be sure to let us know in the comments so we can add them to this recipes using Rolo chocolate post.