For a long time, I wouldn't eat spinach. That was me just being a kid, thinking spinach was only for Popeye. There weren't any spinach recipes, not even budget friendly spinach recipes, I would try because I was convinced it was gross.
And then, I grew up and started eating raw spinach in salad or tacos because it was healthier than lettuce.
And finally, I upgraded my life to cooked spinach.
It's not bad if you know how to cook it.
So if you're still avoiding spinach, give it another shot.
Pick one of the recipes off of our spinach recipes list, and you're bound to find something you love.
10+ Budget-Friendly Spinach Recipes
Some of these spinach recipe use it in the full recipe, and some use it as a topping or garnish. So if you want a lot or a little spinach, you'll find something on this list for you.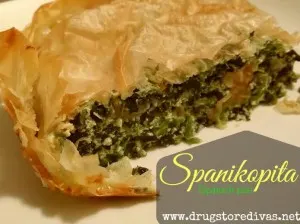 Spanikopita is a Greek dinner pie that's made with thin, crumby layers of phyllo dough and stuffed with spinach and feta cheese (and a few other tasty ingredients).
This version is actually really easy because it's completely made in a skillet. And who doesn't love a one-pot meal?
We swear by Alton Brown's Spinach and Artichoke Dip. I made a few minor tweaks to it to make it my own, but for the most part, I follow his recipe.
What's really great is this recipe is made in the microwave, so it comes together in a handful of minutes.
If you're not sure how to feel about cooked spinach, add a little bacon. Bacon makes everything better.
Once you make this really easy — and super tasty — bacon spinach, you'll be wondering why it hasn't always been your side dish of choice.
Lasagna Cups are such a fun one-bite appetizer recipe. They're also a really good snack dinner idea.
Our original recipe is filled with spinach, to add a little bit of healthiness to this recipe. You don't have to use spinach though. You can fill your lasagna cups with pretty much anything you like.
Breakfast doesn't have to be rushed or boring. Take your time and enjoy these Turkey & Egg Cups. These are a Greek omelet version, with spinach and feta.
You can make them ahead of time, then heat them up when you're ready for breakfast.
6. Chickpea And Spinach Vegan Burger
Even if you're not vegan, you'll love these chickpea and spinach burgers. They're a really good bean burger and hold together a lot better than traditional bean burgers do.
Top them with lettuce, tomato, and your favorite condiment for a delicious dinner idea.
Ditch the traditional BLT and make this BST — Bacon, Spinach, and Tomato — sandwich instead.
What's really great about this recipe is that it uses a "bacon weave" for the bacon, so the bacon is the perfect size to fit on a slice of bread.
Taco Rice, as we commonly call this Taco Rice Casserole, is one of our favorite dinners. It's packed with all the food groups you would want for dinner. Plus, you serve it with tortilla chips.
Throwing in a bunch of spinach is a great way to add a little color and extra vegetable to this recipe.
Pull Apart Pizza is a really fun dinner idea. But, it might not feel that healthy.
It will if you add cooked spinach on top. Find out how to make the pizza, and how to cook the spinach for a topping, in the post.
Spinach tops this tasty vegan taco recipe. If you're not vegan, don't let that deter you from these. These tacos are one of my favorite meal ideas, and we're not even vegan.
It's a good recipe for Ash Wednesday too, if you're Catholic.
These beef nachos are loaded with a ton of delicious toppings — including raw spinach.
It's a great way to get a healthy green leafy vegetable into your game day menu. You can top your nachos with as little spinach as you want.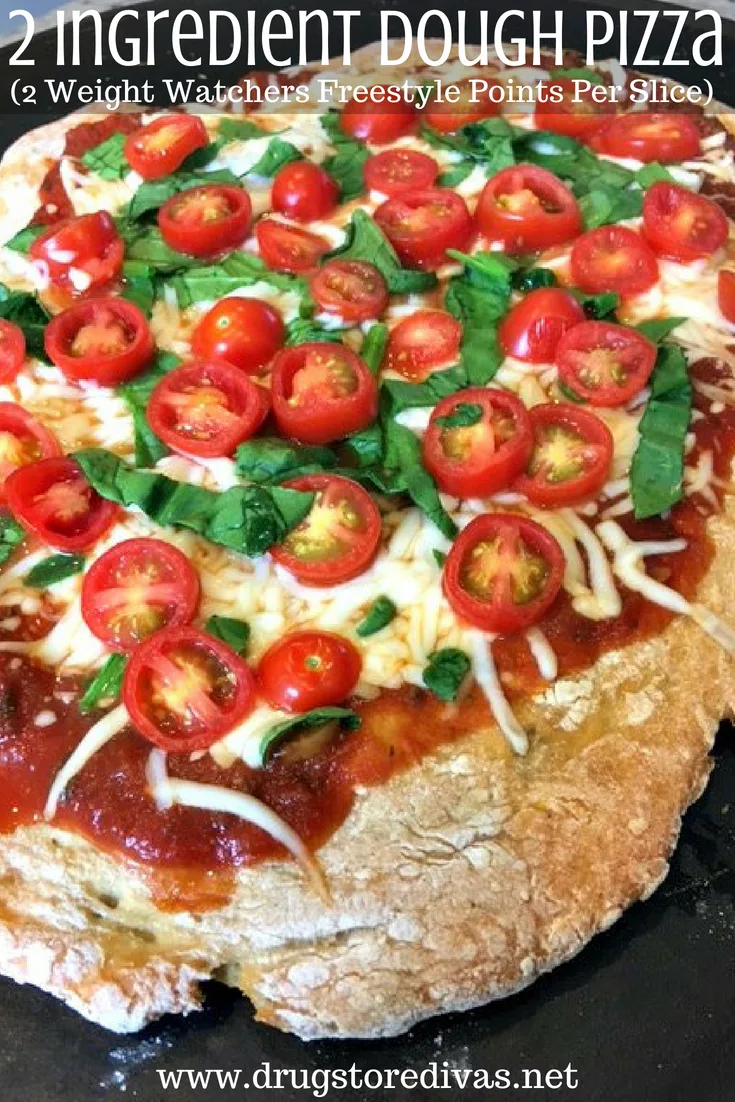 Spinach is just a topping in this 2 Ingredient Dough Pizza recipe, but it is a delicious topping. Sure, you can make this pizza for dinner without spinach, but why would you?
Spinach adds a vegetable, plus a lot of color, to your pizza recipe.
This Tuscan Bean Soup is one of Pete's mom's recipes. It's a good meal for a winter dinner.
Two cans of beans, onion, carrots, and baby spinach combine to make a really warm and filling dinner.
This Egg In A Hole breakfast, also known as Egg In A Basket, is so easy to make. But it looks like a breakfast you picked up at a local restaurant.
It's basically just three main ingredients too, including spinach, and some spices.
Is spinach a superfood?
Spinach is a superfood. It's a leafy green, and leafy greens are considered superfoods because they're low calorie and have a ton of nutrients. So definitely add some spinach when you can.
Should I use fresh or frozen spinach?
Some of these recipes require fresh spinach, like when it's used on top of the Lentil & Cauliflower tacos. But other recipes, like the Spinach and Artichoke Dip, can use either.
Frozen spinach is usually cheaper (in my stores anyway) than fresh spinach. So, if you're thinking about your budget, frozen spinach is a great option.
How much frozen spinach equals fresh spinach?
If you're using frozen spinach in a recipe that calls for fresh spinach, know that one 10 ounce package of frozen spinach is approximately 1.5 cups of fresh spinach.
Can you freeze fresh spinach?
This is one of my secret tricks. I love when I see fresh spinach on clearance. ALDI will usually have it for about 80 cents a bag.
I'll buy a bunch and then throw the bags directly into the freezer.
When I'm ready to use the spinach, I'll pull it out from the freezer and squeeze the bag to crush the spinach leaves into smaller pieces, then add the spinach straight to a pan.
I don't defrost it ahead of time. You can defrost it, but you don't need to. Each leaf freezes individually, so you don't end up with a huge block of spinach like you do when you buy it frozen.
Fresh frozen spinach works in recipes where the spinach needs to be cooked anyway, like our Chickpea and Spinach burgers. It won't work in a recipe like a spinach salad.
Want more budget-friendly recipes?
If you're looking for more budget-friendly recipes, check out our list of 25+ Budget Chicken Recipes.
Which of these spinach recipes is your favorite? Let us know in the comments.