If you're looking for ideas for cookies without chocolate, this list of Non-Chocolate Cookie Recipes will satisfy your sweet tooth.
For more ideas, check out all of our dessert recipes.
I give up up chocolate for Lent every year and really, it's a hard life without chocolate. All the desserts I ever want to eat have some sort of chocolate or chocolate chips, so Lent is pretty sad. Which, I guess is the point. But, still.
If you gave up chocolate, or you're just not a fan of chocolate, this list of non-chocolate cookie recipes will help you find some delicious cookies to make that don't have any sort of chocolate in them. The last one on this list of great recipes is just decorating a cookie, so it's more of a tutorial than a recipe. But it's so cute, so I had to include it.
5+ Non-Chocolate Cookie Recipes
Affiliate links are included in this post and Drugstore Divas may make a small commission if you use them.
This list is filled with all of our delicious cookie recipes that don't include chocolate of any sort. As we add more chocolate-free cookie recipes to Drugstore Divas, we'll add them to this list. So it would be a good idea to save this post (bookmark it, pin it, etc.) and come back from time to time to see what new cookie recipes we've added.
Thumbprint Cookies With Icing
A classic cookie with a twist, these Thumbprint Cookies with icing are filled with whipped cream cheese frosting rather than a traditional jam filling.
There is definitely a slight difference to the taste of these cookies compared to the jam-filled version, but it's just as satisfying. And doesn't need any chocolate to satisfy or add any sweetness.
Fluffernutter Cookies
Everyone loves a classic Fluffernutter sandwich. It was the coveted sandwich of elementary schools everywhere. We took that delight and turned it into cookie form.
Our 3-ingredient peanut butter cookies (made with creamy peanut butter, white sugar, and an egg) are stuffed with a little bit of Marshmallow Fluff, then baked until the cookie is golden brown and some of the marshmallow is oozing out of the sides and tops of the cookies. They're perfect served with a glass of milk or added to your child's lunchbox.
Pecan Sandies
Pecan Sandies always remind me of my mom's Christmas cookie platters. The best part of those were her pecan sandies (also known as snowball cookies in some parts of the country).
=A few basic ingredients, plus a lot of pecans, are all you need to make these cookies. We always leave them as balls of cookie dough (because they look like snowballs in Christmas cookie platters, hence the alternative name). But, I've seen people flatten them also. Good news. They taste delicious either way.
No matter the shape, you'll want to cover them in powdered sugar when they're done to give them a little more of that snowy feel.
Unicorn Poop Meringue Cookies
Meringue cookies are some of the best cookies you'll ever eat. They're super light and airy and taste like sweet clouds.
If you have a steady hand, you can pipe meringue cookies in a bunch of different ways, the easiest of which is this triangle that looks like … well, the poop emoji. Add some rainbow sprinkles and you've got these Unicorn Poop Meringue Cookies. Of course, if you'd rather call them something else, that's fine.
Halloween Pinwheel Cookies
One of my favorite cookie recipes is this Halloween Pinwheel Cookies recipe. It just looks adorable and like a store bought cookie.
If this is your first time making these cookies, it'll feel like a process to make them, but it's so worth it. You mix all the ingredients in a stand mixer, divide the dough into two equal parts, color them, then roll them together. Roll them in sprinkles and put them in the fridge, then slice them like slice and bake cookies. Then bake.
Don't mind that these use Halloween colors. You can change the colors depending on what holiday you're making these for.
Also, one of our top tips for these: You'll want to underbake them just a little bit for the best results, especially if you're using no color in one of the spirals. Baking them too long will turn the light color too brown and you'll lose some of the effect.
Mardi Gras Meringues
These Mardi Gras Meringues are purple, green, and gold because those are Mardi Gras colors. But, a great way to make these for any holiday (or school graduation) is to just change the colors.
If you've never had meringues before, they're really light cookies that melt in your mouth. They're gluten free as is (yup, no all purpose flour in these cookies), which is good if you need that.
Christmas Tree Meringue Cookies
If you need a Christmas cookie idea and you want to add something adorable and festive to go alongside your classic recipes, this Christmas Tree Meringue Cookies recipe is it.
The cookies are super easy to make, but it's the decorating that really brings the treat to life. Small, nonpareils look like Christmas lights going down a Christmas tree — that's topped with a star sprinkle. So cute.
Nutter Butter Flip Flop Cookies
And now, we've made it to the cookies that are just decorated. These Nutter Butter Flip Flop Cookies are, you guessed it, are just Nutter Butter cookies that are decorated to look like flip flops. So if you're not really into baking, this is the best recipe for you.
They use icing to make the designs, not chocolates or candy melts, so they're chocolate free. A lot of our other decoration-only recipes use chocolate as some part of the design, so they weren't able to make the list.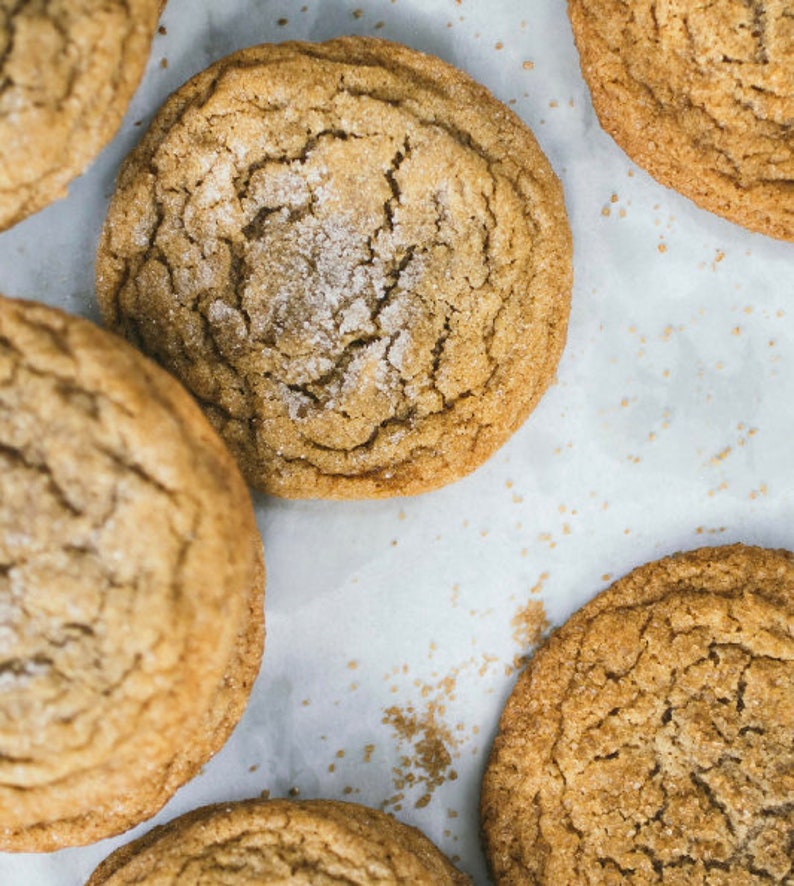 Order Cookies Online:
If you're in the mood for cookies now, but none of these easy cookie recipes appeal to you, you can just order cookies, like the Molasses Brown Sugar Cookies above, online from the following shops/delivery services:
Don't forget, you can always order cookies from your local grocery store via Instacart and have them delivered (nearly) instantly. Then, you know, just make homemade cookies next time you want some.
Which of these non-chocolate cookie recipes will you make first? Let us know in the comments.