While you're planning your Halloween party menu, check out these Spooky Halloween Treats. There are cookies, chocolate bark, and more.
Get tips to make this the best holiday yet with all of our Halloween posts.
For a while, I was not the biggest fan of Halloween, if I'm being completely honest. When you're a kid, it's fun because you get free candy. When you're older, Halloween means putting on slutty clothes and going to the bar, and I hated that. But now, it's decorating our house and putting together spooky Halloween treats.
And if you know me, you know I love any excuse for cute themed treats. So I'm all about these adorable Halloween treats.
I'm calling them spooky, but mostly they're just cute Halloween-themed treats. No one's getting scared by these.
10+ Spooky Halloween Treats
Affiliate links are included in this post and Drugstore Divas may make a small commission if you use th
These are all the Halloween recipes that we currently have on the blog. As we add more recipes (which we will definitely do this year), we will add them to this post.
So be sure to pin it on Pinterest or bookmark it to come back to it later in the season.
Chocolate Covered Pumpkin Pretzels
Candy melts go a long way in making these Chocolate Covered Pumpkin Pretzels your new favorite Halloween treat. They're easy to make and look like they came from a chocolate shop.
What's nice is you can make a bunch of them at once, then package them up for neighbors gifts. Since you can make them up to two weeks in advance, they're a good treat for class parties too. Just make them when you have time, then bring them to the party.
Halloween Breakable Chocolate Mummy
If you're looking for a really fun idea for Halloween, our Halloween Breakable Chocolate Mummy is perfect. It's basically a chocolate piñata because it's filled with treats that spill out when you smash it open.
You can make a bunch of them at once, which is great if you have a lot of kiddos to give these out to.
Halloween Chocolate Bark
This Halloween Chocolate Bark is super easy to make and looks incredible. A few candy eyes, some candy melts, and a few candy coated chocolates go a long way to make this treat visually appealing.
The best part is the whole thing only takes a couple minutes to make. But, you can't eat it right away. It does need to chill in the fridge for a couple hours before you can enjoy it.
Nutter Butter Mummies
These Nutter Butter Mummies are some of the most adorable treats you can make this holiday season. They only require three ingredients, and a little bit of patience, to make them.
The cookies will last for a really long time in the freezer, and quite a bit of time in the fridge too, so you could make these when you have some spare time and they'll still taste good on Halloween.
Spooky S'mores Favors
How cute are these s'mores favors? They're perfect if you're hosting a Halloween party this year. What's great is you can put them together ahead of time, then hand them out to your party guests.
If you have a fire pit, get a fire going in the backyard during your party, and use these Halloween party favors to make some Halloween themed s'mores.
Ghost Meringue Cookies
These ghost meringue cookies are really cute all laid out on a plate at your Halloween party. They're really easy to make. And thank goodness for that because they melt in your mouth — which means your guests will end up eating lots of them at once. So you'll want to make a lot of them.
They're also gluten-free as is, which is great if that's something you need to be concerned about.
Monster Milk
Halloween treats aren't reserved just for food. You can dress up your drinks too. Like this Monster Milk. It's just milk with food coloring and marshmallows. So you probably have everything you need to make this at home.
You have two options to make this. You can make a large batch of it in a punch bowl for a Halloween party and use regular-sized marshmallows in it. Or, you can make individual servings like in the post itself, and use mini marshmallows.
Halloween Fudge
You only need a couple ingredients to make this super easy Halloween Fudge. The fudge itself is a two ingredient dessert recipe. The other ingredients are for presentation (coloring and candy on top).
This Halloween Fudge looks festive and taste delicious. You really can't ask for much more in a Halloween treat.
Halloween Popcorn
Halloween Popcorn is the perfect snack for when you're watching Halloween movies this season. This recipe calls for popping kernels, but you can make it with microwaved popcorn or bagged popcorn if you wanted to make it even easier.
Speaking of movies, if you're looking for some inspiration, be sure to check out our list of 50+ Halloween Movies For Kids. And, don't forget about Freeform's 31 Nights Of Halloween Schedule too.
Vampire Donuts
These Vampire Donuts are so easy to make … because they're made from store bought doughnuts. For these, all you're really doing is decorating, which really is the fun part anyway.
Of course, if you had some extra free time, you could make homemade doughnuts for this, but it's not necessary. The glow-in-the-dark teeth are what really makes these pop, not the flavoring.
Applesauce Pouch Ghost Halloween Treats
If you need a treat for a Halloween party at school, these Applesauce Pouch Ghost Halloween Treats are perfect. They're made from applesauce pouches, which are perfect for school because they're tree nut free and allergen friendly.
Plus, they're sealed, which is usually what you need for school treats. And, if you have any extra, you can give them out to trick-or-treaters too.
Halloween Mummy Oreo Cookies
These Halloween Mummy Oreo Cookies are easily made with three ingredients, one of which is Oreo cookies. That means there's no baking involved. Mostly, it's just decorating.
These really are worth the effort and will look incredible on your Halloween dessert tray.
Halloween Pretzel Spider Webs
A little effort goes a long way to make these Halloween Pretzel Spider Webs. They're really delicate and dainty, which gives them a really great crunch and texture when you're eating them.
They can be made ahead of time and stored in the fridge for up to two weeks too, which is a great way to prepare for Halloween parties ahead of time.
Mummy Candy Bars
These Mummy Candy Bars are adorable — and an easy way to make your Halloween candy stand out from the crowd.
If you're making Halloween treats for a classroom and need to give packaged candy, this is a great way to do it without feeling boring.
Halloween Ghost Chocolate Apples
Apples are the quintessential fall treat. And apple picking is such a fun fall family activity. But if you're looking for something to do with all those apples, besides making pie, these Halloween Ghost Chocolate Apples are it.
They're really cute and are actually a lot easier to make than they seem.
Halloween Pinwheel Cookies
These Halloween Pinwheel Cookies absolutely looked like you purchased them at the local bakery. They don't look like a cookie you made at home. But they are.
These are a two day project, since you have to chill the dough overnight, but these Halloween cookies are absolutely worth it.
Pumpkin-Shaped Bagels
Halloween breakfast would be so much fun if it was Pumpkin-Shaped Bagels. If your bagel shop isn't serving anything like this, rest assured that you can make them at home with ease.
This recipe uses 2 Ingredient Dough, which is super simple. It uses self-rising flour, so you don't have to wait for the dough to rise or proof before using it.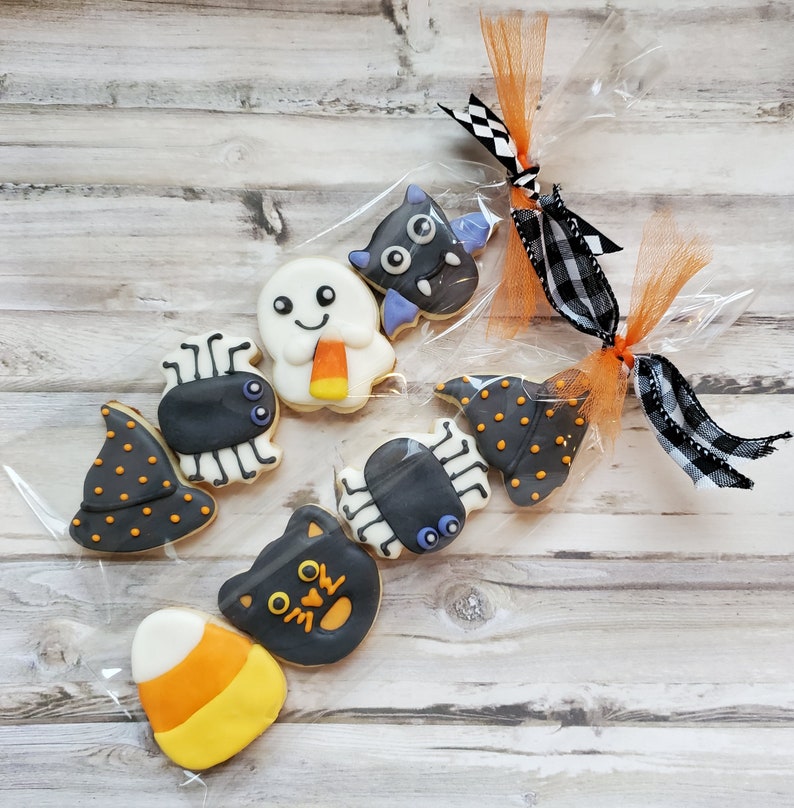 Purchase Halloween Treats:
If you like these cute Halloween treats, and think they would be perfect for your Halloween gathering, but you don't have time to make them, it's okay. You can simply purchase Halloween treats, like the adorable Halloween sugar cookies in the image above. Those can be purchased here.
Check out the links below for our favorite places to buy Halloween treats online.
Keep in mind that if you do order online, you can often choose curbside or in store pickup to avoid shipping costs.
More Halloween Ideas:
If these Halloween treats have you excited for spooky season, we have a few other posts that you might like too.
Halloween Crafts:
Halloween Fun:
Which of these Spooky Halloween Treats will you try first?