Shish Kabobs are the perfect summer dinner. Check out this list of Easy Shish Kabob Recipes. There are savory and dessert kabobs.
For ideas on what to cook tonight, check out all of our recipes.
Shish Kabobs are the perfect summer dinner. Just put anything on a skewer, grill it (or cook it in the oven, if you don't have a grill) and you have a great dinner. There are so many different kabob recipes you can try too, so you can make one every day this summer and not have any repeats.
We put together a list of shish kabob recipes for you to check out. There are savory and sweet dessert kabob recipes to try.
So no matter how you spell this delicious dinner on a skewer — shish kabobs, kabobs, or kebobs — you'll find something you like.
After the recipes, there are some answers to common questions about shish kabobs, and then there are a list of items that are necessary when making shish kabobs. After you read both those sections, you'll feel confident enough to make any shish kabob recipes.
7 Tasty Shish Kabob Recipes
Affiliate links are included in this post and Drugstore Divas may make a small commission if you use them.
Savory Shish Kabobs Recipes
Hawaiian Chicken Kabobs
Everyone in your family will love these grilled Hawaiian Chicken Kabobs. They're filled with vegetables, pineapple cubes, and chicken.
They're really colorful (and you know, everyone eats with their eyes), so they'll appeal even to the pickiest of eaters.
Grilled Sausage Kabobs
You can't go wrong with dinner on a skewer. And you can't go wrong with these Grilled Sausage Kabobs either. They're made with a smoked sausage, plus two different colored peppers and red onion, which makes it such a pretty kabob.
This recipe uses a hot sausage to give it a little bit of flavor. If your family would rather a mild or sweet sausage, you could use that instead.
Grilled Tomato And Mushroom Skewers With Garlic Butter
If you're looking for a really delicious side dish on a skewer, these Grilled Tomato And Mushroom Skewers With Garlic Butter are it. You can make a simple garlic butter for them or you can make our really tasty (and also, very simple) Smoked Garlic Butter on the grill first. Then, lather that butter on these and grill to perfection.
These are a really great way to use up any produce that you have in your fridge. Sure, you could just throw them in a grill basket and cook them that way, but they're a lot more fun when it's a kabob.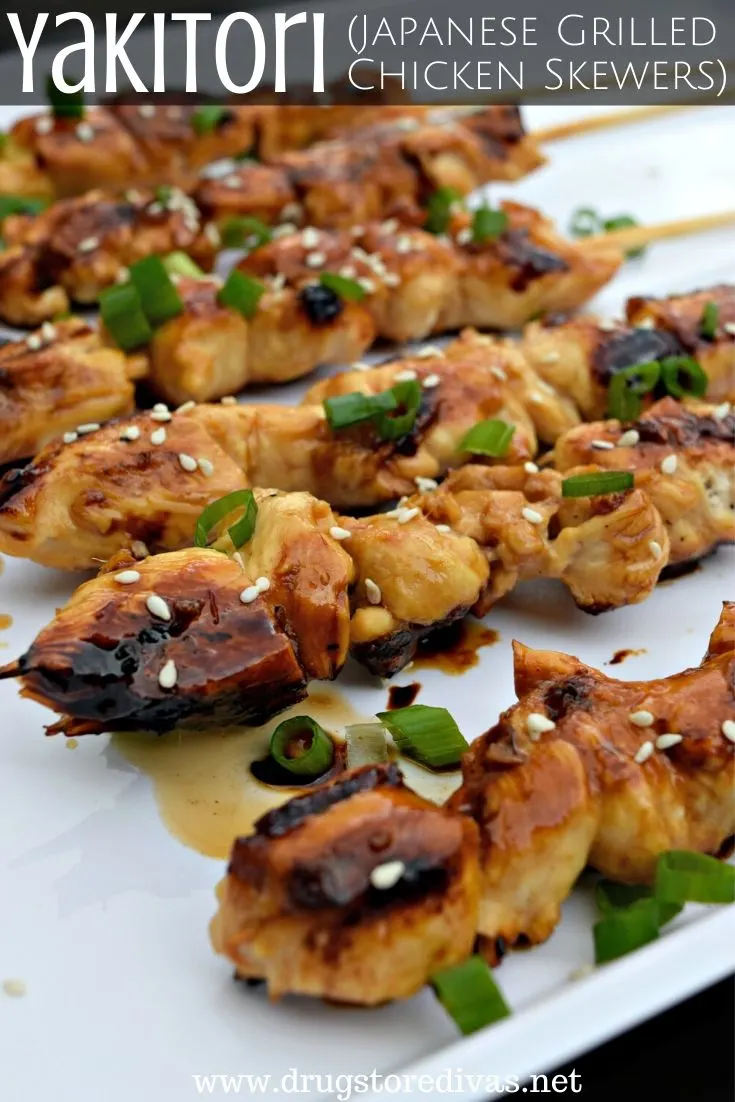 Yakitori (Japanese Grilled Chicken Skewers)
Yakitori is such a popular food in Japan. There are even restaurants that specialize in yakitori and sell (mostly) just that.
Yaki (grilled) tori (chicken) — so, basically, Japanese Grilled Chicken Skewers — is a really easy recipe to make at home. It just involves a bit of babysitting because you're constantly basting the marinade on the skewers. But trust us, it's worth it.
This kabob is made with chicken breast, but traditional yakitori is made using every part of the chicken (the ones we think of, like thighs, and the ones we don't think of, like knees). No matter what yakitori you're ordering, they all come on skewers, traditionally grilled on a yakitori charcoal grill.
Chicken Shish Kabobs Made In The Oven
When most people think of shish kabobs, they think of grilling them on a charcoal or propane grill. But, you don't have to. It's really easy to make them in the oven, like these Chicken Shish Kabobs made in the oven.
This recipe uses a set of reusable skewers, which is great for your wallet. Instead of throwing away skewers every time you use them, you just wash and reuse these ones. Sure, a package of skewers isn't that much money, but every penny helps.
Grilled Shrimp Kabobs
Shrimp and vegetables on a skewer make up this Grilled Shrimp Kabobs recipe. Everything cooks together on the grill to make a perfect pescatarian kabob.
This recipe uses fresh, local shrimp, but you could use frozen shrimp if that's all you have access too. The recipe would be just as delicious that way.
Sweet Shish Kabobs Recipes
Patriotic Fruit Flag
This Patriotic Fruit Flag is the perfect for your Memorial Day or July 4th parties. Cut fruit is added to skewers and arranged to look like the American flag. It's adorable.
These are definitely kabobs because the fruit is served on skewers. But these are an uncooked kabob recipe (obviously).
Chocolate Strawberry Dessert Kabobs
These Chocolate Strawberry Dessert Kabobs are our second most popular kabob recipe (the Chicken Shish Kabobs Made In The Oven are our most popular).
Chocolate doughnuts, strawberries, and marshmallows are added to skewers to make this really fun kabob recipe.
They're easy to make, last a long time, and will be the perfect end to your backyard barbecue.
Shish Kabobs: Frequently Asked Questions
What kind of meat is best for shish kabobs?
You can use any type of meat for shish kabobs, like lamb, chicken, shrimp, beef, etc. But the best meat is anything that's tender and lean (like sirloin) because that will cook quickly and won't be chewy when it's done.
What can you put on kabobs?
You can pretty much put anything on kabobs: meat, seafood, poultry, vegetables … you get the idea.

When you're making your kabobs, you want to put together foods of similar size (so they sit evenly on the grill). You also want to put together foods that cook at relatively the same speed because you don't want your tomatoes to die while your beef is still cooking.
What is the best way to cook shish kabobs?
Personally, I think the best way to cook shish kabobs is on the grill. You get such a good flavor that way.

You can also cook shish kabobs in the oven, which is a great way to make them during the winter when it's too cold to grill outside.

And, you can even make shish kabobs in the air fryer with an air fryer shish kabob rack.
Do you have to marinate meat for kabobs?
You don't have to marinate meat for kabobs. Doing so will make the meat tender, but you can also just use a tenderizer on it before putting it on a skewer and just brush the marinade on the kabobs as they're cooking.
Tools Needed For Shish Kabobs:
Basting brush: If you're going to be adding marinade to your kabobs while they're cooking, the easiest way to do this is with a basting brush. Purchase here.
Kabob maker: If you're grinding your own meat to make skewers, a kabob maker is perfect. You add the meat to it, add in a skewer stick, and the meat will attach onto the skewer. It makes your life so much easier. Purchase here.
Kabob rack: If you're making shish kabobs, a kabob rack is your friend. You set the skewers on it and it's so easy to rotate the shish kabobs when needed. Purchase here.
Reusable skewers: If you're planning on making shish kabobs often, you should definitely invest in a set of reusable skewers. They're much more sustainable (and budget-friendly) than tossing out wooden skewers every time you use them. Purchase here.
Which of these kabob recipes are you going to try first? Let us know in the comments.