Tacos are a fun and easy meal to make for Cinco de Mayo. Get some unique Taco Recipes for Cinco de Mayo in this post.
Looking for more things to eat? Check out all our recipe posts.
I love tacos. No joke, I could eat tacos every day of the week. I'm not sure if Pete could, to be honest, but he would if I wanted to. That's love. But, we can't eat the same tacos every single day, so I put together a list of 5 Taco Recipes for Cinco de Mayo.
You don't have to wait for Cinco de Mayo to enjoy these. Eat them on Taco Tuesday. Or Taco Thursday. Or Friday. Whenever your heart desires.
Tacos shouldn't come with restrictions.
5+ Taco Recipes For Cinco De Mayo
Affiliate links are included in this post and Drugstore Divas may make a small commission if you use them.
Grilled Taco Burgers
A burger and taco aren't the same thing. I get it. But once you try this Grilled Taco Burger, you'll understand why it needs to be in your Taco Tuesday rotation.
The ground beef in this recipe is seasoned with taco seasoning, but it's formed into patties instead of broken apart into pieces, making it a lot easier to eat than a taco. Plus, since there's no shell, there's no shell to fall apart. You eat this with a bun instead, and trust me, you won't miss the taco shell. But, if you do, just add some corn chips on top with the salsa and sour cream.
Lentil & Cauliflower Vegan Tacos
Don't scroll past these lentil and cauliflower tacos just because they're vegan. You'll be missing out on some of the tastiest tacos you've ever experiences. The lentil and cauliflower mixture is delicious and is a great substitute for meat. And the mashed avocado goes perfectly. It lends a freshness to the lentil mixture. We topped ours with lettuce and tomato, to keep them vegan. But if you're not worried about your tacos being vegan, you can definitely top them with cheese like you would a traditional taco.
The only pain about these, if I'm being completely honest, is that lentils need to be soaked overnight. So you really need to plan for these lentil and cauliflower tacos ahead of time. They're not going to be something that pop into your head at lunchtime and you make for dinner that night.
In theory you could skip soaking the lentils overnight, but don't. Without doing that, lentils have a really earthy taste — and the Earth doesn't taste very good. If you skip that step, you won't like these and you'll never make them again.
Taco Lasagna
Taco Lasagna is such a fun twist on tacos. It has so many components of traditional tacos — cheese, salsa, ground beef, and taco seasoning — made into a lasagna. Now, a lot of taco lasagnas use flour tortillas for the layers, but that sort of just makes it a layered taco, not a taco lasagna. Our Taco Lasagna is difference because it uses lasagna noodles to form the layers — just like a traditional lasagna.
This is a pretty great weeknight taco recipe because it comes together easily. You have to cook the meat by itself first. But, if you use oven ready lasagna noodles, that saves you time. Those are great because you don't need to boil them before using them. Layer everything together, bake for less than an hour, and you're good to go.
Plus, this fills an entire lasagna pan, so you can easily feed a crowd. If you want a little more food to go with it, just serve a lettuce and tomato salad on the side (the only two ingredients missing from a traditional taco), and you have a complete meal.
If you like this Taco Lasagna recipe, you can thank my friend Michelle for it. She's the one who originally shared it with me because her entire family loves it every time she makes it.
Slow Cooker Taco Soup
My slow cooker is one of my favorite kitchen appliances. It just makes cooking so easy. You basically dump all your ingredients into the slow cooker and ignore it until it's time for dinner. I made a lot of different meals in my slow cooker, but what it's most famously used for is soup.
So of course I had to create a Slow Cooker Taco Soup.
This recipe calls for ground chicken, but you can substitute ground beef or ground turkey in it. There are so many flavors in it, so I really think that ground chicken works best because it's a little bland. So it's able to absorb the flavors from all the other ingredients without adding a competing flavor. I love ground beef in my traditional tacos, but beef would impart a lot of flavor into this soup. And then you'd be missing out on the flavors of everything else.
You can make the change though. Just don't change the tortilla chips on top. That crunch really makes this soup delicious.
Homemade Taco Bowls
One of my favorite memories growing up is my mom making homemade taco shells. It wasn't until I was older than I realized just how much work it is to make taco shells from scratch. You make the batter, shape it into a circle and cook on both side on the stovetop, then deep fry the shell to get the folded shape.
So much work, but it's so worth it.
These homemade taco bowls use that recipe, but they're a little easier. You made the batter, cook it on the stovetop, and then transfer the shells to a cupcake tray instead of a fryer. You bake them and they get the taco bowl shape. That's a lot cleaner than the fryer, that's for sure, and a little easier for a weeknight dinner.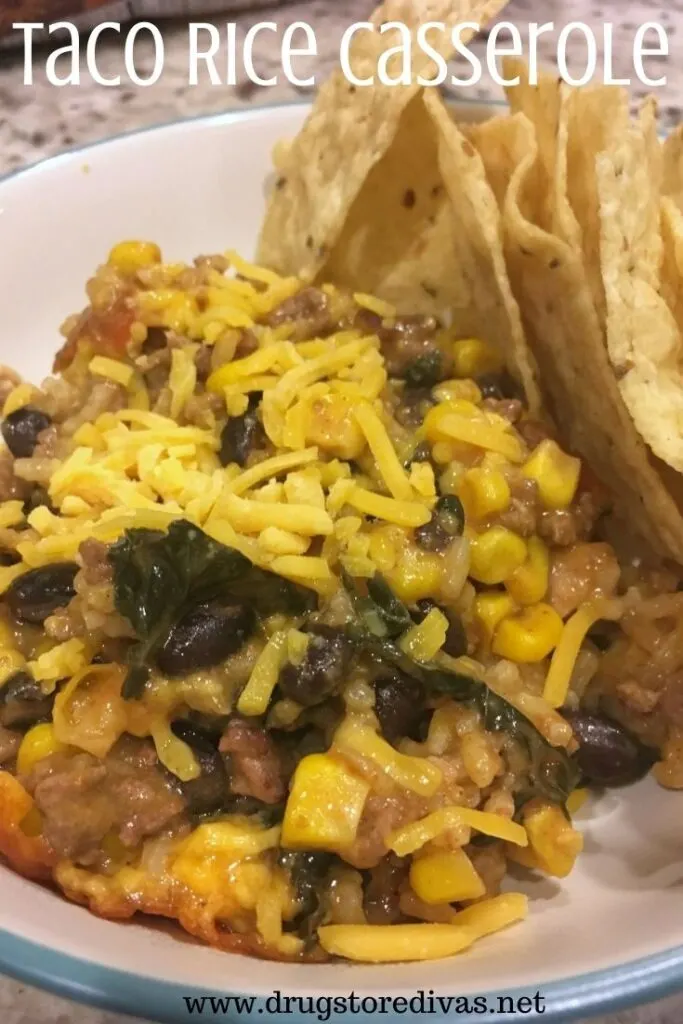 Taco Rice Casserole
Pete has a list of the top five things I make for dinner, and Taco Rice Casserole is on the top of the list. Any time he sees me grabbing the casserole dish, he asks if I'm making taco rice. Honestly, he would eat taco rice every day for every meal. I've even made it for non-taco fans (of course, I didn't know there were non-taco fans until I brought this out), and those non-taco fans were converted. It's that good.
Taco Rice Casserole is basically all your favorite components of tacos, plus rice, all mixed together. It's so much easier than tacos because you make the meat in a pan on the stove, and then just dump everything else into a casserole dish. That's it. Super easy cleanup. Unlike tacos, which have a million little bowls to clean up after the meal is over.
Wonton Taco Cups
I'm a big fan of snack dinners, and Wonton Taco Cups is one of my favorite snack dinners. Snack dinners are basically when you have dinner, but it's served in more of a snackable form. Like these are tacos, but in wonton cups. How fun is that?
These Wonton Taco Cups are also a really great one-bite appetizer. So if you're having a party, these would be a really great option of something fun to serve.
Taco Pie With Crescent Rolls
If you want to enjoy tacos without any of the mess, this Taco Pie With Crescent Rolls recipe is perfect for you.
It has all the flavors of tacos — meat, beans, cheese, lettuce, tomatoes, and sour cream — but instead of being served individually in taco shells, you're making a "pie" using crescent rolls as the crust. That's the base for all the yummy taco ingredients.
Make this once and it's sure to be a new family fave.
More Mexican Recipes:
If you're not into tacos, but you want to make something Mexican-ish for dinner tonight, we have a few other recipes you might enjoy:
Quesadilla Recipes:
Nachos Recipes:
Salsa Recipes:
Order Cinco De Mayo Meals Online:
If you don't feel like cooking tonight, you can just order Cinco De Mayo meals online with the following delivery services:
Which of these taco recipes for Cinco de Mayo will you try first. Be sure to let us know in the comments.