You can grill more than just meat. Grilled vegetables, as salad or sides, are so good too. Get inspired by these Vegetarian Grilling Recipes.
For more ideas, check out all of our grilling recipes.
Grilling is a great way to cook, especially when it's warm out. I'd much rather be cooking outside than inside. But having a barbecue doesn't just have to mean taking out hamburgers and hot dogs and throwing them on a grill. Sure, that's a great part of a barbecue, but there are a ton of vegetarian grilling recipes that are delicious.
We recently got a brand new (for us) grill, which means we've finally gotten the chance to experiment with grilling some new recipes.
We put together a list of Tasty Vegetarian Grilling Recipes to get you excited about a meatless barbecue.
Okay. Fine. Your barbecue doesn't have to be meatless. But you should pick one or two of these to serve as a side dish. Because you can do more than just take out a salad and serve it on the side.
Also, you can grill a salad. Yes, that's on the list.
A lot of these are perfect vegetarian grilling recipes for summer because produce is a lot more prevalent during warmer months, especially if you have a garden like us. But, you can grill any time of the year.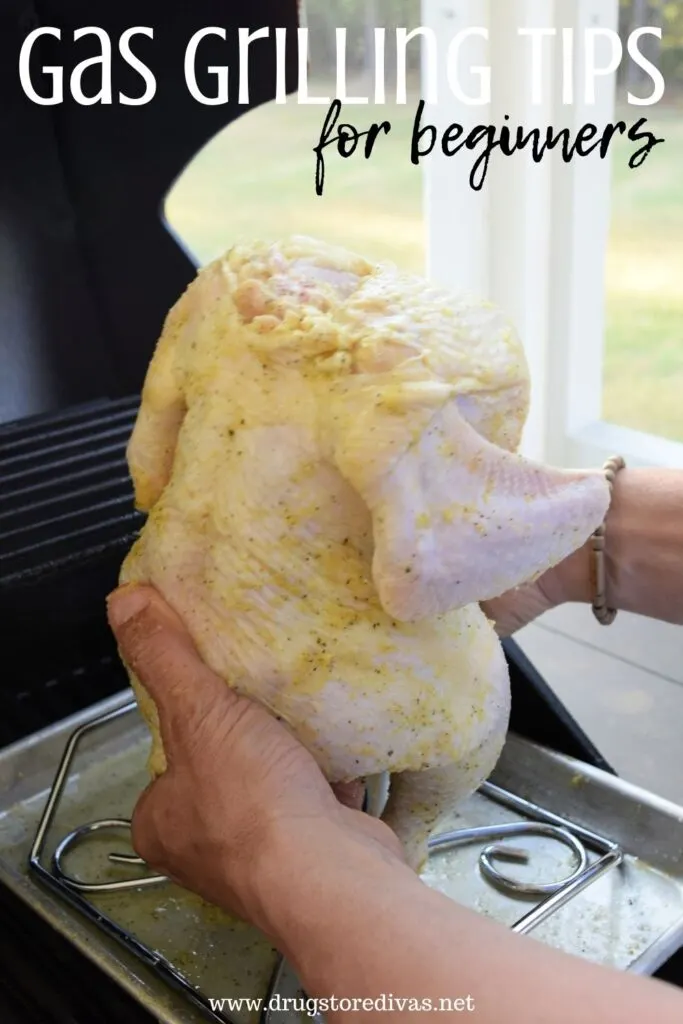 If you're new to grilling, be sure to check out our Gas Grilling Tips For Beginners post before you start cooking.
And yes, I see the irony in that post having an image of a chicken in it while this post is about grilling vegetarian things.
Tasty Vegetarian Grilling Recipes
Affiliate links are included in this post and Drugstore Divas may make a small commission if you use them.
Be sure to keep checking back to this post. We've added a bunch of summer vegetarian grilling recipes to this post since we originally posted it.
Grilled Garlic Bread
You haven't grilled everything until you make Grilled Garlic Bread. It's so much better than any garlic bread you'd make in the oven.
Plus, it only takes 15 minutes to make it, so you'd be silly to not do it.
Grilled Zucchini And Feta Rolls
No one will miss the meat at your barbecue if you serve them these Grilled Zucchini And Feta Rolls.
Warm chunks of feta are surrounded by seasoned zucchini to make the perfect grilled appetizer. You'll want to serve them immediately off the grill, since they taste better that way.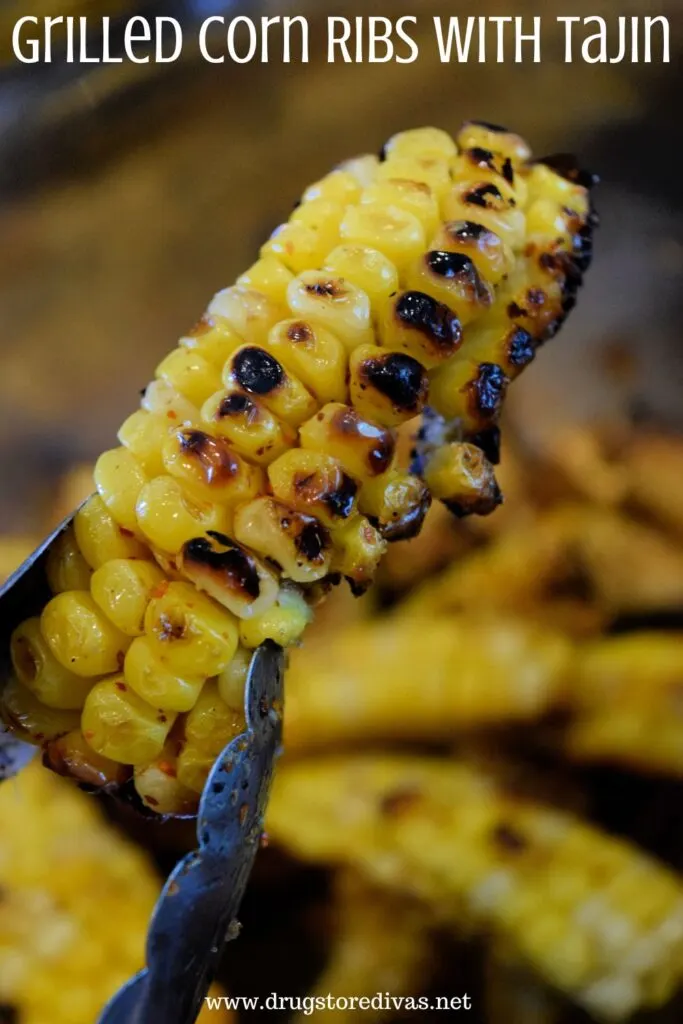 Grilled Corn Ribs With Tajin
Grilled Corn Ribs are a delicious recipe that went viral on social media … probably because of how easy and delicious it is.
You can make them in the oven, but they're so much better with the char from the grill.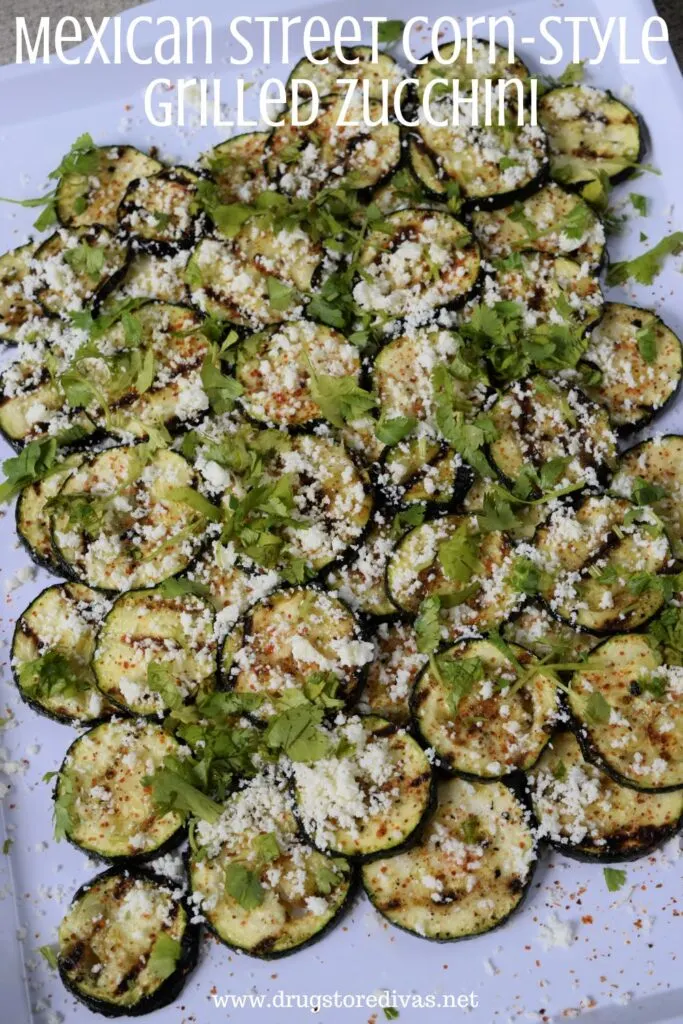 Mexican Street Corn-Style Grilled Zucchini
Grilled zucchini is delicious, but have you had it in a Mexican Street Corn-style. Because that's amazing.
It's two zucchini grilled on both sides, then dressed in Mexican Street Corn flavoring (Tajin seasoning, cotija cheese, lime, etc.). It makes a lot, but there's a very good chance you still won't have any leftover. It's always a big hit.
Grilled Vegetables In Foil Packets
Vegetables are amazing when they're made on a grill. Oftentimes, people use a grill basket to make them, but our grilled vegetables in foil packets uses a — you guessed it — packet made of foil instead of a grill basket.
Everyone, well pretty much everyone, has foil at home. But not everyone owns a grill basket. So by using foil, you can easily make grilled vegetables any time you want.
We use zucchini and squash in this recipe, but you could follow the same recipe with other summer vegetables if that's what you have on hand.
Grilled Corn On The Cob
My dad has grilled corn on the cob for my entire life. It's so good that way. Plus, it just makes logical sense. If you're already cooking all your food on the grill, why would you make your life harder by cooking your corn on the stove? If you did that, you would have to go back and forth between the house and the grill?
When you grill corn on the cob, it's really tasty. You add the butter and salt before you grill, which means you don't have to add anything to it after it's done. You can if you want (I mean, do you, right), but it's perfectly made this way.
I mean, my dad did have my whole life to perfect his grilled corn on the cob recipe.
Grilled Tomatoes
If you have a lot of garden tomatoes and you're looking for something to do with all of them, grilled tomatoes is a great side dish.
These do take up a lot of space on the grill, so you're better doing this recipe on either a smaller scale if you only have a small, charcoal grill or just making this on one side of a larger, propane grill.
The recipe is the same regardless of if you make it on a charcoal or propane grill, so it's more about space than taste.
Grilled French Fries
French fries are the perfect side for a northern barbecue.
Okay wait, let me back up a minute.
Up north, like New York north, if you're inviting people over for a barbecue, you're serving hamburgers and hot dogs. Down south, like North Carolina south, if you're inviting people over for barbecue, it's pulled pork. Notice the missing "a" and the completely different food choice.
So, if you're having a New York north barbecue, fries are the perfect side. But, it's a pain in the neck to make the burgers and dogs on the grill and the fries in the oven. That's why we came up with an extremely tasty grilled French fries recipe.
Grilled Mushrooms
Can you hear the crackle and sizzle in that photo of the grilled mushrooms? Can you feel the heat coming off them?
Maybe it's just me.
But once you make these grilled mushrooms, you'll understand exactly what I mean.
These mushrooms are so rich in color and flavor. You'll be shocked to know how incredibly simple they are too.
They're made from white button mushrooms, which are (in our stores anyway) the cheapest mushroom variety. But when you cook them the right way, they turn into such an upscale side dish.
These grilled mushrooms are perfect on their own or to use to top a grilled steak.
Grilled Caesar Salad With Homemade Grilled Croutons
Yes, you can grill salad. Yes, I recommend doing it. Once you do, you'll never go back to a boring Caesar salad again. You'll be grilling yours from now on, I promise.
The texture and taste you get from grilling romaine lettuce contrasts so well with the cool bits that aren't grilled, giving you such a tasty salad. Add the homemade grilled croutons and you've got an incredible side dish.
Baked Potato On The Grill
If you're grilling your main dishes, grill your sides too.
This Baked Potato On The Grill is the perfect simple grilled side dish. It'll bake while your main dish is cooking.
Grilled Asparagus
Grilled Asparagus is so good. It's one of my absolute favorite grilled side dishes.
I only make it at the beginning of grilling season because that's when asparagus is affordable. In the middle or end of the season, asparagus is pretty pricey. And even though I love this, I don't tend to make it.
Grilled Garlic Parmesan Potatoes
You can never go wrong with grilling potatoes, especially if you're grilling for a crowd. You can make a ton of these Grilled Garlic Parmesan Potatoes in less time than it would take you to individually make baked potatoes for everyone.
They're not vegan, because of the cheese, but you could leave that off if you really needed to.
Grilled Mexican Street Corn Salad (Grilled Esquites)
Four ears of corn and a jalapeño are grilled to start this Grilled Mexican Street Corn Salad. It has all the flavors of a traditional esquites recipe, but it's served family style rather than in a cup (the traditional way).
This salad is bound to be the hit of your backyard barbecue, and your guests will definitely be asking you to make it next time they come visit.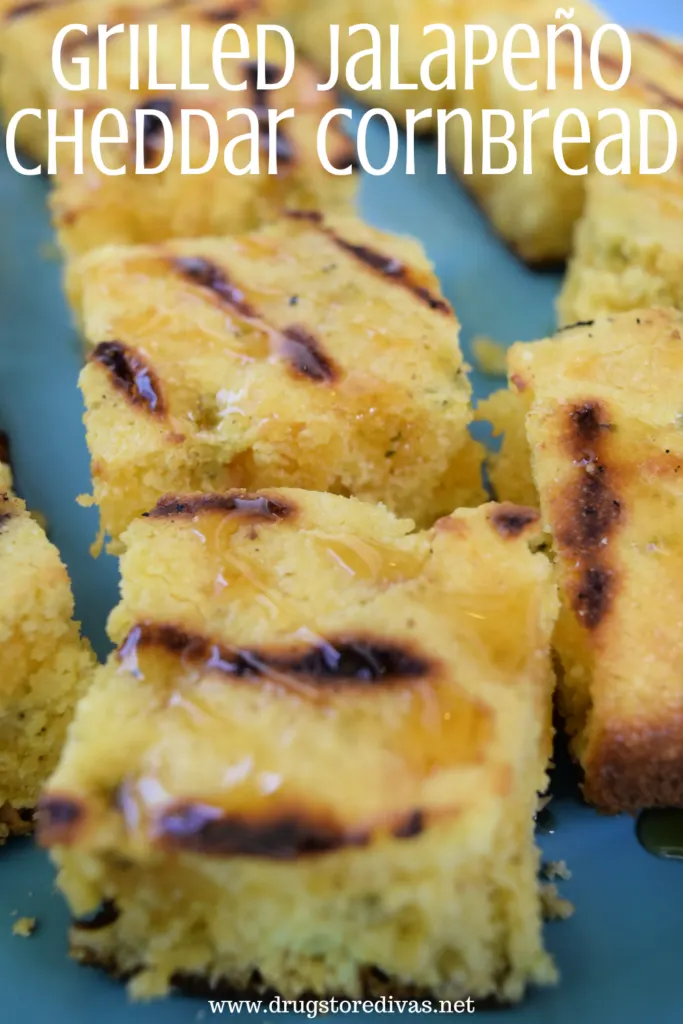 Grilled Jalapeño Cheddar Cornbread
Nearly every aspect of this Grilled Jalapeño Cheddar Cornbread is grilled. The jalapeño pepper is grilled, the cornbread is baked on the grill, and then the pieces are grilled individually on the grill.
If you want to add a bit more heat to these (like we do), you can drizzle them with a hot honey.
Grilled S'mores
Why stop grilling at the main meal? Grill dessert too.
Grilled s'mores are such a fun (and neater) alterative to campfire s'mores. Plus, if you check out this recipe, you'll get some other s'mores varieties too. You can make more than just the traditional s'more with a milk chocolate bar.
Vegetarian Grilling Recipes: Frequently Asked Questions
Is it better to grill vegetables on a propane or charcoal grill?
Honestly, grill with whatever you have to grill on. We're not elitists here, and I'm just happy you're cooking at home rather than ordering delivery for every meal. I don't want to deter you from that.
However, if you have the option of both grills and you're deciding which to use, propane grills are better for cooking vegetables than charcoal grills.

Vegetables need lower heat to cook well. You can regulate and lower the heat on a propane grill a lot easier than a charcoal grill. Once a charcoal grill is hot, it stays hot. You get it hot for cooking meat, and then it's hard to lower for vegetables.

With a propane grill, you can cook the meat high then lower the heat for vegetables. Or, you can have the heat higher on one side than the other and have meat on the high side and veggies on the low side. You can't do that with charcoal.

And, while something like grilled ribs can benefit from the smoky taste, something delicate like pineapple won't.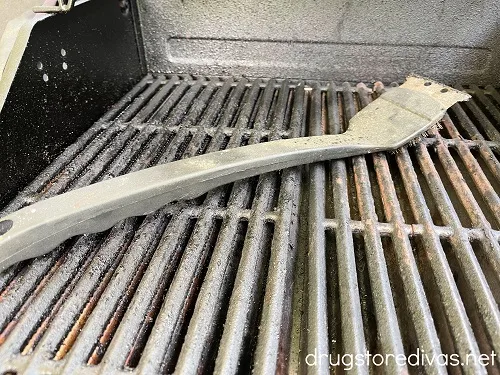 Tools For Grilling Vegetables:
If you're planning on grilling vegetables, there are a few tools you'll want in your arsenal.
Corn On The Cob Grill Basket: We grill our corn in foil, directly on the grill. But if you want something a little more sustainable, a corn on the cob grill basket is perfect. Plus, it looks cool. Purchase here.
Grill Basket: Grilling vegetables is so easy when you just throw them in a grill basket. You can add them in there, seasoning and all, and put the basket on the grates. Purchase here.
Grill Brush: If you grill directly on the grill, you'll get great grill marks on your vegetables. But you'll also get a lot of residue left behind on your grates. So a great grill brush to clean that mess is a necessity. Purchase here.
Kabob Skewers: Using reusable kabob skewers to grill vegetable kabobs, rather than using disposable skewers, is better for the Earth (and your wallet). Purchase here.
Purchase a vegetarian grilling cookbook:
If you want more recipe ideas, check out these great vegetarian grilling cookbooks:
Which of these vegetarian grilling recipes will you try first? Be sure to let us know in the comments.