From Linguine with Clams to Baked Ravioli, pasta is versatile and frugal. Try one of these Budget-Friendly Pasta Dishes tonight.
If you're looking for more pasta ideas, check out all our pasta recipes.
I love pasta. Part of its appeal, honestly, is that it's cheap. There are so many budget-friendly pasta dishes out there.
But it's also insanely versatile. You can make so many different things with pasta. Pasta salad, spaghetti, ramen, ravioli … you name it, you can make it. But sometimes, you just get stuck on the same pasta dishes over and over.
So I'm here to help.
I put together a great list of 20 Budget-Friendly Pasta Dishes. They're all perfect weeknight dinners, and some are actually really easy pasta dishes.
So start tonight with one of these frugal pasta recipes and wow your family!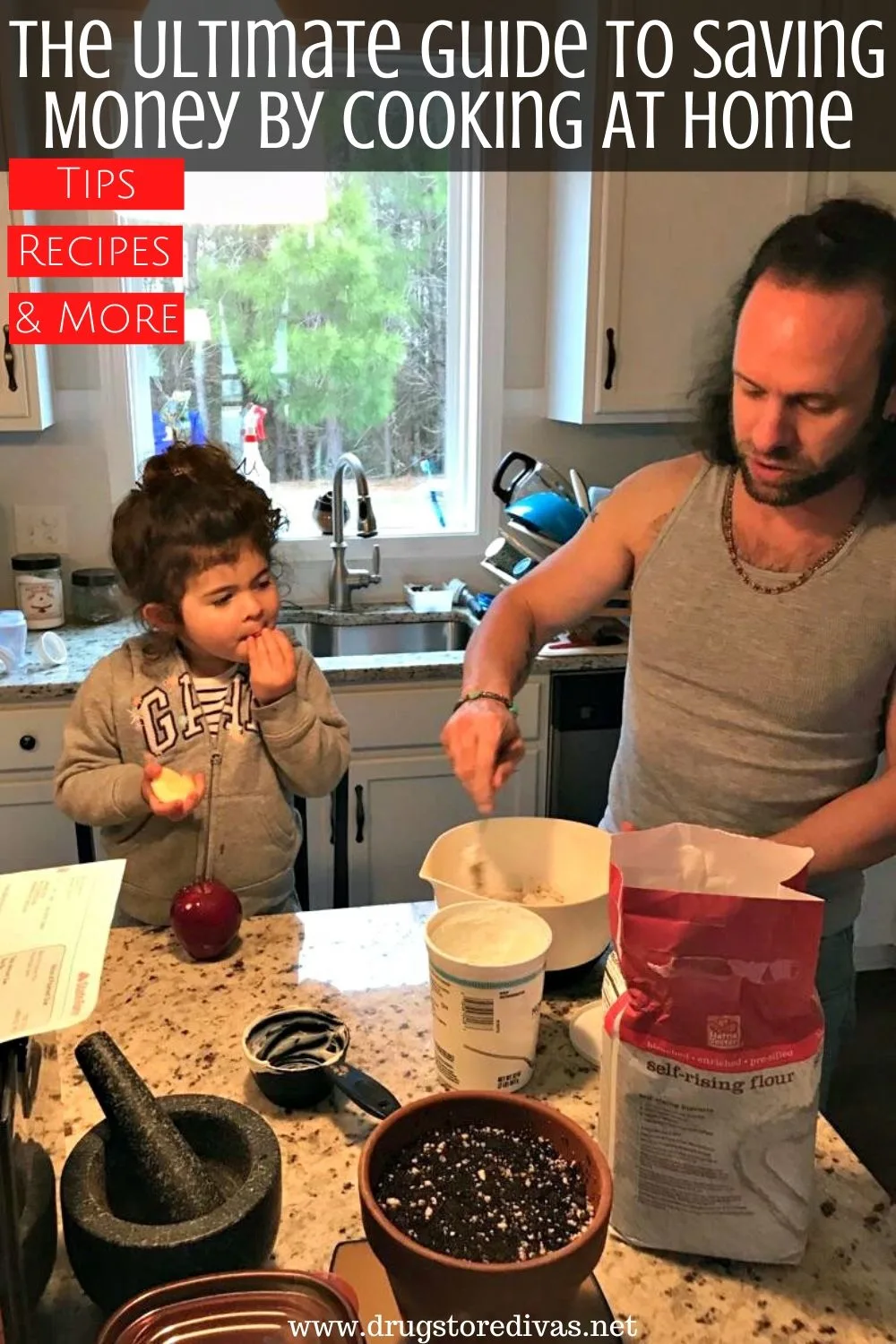 If you're cooking these pasta recipes because pasta is frugal and you're trying to stretch your grocery budget, cooking at home can definitely do that.
For more tips on how, reading The Ultimate Guide To Saving Money By Cooking At Home can help.
20+ Budget-Friendly Pasta Dishes
The majority of these pasta recipes are my own that I've previously posted on Drugstore Divas. Those are the first 19 recipes on the list.
The last is a delicious recipes from another blogger (my mom) that I thought you would love.
As I add more pasta recipes to Drugstore Divas, I'll be sure to add them to this list. So if you're a fan of pasta, definitely bookmark this link and come back to it every so often.
And if you have a favorite pasta recipe, leave it for us in the comments. We'll check it out and if we do a full blog post on it, we'll add it to the list in the future.
Fettuccini Alfredo
Fettuccini Alfredo is such a classic dish. And it's so easy to make at home. Plus, it tastes a lot better than the alfredo sauce you get in a can.
Weeknight Baked Ziti
This weeknight baked ziti is one of the easiest meals to make. Boil your noodles, dump them and the rest of your ingredients into a pan, and bake. It doesn't get much easier than that.
Vegan Penne Alla Vodka
Even if you're not vegan, you'll love this vegan penne alla vodka. This one is made without traditional cream in the vodka sauce, and that's what makes it vegan.
One Pot Sausage Pasta
The best part about this one pot sausage pasta is the fact that it's all made in one pot. That means you only have one pot to clean up at the end of the night. And that makes your life so much easier.
Asparagus Carbonara
This Asparagus Carbonara is one of the most delicious sauce-free pasta dishes. The combination of asparagus and bacon is so good, your family will go back for seconds (and thirds) of this dinner.
Lemon Pasta
Lemon Pasta is so fresh. It has the zest of three lemons and the juice from a whole lemon in the recipe, giving it a really nice lemon taste. You could grill chicken and add it to this pasta too, if you feel like it needs a protein.
Black Bean And Kale Pasta
One of our favorite easy dinners is this Black Bean And Kale Pasta. We grow kale, so it's easy for us to add it to our dishes. If you don't love kale like we do, you could substitute spinach instead.
Orzo Greek Pasta Salad
This Orzo Greek Pasta Salad has everything you love about Greek salads, just without the lettuce. In its place is orzo. It's delicious served warm or cold, so you could have it for dinner or for a picnic.
Taco Lasagna
The fun of this Taco Lasagna is it has all the flavors of tacos without the shell. Many Taco Lasagna recipes call for flour tortillas, but this one uses lasagna noodles.
Pastina-Stuffed Avocados
Pastina is the cutest tiny pasta. It fits perfectly in avocados. The pastina goes perfectly with onion and tomato, but it's even better when you stuff it into an avocado.
Pasta Alla Norma
Baked eggplant really steals the show in this Pasta Alla Norma recipe. What's great is if you have extra of the eggplant and tomato topping, you can eat it as a dip with crackers.
Baked Ravioli
Baked Ravioli is such a good twist on dinner. It's part ravioli, part lasagna — just way easier than a lasagna. The key is to use a block of mozzarella cheese. It just tastes better that way.
Slow Cooker Chicken Noodle Soup
Chicken Noodle Soup is so easy to make in the slow cooker. You can make a huge batch of it and freeze it in portions too. That way, when someone in your house isn't feeling well, you can easily heat this up for them.
Yaki-Udon (Udon Stir Fry)
Yaki-Udon, also known as Udon Stir Fry, is packed with Japanese flavors. Even my Japanese grandma only had good things to say about my recipe, so you know it's good.
Vegetarian Couscous with Zucchini, Chickpeas, and Tomatoes
This Vegetarian Couscous is one of Pete's top five favorite things I make. We love to eat it this way and it's perfect, but you could also grill some chicken and add it on top if you feel like it needs protein.
Chicken Parmesan Pasta
You don't want to make Chicken Parm on a weeknight. It's too much work to bread chicken cutlets, fry them, then bake them with sauce and cheese. So get the flavors of chicken parm, with less work, with our Chicken Parmesan Pasta.
Homemade Kale Pesto Ravioli
This Homemade Kale Pesto Ravioli is homemade is so many ways. First, the kale pesto is made from scratch. Then, the ravioli is made from scratch. And believe me when I tell you, you'll never want store-bought ravioli again.
Kale Pasta
This Kale Pasta combines kale, mushroom, and cheeses into the perfect baked pasta dinner. It makes a lot, so it's one of those meals you can make once and eat twice.
Vegan Pasta Salad
This Vegan Pasta Salad is perfect for potlucks. It's filled with so many vegetables, plus roasted chickpeas. There's so much flavor, even non-vegans will love it.
Vegan Taco Pasta Salad
This vegan Taco Pasta Salad is such a crowd pleaser, I don't even think anyone realized it was vegan. It has all the flavors of tacos, including taco seasoning, just no meat.
Mardi Gras Pasta
It doesn't have to be Mardi Gras for you to eat this Mardi Gras Pasta. It's called that, mostly, because of it's New Orleans-inspired Cajun flavors.
It's basically Cajun alfredo, but with a spicy twist. And with shrimp and sausage too.
Miso Ramen
This is my mom's Miso Ramen recipe. Miso Ramen is her favorite, and she orders it every time she tries a new ramen restaurant. This recipe is inspired by Chaplin's in Washington, DC.
Which of these budget-friendly pasta recipes will you try first?