I have such good memories of making Christmas cookies with my mom. And Pete has a photo somewhere with his sisters, when they were very young, making cookies with their mom. I think every child has such great memories, so it's so important to find Christmas treats for kids to make.
Keep the tradition of holiday treats alive. But, if you don't want to bake cookies, no worries. We have a list of holiday treats you can make with kids. Some of them involve baking and others are no bake Christmas treats, so you can find something for every age group.
But, don't leave your kids unsupervised. First, it defeats the memory making. And second, a kid alone in a kitchen can be very dangerous.
The list starts with holiday treats from scratch and ends with holiday treats from kits that you can purchase online. They're all really cute, so you can do a bunch of them and put together a treat platter. Everyone loves Christmas treats for gifts.
20+ Christmas Treats For Kids To Make
Christmas Treats From Scratch
Chocolate Christmas Trees
These Chocolate Christmas Trees are so easy to make. You use candy melts, so they'll stay warm while you're making many trees, which means you can make a bunch of these at once.
You can pipe the trees and your kids can help with the sprinkles, so it's a total team effort.
Easy Brownie Christmas Trees
Boxed brownie mix makes these Brownie Christmas Trees an easy Christmas treat idea. You can have fun with the decorations for them too.
Kids will love helping every step of the way, from stirring the brownie mix to adding the sprinkles on the trees.
Santa Hat Strawberries
These Santa Hat Strawberries are super easy to make.
Be sure you cut the bottoms off for your kids, and then they can do everything else. They can dip the strawberries and put the marshmallow on top.
Chocolate Christmas Fudge
This no bake fudge recipe is so festive when you top it with red and green M&M's and Christmas sprinkles. If you wanted to, you could even throw some of those right into the fudge itself.
Kids will be able to complete the entire fudge recipe by themselves.
Christmas Rice Krispies Treats
Red and green Rice Krispies turn these from traditional Rice Krispies Treats into a super festive Christmas version.
Kids can help by pouring all the ingredients into the bowl, but you might want to help with the mixing because it does get difficult when it gets sticky.
Christmas Chocolate Pretzels
These chocolate pretzels are so much easier than those long pretzels most people make this time of year. But, they still taste delicious.
These are so simple for kids to make because it's just dipping and dipping.
Homemade Chocolate Bark
Peppermint is a very popular Christmas flavor. Combine candy canes and milk chocolate to make this peppermint bark.
Kids will have fun crushing up the candy canes and pouring the chocolate to make this.
Pecan Sandies
Pecan Sandies are my quintessential Christmas cookie.
We used to help my mom roll the dough into balls, then roll them in the sugar, and I'm sure your kids will have fun doing that too.
Candy Cane Chocolate Hearts
Candy canes are all over the place right now. Pick up a box of mini ones, and some white chocolate, and you can make these adorable candy cane chocolate hearts.
Kids can help put the candy canes together to form the heart, then help pour the white chocolate into the centers.
Hot Chocolate Spoons
Holiday treats don't have to be 100% edible as evidenced by these hot chocolate spoons.
Your kids will have fun varying the toppings and then have fun drinking the hot chocolate later.
Marshmallow Popcorn Balls
Forget popcorn garland. Marshmallow popcorn balls are the real way popcorn shines during the holiday season.
Kids will love playing with the marshmallow popcorn to form the ball shape.
Christmas Tree Meringue Cookies
These Christmas tree meringues look so festive on a cookie platter. And they're fun for kids to help with.
Kids can stir in the food coloring and help decorate these adorable cookies.
Reindeer Pretzels
It's so incredibly easy for kids to make these Reindeer Pretzels with minimal supervision.
Piping the vanilla almond bark may not be the easiest kitchen task, but it's a lot of fun. And, after a learning curve, kids will get the hang of it and will have fun making these treats.
Homemade Chocolate Chip Cookies
Chocolate Chip Cookies are the quinticential treat to leave for Santa. Kids will love being able to make their cookies for the big man.
Kids can do everything for these cookies themselves, so all you need to do is supervise.
Tri-Colored Christmas Bundt Cake
This Tri-Colored Christmas Bundt Cake is made from boxed cake mix that's dyed red and green.
Kids can help making the cake mix, and they can also help by drizzling the white chocolate over the top and adding the sprinkles.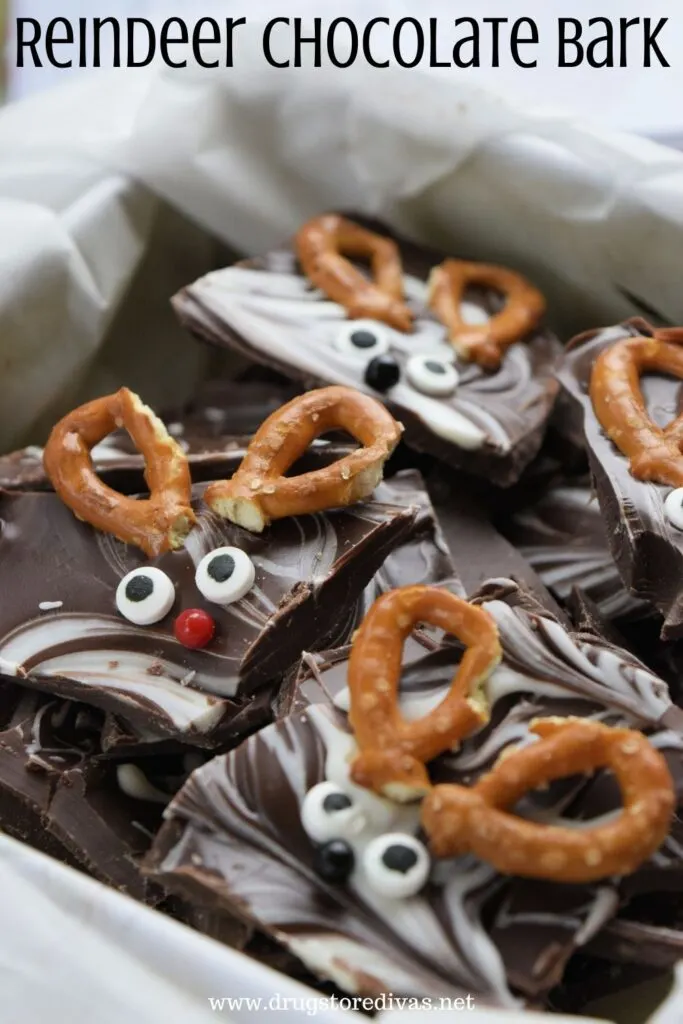 Reindeer Chocolate Bark
Reindeer Chocolate Bark is a really adorable Christmas treat. It's easy to make — although you do want to supervise because the bowls used to microwave the almond bark get very hot.
Kids will have fun helping to swirl the chocolates together and making the reindeer faces.
Christmas Treats From Kits
Ninjabread Gingerbread Cookie Kit
Ninja cookies? Yes. Even better, you can reuse the cookie cutters to make these all the time.
Ugly Sweater Cookie Kit
Having an ugly sweater party? These cookies are the perfect ones to serve for dessert.
Kellogg's Rice Krispies Treats Christmas Stocking Kit
Snap crackle stocking should be the slogan for this stocking kit.
Gingerbread Family and Pets Holiday Cookie Kit
You can even make a cat and dog with this gingerbread family kit.
Gingerbread Reindeer & Sleigh Kit
This reindeer and sleigh kit is a nice change from the traditional gingerbread houses.
Twas The Night Before Christmas Cookie Decorating Kit
Make the Twas The Night Before Christmas Cookies, then read the book. What a fun evening activity.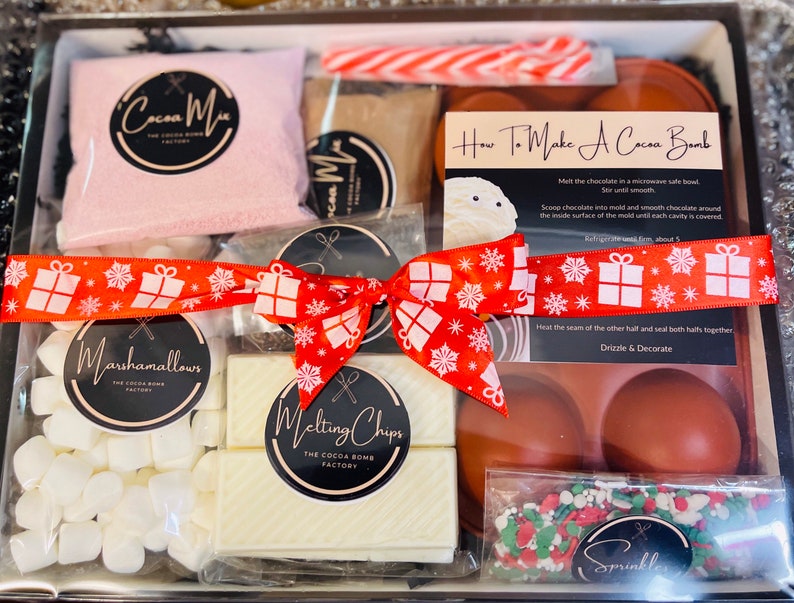 Purchase Holiday Treats For Kids To Make:
These are our favorite holiday and Christmas treats for kids to make, but they're not the only treat kits. There are so many more online, like the Holiday Cocoa Bomb Kit above. You can find more fun holiday treat kits for kids at the following stores online:
Double check a store's minimum cart total for free shipping. Consider instore or curbside pickup to save on shipping charges.
Christmas With Kids:
If you're looking for other ways to enjoy Christmas will kids, check out our list of 12 Days Of Christmas Things To Do With Kids.
Which of these Christmas treats you can make with kids would you make first?