Turkey doesn't have to be the star of Thanksgiving. Instead, check out these Thanksgiving Main Dish Casseroles for alternative ideas.
Make this the best holiday yet with help from the rest of our Thanksgiving posts.
Casseroles are such a perfect fall dinner idea, so who wouldn't want to include them in their Thanksgiving dinner?
Oh, sure, turkey is usually the star of Thanksgiving, but turkey can have a costar. And a casserole is ready for that role.
Plus, casseroles are so easy. You can assemble them ahead of time, then throw them in the oven on Thanksgiving afternoon. That makes your life so much easier. You can spend your time watching football or worrying about your turkey.
Thanksgiving Main Dish Casserole Ideas
Affiliate links are included in this post and Drugstore Divas may make a small commission if you use them.
To get on our list of Thanksgiving Main Dish Casseroles, the recipe had to be hearty enough to be considered a main dish. I didn't require that these Thanksgiving casseroles have meat or poultry, but they did have to have substance.
If it was a light casserole, it went on our side dish casserole ideas list. So if you're looking for some sides instead, check that list for inspiration.
Mushroom and Rice Casserole
This mushroom and rice casserole is so hearty, you won't miss the meat. In fact, mushrooms are often a substitute for meat and you'll see why when you make this casserole.
What's great too is the rice actually cooks in the casserole pan. You don't have to make it ahead of time in a rice cooker. Instead, you just put the rice raw into the casserole pan. It's a nice hack that saves you a lot of time. Plus, it means you don't have to wash a rice cooker after you're done with it too.
We're always down with less dishes.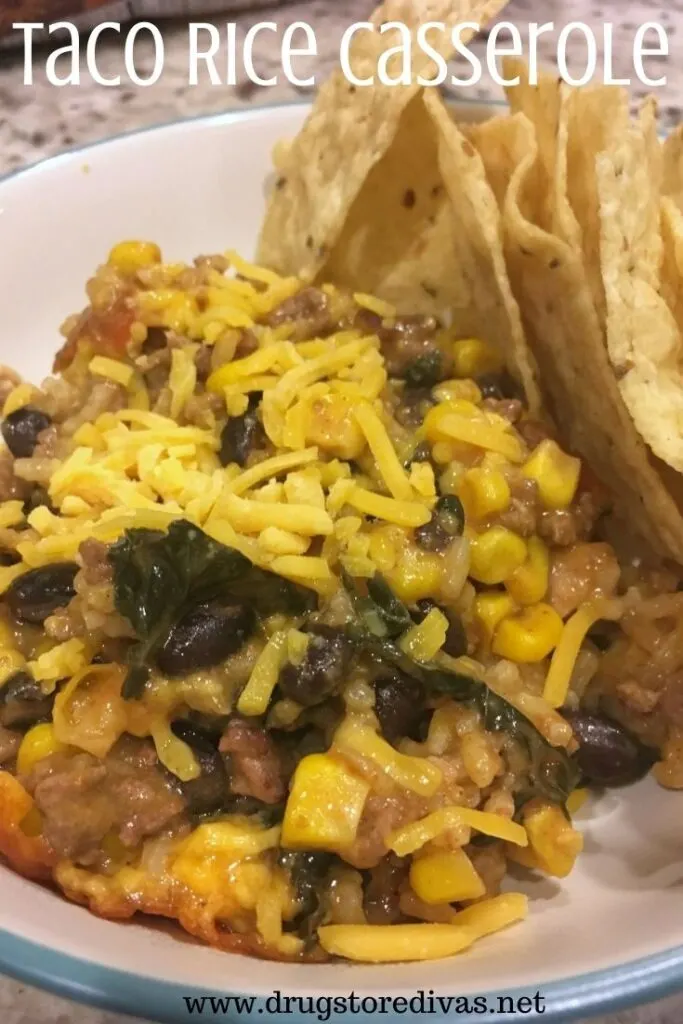 Taco Rice Casserole
Tacos don't really feel like a Thanksgiving meal, but honestly, there's never a bad time for tacos.
Our Taco Rice Casserole is one of our favorite dinner ideas (it might be Pete's favorite thing that I cook). It's really hearty and filling, which is exactly what you're looking for in a main dish.
You have to do a little work ahead of time (you need to cook the meat before adding it to the casserole pan), but it's not bad. After a few minutes of work, everything else is just drained and dumped into the pan.
Shepherd's Pie
I think Shepherd's Pie is technically a casserole. And even if it's not, it's so delicious and hearty and filled with peas and carrots (like you usually have at Thanksgiving), so I think it gets a pass. Plus, it's one of my favorite meals and I only make it on St. Patrick's Day. So maybe I need it twice a year.
It's best served with homemade mashed potatoes on top (instead of instant mashed potatoes), which is another Thanksgiving element. And heck, if you swap the meat for ground turkey, Shepherd's Pie basically turns into Thanksgiving in one pan.
Someone should market it that way.
Easy Cheesy Peas And Pasta Casserole
Pete would eat pasta and beans for every dinner because it's easy. So why not make an easy Thanksgiving casserole this year and serve this version of peas and pasta? With all that cheese on top, you're sure to please everyone.
Plus, pasta feels like an Italian Thanksgiving. Pasta is just one course there (turkey does make an appearance eventually), so knowing that makes this pasta casserole not feel so out of place.
What casserole pan do I need for main dish casseroles?
For these main dish casseroles, I'm going to suggest a 2.5-quart oval casserole pan. Since it's a main dish, you not only want to have hearty and filling ingredients, but you also want to have enough food that people are full (or content) after eating.
A 2.5-quart oval casserole pan usually makes six servings of a meal when I use it. You may be able to stretch that to eight when you add in all the Thanksgiving side dishes that you'll be serving.
I have a 1.5-quart round casserole pan that I love, but there's no way that I would cook a Thanksgiving main dish casserole in that pan, no matter how heavy or hearty it is. Bringing it out as a main course just wouldn't look like enough food, no matter how many Thanksgiving appetizers you served before the casserole.
And, worst case scenario. If you're reading this as you prep your Thanksgiving meal, and you don't have time to order a casserole pan before this Thanksgiving, you can make these in a cake pan. It'll cook a little differently because of the material a cake pan is made of, so you may have to adjust your cooking time.
Order Main Dish Casseroles For Thanksgiving Online:
If you want a casserole for Thanksgiving, but you don't have the time to cook one, you can just order a casserole online with the following delivery services:
Double check the dates for when some of these places can deliver. Thanksgiving is right around the corner, so you want to make sure you can get your casserole on time.
Side dish casseroles for Thanksgiving:
If you're still set on serving turkey as your main dish, don't worry. We have a great list of Thanksgiving Side Dish Casseroles that might interest you instead.
More Thanksgiving Ideas:
If you want a little inspiration for your Thanksgiving turkey this year, deep fry it. Read our Tips For How To Deep Fry A Turkey before you start.
If you want an easy dessert, try our No Bake Thanksgiving Nutter Butter Acorns Recipe. And, finally, don't forget to hand out Thanksgiving Blessing Mix so your guests really think about the reason for Thanksgiving.
Which of these Thanksgiving Side Dish Casseroles is your favorite? Let us know in the comments.