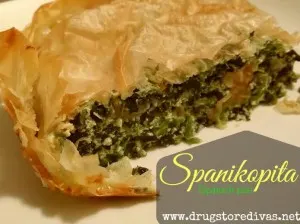 As I mentioned a million times, I love Martha Stewart Living. It's the best magazine.
Attached to it comes Everyday Food.
In October's issue, there was a recipe for Skillet Spinach Pie. I love spanikopita but never thought about making it before.
I sat on this recipe for a while because it has fillo dough, and I just thought using it was out of my wheelhouse. This week, I finally decided to give it a try.
I can't even explain to you how darn easy it was. If I can make it, honestly, anyone can make it.
What You'll Need:
4 sheets of filo dough
20oz. frozen chopped spinach, thawed
8oz. whole milk ricotta cheese
3 eggs
1/4 stick butter
1 onion
1/4 cup feta cheese
2 tsp. dried or 3 tbs. fresh dill
What You'll Do:
Preheat oven to 375-degrees.
Melt the butter in a 10-inch skillet.
Remove two tablespoons and reserve on the side.
Chop the onions and saute in the butter until softened.
Set aside to cool (they will continue to cook even off the heat).
In the skillet, on top of the butter and onions, add the eggs, ricotta, feta, dill, and spinach. If you want, you can add salt and pepper to taste.
Mix until combined.
Brush one sheet of filo dough with butter.
Place on top of the skillet mixture.
Repeat with three additional sheets of filo dough, rotating each and stuffing into the sides. Pinch the top a little for beauty (or don't. I tried because Martha said to and it just didn't work out for me).
Bake the entire skillet for 30 minutes.
Serve and enjoy.
[yumprint-recipe id='48']
Follow Lisa Sokolowski @ Drugstore Divas's board My Recipes on Pinterest.