We got an ALDI in our town in November, and it was pretty exciting. Okay, that makes my town seem incredibly lame, which it's not. But I'm always excited about new businesses coming to our area. It's money that is being put back into our local community. And even though ALDI isn't a local store, it's still employed by locals, and I'm happy about that.
It's a different experience than shopping at any other supermarket. Oh sure, once you get inside it feels pretty familiar, but there are actually a few things you need to know before shopping at ALDI. If not, you'll find yourself in a bit of a situation.
14 Things You Need To Know Before Shopping At ALDI
A quick background on ALDI. It's a discount grocery store that was started by two brothers in Germany in 1946. It expanded to include stores in 20 countries, everywhere from Australia to Austria, with over 10,000 stores. This includes 1,600 stores in the United States, as of last year.
It's also the parent company of Trader Joe's, even though Trader Joe's is US based.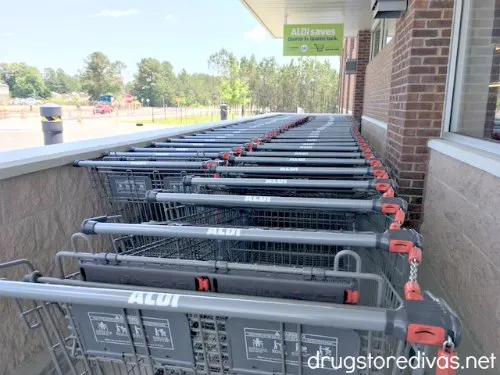 1. You need to bring a quarter.
ALDI keeps the costs low by being pretty no frills and by not needing an excessive amount of employees to operate. Unlike some other supermarkets, there's no one in the parking lot getting your cart and bringing it back to the cage.
That's on you.
And they'll get you to do it by making you leave a quarter deposit for a cart.
You put the quarter into a slot on the right of the shopping cart and that unlocks it from the other carts. When you are finished shopping, you return your cart and stick a key into the back of the shopping cart's handle. That will push your quarter back to you.
If you do happen to forget a quarter, but you have 25 cents on you, you can ask as a cashier to exchange it for an actual quarter.
2. The store doesn't accept manufacturer's coupons.
The majority of ALDI's products are not brand name. Oh, there are a few — and these tend to jump out at you in the store — but the majority of the products are ALDI exclusive brands. And those don't have coupons.
However, the store may accept its own coupons.
When our new store opened, it sent out a home mailer with a few week's worth of $5 off $25 coupons. ALDI, of course, accepted those.
3. Know prices before you go.
We know someone who goes to ALDI just for the chips. She loves stocking up on them every time she's in the store because they're a lot cheaper than brand name chips.
They are, however, more expensive than Great Value chips at Walmart. Pete and I are obsessed with the Great Value Jalapeno Jack tortilla chips. So I would rather head to Walmart to grab them — especially because they're about 50% cheaper than the chips at ALDI.
The ALDI salad dressing is about 50% less than grocery store brands, and it tastes fantastic. The balsamic vinegar is a stock up price too. So as long as you have an idea of what things cost at other stores, and what price you're willing to pay for them, you'll be able to figure out the best things to buy at ALDI.
4. ALDI has organic, vegan, and gluten-free products.
For anyone with specific diets, like organic or gluten-free, ALDI has products for you. Just look for the labels.
ALDI also carries a no hormone, no antibiotics line of meat. And, on the opposite side of the spectrum, ALDI has a vegan brand as well.
You may not be able to buy everything if you're on a specific diet, but you'll be able to buy a bunch of items at a lower cost than if you were at a traditional grocery store. And then, you can buy everything else at a traditional grocery store, and you'll still save overall on your grocery bill.
5. You have to bring your own bags (or buy them).
ALDI does a lot of cost cutting to keep the prices low, and part of that includes not giving away bags when you shop there. So, you have two options. You can either bring your own, or you can purchase them.
The answer to how much are ALDI bags varies based on the type of bag. Paper bags are cheaper than reusable bags, and both are available in store.
If I was you, I would pick up an insulated grocery tote bag or two. We have a couple of them that I bring with me when I shop at ALDI. I've started always buying milk and eggs there, because the prices are so much lower than anywhere else, and I would rather have them in insulated bags than plastic ones.
6. You pack your own groceries.
How does ALDI keep groceries so cheap? That's something you wonder until you walk in and realize how hands on you are during your shopping trip. There's a cashier that rings up your groceries, but then they're just put in a cart and the rest is up to you.
You then wheel your cart to a shelf-like table at the front of the store and use it to pack your groceries. No one does it for you.
For me, this is pretty familiar. Grocery stores in Japan are the same way. It's actually a great way to keep the line moving just a little bit quicker. And that's great at ALDI because no matter what time I go into our store, and no matter how many people are shopping, I've never seen more than two cashier at a time.
7. ALDI has a weekly ad.
Just like a traditional grocery store, ALDI has a weekly ad. In fact, you can see two week's worth of ads on ALDI's website.
On the site, you'll be able to see the weekly sales and the ALDI Finds. ALDI Finds are great deals that are offered for a limited time. The availability of ALDI Finds are limited as well.
Many of the ALDI Finds are non-food items, like furniture and kitchen gadgets. Which yes, ALDI sells.
8. ALDI stores don't have phone numbers.
If you're been trying to call ALDI, you can't.
Stores don't have staff members available to answer the phone. And the store doesn't have to pay for a phone bill either. It's that cost cutting reason, again. So if you try to look up a phone number for your store online, you won't find one.
If you have any questions, be sure to ask them when you're at the store.
9. Look for markdowns.
Some products that are nearing expiration at ALDI are marked down, just like other grocery stores. Those products are easy to find, too. Just look out for huge, bright colored stickers with a discount on them.
I see them mostly on meat, which can be frozen after you get it home, and produce, which I often leave at the store. My personal experience is that the produce at ALDI ripens (and rots) pretty quickly, especially compared to other stores, so I won't purchase it unless I am planning on using it that day or the next.
There are also items that are just marked down, like on sale. Those will have hang tags announcing the price, so look for those as well.
10. ALDI accepts many forms of payment.
ALDI accepts cash, all major credit cards, most debit cards, and EBT. It also accepts (and sells) ALDI gift cards at the register.
It does not accept checks or WIC.
Both of those forms of payment slow down the register, although I don't know if that's the reason that they're not accepted. I just know that they're not.
11. You can return products at ALDI.
I very infrequently return anything to the grocery store. it's not that I haven't, but the idea that returning a perishable item means that it will most likely just get tossed out at the store doesn't sit well with me.
If you do have a problem with something you purchased at ALDI, you can return it though.
If you return a product, you will be offered a refund or replacement. However, if you return an ALDI product, you will be offered a double guarantee. You will be refunded and the product will be replaced. They exception to this may be alcohol. And you may need a receipt in some states.
12. Buy the wine.
Our ALDI sells wine. During the grand opening, I bought Pete a bottle for two reasons. One, because the ALDI brand is called Winking Owl and I love adorable owls. And two, it was only $2.89 a bottle. That's a lot less than you can get it in any other grocery store, so I picked him up a bottle.
I didn't tell him the price until after he drank it — and said it was good. Now, every time I'm in ALDI, I pick Pete up a bottle or two.
Not all ALDI stores carry wine, and prices vary by store and location. But, if you can find Winking Owl, pick it up.
13. ALDI may have shorter store hours.
Our ALDI is next store to a 24-hour Walmart and across the street from a 24-hour Harris Teeter. So when we need to stop at the store in the middle of the night (which doesn't happen as often, now, but used to happen a lot), we have options.
ALDI is not one of those options.
Store hours vary, of course. But, for reference, our store hours are 9am to 9pm every day. By comparison, our Food Lion is open daily from 6am to 11pm. That's five hours longer than ALDI. Five more hours of electricity and of staff.
14. There's no membership cost.
ALDI isn't your traditional grocery store, but it's also not a membership club. There is no ALDI membership cost. Anyone can shop there.
So if you do happen to see one, be sure to stop in and find some fun ALDI deals.
Do you have any tips about shopping at ALDI? Be sure to let us know in the comments.
Ready to shop at ALDI?
Be sure to check out this list of the 10 Things You Should Always Buy At ALDI to start putting together your shopping list.