Edible gifts are great for Christmas. From Reindeer Chocolate Bark to Homemade Chocolate Chip cookies, you'll find the perfect gift on this list of Homemade Edible Christmas Gift Ideas.
For more ways to make this the best holiday, check out all of our Christmas posts.
I love receiving homemade edible Christmas gifts. I love getting something sweet, that someone made, that's like a hug from that person every time I eat it. If someone knows me well, they can get me a perfect gift. And if I know you well, I'm gonna get you the perfect gift. But, if we don't know each other that well, edible snacks is where it's at.
And if you need a gift for someone and you're out of thoughts, this list of homemade edible Christmas gift ideas will help.
All of these are desserts that have some sort of tie to Christmas. They're either Christmas-themed or ones my mom always put on her Christmas cookie platter. So to me, those are Christmas treats.
When you're packing these treats up, make sure to put them in a Christmas-themed treat box. That will make them feel more like a Christmas gift and less like a random dessert you decided to make.
This list has a variety of edible gift ideas. If you're looking for just cookies, check out our list of The Best Christmas Cookies To Gift.
Homemade Edible Christmas Gift Ideas
Affiliate links are included in this post and Drugstore Divas may make a small commission if you use them.
3 Ingredient Blueberry Jam
Making homemade jam is so much easier than you think it would be. But you know who doesn't know that? Your gift recipients. So they'll be incredibly impressed when you gift them a jar of this 3 Ingredient Blueberry Jam.
We make this using blueberries from our yard, making it a really frugal gift idea. But you can make it with store-bought berries too.
Christmas Donut Hole Tree
I'm obsessed with our Christmas Donut Hole Tree. And you will be too once you realize that this Christmas treat is basically just assembly.
The donut holes are store-bought, so all you're really doing is putting this together. So easy.
DIY Snowman Snack Mix
This Snowman Snack Mix is basically trail mix with marshmallows. And those marshmallows make this a deconstructed snowman. Which is kind of wild to think about, so let's just go with trail mix.
What's fun is this post has that Snowman Snack Mix tag as a free printable, so you don't have to go through the trouble of designing your own. Just print the one we already made. Don't worry; we won't tell.
Reindeer Pretzels
These Reindeer Pretzels are really cute and really easy to make. They take a couple minutes to make and are so worth it because they look absolutely adorable on your cookie platter.
You can vary the noses between red (for Rudolph) and black (for the other reindeer who wouldn't let poor Rudolph join in any reindeer games).
Candy Cane Chocolate Hearts
If you have candy canes hanging around, grab them to make these Candy Cane Chocolate Hearts. If you're feeling creative, you can add a lollipop stick to the bottom and make these lollipops.
But then you'd have to package them individually instead of all together, and that seems like a little more work than it's worth.
Rocky Road Fudge
Rocky Road Fudge might not seem like a Christmas treat to you, but it definitely is to me. My mom would make it every year for her Christmas trays.
We absolutely loved this fudge, which is filled with peanuts and marshmallows, and would sneak pieces after she made them (but before she put them on the trays). So I'm sure whoever you're making a gift for will love this.
Marshmallow Popcorn Balls
Popcorn balls are such a holiday treat. I don't know why, but they are. So you could definitely gift some Marshmallow Popcorn Balls this holiday season.
You could shape them by hand, if you wanted, or use a popcorn ball maker (which is better if you're making a bunch of these as gifts).
Layered Chocolate Mint Bars
Mint is such a quintessential holiday flavor. So if you're looking for something Christmas-y without being over the top, these Layered Chocolate Mint Bars are perfect.
They're super easy to make. The only thing that slows you down is the fact that the layers have to cool in-between pouring. But other than that, these are a breeze.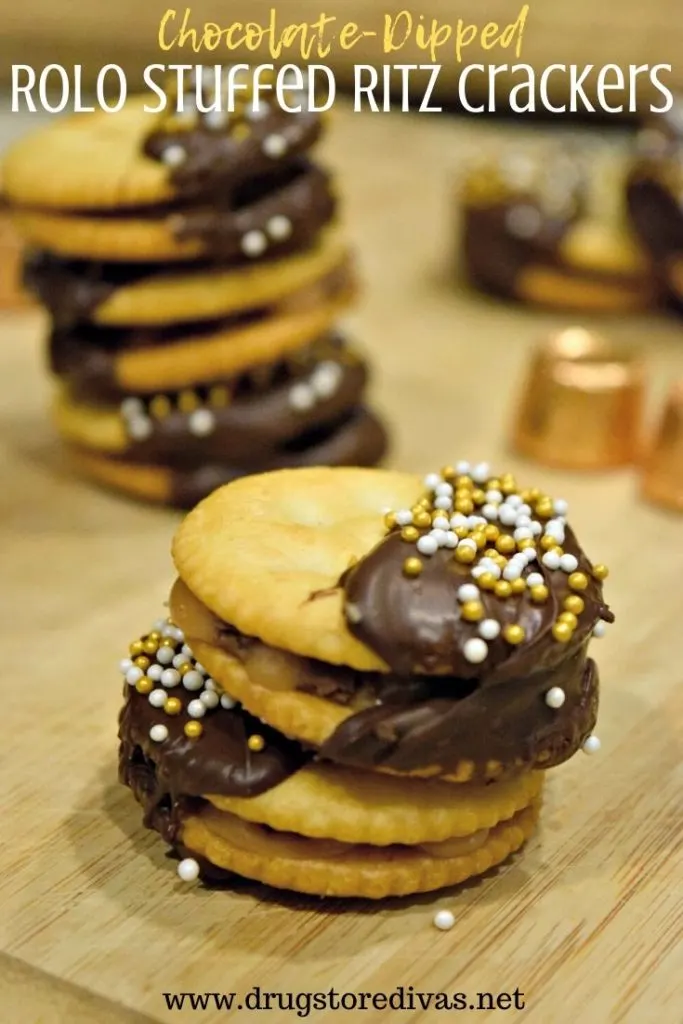 Chocolate-Dipped Rolo Stuffed Ritz Crackers
You have to use a tiny bit of imagination to turn these Chocolate-Dipped Rolo Stuffed Ritz Crackers into a Christmas treat, but only a tiny bit. Instead of using white and gold sprinkles (which I use to make these a New Year's treat), just use red and green sprinkles. Done. Now they're Christmas.
Christmas Rice Krispy Treats
Rice Krispy Treats are such a big hit. Make them a big Christmas hit by using Rice Krispies Holiday Colors breakfast cereal.
Chocolate Christmas Fudge
This Chocolate Christmas Fudge is made from the traditional two ingredient fudge recipe that's, honestly, the easiest fudge I've ever made.
This version has four ingredients because you're adding Christmas sprinkles and Christmas M&M candies to it. But it's still two ingredient fudge (with toppings).
Easy Brownie Christmas Trees
Easily turn brownies into Brownie Christmas Trees with sprinkles and frosting. They're honestly simple to make, even if you've never piped frosting before. It's almost no effort, but looks like it took a lot of effort. And that makes it a great gift.
Homemade Peppermint Bark
If you have some candy canes from various Christmas activities lying around, smash them up to use in this Homemade Peppermint Bark. It makes a ton at once, which is great if you are making a bunch of holiday gifts at once.
Chocolate Christmas Trees
I'm obsessed with these Chocolate Christmas Trees. I actually made them for a Christmas platter this year.
They're a treat on their own, but they're also perfect as a Christmas cupcake topper. So definitely make extras for that and dress up your treats with more treats. Treats on treats on treats, right?
Homemade Chocolate Chip Cookies
Classic chocolate chip cookies are absolutely necessary for your Christmas platters. So if you're making one of those, you need to include a chocolate chip cookie (for Santa, at the very least).
If you're only giving chocolate chip cookies as the gift, make sure that you are packaging them with red and green twine, in a Christmas tin, or on a Christmas plate to make them look more festive.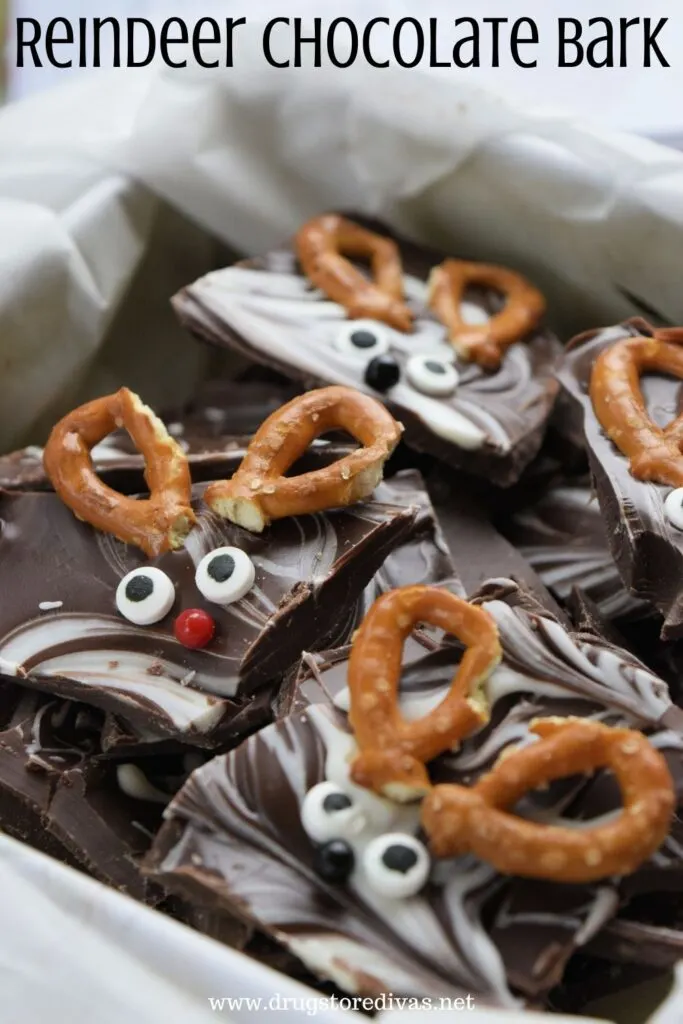 Reindeer Chocolate Bark
I can't look at pretzels this time of year without feeling like they're reindeer ears. I blame this Reindeer Chocolate Bark.
Everyone loves this bark when I make it, partially because it's adorable but mostly because it's delicious. And what more could you really want from an edible gift?
Pecan Sandies
Pecan Sandies are absolutely my go to Christmas cookie during the holiday season. My mom always put these on her cookie platters. I think a lot of people do because they look like snowballs. So definitely make them for a gift for your friends or neighbors.
2 Ingredient Peanut Butter Fudge
If you're making a treat for someone who doesn't like chocolate, this 2 Ingredient Peanut Butter Fudge is a great recipe. It's a sweet, non-chocolate treat.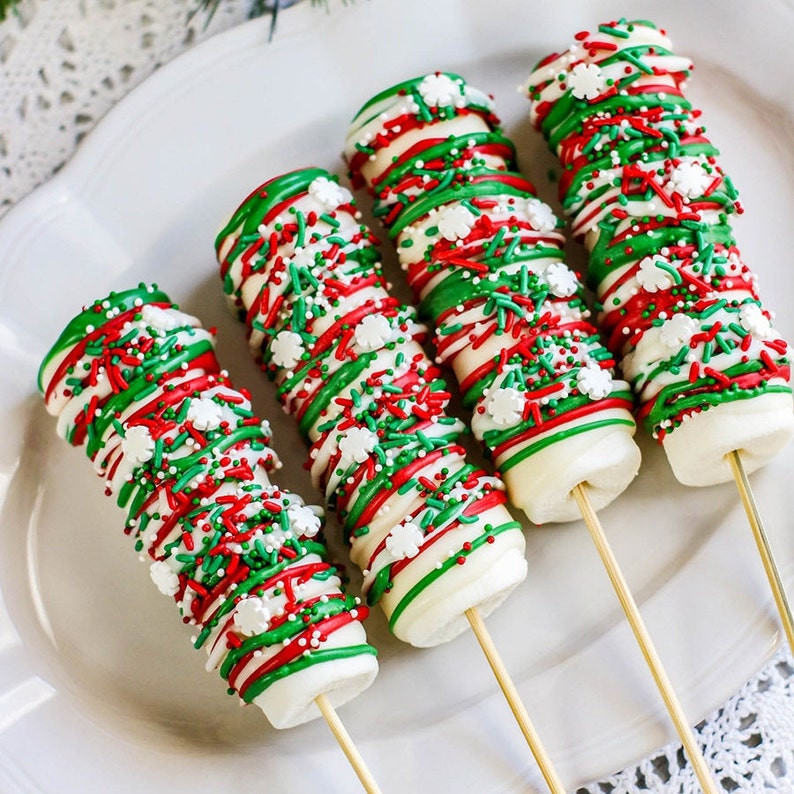 Purchase Edible Christmas Gifts Online:
If you like these ideas, but you don't like the fact that they're homemade and require you to actually make them, I get it. This time of year is so busy, we just don't have the time to do all the things.
Ordering online helps.
The stores below sell fun edible Christmas gifts, like the Chocolate Dipped Christmas Marshmallow Lollipops above:
Be sure to check the store's cart minimum for free shipping. You can also choose instore or curbside pickup to avoid shipping charges.
More Edible Gift Ideas:
We also have a list of Edible Gifts For Men and Edible Gifts For Women, in case you need a little more inspiration.
If you are just completely out of time this year and you want to give an edible gift but you just don't even have the time to think about scrolling through a bunch of the ones to order online above, just pick something off of our Great Gift Baskets To Give list. They're all great options. Just order one and be done with that person's gift. Because sometimes, that's all the time we have left.
Which of these Homemade Edible Christmas Gift Ideas are you going to make this year?