I love receiving homemade edible Christmas gifts. I love getting something sweet, that someone made, that's like a hug from that person every time I eat it. If someone knows me well, they can get me a perfect gift. And if I know you well, I'm gonna get you the perfect gift. But, if we don't know each other that well, edible snacks is where it's at.
And if you need a gift for someone and you're out of thoughts, this list of homemade edible Christmas gift ideas will help.
When you're packing these treats up, just make sure to put them in a Christmas-themed treat box. That will make them feel more like a Christmas gift and less like a random dessert you decided to make.
Homemade Edible Christmas Gift Ideas
Candy Cane Chocolate Hearts
Rocky Road Fudge
Chocolate Covered Strawberries
Marshmallow Popcorn Balls
Layered Chocolate Mint Bars
Chocolate Mint Truffles
Potato Chip Chocolate Bark
Chocolate-Dipped Rolo Stuffed Ritz Crackers
Hot Chocolate Spoons
Christmas Rice Krispy Treats
Chocolate Christmas Fudge
Homemade Nestle Crunch Bar
Easy Brownie Christmas Trees
Chocolate Cracker Bark
Mason Jar Hot Chocolate Mix
Homemade Peppermint Bark
Chocolate Christmas Trees
Bacon Caramel Popcorn
Homemade Chocolate Chip Cookies
Reindeer Chocolate Bark
Sugar Swirl Cookies
DIY Chocolate Bon Bons
Banana Bread In A Mason Jar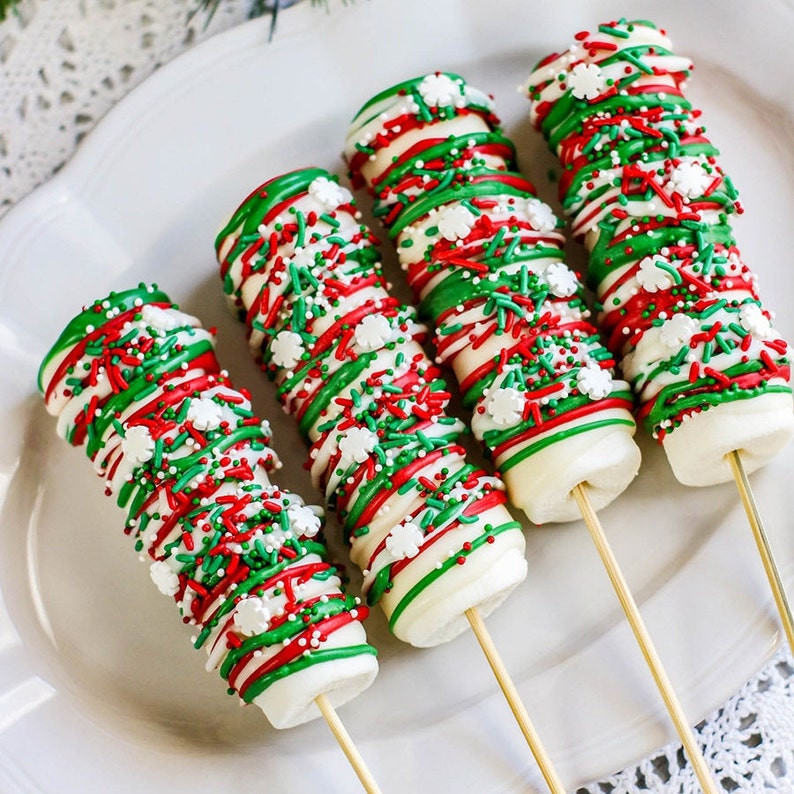 Purchase Edible Christmas Gifts Online:
If you like these ideas, but you don't like the fact that they're homemade and require you to actually make them, I get it. This time of year is so busy, we just don't have the time to do all the things.
Ordering online helps.
The stores below sell fun edible Christmas gifts, like the Chocolate Dipped Christmas Marshmallow Lollipops above:
Be sure to check the store's cart minimum for free shipping. You can also choose instore or curbside pickup to avoid shipping charges.
Which of these Homemade Edible Christmas Gift Ideas are you going to make this year?