Gift baskets are such an easy gift idea. Find an awesome one that your recipient will love on this 10+ Great Gift Baskets To Give list.
For more gift ideas, check out our other gift guides.
At some point in the shopping season, you are probably just done. You're tired of putting stuff together and just need something easy. Don't worry. I've got you covered.
I put together a list of the 10 Great Gift Baskets To Gift. There's some coffee lovers gift baskets, some gift baskets for chocolate fans, and even one for hot sauce lovers. Really, everyone on your list is covered. And if you get a gift basket filled with things your recipient loves, they'll love it. But if you just grab a random one off the shelf and don't even look at its contents, you'll probably end up giving inedible cheese and boring breadsticks. And no one wants that.
Also, quick side note: Originally, this post was the best gift baskets on Amazon. We revamped it this year to include boxes and bundles in this too. "Baskets" is more of a catch all for "pre-made gifts" as far as this goes.
To make it easier though, we left the Amazon options at the top (in case you have Prime and want to only shop Amazon) and then added other options below that.
If you need more help with your shopping this season, check out Drugstore Divas' Holiday Gift Guide filled with all of our shopping guides.
10+ Gift Baskets To Gift
Affiliate links are included in this post and Drugstore Divas may make a small commission if you use them.
Best Gift Baskets on Amazon
Dried Fruit Gift Basket
I'm actually obsessed with this Dried Fruit Gift Basket, and it has little to do with the dried fruit. Like, whatever. Dried fruit is fine. It's a little boring, unless you're into that. And no one is really into dried fruit.
But — BUT — this is my favorite gift basket on the entire list because the basket is actually this very cool, reusable, Transformer-like tray. You can use it as a flat tray to hold your dried fruit or future charcuterie boards. Or, you do some hocus pocus and the basket opens into a basket that holds non-dried fruit.
We have a bamboo fruit basket that we love, but it takes us so much space on the counter. This would have been a much better option.
Jerky Gift Basket
Jerky is such a good snack. Pete would take it with him to work every day if it wasn't so expensive. Which is why this Jerky Gift Basket makes such a great gift. It's something your recipients want, but probably won't buy for themselves.
This version comes with 26 different pieces (23 pieces of jerky and three cheese/jerky combo packs because who doesn't love cheese?). Two of those jerky pieces are actually packs of ten, so keep that in mind when you're counting.
This gift is priced much lower than I expected it to be, so you're definitely getting your money's worth when you gift this.
Retro Candy Box
Nostalgia always wins. Keep that in mind when you're looking for a gift. If you can't think of something, think of nostalgia. That's why that car brand had all those commercials with He-Man and Skeletor a few years ago. He-Man didn't make a comeback. The brand was pulling on nostalgic heartstrings. And I'm sure it worked.
You can do something similar when you purchase this Retro Candy Box. It's filled with candy from your recipient's childhood. They'll love it.
We got my dad a similar box for Christmas a few years ago and he really liked it.
The Taste of Italy Gift Basket
I always say I should have been born Italian or Mexican because I like their food. If you're shopping for someone who would agree with me, this The Taste of Italy Gift Basket is a fun idea. It comes with basically everything you'd need for a nice Italian dinner.
It comes with olives and Italian pretzels to start, pasta and Italian seasoning for the main course, olive oil to drizzle as a finish, and then Italian chocolate and cookies for dessert.
All your recipient needs to add is a sauce for the pasta. Maybe suggest our homemade alfredo sauce or some Rita's Wooden Spoon, Pete's small batch marinara sauce?
Dan the Sausageman's Paint Bucket Gift Basket
I absolutely love this Paint Bucket Gift Basket from Dan the Sausageman. It's probably the most unique "basket" I've ever seen. The paint bucket is filled with summer and roasted garlic red pepper sausage, olives, cheese, granola, pretzel, mustard, and peanuts.
What I really like is Dan the Sausageman is a small business that blew up. In 2018, he won the U.S. Small Business of the Year for Washington State (the company is based out of Seattle). And now he's selling sausage gift baskets and other products on Amazon. We love a story like that.
Chocolate Bliss Handmade Assortment Gift Basket
When all else fails, go with chocolate. Everyone loves chocolate. And everyone will love this Chocolate Bliss Handmade Assortment Gift Basket. It's filled with peppermint bark, chocolate dipped pretzels, dipped Oreos, a chocolate Christmas tree, and more.
It's Christmas themed, so it might not be great for general holidays, but it's perfect for Christmas.
Nuts Gift Basket
If you're looking for a gift for my dad (or someone like my dad), this Nuts Gift Basket is great. Well, it's not really a basket. It's more of a gift tray, if you want to be picky, but either way, it's great.
There are seven sections and each one is filled with a different variety of nuts, which is fun. They're all plain, which is great. A few years back we bought my dad a similar gift, but with flavored nuts and that was … well, it wasn't well received, let's say that.
Plain is much better.
Top Gift Baskets (Not on Amazon)
Ghirardelli Gold Glitter Sleigh Chocolate Gift Basket
This Ghirardelli Gold Glitter Sleigh Chocolate Gift Basket caught my eye when I saw it in the store, so I'm sure it'll catch your gift recipient's eye as well.
It's super glittery, which is fun because the sleigh is intended to be reused. So it'll be a great decoration after the treats are done.
And the treats are great. They're all Ghirardelli chocolate, which are delicious.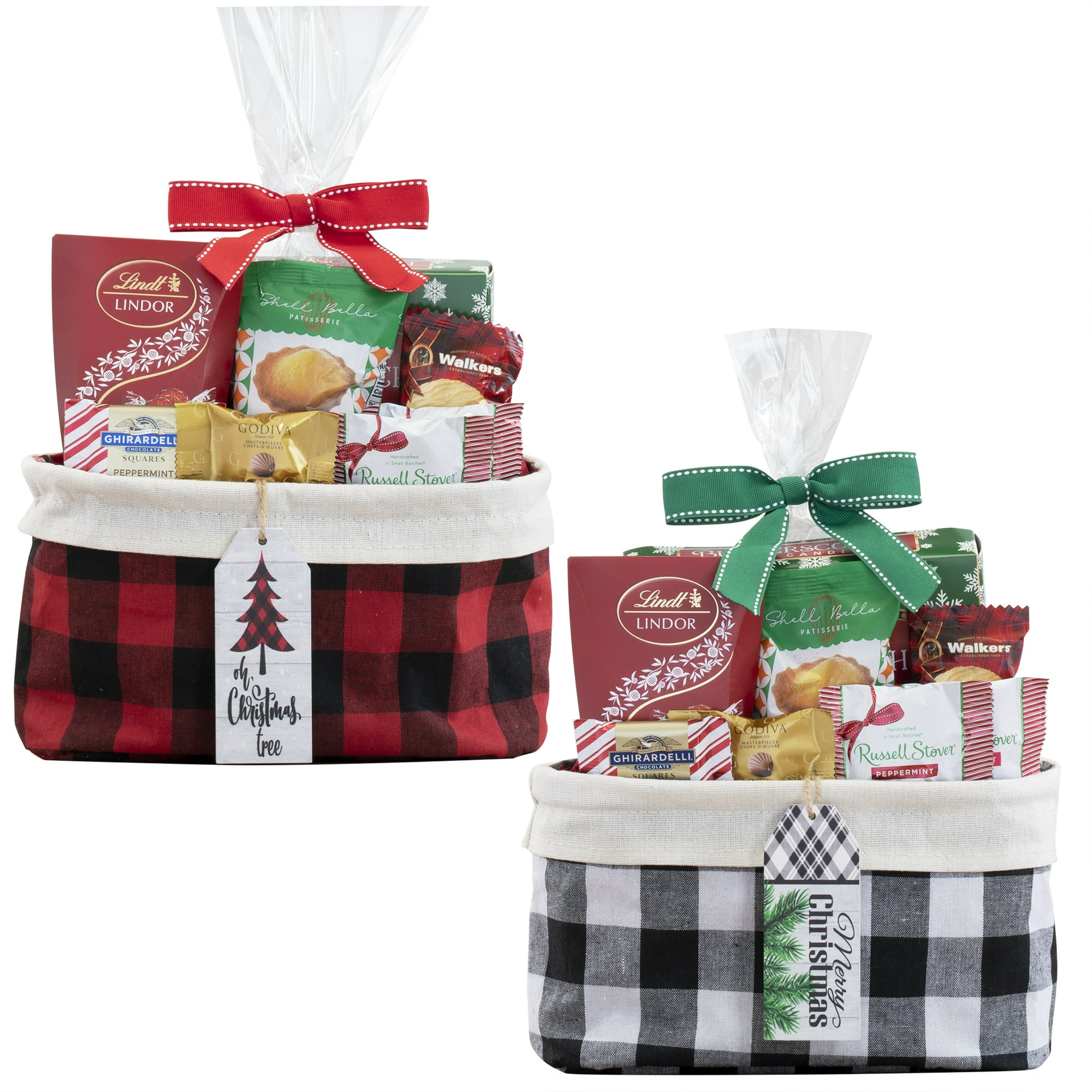 Buffalo Plaid Gift Basket
This Buffalo Plaid Gift Basket is the one that's in our main photo up at the top of this post. I love it so much because of the actual basket. It's such a nice holiday-themed basket. I mean, everyone loves the red and black lumberjack this time of year. So it's worth it just for that.
It's filled with treats from Godiva, Lindt, Ghirardelli, and other really popular brands. So even though the basket is the real selling point, the treats in this are great too.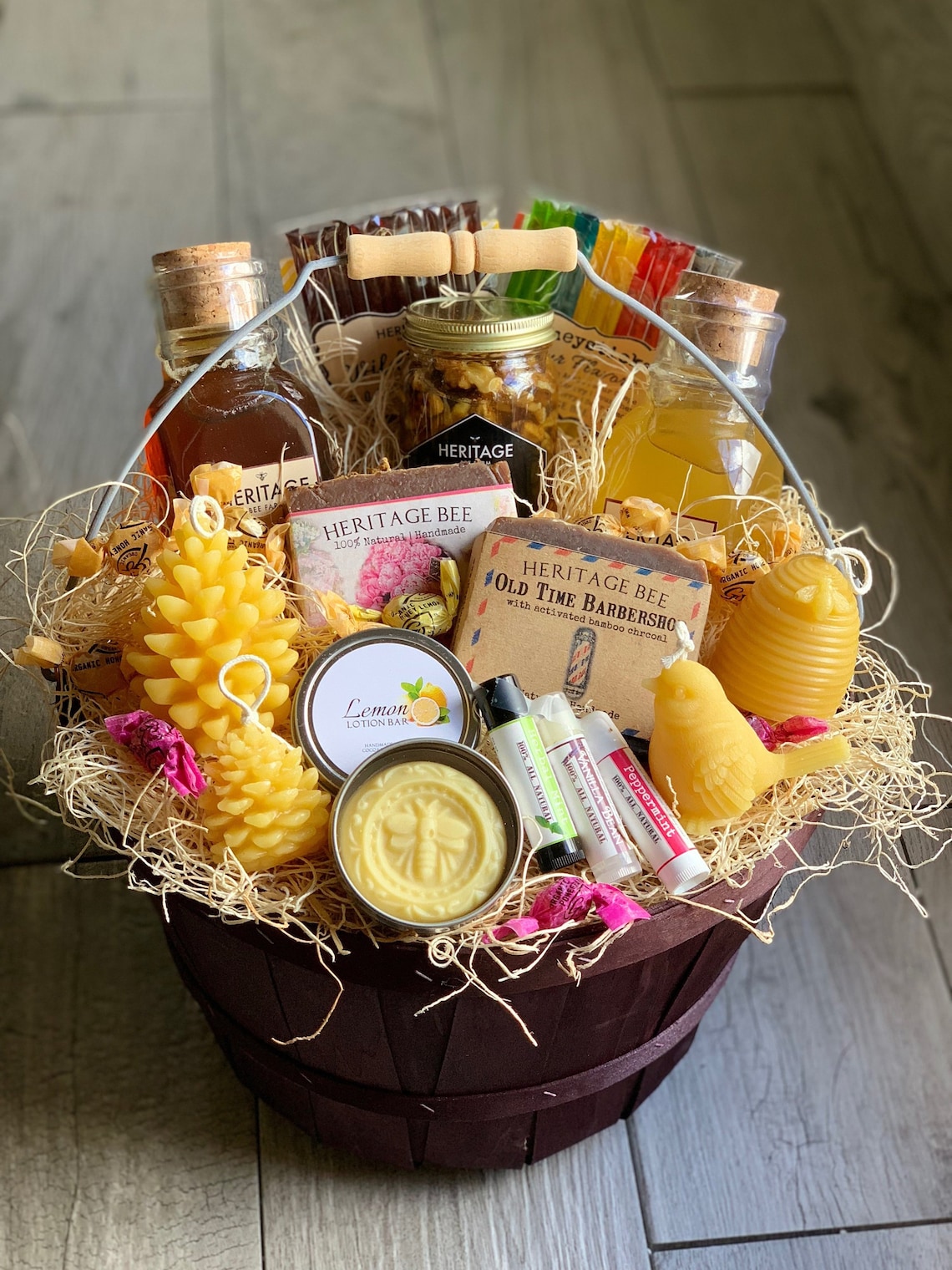 Ultimate Bee-Themed Gift Basket
I have nothing witty to say about this Ultimate Bee-Themed Gift Basket. Like nothing at all. But this gift basket is amazing and anyone would be happy to receive it.
It's filled with bee- and honey-themed gifts, like a beeswax lotion bar, beeswax lip balms, organic honey candies, honey sticks, and more.
Everything comes from an apiary (bee farm) in Florida, which is so cool.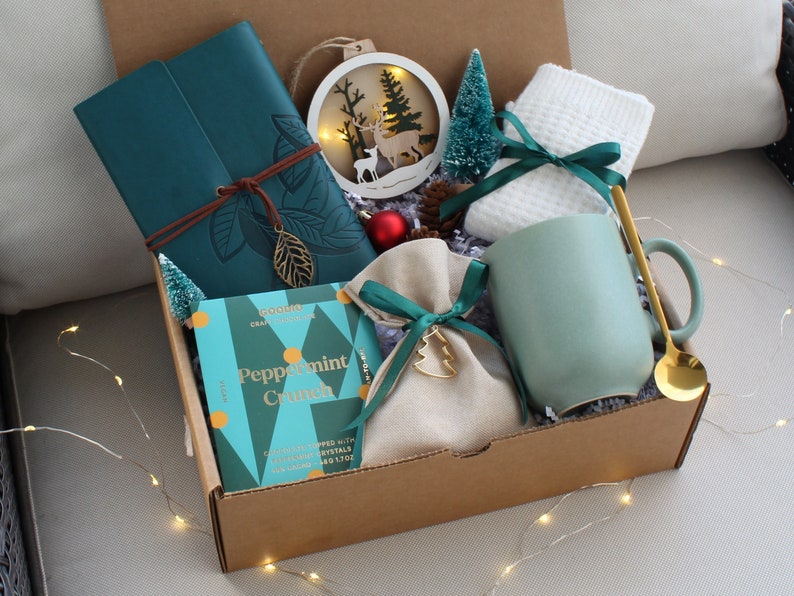 Hygge Gift Box
This absolutely looks like the coziest gift box and wouldn't you know, it's called a Hygge Gift Box. Me, not having any idea what "hygge" means Googled it and, by definition, it's "the Danish Obsession with Getting Cozy." Well, this is perfect then.
There are actually a few different versions of this gift box at the same listing, all with really cozy items like fuzzy socks and tea and treats and a mug, plus lots of other self-care items. It's all so perfect and each one is color coordinated, which just adds to the serenity of it.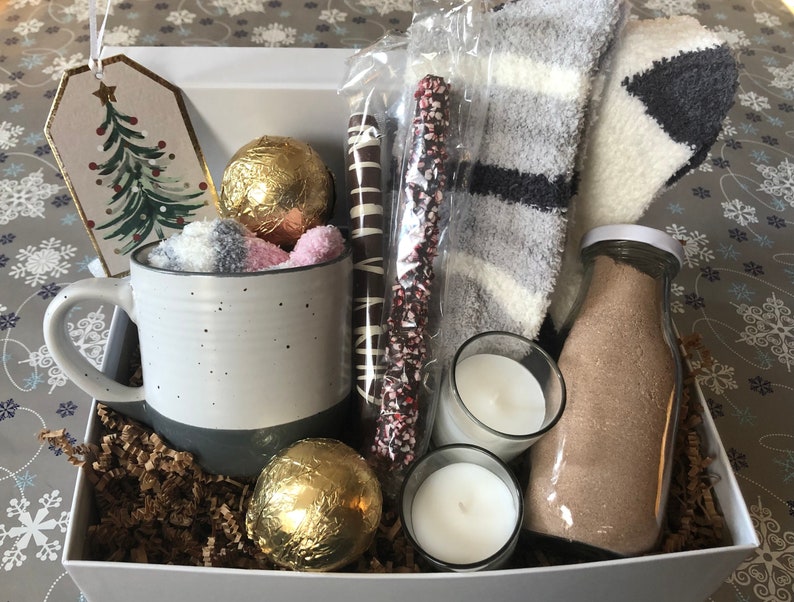 Purchase Gift Baskets Online:
These aren't the only gift baskets you can buy online. Just our favorites. We had to leave a bunch off, like the Comfy And Cozy Chocolate Lovers Gift Box above. For more ideas, check out the following stores:
If you're buying a gift basket as a gift, consider shipping it directly to the recipient rather than shipping it to yourself. That way, you won't have to pay shipping charges twice.
Which of these Great Gift Baskets would you like to receive? Let us know in the comments.