From kitchen towels to coffee mugs, there are a lot of fun Easter basket ideas for adults. Get inspired and put together great Easter baskets with these ideas.
Make this the best holiday with help from the rest of our Easter ideas.
Who says Easter baskets are only for kids? Not me. Every year, I play the Easter Bunny and put together baskets for the adults that are here for Easter because, honestly, everyone should get their own basket — especially when there's chocolate involved.
So, when I'm making Easter baskets for kids, I pick up some extra Easter basket stuffers for the adults and make them their own Easter basket.
When you're putting together a basket for adults, you want to keep a few things in mind. First, start filling it with thoughtful gifts that have a connection to the recipient. A special color, place, those types of things. Then, fill the rest with candy. Everyone likes candy — and adults don't want to have to go on egg hunts for any. Just stick it in the basket.
And, speaking of that basket. It doesn't actually have to be a traditional basket. I've upcycled mushroom containers filled with paper shred for baskets. I've used paper bags with card stock bunnies on them. So go with a laundry basket, garbage pail, something useful if you'd prefer.
Putting together Easter baskets doesn't have to be expensive. Find out how to put together great but frugal Easter baskets with our Tips For Creating An Easter Basket On A Budget.
15+ Fun Easter Basket Ideas For Adults
Affiliate links are included in this post and Drugstore Divas may make a small commission if you use them.
Dunkin' Jelly Beans
Jelly beans are fine. A little boring though. But not if you pick up iced coffee flavored Dunkin' jelly beans.
Every time these are in store, they fly off the shelves. So, if you have a coffee loving fan, and you don't mind putting sweet treats in the Easter basket, this is a great choice.
Funny Note Pad
I have so many notebooks, which is good because I'm always writing notes. Most adults still like paper and a pencil rather than typing notes on their phone.
But jazz it up a little and get a really funny note pad, something that looks good on the fridge when it's not being used.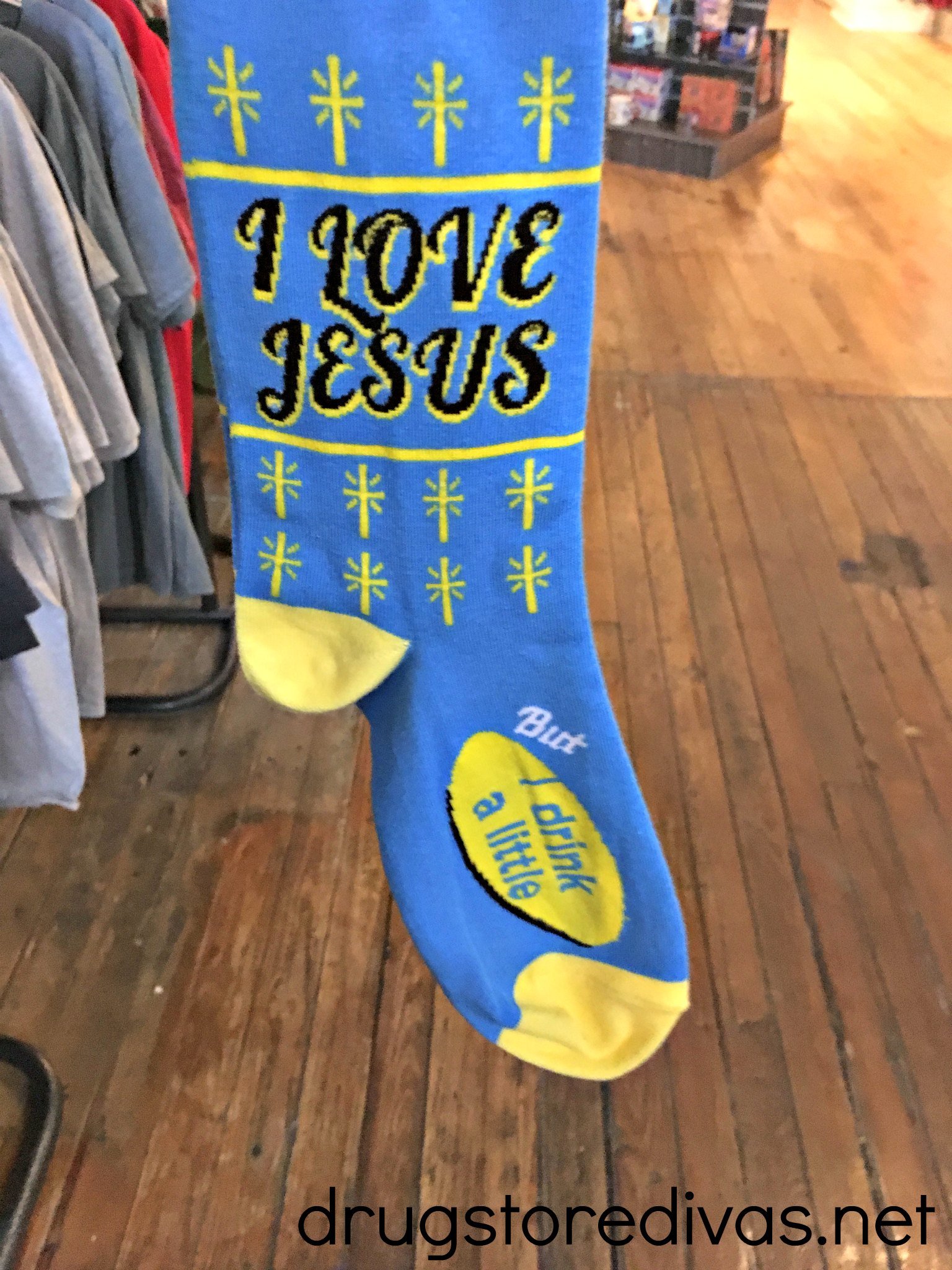 Fun Socks
Almost all of our gift guides have socks as an option because I just think they're the perfect gift. Everyone needs socks, but no one ever buys socks for themselves.
Of course, plain white socks aren't really a great Easter basket stuffer. Instead, go with a pair of really fun socks. They don't have to be Easter themed, but you want them to have some sort of tie to the recipient (pizza socks, sushi socks, cat socks … you get the idea).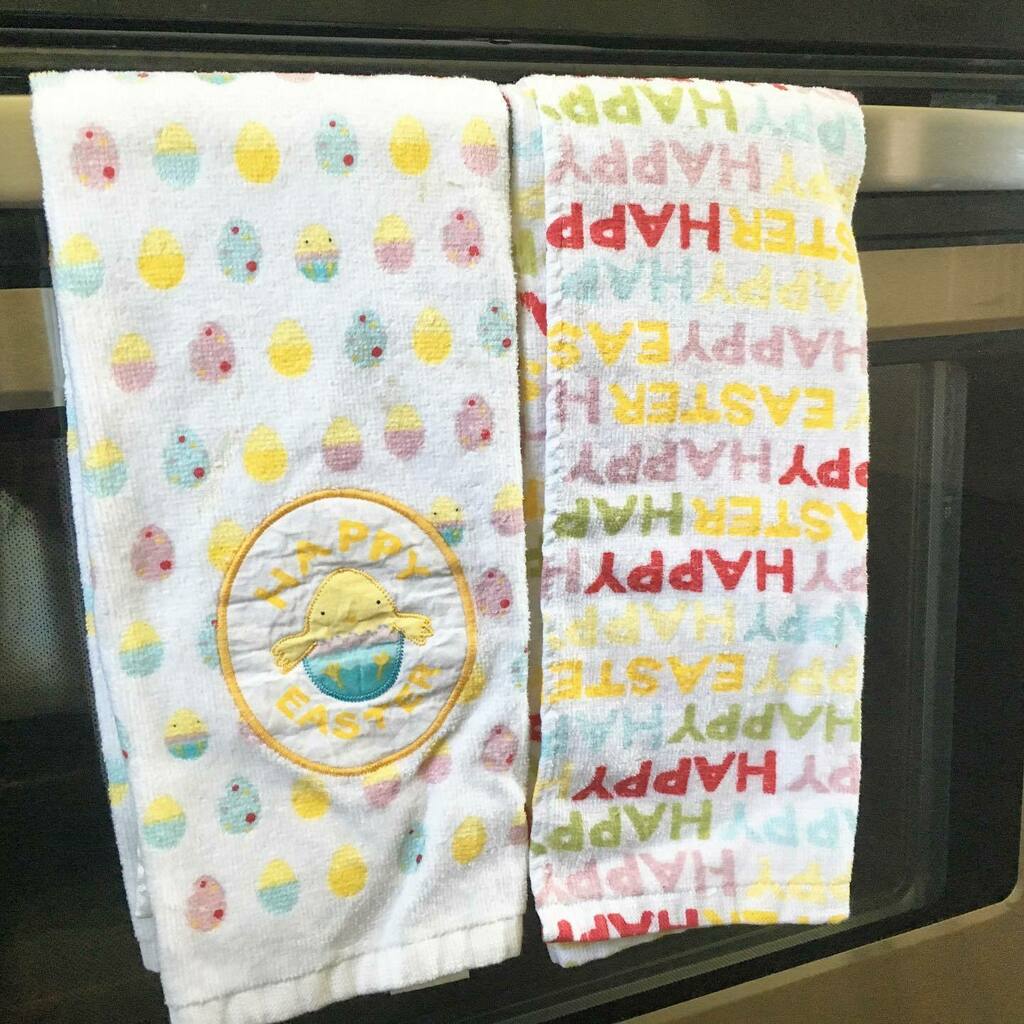 Easter Towels
If you follow Drugstore Divas on Instagram, you know I change towels with every season. I started my collection by buying seasonal towels at the dollar store, but once my decorations caught one, people started buying me some as gifts.
If you want to add to someone's collection, or maybe just start one, Easter kitchen towels are perfect Easter basket fillers.
Chocolate Eggs
Everyone likes chocolate eggs. So add one or a dozen to each adult Easter basket you're making. Trust me. No one wants to share.
If you are making a ton of baskets, purchasing that many can get expensive. So you might actually want to make our homemade peanut butter Easter eggs instead.
Water Bottle
A couple years ago, my dad got me a water bottle as a gift and I have literally used it every single day since. It's such a good gift. And good for the Earth too.
If your recipient has a large water bottle, get them a smaller one. Or vice versa. And definitely include a pack of stickers. Decorating your water bottle with stickers is still in style.
Herbal Teas
There's something so soothing about having tea at home. So a nice box of tea is a great gift idea.
A box of white tea bag is nice for someone who is just getting into tea. Loose tea and a cute tea infuser is a better basket filler for someone who is already a tea fanatic.
And, if you are shopping for a tea fan, check out our list of Gifts For Tea Lovers for more ideas.
Bath Bombs
Self care is so important. We all know that. But what we don't do often enough is, well, anything that involves self care.
A great tip to make sure your friends and family members are doing a little bit of self care is by purchasing them self care items, like bath bombs, as gifts. Then, they're like, "Well, I guess I better take a bath and use this gift. I don't want to be rude." Bam. Self care achieved.
Chocolate Bunnies
Your Easter baskets aren't complete until you stick a chocolate bunny in each one.
You can add a solid bunny and be done with it. Or, you can add a hollow bunny, then tell everyone to fill it with milk and use it as a chocolate mug — a little Pinterest magic adding fun to Easter Sunday.
If you can't find any more chocolate bunnies in store, you can make our Chocolate Bar bunnies instead.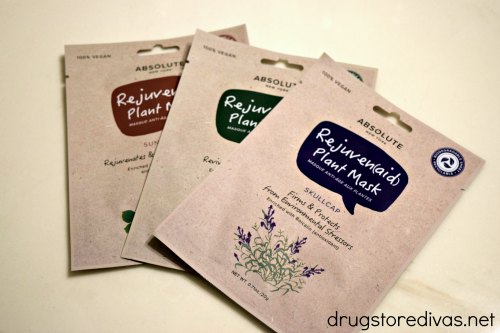 Face Masks
Face masks got so popular a few years ago. So sticking a couple of them into an Easter basket you're making for young adults is a perfect gift for them.
There are so many sheet masks out there, so be sure to read them to see what they're for (acne, wrinkles, etc.) to make sure you're getting something that fits with your recipient's age bracket.
Beer
If you're making a basket for Pete, or some adult of legal drinking age, beer is a really great way to fill it.
Head to your local bottle shop and pick up a few different bottles. I very often shop by type, then picture on the label. It's more fun that way.
Gourmet Chocolates
If you're putting together an Easter basket for me and my sweet tooth, gourmet chocolates are the perfect filler.
Sure, you can fill it with Easter candy, but those flowers and bunnies on the label will make your regular chocolates cost more because of the packaging. If you're going to pay more, purchase a box of pretty chocolates from a high end shop. That's more worth it.
Coffee Mug
We have a lot of mugs. And honestly, I still love getting coffee mugs as gifts. Ones that are really cute or whimsical or have a fun saying on them are the best.
If you're looking for some ideas, we have a list of funny coffee mugs, Disney coffee mugs, and, if all else fails, our DIY But First Coffee Mug tutorial would be a thoughtful, personalized gift.
And, if you're shopping for a coffee lover, check out our list of Gifts For Coffee Lovers for more ideas.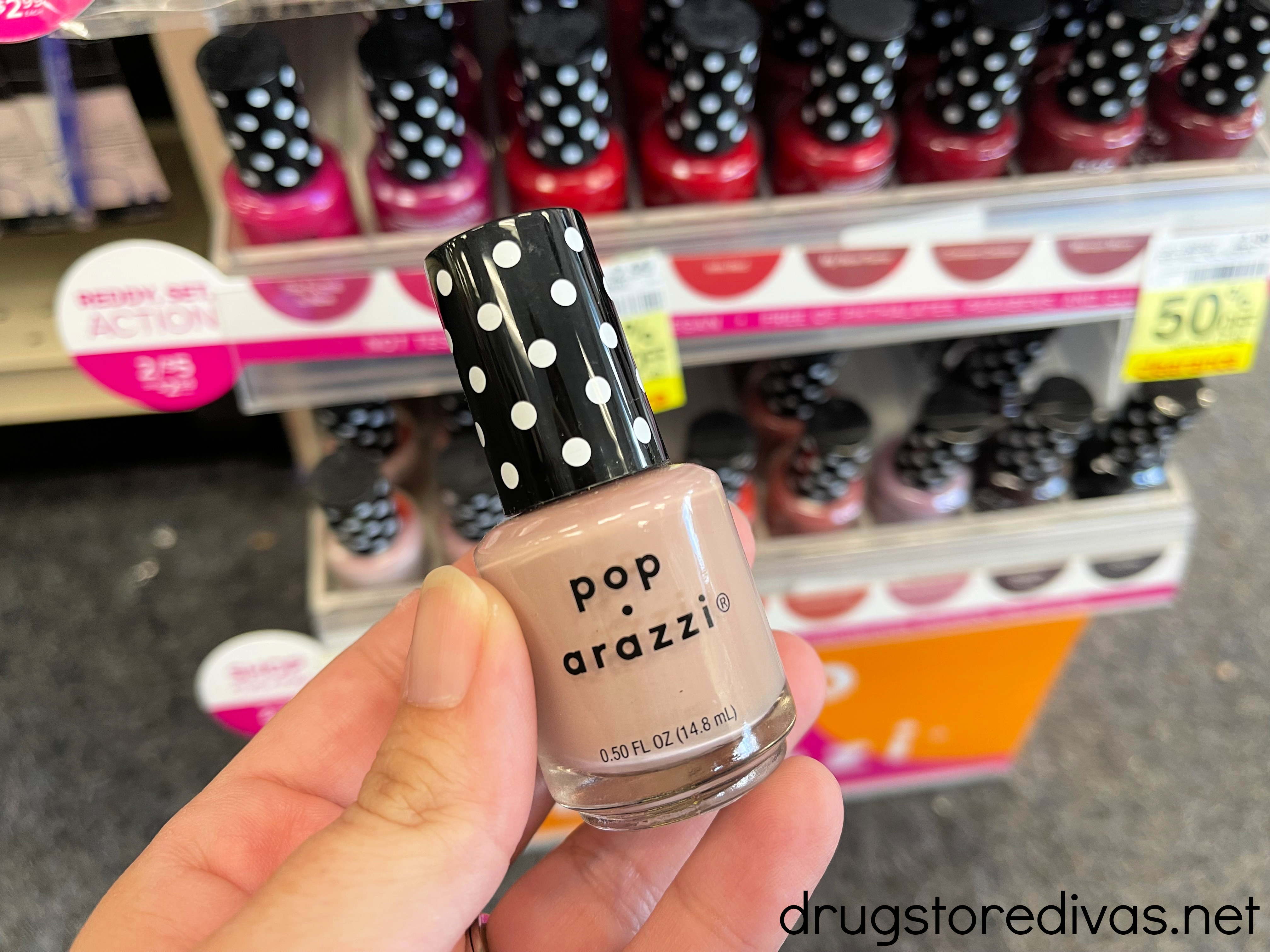 Nail Polish
Nail polish really needs to be thrown out far more often than people do it. So, giving some nail polish as a gift may encourage the young ladies in your life to open new bottles and get rid of their old ones.
Plus, nail polish is so tiny, so it's super easy to fit in a basket.
For more ideas to go with this, we have a huge list of Gifts For Nail Polish Lovers for more ideas.
Wine Glass
If your recipient is of legal drinking age and likes wine, a funny wine glass is a really cute idea for a basket filler. You could go with one that has a witty saying, one that's Easter themed, or just one that you know your gift getter will like.
And, if you are shopping for a wine fan, our list of Gifts For Wine Lovers will give you some more ideas.
Funny Tote Bag
You can never have too many tote bags, especially when lots of grocery stores require you to bring your own bags.
No one wants a plain tote bag, though. Instead, pick up a funny tote bag, roll it up, and stick it in with the rest of your Easter treats. Or better yet, use it as the basket itself and fill it up with goodies.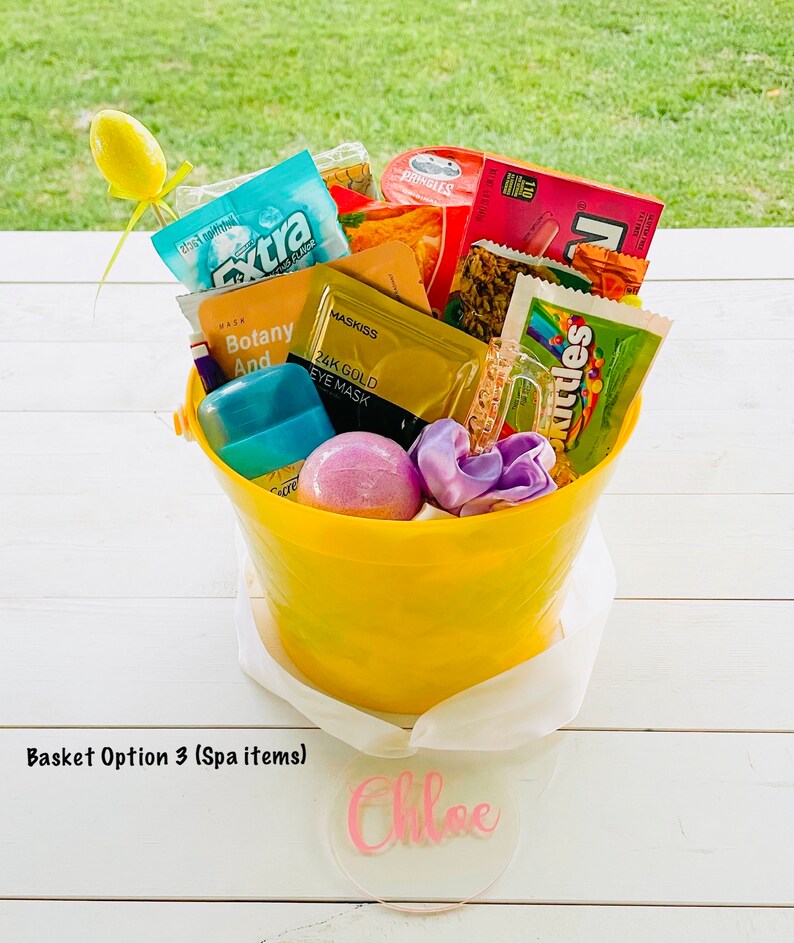 Purchase Premade Easter Baskets Online:
If you're running out of time and don't feel like purchasing a whole bunch of Easter basket stuffers, you can purchase complete, pre-made Easter baskets online, like the Spa Gift Basket above. They'll come with everything you need, wrapped in cellophane. All you need to do is hand it to your recipient on Easter morning.
Pick up a pre-made basket at the following stores:
Be sure to check a store's minimum cart total to qualify for free shipping. Also, consider instore or curbside pickup, where available, to avoid shipping charges.
More Easter Basket Ideas:
If you're putting together Easter baskets and you need a little more help putting together the perfect basket, check out our post with Non-Candy Easter Basket Fillers For Kids and Fun Easter Basket Ideas For Teens.
Which of these Easter Basket Ideas for Adults is your favorite? Let us know in the comments.