Pete started a new job last year, one that ends up with him drinking lots of water. There aren't water fountains where he's working, so he takes a gallon water jug with him every day. He was using a plastic one (which isn't that great … you know, BPA and all), so he mentioned he wanted a stainless steel bottle. Being the nice wife I am, I bought him a stainless steel gallon water bottle for Valentine's Day. Of course, I picked up a plain white one. Why? Because right now, the hot trend is using stickers to decorate your water bottle.
I told that to Pete as soon as he opened it, and it wasn't even an hour later when he grabbed the stack of brewery stickers we have been accumulating from our travels.
It's such a great way to carry your favorite travels with you. Many hikers decorate with trail stickers, then take the water bottle with them on their next hike. Jetsetters pick up stickers at gift shops. There's nothing stopping you.
Using Stickers To Decorate Your Water Bottle
Affiliate links are included in this post and Drugstore Divas may make a small commission if you use them.
This is the basic overview of what to do. The end of the post has more tips about affixing your stickers and caring for the bottle after its decorated.
Pick up any stainless steel water bottle.
Brand doesn't matter, and neither does the color, to be honest. Just make sure it's plain. Any one with a design already won't really fit with this.
Start grabbing stickers at your favorite places. Pete wanted to decorate his with brewery stickers, and that was super easy for us to do. We have a ton of breweries in Wilmington, NC, so that's easy to pick up stickers that way. We also stop at breweries when we are away on vacation, like when we went to Sierra Nevada Brewery in Asheville.
Then, just affix the stickers in any way you want to the water bottle.
Pete's water bottle is a gallon, so it's huge and has a lot of surface space. That means he can put a ton of stickers on it. If you have a smaller bottle, you may have to be a little more selective.
Tips For Stickers On Water Bottles
If you're going through the trouble of decorating your water bottle with stickers, you want to preserve your creation. So check out our tips for stickers on water bottles.
Best water bottle to put stickers on:
Any stainless steel bottle will work. Definitely choose stainless steel over plastic because the stickers can be removed easily from stainless steel.
The most popular stainless steel water bottles are:
You could get a generic stainless steel water bottle too, although we've found that one of those name brands keeps water and ice colder than generic brands we've tried.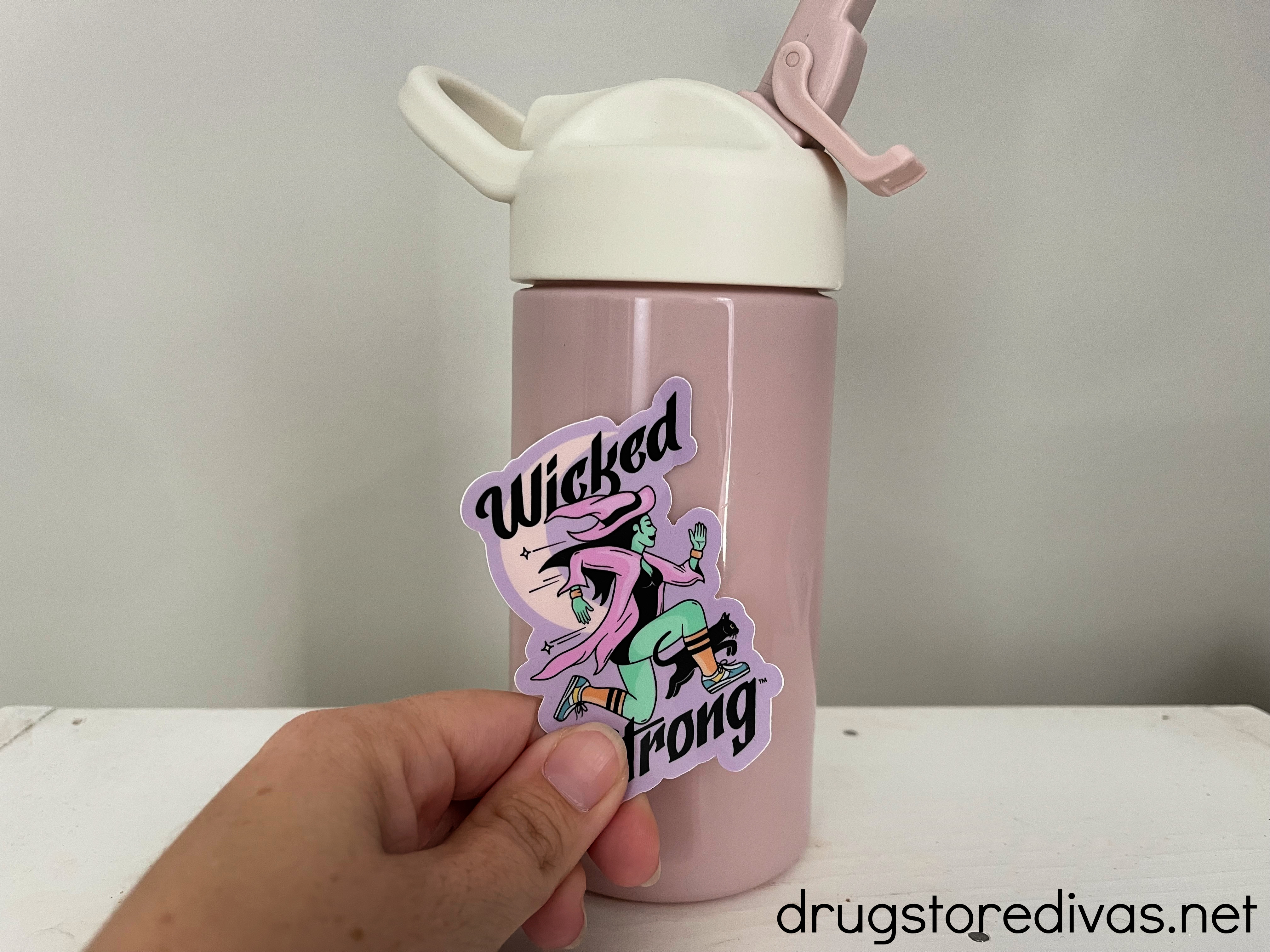 Are there special stickers for water bottles?
Vinyl decals are your best option for a water bottle because vinyl decals don't fade. Plus, you can make your own with a vinyl cutting machine, so you can completely personalize your decals.
If you don't want to, there are tons of small business who will make you personalized vinyl decals. Head over to the personalized vinyl decals section on Etsy and you can easily create your very own stickers.
You can use traditional stickers and decals, but you run the risk of those fading from the water bottle being in the sun or water dripping down it. I had this happen with my old water bottle. When I first affixed the sticker, it was a huge band logo on a rectangle. Eventually, it became a plain, white rectangle.
Stickers with a white background aren't as pretty as ones with a transparent background. A transparent one means that the image is printed in the middle and the edges around it are see-through. That way, all you see is the image, not a lot of white space. If your stickers do have a white background, you can trim the edges.
How to put stickers on a water bottle:
You want to clean your water bottle first and make sure it's free of any dust or debris. Soap and water has the potential to leave a soap residue behind, and that film can ruin your project. So your best option is to put isopropyl alcohol on a dry cloth and use that to wipe down your water bottle.
This should go without saying, however, be sure to read over any literature that comes with your bottle to make sure that isopropyl alcohol is safe for your water bottle. We aren't responsible if anything happens to your bottle.
Wipe the bottle down with a paper towel after. Don't use a cloth as those can leave fibers behind.
Peel off the sticker's backing to reveal the adhesive. Start by placing one end of the sticker on the bottle, then slowly work towards the other end, making sure to smooth out any air bubbles along the way.
If you do get an air bubble, you can point a hair dryer at the bubble, then use your fingers to push the bubble out of the edge. You can also put a tiny pin hole in the bubble. The latter shouldn't affect your sticker, really, but it's not my preferred method because I would fixate on the hole.
How to protect stickers on water bottles:
If you are going through the trouble of decorating your water bottle with stickers, you want to protect them.
Hand wash your bottle only. Don't wash your bottle in the dishwasher, even if it's dishwasher safe. The bottle may be, but your stickers probably aren't.
Try and keep your bottle out of the sun or rain, if you're using stickers instead of vinyl decals. The elements can fade the stickers.
You could use a food-safe clear epoxy to cover the stickers. I cannot stress this enough: It must state food safe or food grade. If not, do not use it to seal your stickers. Do not use Mod Podge. While that would be great for affixing stickers to a canvas, it's glue and it's not food safe.
Purchase stickers for water bottles online:
My mom is the biggest collector of stickers. She uses them to decorate her clipboard, not a water bottle.
She gets a lot of them from National Parks' visitors centers, which is basically a gift shop for the park. You can purchase travel stickers online at the following stores:
Free stickers for water bottles:
To make your life easier, I'll list the free travel stickers I can find below:
Removing stickers from water bottles:
To remove the sticker, start at one corner (or end, if it's a circle) and pull until the entire stickers is removed.
If any adhesive is left behind, you can easily remove it with goo and adhesive remover.
Wash your bottle with isopropyl alcohol on a dry cloth to remove any residue from the cleaner, then wipe the isopropyl alcohol away with a clean paper towel.
More Ways To Decorate Your Water Bottle:
If you're looking for other ways to decorate your water bottle, check out our Paint Pour Water Bottle Tutorial post.
Have you decorated your water bottle with stickers? Let us know in the comments!