Making Easter baskets doesn't have to be an expensive activity when you use our Tips For Creating An Easter Basket On A Budget.
Make this the best holiday yet with the ideas from our other Easter posts too.
If you celebrate Easter, there's a good chance you make Easter basket every year. And they feel like just an extra, commercial, expense.
They don't have to be that expensive. You can definitely make a really nice Easter basket on a budget. It just takes a bit of pre-planning and creativity.
And, in order to help you out, we put together a great list of tips to help you put together a budget basket.
Some of these tips are ones that you can implement for Easter this year, and a few other that will help you save on next year's Easter basket.
Tips For Creating An Easter Basket On A Budget
Upcycle a basket.
You don't need to use an expensive Easter basket from the store this holiday, especially if you're like me and have guests who visit every year. You can make a temporary basket from upcycled materials.
Every year, I save a couple 8 oz. plastic mushroom containers, wash them really well, and use them to fill as Easter baskets for my parents. Then, when they're done with the basket, they can just toss the mushroom containers away.
This year, I had to make a few extra baskets for company, so I used a 11 oz. plastic coffee container for some of the baskets. Once you pull off the plastic label and throw away the top, the coffee container looks like a plain, red barrel. No one will even know except you and your wallet.
Upcycled Easter Basket Ideas:
If you feel like making upcycled Easter baskets this year, we have a few posts to inspire your creativity:
Use paper shred as Easter grass.
It's a little late for this tip, but you can keep it in mind for next year.
Every time you get a package with paper shred in it (which I get a lot of, for whatever reason), save it in a bag somewhere in your gift closet. Chances are you'll accumulate a lot of it during the year.
Then, when Easter comes around, instead of buying overpriced Easter grass, you can just go into your bag in the closet and grab some paper shred.
It's not a huge savings, but it'll save you enough to buy a couple candy bars to add to the Easter baskets.
Pick up some free candy.
If you're shopping at the last minute, you're at the mercy of what stores have left in stock and have to pay whatever the candy costs.
But, if you plan ahead a little, you can save some money and grab free or cheap candy. We don't post those deals on Drugstore Divas anymore, but we post them on our social media pages. Lately, we've found offers like free Nerds at Circle K, Flipz bars for a quarter, and free Snickers at Walmart.
Set the free candy aside as you "buy" it, making sure not to eat it, and you'll be able to fill those Easter baskets for a fraction of the cost.
Reuse plastic eggs.
If you have Easter eggs left over from last year, or if you went to an egg hunt this year and collected plastic eggs, don't throw them away. Reuse them.
You can use them to have an Easter egg hunt this year, or you can use them in your Easter baskets for this year. That saves you from having to buy eggs.
And, if you really need to stretch your budget this year, put one small piece of candy in each egg. Doing it that way will take up more space in the Easter basket, making it look fuller, as opposed to just leaving the candy loose at the bottom of the Easter basket.
Add some non-candy Easter basket stuffers.
The age of your recipient will determine what type of toys to add to the basket. For a young child, think about art supplies. Anything to keep them off the tablet and away from the television.
For a teen with a new car, go with towels for washing the car or Rain-X for the windshield. For your mom, think about her hobbies. If she likes gardening, think about gardening gloves.
Those types of things take up a lot of space in an Easter basket. So, if you can buy larger items that are inexpensive, you'll have less room to fill. And by that logic, you're spending less on the Easter basket than if you filled it with a bunch of small items.
Or, if you have some scrap wood, you can make some wooden bunnies and add those to your baskets too.
For more non-candy ideas, check out our long list of Non-Candy Easter Basket Fillers For Kids.
Avoid pre-package Easter baskets
It's so easy to grab an Easter basket off a store shelf and just call it a day. But those pre-packaged Easter baskets are so expensive. They charge for convenience, though.
You can, however, use those for inspiration. Take a peek inside to see what the basket is filled with. Maybe it's sports equipment like a soccer ball. Or maybe it's a stuffed animal. Take notes of what you like about the basket and what drew you to look at it in the first place.
Then, head around the store and pick up those items. Assembling it yourself will be a lot cheaper than purchasing it already made.
And, in that same vein, if you can DIY some treats, like making homemade smash eggs, instead of buying them you'll save yourself some money too. That may cost you in time, though, so you need to weigh that choice out.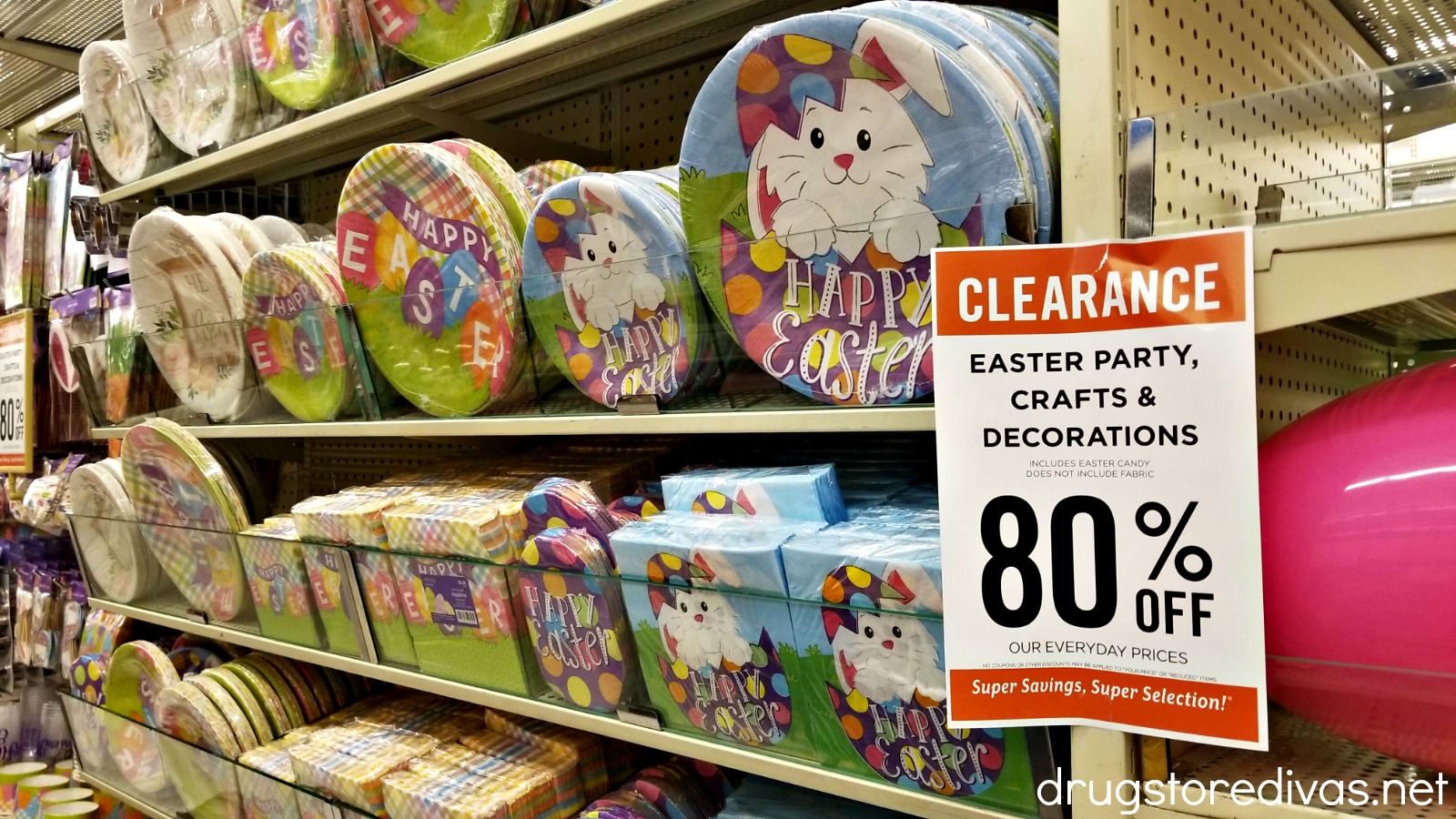 Shop after-Easter sales.
The day after Easter, stores want Easter merchandise off the shelves as quickly as possible. So the day after Easter, Easter items are on clearance. Usually, items start at 50% off and go as high as 95% off.
That's a great way to pick up items for next year's baskets.
Don't pick up clearance chocolate for next year (but, definitely pick it up for yourself), but toys, coloring books, and other small Easter basket fillers are worth grabbing at a discount.
Those will help your wallet now and will help your future self when you're putting together Easter baskets for next year. You can shop in your own closet rather than in the store next year.
More Easter Basket Ideas:
Need a little more help putting together a great Easter basket? We have a few more posts that can help. Check out our Fun Easter Basket Ideas For Teens, Fun Easter Basket Ideas For Adults, and Non-Candy Easter Basket Fillers For Kids lists for ideas.
Which of these Tips For Creating An Easter Basket On A Budget is most helpful to you?