Have a coffee drinker on your shopping list? Check out these 10+ Best Gifts For Coffee Lovers, with gifts you can purchase and ones to make.
For more shopping help, check out all of our gift guides.
I was never really a fan of coffee until a few years ago. Now, I'm crazy about it and making up for lost time. Pete really liked coffee so he was a great person to introduce me to his hot beverage of choice and a ton of the coffee "gear" associated with it. If you have a coffee lover on your shopping list, you're in luck. I put together a list of the 10+ Best Gifts for Coffee Lovers.
This gift guide includes a few items that we own and just absolutely love, plus a few that I would love to have in our home.
Holiday Gift Guides:
This list of the 10+ Best Gifts For Coffee Lovers is just one of the gift guides we have on Drugstore Divas.
Be sure to check out the rest of Drugstore Divas' Holiday Gift Guide by clicking that link.
10+ Best Gifts For Coffee Lovers
Affiliate links are included in this post and Drugstore Divas may make a small commission if you use them.
These are all great gifts for coffee drinkers. They'd also make really good Secret Santa gifts for coffee lovers. And that's pretty helpful actually because so many people write "coffee" as a like on their office Secret Santa list.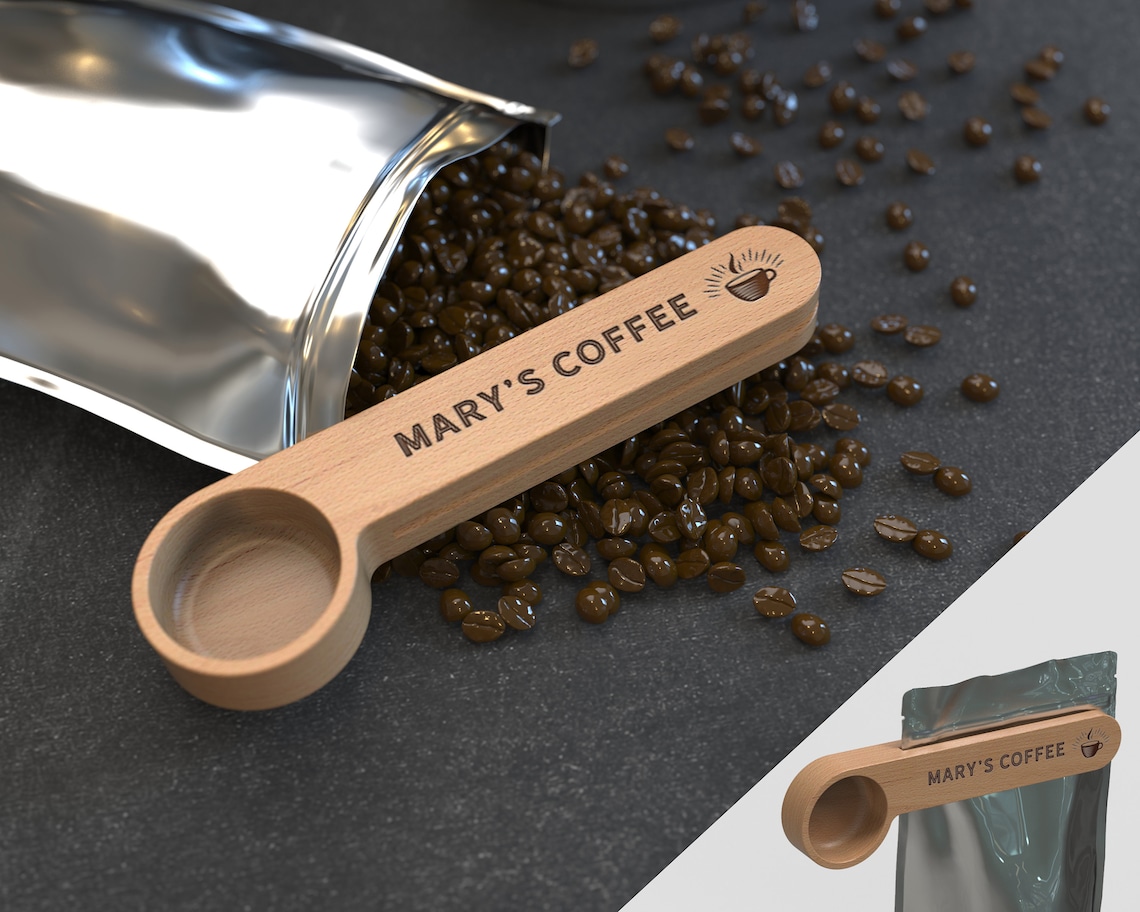 Personalized Coffee Scoop
We have a wooden coffee scoop in our coffee canister, and it's really the most convenient thing. No searching for a tablespoon early in the morning.
This Personalized Coffee Scoop is as adorable as it is practical. You can get your recipient's name printed on the scoop. Then, the scoop can be used to scoop the coffee and to close the coffee bag.
Bean Envy Airtight Coffee Canister
The Bean Envy Airtight Coffee Canister is almost exact canister we have, except ours didn't come with a scoop. We can fit a full bag of coffee in there, with room.
After you add the coffee, you track the date you put it in on the top, then change the filter when necessary. It's easy. And keeps your coffee fresh.
Krups Electric Spice and Coffee Grinder
We actually have the Krups Electric Spice and Coffee Grinder and it's great. Pete prefers whole bean coffee, but obviously, you can't drink it like that. You need to grind the beans.
Sure, grocery stores have a grinder there, but fresh ground coffee is better. So having a grinder at home, so you can grind on demand, is perfect.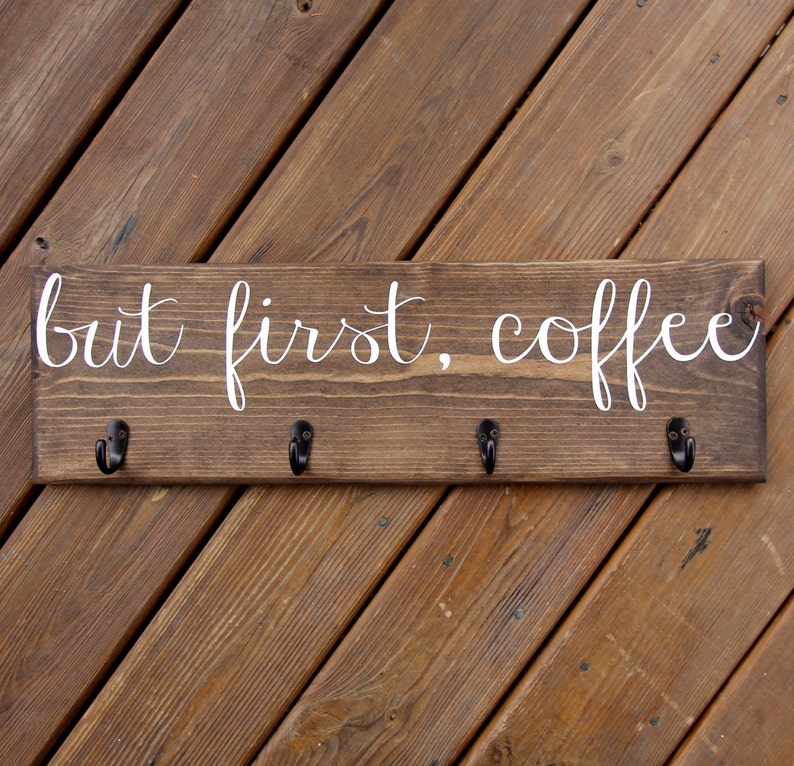 But First Coffee Wood Sign with hooks
There are a lot of But First, Coffee signs out there, but I love this But First Coffee Wood Sign with hooks because of the hooks. That makes it functional. It's not just decoration.
If you're giving this as a gift to someone, you can include some cute cups or funny coffee cups with your gift too.
Coffee Cup Coffee Pod Storage Basket
When we moved into our apartment, my brother and his now-wife bought us a coffee pod storage case to go under our coffee maker. We still have it (although we've upgraded our coffee maker) and fill it with coffee pods. It's perfect for us because it doesn't take up much space. =
If your coffee lover has a little more space, pick up this Coffee Cup Coffee Pod Storage Basket. It's so cute. You can purchase some coffee pods too (which is what my brother did for us).
Don't Speak Coffee Mug
I'm laughing way too hard at this Don't Speak Coffee Mug, so I'm sure your coffee lover will like it too. Plus, you know, the funniest coffee mugs are the ones that get used daily.
Especially at the office. Assuming your coffee lover is back in the office. But, maybe they're not. Who knows. The world is still weird.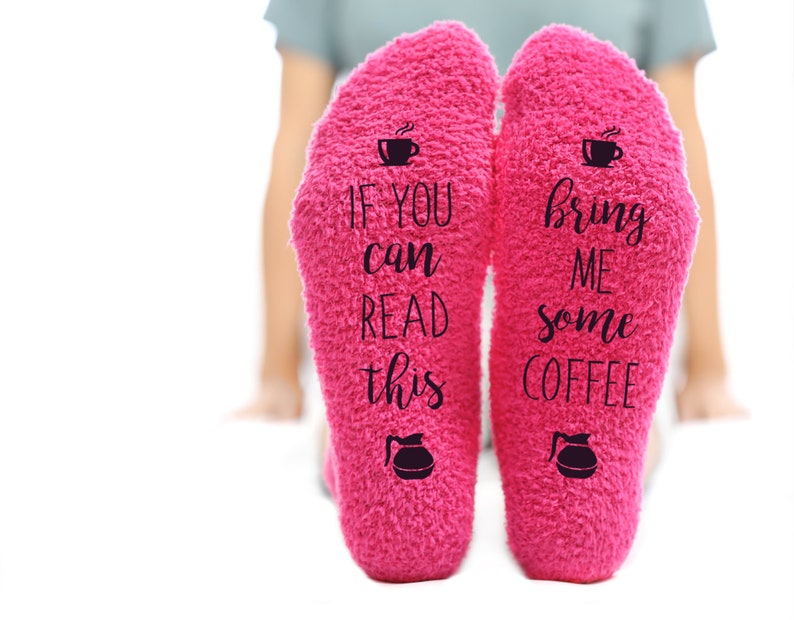 Bring Me Coffee Cozy Socks
What's better than cozy socks? Not much. Unless someone brings you coffee while you're wearing cozy socks.
And that's exactly what this pair of Bring Me Coffee Cozy Socks asks for. This is the second of two funny gifts for coffee lovers on the list because, despite popular belief, life doesn't have to be so serious all the time.
Travel Coffee Tote for 2
Picnics are cool, picnics with coffee are even better. This Travel Coffee Tote for 2 is perfect. It comes with a stainless vacuum flask, cups, creamer holder, and teaspoons.
Pete and I go on coffee dates a lot (in fact, we went on two this week), so this would be great for us.
Burnout Travel Mug
We were gifted a pair of Burnout Travel Mugs a few years ago, and we've been in love with them ever since. They keep your coffee perfectly hot (and regulated), so you never have to worry about it getting cold before you can get to it. So of course, a travel mug is a good gift. But this one is the best.
Your coffee lover can also use it to get discounts for using a travel mug, which is cool.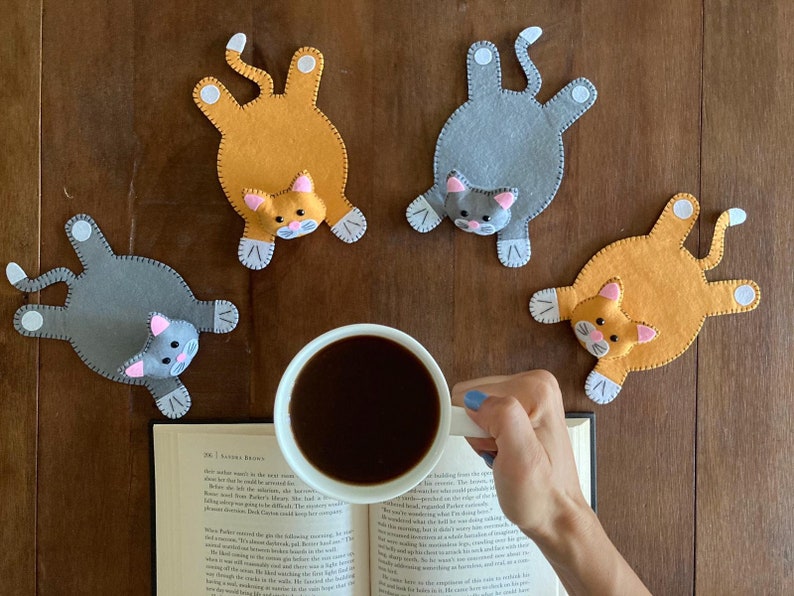 Cute Kitty Cat Coasters
Cats and coffee seem to go hand in hand. If you like one, you like the other. Or maybe that's just me.
If you coffee lover is like me, these Cute Kitty Cat Coasters are perfect. You can get a pair, a set of four, or a set of six.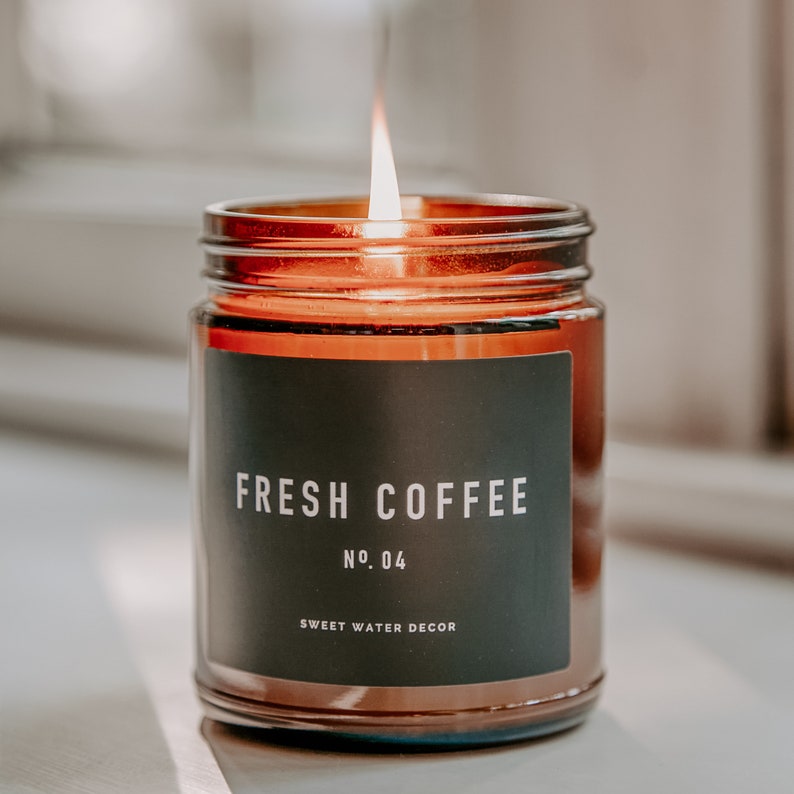 Fresh Coffee Soy Wax Candle
I love the smell of a coffeeshop. Opening up the door and having the coffee smell hit your nose is just amazing. Who wouldn't love that at home?
You can get that, without brewing coffee all day long, with this Fresh Coffee Soy Wax Candle. Or, your gift recipient can. Or both of you. Sounds like you need to buy a pair of these.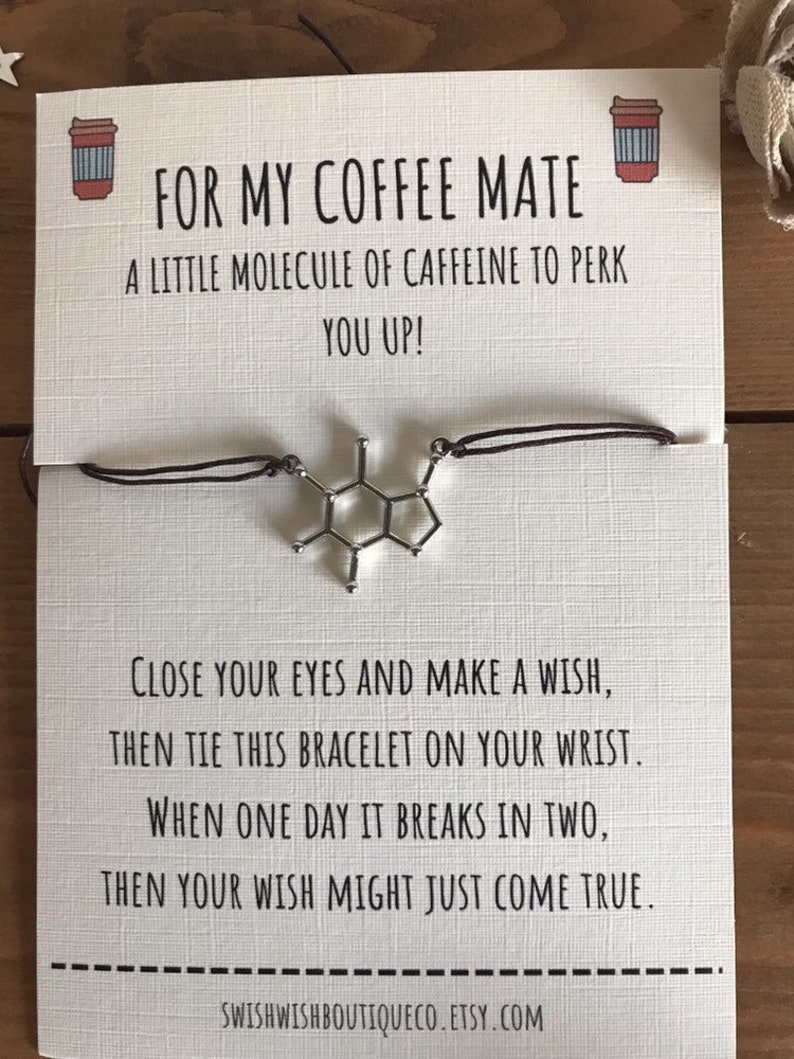 Coffee Wish Bracelet
I love this Coffee Wish Bracelet so very much. It's just like one of those bracelets you picked up in beach shops as a kid. You make a wish as you tie it. Then, when your bracelet falls off, your wish comes true.
This one adds the chemical symbol for coffee in the center, which makes it really special.
DIY But First Coffee Wood Book Stack
If you want to make a really cool gift for your coffee loving friend, this DIY But First Coffee Wood Book Stack is it. It's perfect to sit on their coffee bar or near their coffee cups.
What's nice is you can buy something similar, but this one looks like you bought it and didn't make it. And those are really the kinds of crafts I like best.
DIY But First, Coffee Mug
Another fun DIY craft to make your coffee loving gift recipient is this DIY But First, Coffee Mug. It's simple to make using a marker, so you don't even need a vinyl cutting machine to make this craft.
Just be sure to tell your gift recipient that you made it, so it needs to be hand washed. If not the letters will eventually wash away.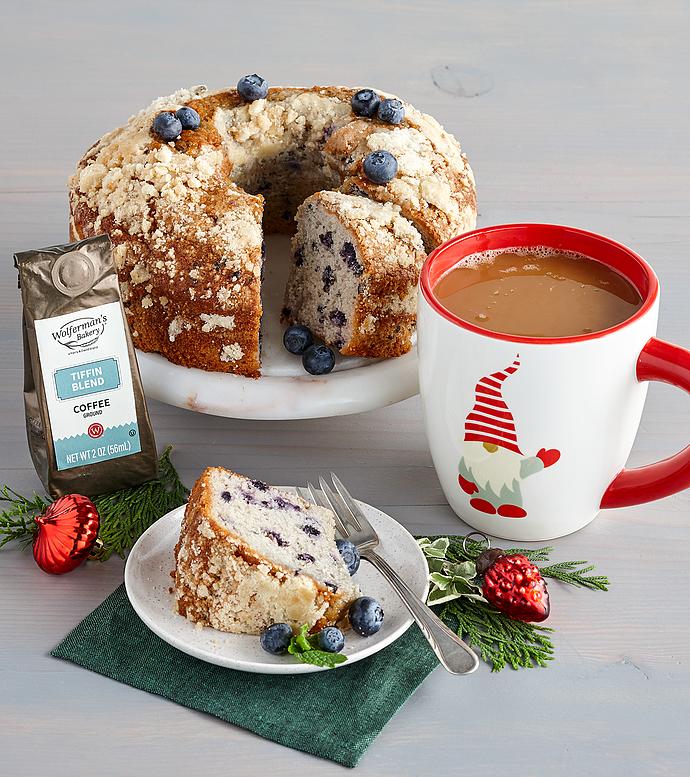 Purchase Gifts For The Coffee Drinker Online:
This list is filled with our favorite every day and Christmas gifts for coffee lovers, but it's not al the ideas out there, of course. You can purchase coffee drinker gifts online at the stores below.
Be sure to hit the minimum threshold for free shipping to avoid shipping costs. You can choose instore or curbside pickup to avoid shipping charges as well.
And of course, don't forget about our list of 15+ Funny Coffee Mugs To Give As Gifts.
Which of these gifts for coffee lovers is your favorite?