Looking for a gift your friend will actually use? Pick something off this list of 15+ Funny Coffee Mugs To Give As Gifts.
For more gift ideas, check out all of our gift guides.
Mugs are a good gift idea. I mean, if you pick up a random white mug at the dollar store and try to pass it off as a gift, that's a no. But I put together this list of 15+ funny coffee mugs to give as gifts and actually, I feel quite assured that people will like and use these gifts.
Plus, no one really wants plain coffee mugs. We all have them, but we all gravitate towards a fun coffee mug when we're having a drink.
My favorite mug, for a while, was an owl mug that I put on our wedding registry. I wasn't sure that anyone would actually get it for us, and my mom thought it was silly that I added one, non-matching coffee mug to our registry. But I wanted it. I'm one of those people that actually wants funny coffee mugs as gifts.
Pete impulse scanned an ice cube tray.
I use the owl coffee mug every time it is clean and Pete always uses the ice cube tray, so they were definitely good things to scan.
If you have coffee lovers or tea lovers on your shopping list, or just are like us and don't use disposable cups at home, you're in luck. This gift guide will help you find the perfect mug to gift.
If you're buying a fort kit as a gift, and want some ideas of other gifts to buy, check out our Holiday Gift Guide filled with tons of shopping ideas (not just for the holidays).
15+ Funny Coffee Mugs To Give As Gifts
Affiliate links are included in this post and Drugstore Divas may make a small commission if you use them.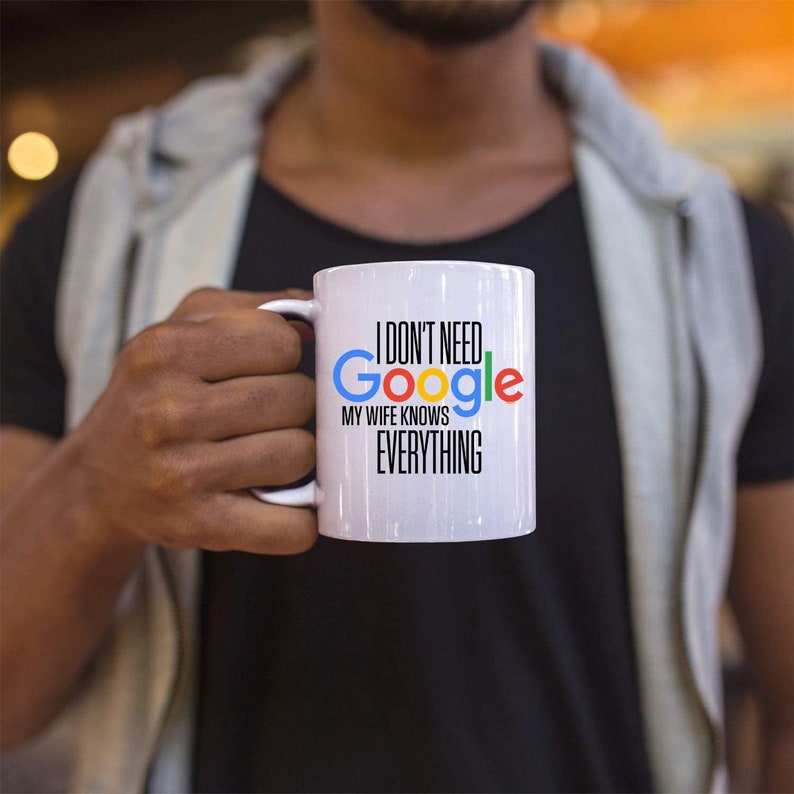 I Don't Need Google My Wife Knows Everything Mug
My mom actually bought my dad this funny I Don't Need Google My Wife Knows Everything Mug a couple years ago. He laughed really hard when he opened it, sent a photo of it on our family's group text, and actually uses it all the time.
There's actually a husband version too, in case that fits better.
Lazy Sloth Mug
Sloths are slow. I don't know when that was equated with lazy, but this Lazy Sloth Mug is adorable either way.
The little sloth is affixed to this mug and will just chill there, hanging out with you while you lay around doing absolutely nothing.
Heat Changing Cat Mug
This Heat Changing Cat Mug is adorable. It's completely black when it's cold. But once you start pouring in hot liquid, this adorable cat who is trying to break out of your mug appears.
It's actually a fun mug to give to your unassuming guest who you're serving coffee after dinner to.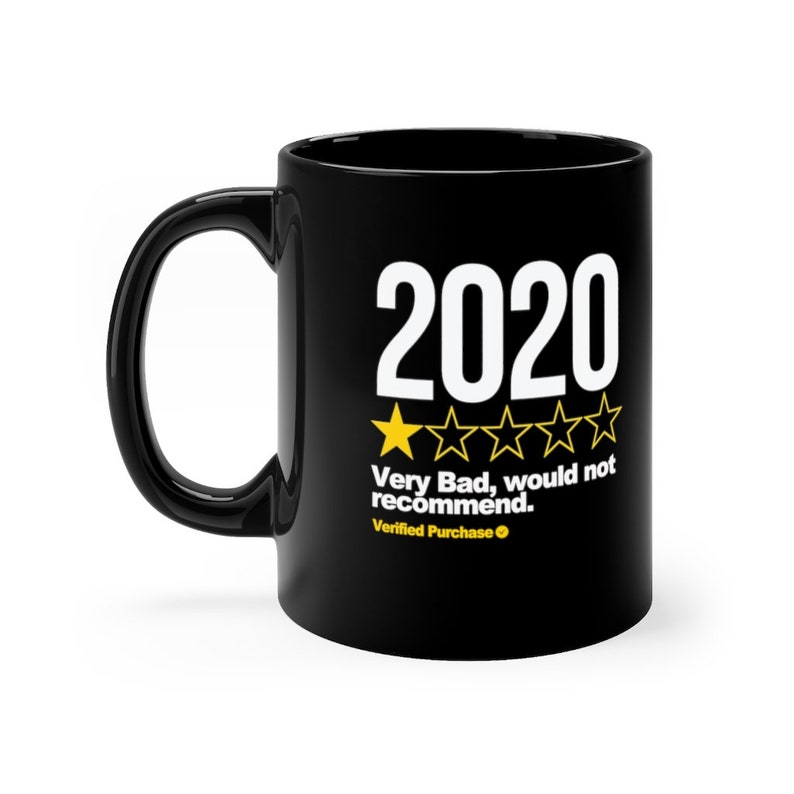 2020 Would Not Recommend Mug
We will all have the memories of what the inside of our home looked like throughout 2020, but we also need a memento to remind us of what a crazy year it actually was. Although, to be perfectly honest, 2021 feels like a reminder of what 2020 was.
Would we want to redo 2020? No. Would we recommend it? No. And this 2020 Would Not Recommend Mug is a perfect reminder of that.
Coffee Pot Mug
You know those days where you could drink a whole pot of coffee? Now you can with this funny Coffee Pot Mug.
The mug actually holds 16 oz. of coffee, and you can see the delineations on the mug every 4 oz. So it's really only two small cups of coffee. Not a whole pot.
Oh For Fox Sake Mug
I'm laughing way too hard at this Oh For Fox Sake Mug. So hard that I can't even think of anything witty to say about it.
So just buy it. Your friends will love it.
Upside Down Bear Mug
How super cute is this Upside Down Bear Mug? It's even cuter if you store it in the cabinet upside down, so then the bear is right-side up.
You can get a white bear, like a polar bear, or a yellow bear, like a grizzly bear, which is also really cute.
Joe Exotic Mug
When the beginning of last year left us home with nothing to do but watch Netflix all weekend long, Joe Exotic the Tiger King swooped in to save us all.
I'm sure your friends watched it and cursed Carol Baskin. Immortalize this time with this Joe Exotic Mug. #FreeJoeExotic, right? Well, maybe not.
Pink Narwhal Mug
It feels very odd to have this Pink Narwhal Mug following Joe Exotic, and yet, the juxtaposition feels perfect.
If pink isn't your recipient's thing, you can get a blue narwhal version too.
Another Zoom Meeting That Should Have Been An Email Mug
When I worked in an office, my days were filled with so many meetings that could have been emails. And actually turned into email chains after the meeting was over. Now, they're Zoom meetings where people are paying more attention to the books and picture frames behind you than the actual meeting.
So this Another Zoom Meeting That Should Have Been An Email Mug is perfect. Maybe not perfect for when you're on a Zoom meeting. Or maybe it is.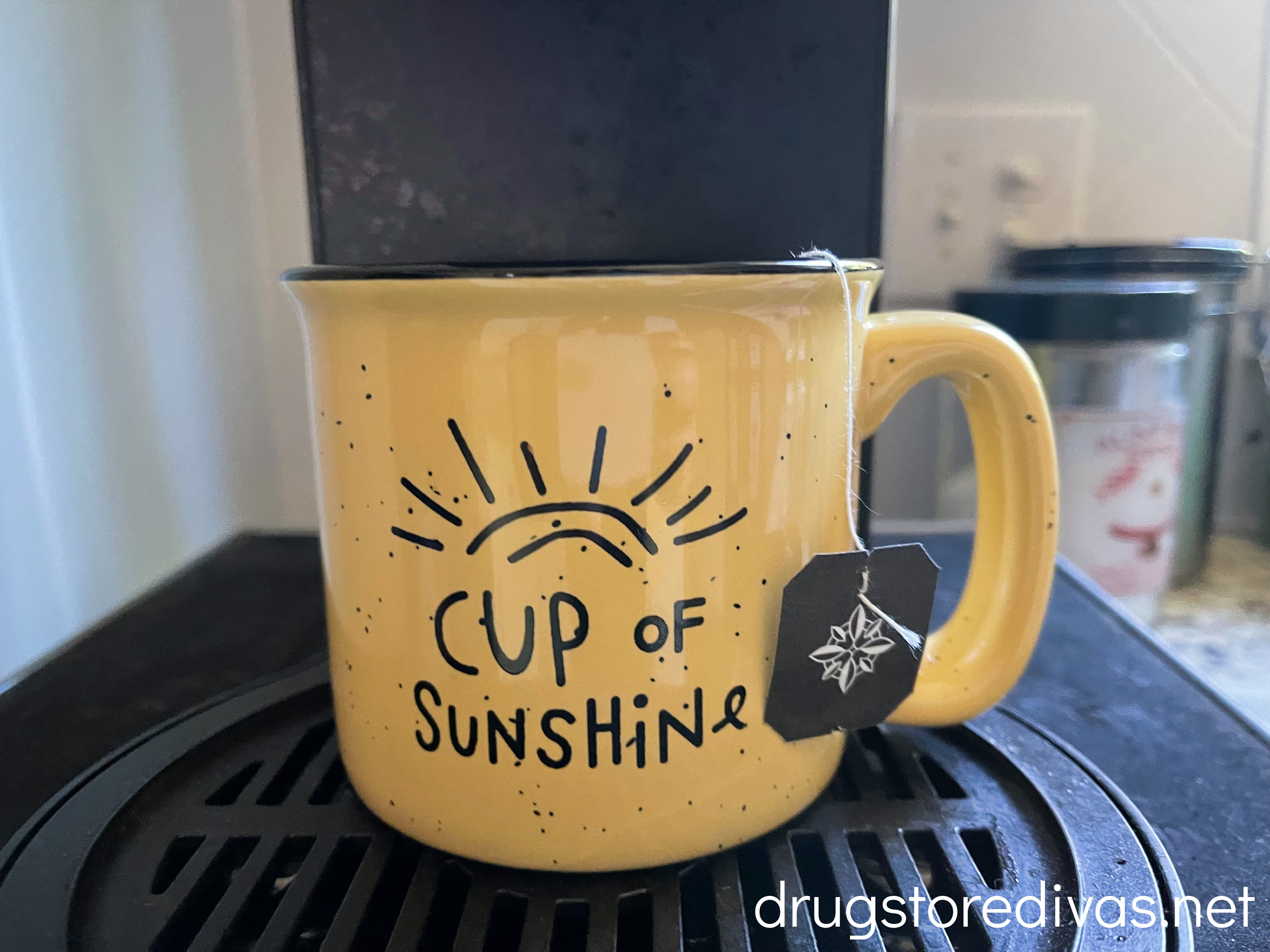 Cup Of Sunshine Mug
I can't tell if this Cup Of Sunshine Mug is serious of sarcastic, and I think that's part of its appeal.
Give it to your happy chipper Leslie Knope-type friend, and it will be a cup of literal sunshine. Give it to your sarcastic, dry humored April Ludgate-type friend, and it will be a cup of sarcastic sunshine. It's perfect for everyone.
Of Course I Talk To Myself, Sometimes I Need Expert Advice Mug
Sometimes, I talk to myself because no one listens to me. Other people talk to themselves because they know everything. If your friend is part of the latter group, this Of Course I Talk To Myself, Sometimes I Need Expert Advice Mug is perfect.
It would also be a really funny mug if your friend ever heads back to the office.
You're On Mute Mug
We've all been on a Zoom meeting where someone is talking on mute. And you don't want to add another "You're on mute" like everyone else on the meeting is yelling because the person talking isn't really paying attention anyway.
Motioning with this You're On Mute Mug is more subtle, and probably useful. Plus, it's a Rae Dunn mug, which is super popular too. So people may not even notice the message right away, but they'll laugh when they do notice it.
Flamingo Mug
I love this Flamingo Mug even though it absolutely confuses me. It's a full flamingo, with a mug just popping out of it. The mug should be white. Or black. Or any color other than pink. And the flamingo has a crown because of course it does.
Somehow, this makes this mug perfect … ly confusing, anyway.
My Girlfriend Is Hotter Than My Coffee Mug
Need a funny mug for your boyfriend? This My Girlfriend Is Hotter Than My Coffee Mug is perfect. Mostly because you need to read the fine print that says, "(Yes she bought me this mug)".
OMG My Mother Was Right About Everything Mug
So I actually have this OMG My Mother Was Right About Everything Mug. Remember when I said my mom bought my dad the Google mug that kicked off this list? Well she bought me this mug the same year. She must have really been feeling herself.
I use this mug all the time, partially because it's funny but mostly because it holds a lot of coffee.
"Tea-Amo" Mug
Any tea lover will love this "Tea-Amo" Mug. It's a play on "te amo," which is "I love you" in Spanish. So, be careful who you give this to if you're not ready to profess your love.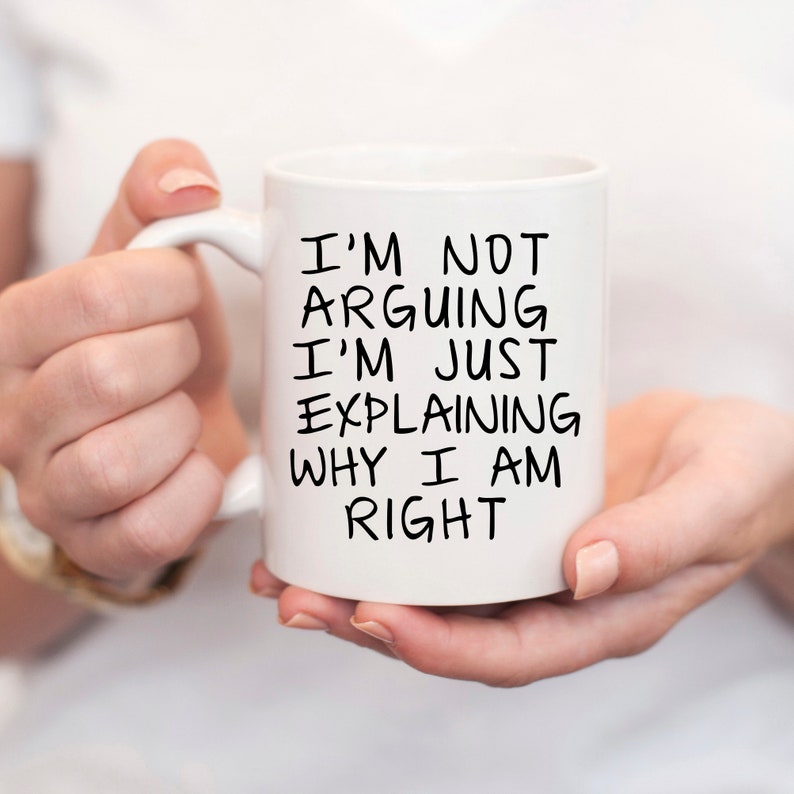 Purchase funny mugs online:
The funny mugs above are our favorite ones, but of course, that's not all of the fun coffee mug options. There are more, like the I'm Not Arguing I'm Explaining Why I'm Right mug above. So, if you want to scroll yourself, check out the sites below to check out stores that sell funny coffee mugs.
Be sure to check a store's cart minimum to qualify for free shipping. Also, consider instore or curbside pickup to avoid shipping charges.
Which of these 15+ Funny Coffee Mugs To Give As Gifts is your favorite? Be sure to let us know in the comments.