If you have a Disney lover on your shopping list (or if you're one), you'll love everything on this list of 20 Cute Mugs For Disney Lovers.
If you need more help shopping, be sure to check out all of our gift guides.
I'm totally putting her on blast, but my cousin just celebrated her one month anniversary with her new beau. He knows her so well already because he got her two adorable Disney mugs to add to her collection. And of course, that inspired this list of 20 Cute Mugs For Disney Lovers.
Personally, I'm in the camp that believes you can never have too many mugs. We have so many in our house, and I'm still always looking at more every time we're on vacation. They're just so cute.
So if you agree with me, and you love Disney like my cousin, you'll love this list.
This Cute Mugs For Disney Lovers is just one of our gift guides to help you shop. For all of our lists, check out all of our Holiday Gift Guides.
20 Cute Mugs For Disney Lovers
Affiliate links are included in this post and Drugstore Divas may make a small commission if you use them.
This list is filled with Disney coffee mugs only. They're not plastic mugs or tumblers. Maybe that will be another list because I saw some cute ones while putting this list together.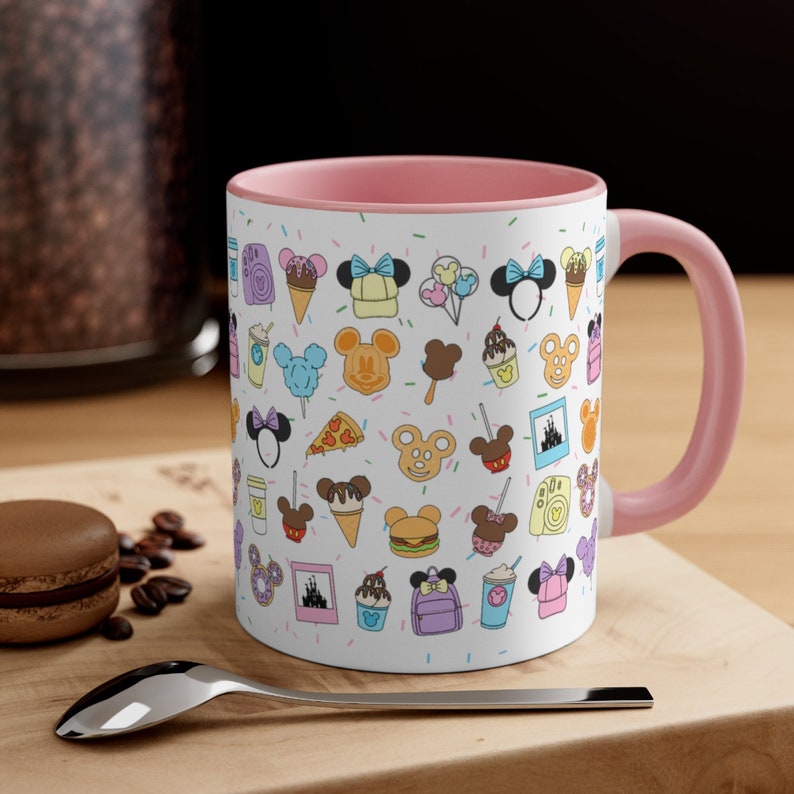 Disney Snacks Mug
Some people go to Disney for Mickey and Minnie. Other people go for the snacks. Where else can you get authentic Dole Whip?
If your Disney fan loves Mickey shaped pretzels, they'll love this Disney Snacks Mugs. It has so many fun images on it, from popular snacks like Mickey shaped cotton candy to popular Disney images like Loungefly bags.
Chip from Beauty and the Beast Mug
This Chip from Beauty and the Beast Mug is the perfect play on Disney, and I almost can't stand it.
Quick explanation about why this is amazing, in case you don't know. Chip is a child, who turns into a mug, in Beauty and the Beast. And, while he's a mug (not a child), he looks exactly like this. So it's an actual mug of the cartoon mug, who is an actual child, in the movie.
Disney 90th Mickey Celebration Mug
Mickey Mouse is iconic, but he has sure changed over the years. He looks great now but some of those incarnations were a little worse than the others.
To celebrate his changes, and his 90th anniversary, pick up this Disney 90th Mickey Celebration Mug for your Disney loving pal. It's filled with all the different Mickey Mouse designs, which is awesome.
Minnie Mouse Oval Mug
This Minnie Mouse Oval Mug is a really famous/popular style made by Vandor, and I just absolutely love the look of it. Every character that's on a Vandor oval mug fits so well.
This Minnie pose is the cutest (in my opinion), but you can check out other Vandor Disney mugs, all in the oval mug style, if your gift recipient likes someone else.
The Aristocats Because I'm A Lady That's Why 3D Sculpted Mug
I'm not exactly sure how you drink out of a handle that's shaped like a bow, and I'm not exactly sure your Disney fan will care.
Because she's a lady. And she'll figure it out. And she'll love this mug.
Star Wars May the Froth Be With You Mug
I'll be honest. I don't really know the relationship and history between Disney and Star Wars enough to explain it, but I do know it well enough to confidently add this Star Wars May the Froth Be With You Mug to this list.
It's cute for Starbucks/Star Wars fans, which is probably a lot of them. You need a lot of Starbucks to sit through all the Star Wars movies back to back to back to … you get the idea.
Evil Queen Poison Apple Sculpted Ceramic Mug
If your Disney fan is a little less princess-y and a little more evil queen-like, this Evil Queen Poison Apple Sculpted Ceramic Mug is perfect.
It looks just like the poison apple from Snow White (which yes, I had to Google to make sure. I haven't seen that movie since I was a kid).
Hakuna Ma'Coffee It Means More Coffee Mug
I love this Hakuna Ma'Coffee It Means More Coffee Mug. Obviously, you have Hakuna Matata in your head right now. And your recipient will be singing that every morning as coffee brews.
What better way to start the day than with a song? Coffee. I mean, the answer is coffee. But with this mug, you get both.
Mickey Mouse Sketch Book Mug
I love the whimsy in this Mickey Mouse Sketch Book Mug. It has a bunch of drawings of Mickey, his hands, his expressions, and words depicting part of the sketch.
What I really love, though, is the attention to detail in the mug. It has the artist's name and date drawn at the top, and it looks like it's on graph paper, which is what the artist (surely) originally used.
Cinderella's Castle Watercolor Mug
We have an artist who comes to the Azalea Festival every year and puts out work that is so similar to this Cinderella's Castle Watercolor Mug. In fact, he has a watercolor of the castle, so I swore this was his work.
It's not, but it's just as beautiful. And is, honestly, the prettiest Disney mug on this list.
UP "Adventure Is Out There" Mug
Disney owns Pixar now, which means this UP mug can make this list.
It shows the famous house in UP famously being lifted by balloons. It's probably the most popular scene in the entire movie. The scene when Ellie dies is the saddest. I guess I should have added a spoiler alert before that sentence, but UP came out in 2009. So if you didn't see it yet, that spoiler on you.
The back of this mug says, "Adventure Is Out There" which is so cute.
Dumbo 3D Sculpted Mug
I'll be honest. I'm not sure how practical this Dumbo 3D Sculpted Mug would be to drink out of, but it was way too cute to not be included on this Disney mugs list.
It might work better as a display piece than a mug, but let your Disney fan decide.
Mickey and Pluto One Line Drawing Mug
One line drawings are so cool because you draw the entire picture without picking up your pen. It's all one continuous line.
That's how the images on these Mickey and Pluto One Line Drawing Mug are created. It's something unique that your Disney lover will love.
Stitch Mug
This Stitch Mug is actually a replacement for one in our main photo. That one is not available anymore, but this one is. But no worries. And any Lilo and Stitch lover would love this mug too.
Stitch's face is on the front and his name is on the back.
Coco Sugar Skull Mug
Have you seen Coco yet? If you have, this Coco Sugar Skull Mug is pulling at your heart strings. Abuela is there in the middle, other family members and music notes make up the design, Coco, the wings at the bottom, it's just beautiful.
If you haven't see it yet, go stream Coco right now. Just make sure you do with tissues close by.
Beauty and the Beast Kiss Pair Mug Cups
As soon as I think about Beauty & the Beast, I instantly sing that song about her provincial life. So for me, there would be no better way to start my morning than with this Belle Mug.
And Pete can start his day with the Beast mug because this comes as a pair. I would be singing all day long. (This is, what, the third mug that would get me singing?)
Mulan Portrait Mug
Mulan is one of the very few Disney movies I haven't seen. But the colors on this Mulan Portrait Mug caught my eye, so I had to add it to the list.
And because so many Disney fans have seen it. So your Disney fan might love this.
Alice in Wonderland Mad as a Hatter Mug
I loved the live action Alice in Wonderland so much that I actually saw it in the theater … twice. And I bought the DVD too.
So it should be no surprise that I love this mug. But I actually love it because it's so unique. You're drinking out of the top of the hat and the brim is like a built in saucer. It's so cool.
Buzz Lightyear Animation Sketch Mug
The illustrations on the Bambi Animation Sketch Mug are so simple and so perfect. There's absolutely nothing I would change about it. So I'm sure your Disney lover will love it.
Eeyore "Mornings" Mug
You have to love Eeyore from Winnie the Pooh, even if he is a little sad and gloomy most of the time.
He still has a can do attitude in these somewhere, as you can see on this Eeyore "Mornings" Mug, which reads: "Mornings," said Eeyore. "You might as well get used to them 'cause they happen READY or NOT."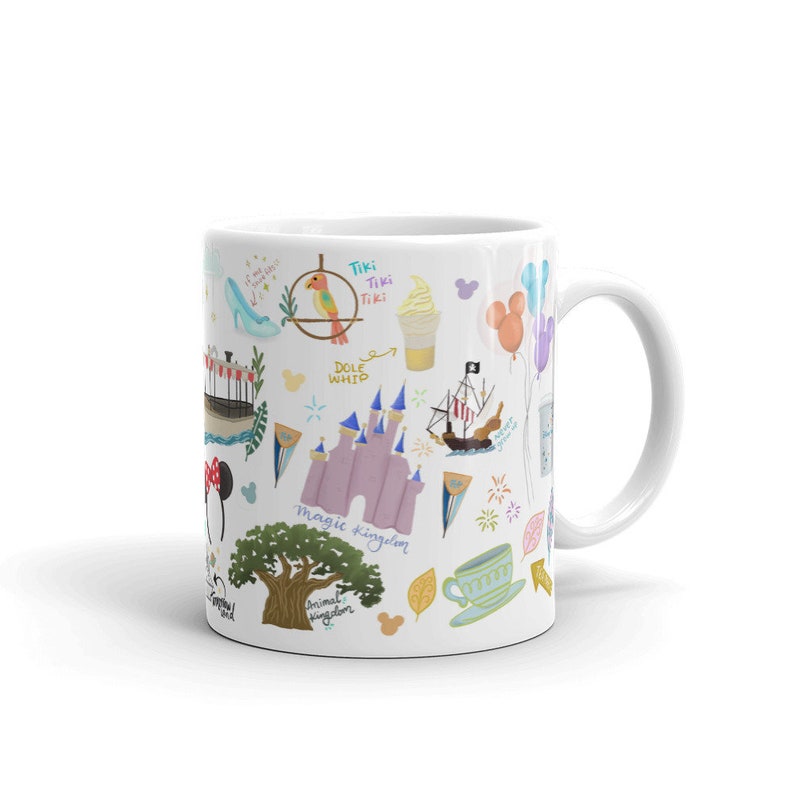 Order Disney Mugs Online:
These aren't all the Disney coffee mugs out there, just our favorites. We couldn't list all of them, like the Disney images mug above.
For more, check out the stores below:
Don't forget to check a store's minimum cart total to qualify for free shipping. You can also order online and choose instore or curbside pickup to avoid shipping costs.
More Disney Gift Ideas:
If you're shopping for a Disney fan and you want to add something with the mug, we have a couple other Disney gift guides that can help.
Which of these cute Disney mugs are you buying? Let us know in the comments.