When I first met Pete, I would sit at his parents' kitchen table and have tea while he drank coffee. I'm obsessed with coffee now, but back then, my warm beverages of choice were tea and hot chocolate. So this gifts for tea lovers list speaks to me on some level … even though I've probably only had one cup of tea in the last year.
If you have a tea shopper you need a gift for, you can't just give them a coffee mug. I mean, you can, but there are so many nuances to drinking tea that a mug that steeps is a lot better. So this list is especially helpful if you're a coffee drinker and pretty much know nothing about tea.
10+ Gifts For Tea Lovers
As with the majority of our lists, this tea lovers gift guide is in no specific order.
Half Moon Teapot And Glasses Set
If you're going to try to convert coffee lovers to be tea fans, you need to take presentation into consideration. So this Half Moon Teapot And Glasses Set is the perfect way to do that.
The set comes with the teapot and four matching glasses. It also comes with five flower blooms that you put directly into the teapot's infuser, so it looks really pretty while the tea is being made.
Fruit & Tea Infuser Tumbler
Travel mugs are great to pour your coffee into. But tea needs a little more finesse than that. That's where this Fruit & Tea Infuser Tumbler comes in.
There's a mesh infuser that fits into the center of the tumbler. You put your loose leaf tea in the center, pour hot water into the tumbler, and then steep. Wait until it's done, remove the mesh infuser, and then head out for the day.
What's great too is this Fruit & Tea Infuser Tumbler isn't a unitasker. Instead of tea, you can fill the mesh infuser with fruit and make fruit infused water.
Ceramic Tea Bag Caddy
We keep our tea in a cute little glass jar that my mom and I purchased when I moved into my first apartment. It looks better having that on our countertop than a box of tea.
So this Ceramic Tea Bag Caddy is the perfect gift for tea lovers. This tea bag caddy has "It's a brew-tea-ful day" imprinted on it, which is cute. It perfectly fits traditional tea bags that you buy in a box. Specialized tea bags, which come individually wrapped, may be too big for this. So you might want to throw in a box of traditional tea bags with this gift.
Ombre Tea Mug
Coffee mugs and tea mugs are not created equal. See, with tea mugs, you really want one that has a top. That way, the tea can steep without losing any of its heat.
This Ombre Tea Mug is perfect. Not only is this tea mug super pretty (and it comes in seven colors), but it has an infuser and lid that fit directly into the mug. When your tea is done steeping, you just pick up the infuser via it's handle and it also removes the lid.
Then, when your tea is ready, you can use the lid as a coaster.
Herbal Tea Garden Set
A few years back, I bought Pete an herb garden set. We grew them in our house at first then replanted the herbs outside when they outgrew their mason jars. It was such a great gift idea.
So I love that this Herbal Tea Garden Set is similar, but instead of growing herbs for food, you grow herbs for tea, like chamomile and lavender. It's a really unique gift idea.
Elephant Mug
I absolutely love this Elephant Mug. You steep your tea in it, then put your used tea bag in the front of the elephant. That way, you don't need to worry about a separate tea bag holder.
I don't know why, but an elephant is the only version of this that I can find. I figured there would be other animals, but nope, just an elephant. And actually, I even found a second elephant mug that's basically the same with different coloring and by a different brand. But still, no other animals.
Colorful Tea For One Pot
If you're having company over, the majority of people will have coffee with dessert. But then there's usually the one person who prefers tea. So this Colorful Tea For One Pot is perfect.
It's a good gift for tea lovers because that tea lover can use this personal tea pot to just make enough tea for one person. And it looks so pretty when it's being made too. Aesthetics and function.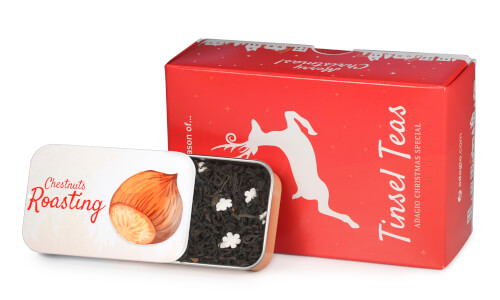 Tinsel Teas
I started following Adagio Teas on Instagram to win a giveaway (which I lost), but I'm glad I stayed following because the brand posted a photo of these adorable Tinsel Teas as I was making this tea lovers gift guide. And they fit perfectly here.
There are six different Tinsel Teas, and you can buy a sampler set with all six of them. The tins are reuable, so your gift recipient can fill them with mints after the tea is done.
Dear Santa Tea Gift Set
If you're looking for Christmas gifts for tea lovers, this Dear Santa Tea Gift Set is it.
The tea gift set comes with a glass, tea infuser (in the shape of a Santa hat), and loose peppermint tea. The set is pretty cute overall, even if it may only come out between Thanksgiving and New Year's.
Smart Tea Maker
This Smart Tea Maker looks a little complicated but also … intriguing. I thought about leaving it off this gifts for tea lovers list because it seemed unnecessarily complicated, but then I thought it might make a great cup of tea and your tea lover would be missing out if you didn't buy it.
So it's here.
Basically, you brew the tea on top of a tea cup, and it drips into the mug. Kind of like a pour over coffee in a sense. But you steep the tea first and when it's ready, you put this Smart Tea Maker over a tea cup and it drips in. It should fit over any tea cup your recipient already has, so that's great.
Animal Tea Infusers
A cute tea infuser is a great addition to any of these tea gifts. Be sure to check out our list of 15 Cute Animal Tea Infusers.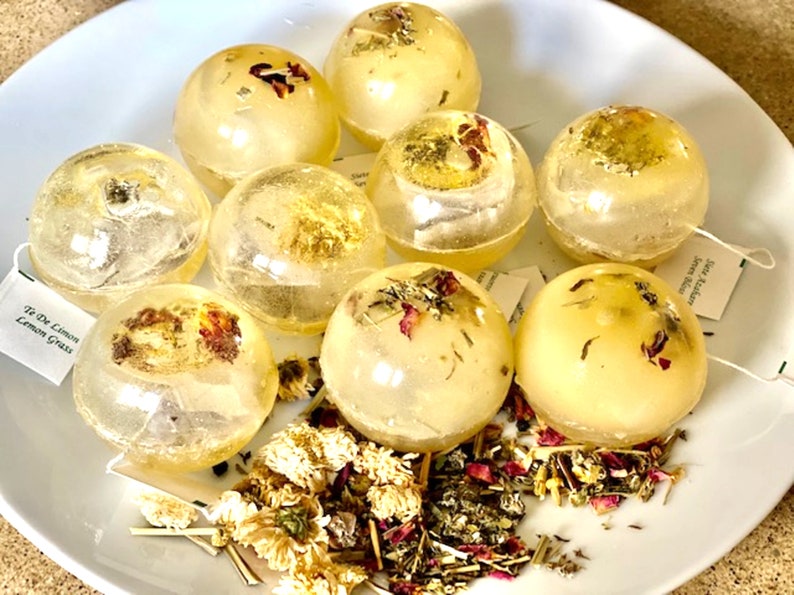 Purchase Gifts For Tea Lovers:
This list is filled with our top gifts for tea lovers, but that doesn't mean there aren't more out there. Of course, there are tons. Like the tea bombs pictured above. You can browse and buy them at the stores and sites below:
Pay attention to the site's minimum for free shipping or choose instore or curbside pickup to avoid shipping charges.
Holiday Gift Guides:
This gifts for tea lovers list is just one of our gift guides. Be sure to check out Drugstore Divas' Holiday Gift Guide to see all of our guides.
Which of these gifts for tea lovers is your favorite? Be sure to let us know in the comments.