Books, markers, toys, and poppers are a great way to fill a kid's Easter basket without sweets. Find more non-candy Easter basket filler ideas for kids here.
Make this the best holiday yet and find more ideas in our other Easter posts.
Easter is right around the corner, which means you may be trying to decide what to put in your kid's Easter basket. Or, in our case, our company's kids' Easter baskets.
We have young company road trip here for Easter every year, so I always make Easter baskets for the kids (and the adults) who visit us (because how could I not?).
I give chocolate and candy to my parents and Pete, but for young kids, I try to stay away from sweet treats. I think their parents appreciate that. I also stay away from junky toys from the dollar store because those get broken so easily during the excitement of Easter morning (I blame all the sugar). I'd rather pay a little more and give fun gifts that they'll enjoy — and not eat.
If you want to do the same, but for your own kid, this list of non-candy Easter basket ideas is sure to help you find fun things to stick into the Easter baskets you're making this year.
If you're putting together a bunch of Easter baskets and really need to stretch your budget, check out our Tips For Creating An Easter Basket On A Budget for plenty of ideas to fill your baskets without emptying your wallet.
20 Non-Candy Easter Basket Filler Ideas For Kids
Affiliate links are included in this sponsored post and Drugstore Divas may make a small commission if you use them.
We separated the Easter basket fillers into ideas for girls and ideas for boys.
Of course, you can get anything off either list for your child, but I thought it might be a little easier to separate them that way.
And, of course, some of the items are gender neutral Easter basket fillers and could be on either list, but I didn't want to repeat any of the items.
Non-Candy Easter Basket Ideas for Girls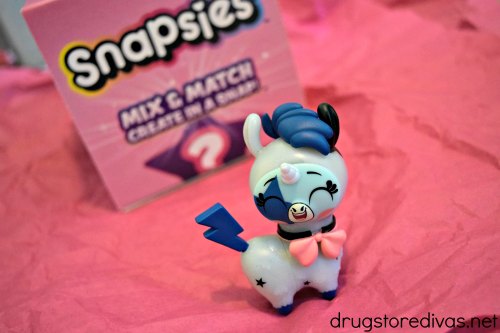 Funko Snapsies
Funko, the brand that makes those adorable POP! characters entered the toy market with Funko Snapsies.
They're cute figurines, with a ton of accessories, that come in a blind bag. We gave these to a video games loving 7- and 8-year-old at Christmas, and they were obsessed with them. So these are definitely a toy that will get kids off a screen.
What's fun is that the Snapsies come in a large round ball and the blind bags are inside, kind of like opening an Easter egg to find a prize inside. So that makes them a great Easter basket idea.
Playmobil Figures
These Playmobil Figures are very similar to the Funko Snapsies above. They come in a blind bag, in pieces, and need to be assembled.
Instead of cute animals, like the Snapsies are, the Figures are all, well, figures. I wouldn't call them action figures (because I think, by definition, those have to be based on an actual figure, fictional or real and these are just generic figures).
Little girls will love them. I mean, just look at how cute this princess is. But not a very little girl. These are for ages 5 to 10 because there are tiny pieces that aren't good for small children.
There's also a boy-centric version of these, but I'm not putting them down below, just so I have space for another suggestion.
Hippity, Hoppity, Little Bunny Finger Puppet Book
I absolutely love this Hippity, Hoppity, Little Bunny Finger Puppet Book. We put it in an Easter basket last year and it was a big hit.
Young kids can stick their fingers in the back of the board book and then "hop" the bunny's head around as you read the story. It's so much fun.
The book is really well made, as is the rabbit, so you don't have to worry about it falling apart or wearing out. The book is small too, which is perfect for small hands.
Big Easter Coloring Pages Book
Coloring books are such a good thing to have on hand for kids, especially when they're looking for something to do when you're out at a restaurant. So putting a coloring book in the back of your child's Easter basket is the perfect filler gift.
This Big Easter Coloring Pages Book is filled with 40 pages of illustrations for your kids to color. It's filled with traditional Easter scenes to color, plus pages of eggs that your child can color, cut out, and hang on the fridge.
Keep in mind that these pages are made for crayons, not markers, so make sure you have a box handy.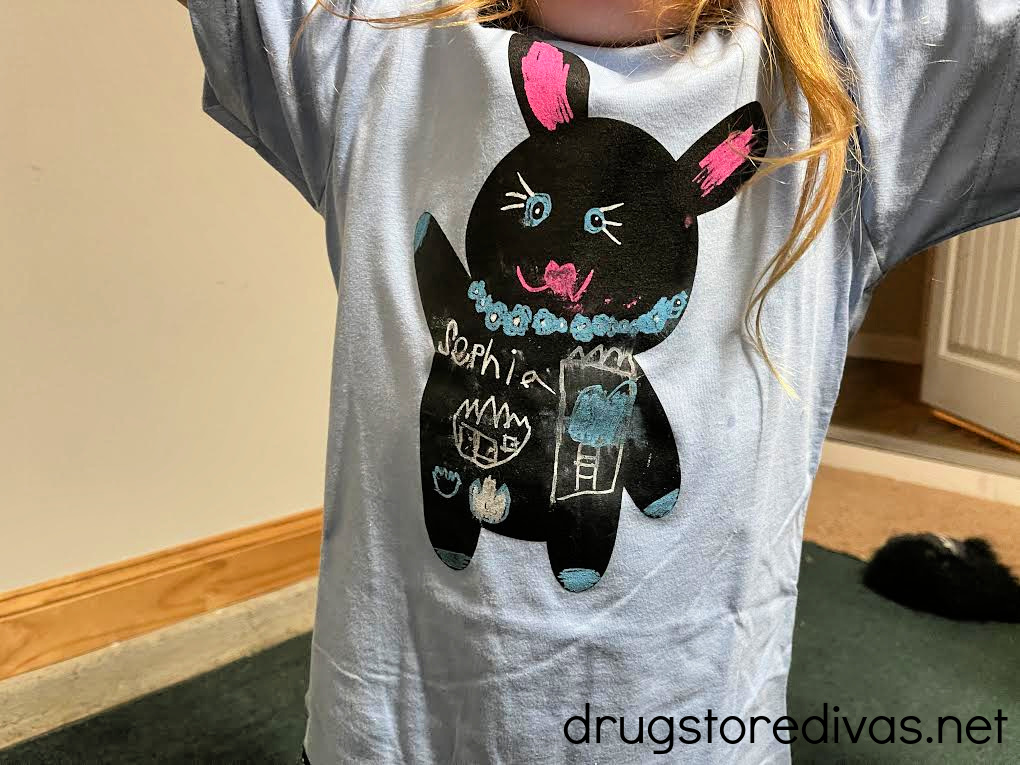 Chalk of the Town Bunny Rabbit Chalkboard T-Shirt Kit
If you have a budding fashion designer, this Chalk of the Town Bunny Rabbit Chalkboard T-Shirt Kit is the perfect way to stuff their basket.
The kit comes with markers and a shirt with a chalkboard bunny on it. You draw directly on the bunny with the markers. The kit does come with example shirts, which your child can copy, or she can just draw her own design on it.
The kit also comes with a small cloth that you can wet and erase parts of the design, if your child changes her mind. And then, when your child is completely over the design, you just throw the shirt in the wash, which completely removes the markers, and draw on it again.
It's Not Easy Being A Bunny Book
This It's Not Easy Being A Bunny Book is a beginner, I Can Read, book, so it's perfect for your 3 to 7 year old. If you're shopping for younger kids, you can get it as a board book here.
The plot of the book is that P.J. Funnybunny doesn't want to be a bunny anymore, so he tries being other animals. That's a fun way for your child to learn about animals, and learn about being happy just as they are.
Since it focuses on a bunny, it's the perfect book to stick in an Easter basket.
Hog Wild Chocolate Easter Bunny Popper Toy
This Easter-themed Hog Wild Chocolate Easter Bunny Popper Toy shoots foam balls up to 20 feet.
If you've seen any of the popper reviews we've done on social media, the kids around here love these, so they're definitely a great Easter basket filler.
The bunny is missing part of his ear, as a chocolate bunny would be around Easter time. Just make sure that the parents of whoever you're giving this to know that it's missing and don't assume a child bit it off (which, is a true story that happened to us).
MoodClue Liquid Chalk Markers
Kids want to draw on everything and with MoodClue Liquid Chalk Markers they can. Well, almost. They can draw on any non-porous surface, like glass, mirrors, windows, appliances, and more. The markers easily wipe away with either a wet or dry cloth so it's super simple cleanup.
You can purchase a pack of six or a pack of 12. The smaller pack will fit better in an Easter basket because of its size, but the 12 pack has more colors.
Both packs have the same exact markers, which are wide and perfect for little hands. In fact, the markers are great for kids ages 3+, so you can give these to little ones. Just make sure to tell them not to draw on the walls with these.
Annie's Creative Girls Club Kit
If your daughter is into crafting and art supplies, she'll love this Annie's Creative Girls Club Kit.
It's a monthly subscription box with two new crafts every month. The kit comes with all the craft supplies and the instructions that are needed to complete the crafts.
What you can do is start a subscription, get the kit for Easter, and then pause it. See how your daughter likes it. Then, you can unpause the subscription and each month, a new kit with a new activity will arrive in the mail.
The Berenstain Bears Easter Fun Sticker and Activity Book
I love the Berenstain Bears. They're such a wholesome bear family, and the books are great for kids to read and learn from. You don't have to worry about anything scary in the stories or anything you don't want your kids exposed to.
Like typical sticker books, this one is filled with a bunch of stickers and fun activities for kids. Unlike a lot of Easter books, this one isn't Easter bunny and Easter egg focused. Rather, it does include activities related to Jesus (who is the reason for the season).
Non-Candy Easter Basket Ideas for Boys
Little Tikes Slammin' Racers Vehicle
Anything from the Little Tikes Slammin' Racers Vehicle line is perfect for a little boys Easter basket — and for his playtime too.
It's actually really great for toddlers because all you do is push down on the button on the top and the vehicle goes flying down the floor. Of course you can manually move the vehicle, but pushing the button and watching it fly (then watching your child chase after it) is so much more fun.
Sidewalk Chalk
Sidewalk chalk is a really good excuse to play outside in the sunshine without screens. And aren't we all looking for that?
If you're shopping for a little kid, make sure that you're getting the thick chalk that's made specifically for little hands. They'll snap those thin pieces of chalk. Trust me on this. I learned this last year. I thought, "Little people, little hands, little chalk, little force." Nope.
So learn from my experience and buy big chalk for little kids and little chalk for big kids.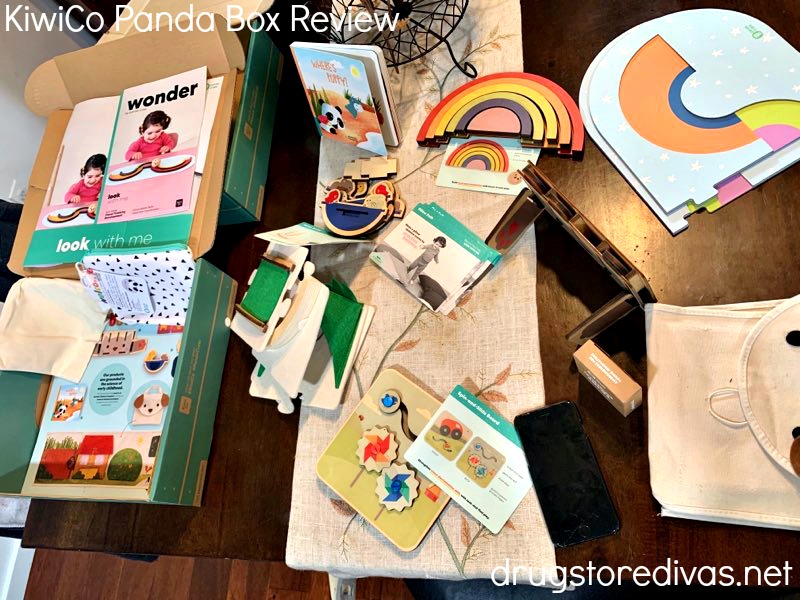 KiwiCo Box
KiwiCo is an age-range based subscription box. Each month, you get toys, activity books, and other items shipped to your house. It's a great gift.
Boxes begin at age 0 (there's a 0 to 24 months box) and the oldest is ages 14 to 100, so they're really good for kids of all ages.
Each month, there's a concept (counting, numbers, etc.) and the activities in the box all support learning that concept. There are books, small games, and more. The toys and activities vary every month.
All the items in the box really support creative play too, so it's definitely what you want from an educational toy (without the kids actually realizing that it's education)
Even though it's a subscription box, you can stop it at any time. So you can subscribe, get the first month in the mail, unsubscribe, and then hide the box until Easter. If your kid absolutely loves it (and he probably will) you can just continue the subscription.
Here Comes T-Rex Cottontail book
I love books as non-candy Easter basket fillers because they are a good way to get kids to sit for a little. And if your kids are into dinosaurs, they'll sit for this Here Comes T-Rex Cottontail book.
The book is about the dinosaurs getting ready for Easter because the bunny can't do it.
It's cute and lighthearted and not a religious story (in case you were hoping it was). But, a few of the reviews have some concern with the eggs because the eggs aren't with their parents and later, they show the eggs cracked and raw, then hatching birds. I don't know why this would be an issue, but I'm just throwing that out there anyway.
EggMazing Egg Decorator
If your kids love decorating Easter eggs, but you can't figure out a reason why they would do it after Easter (except for pure enjoyment), the EggMazing Egg Decorator is a great compromise.
It spins plastic eggs while your kids hold markers over the top, creating really cool designs (that dry instantly) on the eggs. When your kids are done decorating, they'll open the eggs to find a dinosaur hidden in slime. So lots of toys in one.
If you're using it for Easter, you can fit large and extra-large eggs in the contraption, so you can use this to color Easter eggs instead of dying them.
Easter Eggstravaganza Mad Libs
My boy cousins got Mad Libs from their mom for every holiday. I would go to their house in the afternoon every holiday, or they would come to mine, and we would crack up laughing while we were playing the Mad Libs.
So this Easter Eggstravaganza Mad Libs is bound to be an Easter basket filler that brings a ton of laughs.
Plus, education. It'll help kids learn the parts of a sentence, and practice that skill. So this is a fun and educational Easter basket filler.
Young Woodworkers Kit Club
Any gifts that keep kids away from screens are our favorites. So we love this Young Woodworkers Kit Club idea.
It is a subscription box by Annie's Kit Clubs, which means that you'll need to order a subscription before Easter, then pause it. It'll come in the mail in a fun envelope, but you can take it out of there in order to put it in an Easter basket. All the pieces that are needed come in a plastic bag in the envelope, except for a hammer that is sent separately with your first kit.
Let your son play with the kid and try it out, then, when he realizes how much he loves it, you can unpause the subscription and a new box each month.
How To Draw Easter Book for Kids
If your kids are into drawing, they'll love this How To Draw Easter Book for Kids.
It has step-by-step drawings for tons of Easter-related illustrations, like the classic carrots and bunnies. But, it also has step-by-step drawings for religious illustrations too, like the Great Shepherd with His sheep, the Bible, and the three most famous crosses at Christ's crucifixion.
The book does says "Easter" on the front, and Jesus is the reason for Easter, so it makes sense. But, the cover doesn't mention any religious images contained within. So if you aren't comfortable with those images for whatever reason, this might not be the best Easter basket gift for your kids.
Genius Box Kit
A few years ago, the acronym STEM (Science, Technology, Engineering, and Math) was such a buzzword. Now, it's just another word in our brains, and the focus of Annie's Kit Club's Genius Box Kit.
This kit, designed for older kids ages 7 to 12, is a monthly subscription box. But, you can order it before Easter, pause it between when it arrives and when its opened, and then start it again after your child tries it.
Each kit comes with three different activities (and all the materials needed for the activities). Each activity is based on the same STEM-inspired theme, but is a completely independent activity. It's a fun way to encourage learning.
Hativity Hats
Toys and books are great Easter basket ideas, but you should also include something useful and functional, like these Hativity Hats.
There are two types of hats: a cotton sunhat (which is water resistant and offers UVA/UVB protection) and a winter hat (which is a great option if you live somewhere that's still getting snow).
Each hat has six pieces of very strong Velcro attached to it. You can purchase Hativity Kids Patches, which are sold as a set of six. There are food patches, animal patches, the spring collection (pictured above) and more. Attach the patches to the hat via the Velcro to add some personality to your kids hat.
If your child really loves these, you can also purchase an Activity Book with Velcro to store patches when they're not on the hat.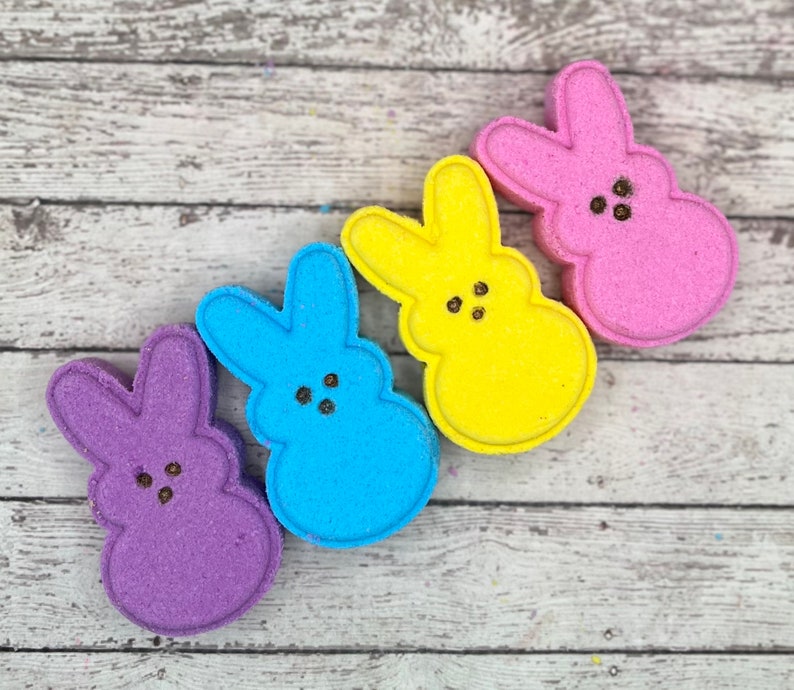 Order Non-Candy Easter Basket Stuffers Online:
Of course, these aren't all the non-candy Easter gifts out there. There are more, like the Peeps Bath Bombs, above. For more ideas, check out the following stores below:
Don't forget to double check a store's cart minimum to qualify for free shipping. Also, consider instore or curbside pickup to avoid shipping charges.
More Easter Ideas:
Make this the best Easter. Check out our list of Easy Easter Crafts for inspiration on crafts that you can make with the whole family to get everyone into the holiday spirit.
More Easter Basket Ideas:
If you're putting together Easter baskets and you need a little more help putting together the perfect basket, check out our post of 15+ Fun Easter Basket Ideas For Adults and Fun Easter Basket Ideas For Teens.
Which of these Easter basket fillers is your favorite? Be sure to let us know in the comments.