The new Batman movie comes out next month. If you're excited (or know someone who is), you need everything on this list of 10+ Unique Batman Gift Ideas.
For more gift ideas, check out all of our gift guides.
There have been a ton of Batman movies during the years, plus countless comic books. So there has been a lot of time for Batman fans to be formed.
And Batman paraphernalia too.
So that makes it really easy to shop for a Batman fan, but also, really overwhelming because there's so much out there.
This list of Batman gifts is here to help.
This Batman gifts list is just one of the gift guides we have on Drugstore Divas. Be sure to check out Drugstore Divas' Holiday Gift Guide for all of our shopping guides.
10+ Unique Batman Gift Ideas
Affiliate links are included in this post and Drugstore Divas may make a small commission if you use them.
Batman Coffee Travel Mug
This old school Batman coffee travel mug is really great for your Batman lover to take to work or on the go. It comes with the locking lid too, which is necessary if your gift recipient is going to take this in the car.
The ceramic travel mug holds hot or cold beverages and fits in most vehicle car holders. The Batman mug holds 14 oz. of liquid, which is a good size.
Batman Crew Socks
This 2-pack of Batman-themed crew socks is a fun gift idea for your Batman fan.
The first pair is designed with a buckle and the Batman logo on it. The second pair is has the Batman logo all over it. Both pairs fit men's shoe size 6 to 12.
Batman Dinnerware Set
This 3-piece Batman dinnerware set is such a fun way to serve your Batman fan dinner.
It comes with a 9-inch plate, 6-inch bowl, and an 11 oz. tumbler. All three pieces are made of a durable plastic material that's dishwasher safe. It's not safe for the microwave, so keep that in mind.
If you don't want the tumbler, you can purchase a 2-piece set of just the plate and bowl.
Batman Bottle Opener
This Batman Bottle Opener is such a fun and eye-catching gift idea.
Yes, it functions as a bottle opener and will open your gift recipient's drinks. But, it also has a strong magnet on the back so it's able to stick to the refrigerator, making it a really nice decoration when it's not in use.
Batman Projector Pen
This Batman Projector Pen is, as the name implies, a projector and a pen.
Yes, it's a typical ballpoint pen that you can use to write notes, sign checks, whatever you use a pen for. But, there's a button to push that will project the Batman logo.
The logo actually projects pretty far, which makes it fun to use just for that reason.
Bat-Shaped Double Edge Folding Pocket Knife
So this Bat-Shaped Double Edge Folding Pocket Knife is a little more generic bat than it is Batman, but it's so cool that I think your Batman fan will actually love it.
The blades pop out from both sides, making huge bat wings that are functionable. The both fold back as well, leaving this as a cool looking bat when it's not being used.
You can get this in black, blue, or silver. All three have silver blades.
Batman Starry Night Style Painting T-Shirt
If your Batman fan is also a fan of Van Gogh's Starry Night, one of the most famous paintings in the world, they'll love this Batman Starry Night Style Painting T-Shirt.
It's not an exact replica of Starry Night, but rather a painting in the style of Starry Night.
The shirt comes in black, navy, royal blue, white, gray, or purple in men's and women's sizes small to 3XL.
Batman Throw Blanket With Sleeves
This Throw Blanket with Sleeves looks so incredibly comfortable. How could your Batman fan not want to wear it while watching Batman movies on the couch?
It can be used as a regular blanket, if that's how your Batman lover wants to use it. But, there are also sleeves in the middle, so your gift recipient can wear it like the image above.
Batman Kitchen Timer
This Batman Kitchen Timer is so incredibly fun.
Your Batman fan can use it to set a timer. Then, when the timer is done, the Bat Signal lights up. That's a really great way to remind you that dinner is ready.
Speaking of kitchen timers, we have a long list of 20 Cute Kitchen Timers that you might like too.
Batman Zip Up Hoodie With Built In Mask
How fun is this Batman Zip Up Hoodie? What's really great about it is it has a mask built into the hood, which is perfect for Halloween … or just any random day.
This does only come in kids sizes, from 4T to 14/16, which is unfortunate because you can't get it for an adult Batman fan, just a child.
Canvas Batman Laundry Basket
This Canvas Batman Laundry Basket would look so fun in your Batman fan's bedroom or laundry room.
It works as a laundry hamper, of course, but you could also use it as a toy bin for young kids.
There's a matching rectangular and a square version. Both of those version have brown handles, and they would be great additions if you need more laundry or storage space.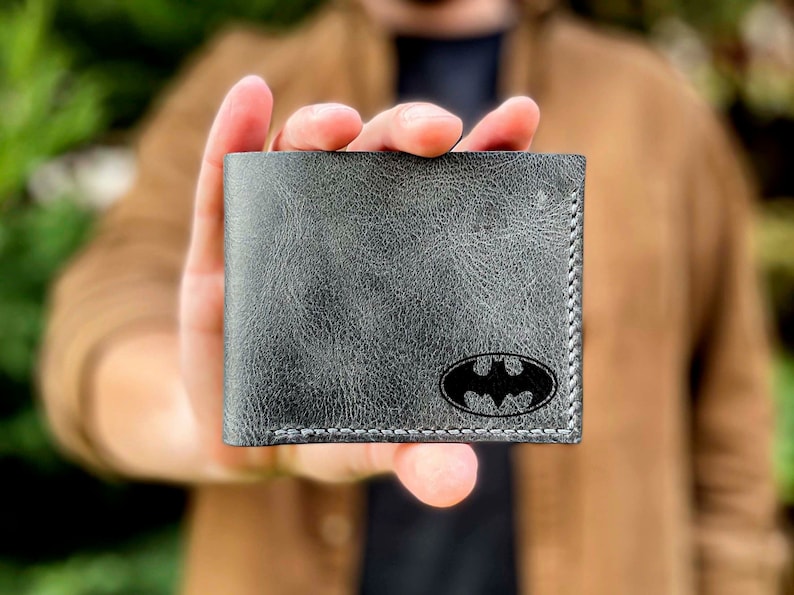 Purchase Batman Gifts Online:
These aren't all the Batman gifts online, just our favorites. But of course, there are more out there, like the Batman Engraved Wallet above.
For more ideas, check out the stores below:
Be sure to double check a store's cart minimum to qualify for free shipping. Also, consider curbside or instore pickup to avoid shipping charges.
Which of these 10+ Unique Batman Gift Ideas is your favorite? Let us know in the comments.