This What To Expect At Hi-Wire Brewing Wilmington post is not sponsored.
If you're planning a trip to the area, check out all of our Wilmington, NC posts.
Listen. They don't call us North Craftolina for nothing.
North Carolina has the most breweries in the American South, according to NC Beer. There are over 320 breweries in North Carolina, and 14 of those are breweries in Wilmington, NC.
So it makes sense, then, that next logical move for breweries would be to open taprooms in Wilmington.
The first one-brand only taproom in Wilmington is the brand new Hi-Wire Brewing, which opened in December 2020.
What To Expect At Hi-Wire Brewing Wilmington
Let's talk for a second about taprooms and the beer scene in Wilmington.
Wilmington, NC actually has a few taprooms already.
There's Pour Taproom, which is a pour your own chain featuring local and national beers and wine.
And then there's Ogden Tap Room, right on the outskirts of Wilmington, which features a bar with 40 beer taps. Neither of those taprooms are tied to a brewery and neither has its own beer line.
Then, there's the taproom at Wilmington Homebrew Company, which is attached to the brewing supply shop, and houses the brewery in the back.
And finally, there's Bill's Taproom, which just like Wilmington Homebrew, is a taproom that serves its own beers that it brews in the same location.
What makes Hi-Wire Brewing Wilmington unique is that there isn't any brewing done on premises (like Pour Taproom and Ogden Tap Room) and it only sells its own brand of beer (like Wilmington Homebrew Company and Bill's Taproom).
Hi-Wire Brewing Wilmington is the first taproom of that sort in Wilmington.
When did Hi-Wire Brewing start?
Hi-Wire Brewing started in the summer of 2013 in Asheville, NC. The brand's first location was South Slope Brewery (197 Hilliard Ave, Asheville) in the town's South Slope Brewery District.
How many taprooms does Hi-Wire Brewing have?
In addition to its aforementioned flagship store, Hi-Wire Brewing has four additional locaitons.
There's the 27,000 square foot Big Top Taproom & Production Brewery (2A Huntsman Pl., Asheville), which opened in the summer of 2015.
The next taproom to open was an almost 9,000 square foot space in Durham (800 Taylor St., #9-150).
That was followed by a just over 10,000 square foot taproom in Knoxville, TN (2020 Barber St.), making it the company's first out of state taproom.
And now, finally, there's the Wilmington location (1020 Princess St.), which is just barely under 8,000 square feet.
While I'm sure the other locations are great, we've only been to the Wilmington, NC location, so the rest of the post will focus solely on that taproom.
January 2021 update: Hi-Wire announced that it would be opening a new taproom in Louisville, KY. It will be the first out-of-state brewery to open in Kentucky. The 5,500 square foot taproom will be a mixed-use development. The first floor will have retail and there will be apartments above. Hi-Wire Brewing Louisville will be located at 642 Baxter Ave. in Phoenix Hill.
Where is Hi-Wire Brewing Wilmington?
Hi-Wire Brewing Wilmington is at 1020 Princess St. It's on Princess, between 10th Street and 11th Street, a block behind the Hughes Brothers Tire Shop on Market Street.
Hi-Wire Wilmington is in the building that housed Carolina Carburetor Specialists. After 36 years in business, Carolina Carburetor Specialists sold its commercial building, which was then turned into Hi-Wire Wilmington.
It's across from the now defunct Coca-Cola bottling plant, which was built in the 1930s. That section of Wilmington is undergoing some revitalization that has attached the name "The Soda Pop District" to it.
Besides Hi-Wire and the tire shop, The Soda Pop District is also already home to Folk's Café (Side note: We love Juan and his empanadas, so please support him now that he's moved from 4th Street to this district) and Parchies Barbecue.
What days is Hi-Wire Brewing Wilmington open?
Hi-Wire Brewing Wilmington is open daily. From Monday to Thursday, it's open from 3pm to 9pm and on Friday and Saturday from noon to 9pm.
Note that the current North Carolina stay-at-home order requires alcohol sales to end at 9pm. If the order changes, the hours at Hi-Wire Brewing Wilmington may change as well.
How many taps are at Hi-Wire Brewing Wilmington?
Hi-Wire Brewing Wilmington has 24 taps total. The first 20 are Hi-Wire beers, then a cider, followed by a red wine, a white wine, and a prosecco.
The Hi-Wire taps rotate, since Hi-Wire has over 21 beers when you count seasonal and specialty brews. I've actually heard Hi-Wire churns out over 100 beers annually in Asheville.
Of course, the seasonal ones will rotate with the season, but some of the taps can be changed midday. We actually watched them changing one of the kegs — and its name on the large marquee sign above the bar — during our visit.
Do you have to order pints?
Hi-Wire Brewing Wilmington does serve beer in pint glasses, but if you don't want to commit to a full beer and want to try multiple ones at once, you're in luck.
You can order a flight of four brews and try a quartet at a time that way.
What's Hi-Wire Brewing's best beer?
Far be it from us to choose favorites, but … order the Lager. It's literally just called Hi-Wire Lager. No fancy schmancy name.
Actually, Hi-Wire does a bunch of lagers, which is pretty rare. Without getting too much into the science of beer, lagers are more difficult to brew because of the babysitting the temperature control requires. So, lots of breweries won't even bother.
Hi-Wire has the aforementioned Lager and a full local lager series.
There are also stouts, sours, IPA's, porters, ales … something for everyone.
Is there food at Hi-Wire Brewing Wilmington?
Hi-Wire Brewing Wilmington does not currently have an on-site kitchen. However, Hi-Wire does host food trucks from Thursday, Friday, Saturday, and Monday. There are no trucks on Tuesday, Wednesday, or Sunday. The food truck schedule is as follows:
Monday: Wheelz Pizza (our favorite pizza in Wilmington, by the way)
Thursday: Bahn Sai (5pm to 8pm)
Friday: Catch the food truck (5pm to 8pm)
Saturday: Brighter Days Coffee (noon to 3pm)
Is there off-street parking?
Hi-Wire Wilmington does have off-street parking in front of the taproom, which is great.
If Hi-Wire Wilmington's parking lot is full, there is on-street parking available in that area. Just double check with any signs and town ordinances to make sure you are parking in a designated spot.
Is Hi-Wire Wilmington kid friendly?
There's a big trend in bringing kids to breweries. I don't think kids are begging to go to a taproom on their weekend, but Hi-Wire Wilmington is actually pretty kid friendly.
There are a ton of games set up all over the taproom. The first room you walk into has ping pong tables and soccer pool. The main area of the taproom also has a pair of foosball tables. So there are games to keep the kids happy, as long as they're available.
Does Hi-Wire Brewing Wilmington have outdoor seating?
There are two areas for outdoor seating at Hi-Wire Wilmington. There are tables set up between the parking lot and the brewery itself, and then there are additional tables behind the main taproom.
Socially distanced tables are set up inside inside. Those can seat two or four people or groups up to 10.
Are reservations required?
Due to capacity limits, reservations are requested, but not required, for seating.
Reservations are free and can be made via OpenTable here. Reservations can only be made for parties up to 10. Parties of more than 10 cannot be sat together at this time.
What is the atmosphere like?
Hi-Wire Wilmington was very … hip. I'm not saying that in a bad way, but we kept saying, it felt very hip.
There are bright colors all over and spray painted animals on the walls (I mean, it's called Hi-Wire … of course it's all circus themed).
The crowd ranged from young, barely legal patrons to older (dare I say mid-70's) patrons to families with young children. So no matter how old or young you are, you'll feel welcome.
Are sports broadcast there?
One of the reasons we go to bars is to watch football (or whatever other sporting event is on that day). So I know this is a big factor when choosing where to spend your time.
Rest assured you can see sports here.
When we were at Hi-Wire Brewing Wilmington, I noticed three televisions in the back room, both of which playing the NC State vs. Kentucky bowl game. I didn't notice any other televisions, but I only went into the front room of the taproom to go to the bathroom.
Can you buy Hi-Wire Brewing beer to go?
Yes. Hi-Wire Brewing Wilmington sells canned six-packs, cases, and growlers to go. You can also buy various Hi-Wire merch, like super cute t-shirts and hoodies as well.
If you don't feel comfortable heading into the taproom (and we get it, the world is confusing right now), you can call 910-933-5500 to place an order for curbside pickup or local delivery.
Want to visit more breweries in North Carolina?
North Carolina has been dubbed North Craftolina because all of the local beer made in the state.
If you want to check out more of the breweries at taprooms in the state, we have a few suggestions for you below: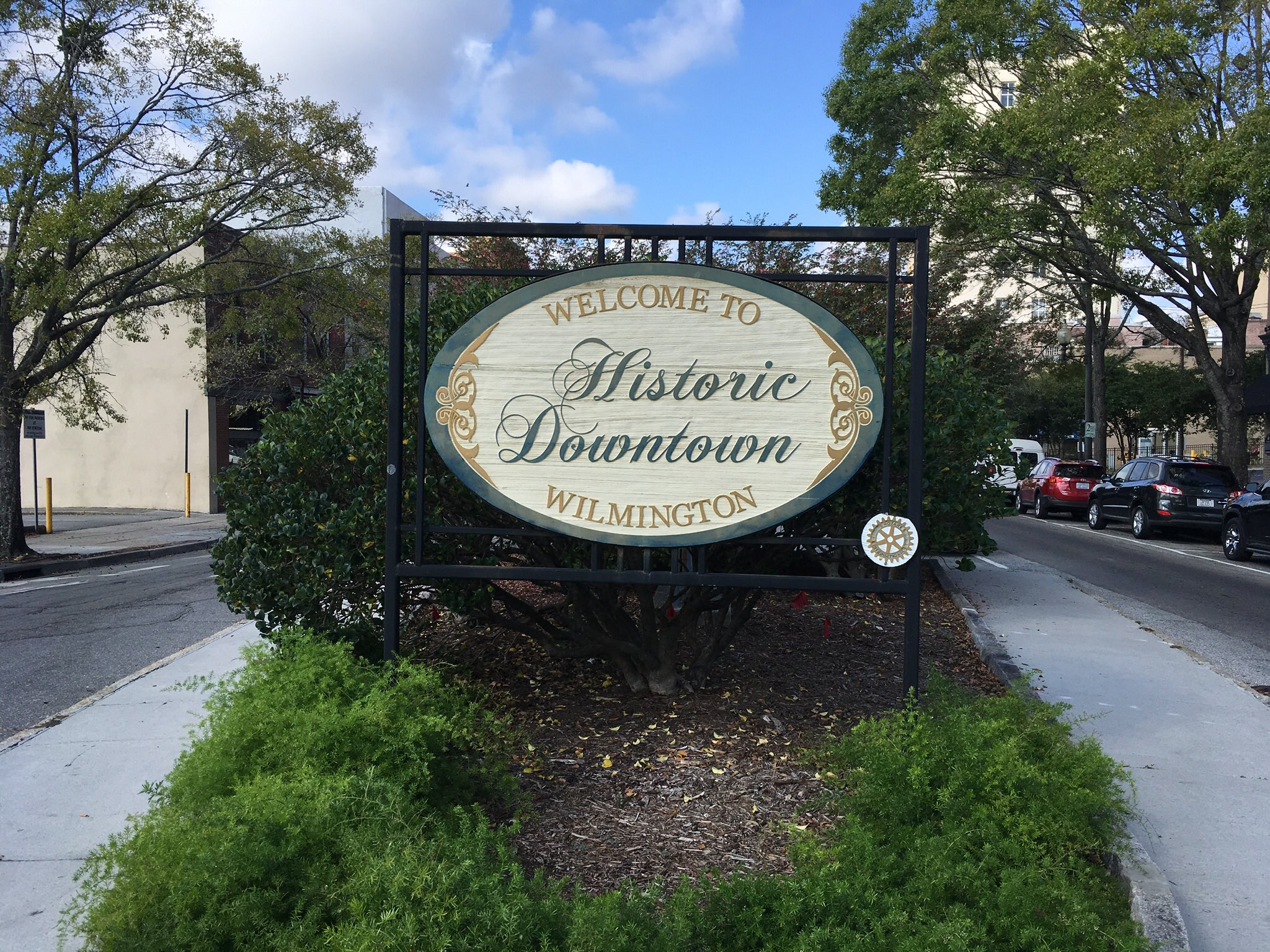 Planning a trip to Hi-Wire Wilmington?
If you're planning a trip to Wilmington, NC to visit Hi-Wire Brewing, these posts will help you make your trip complete:
Eat In Wilmington:
Drink In Wilmington:
Enjoy Wilmington:
Have you been to Hi-Wire Brewing Wilmington yet? Be sure to let us know what you think in the comments.