This year really feels like the Christmas. I think because we went to Charleston for a long weekend and celebrated Christmas there. If you're trying to get into the Christmas spirit, check everything on our 12 days of Christmas things to do with kids off our list.
When you're done, you might just start feeling jolly after all.
12 Days Of Christmas Things To Do With Kids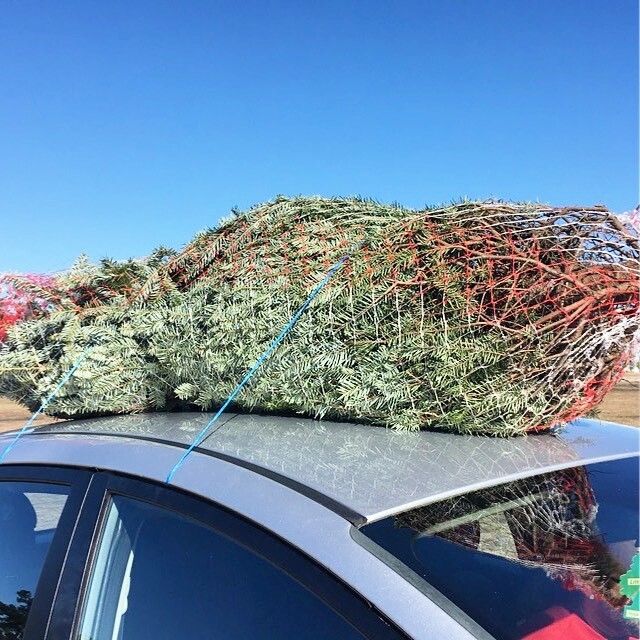 Pick out a Christmas tree
It doesn't matter if you pick out a real tree or an artificial tree, there's something special about getting your Christmas tree (even if you're only getting it down from the attic).
We go to a local tree farm every year to get ours. The trees are all cut and in rows. All we have to do is walk around and pick out a good one. There's something so special about looking at them and deciding which one to bring home.
Let your kids find the one they like best. And bring that one home, even if it looks like the Charlie Brown tree. Who cares. As long as your kids are happy, that's the best part of this activity.
Decorate the tree
Of course, after you pick out the tree, head home and start decorating. You can block out a whole afternoon to do this or you can leave out a box of ornaments and tell everyone to put one on the tree every time they walk past the box.
Now is a good time to add the ornament of the year, if you follow that tradition like we do. We ordered a very 2020 ornament last year so we can forever remember this time of masks and hand sanitizer. Every other year, we order an ornament that's really specific and sentimental to us and what we did that year.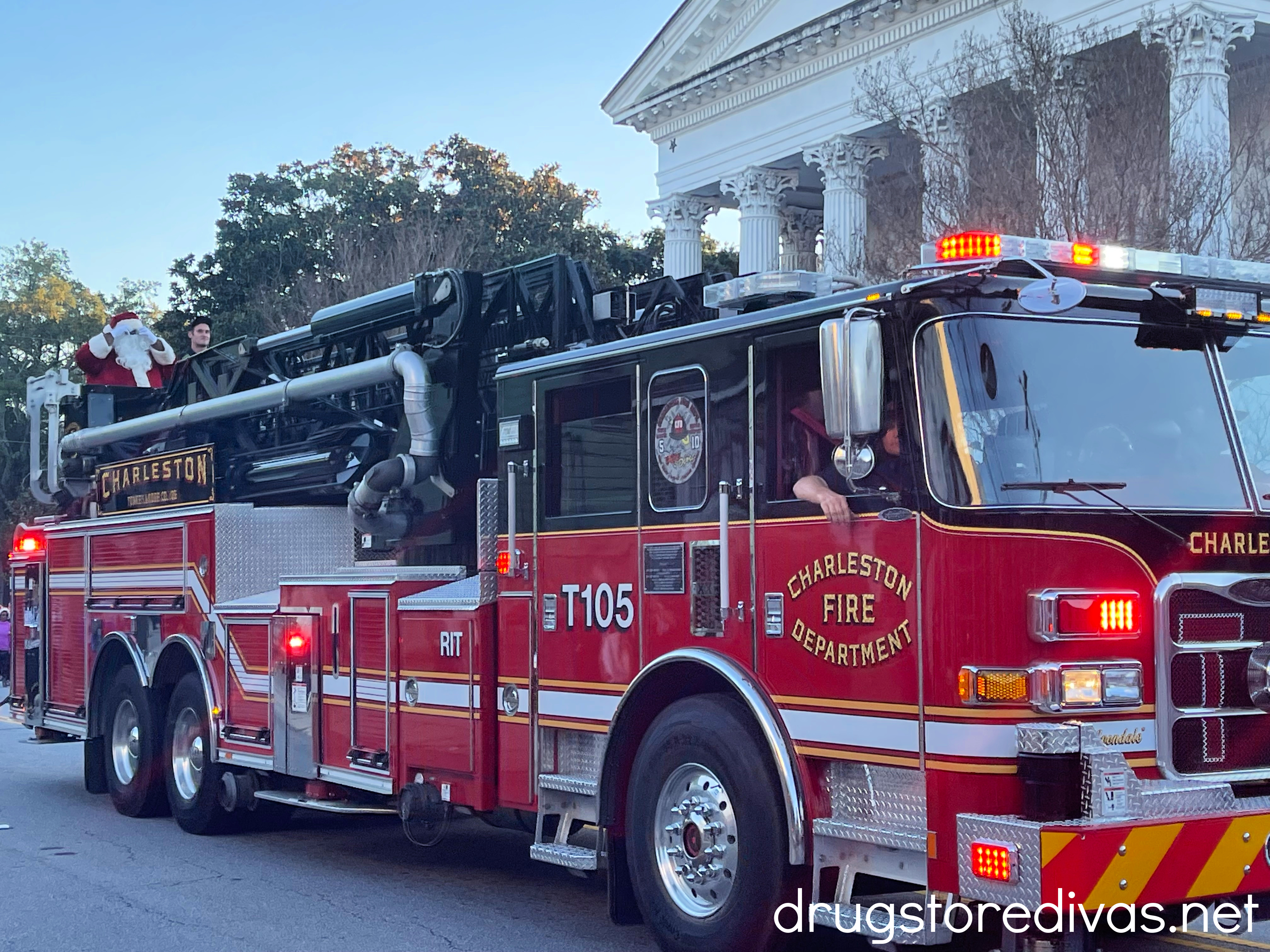 See Santa
Visits with Santa may still be a little different this year. But, so many events in our area, where Santa usually attends are back and it's great.
So definitely, if you can, have your kids visit with Santa. Maybe it will be contactless, but it's better than last year for sure.
You could also order a package from Santa. Those come personalized with letters from Santa to your kids. It's definitely a safe way to keep Santa a part of this year.
Speaking of Santa, if you're local to us, check out our list of Where To See Santa In Wilmington, NC.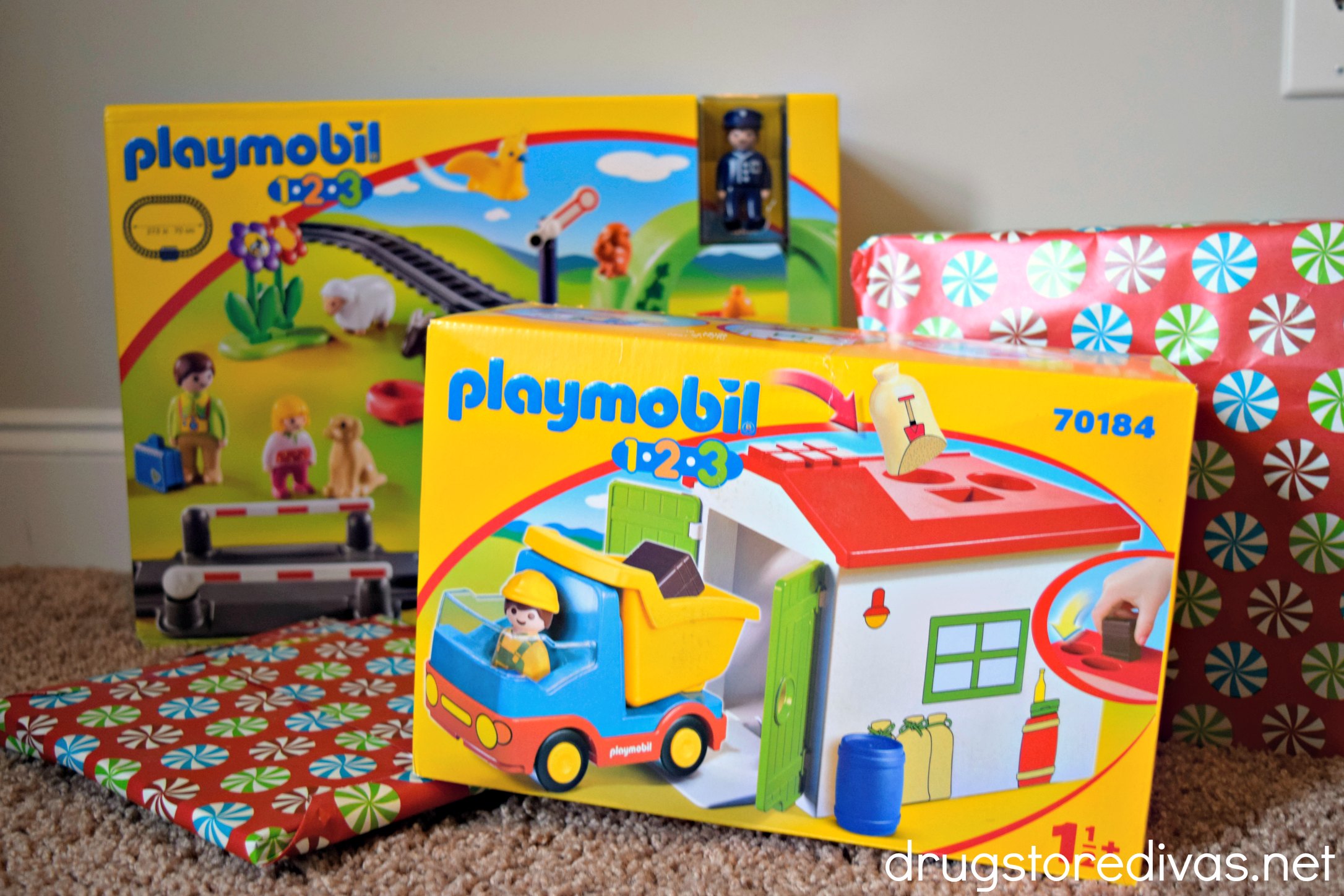 Donate toys to the less fortunate
Christmastime is always a great time to really explain how fortunate you are to have your health, your family, a job, and food. Explain how there are so many people who lost many of those things recently.
You don't need to go into too much depth about it, but kids spent last year doing virtual school and they know why, so use that as a starting point.
Teach your kids that Christmastime is a good time to help the less fortunate. Sometimes we donate our time and talents, and sometimes we donate gifts.
Take your kids to a local store and have them pick out a toy for someone in need. It's a great teaching experience for sure.
Bake Christmas cookies
One of my fondest memories is my mom baking Christmas cookies. She would let us help, although I'm honestly not sure how much help we were.
This year, she actually asked for my help baking Christmas cookies for our neighbors, so I guess adulting does have its perks.
When you bake with kids, the cookies aren't going to be perfect, but the memories will be. So definitely bake holiday treats with your kids sometime this year.
Christmas cookies recipes:
If you're looking for some Christmas cookie recipes, we have a bunch of fun ones for you:
Drive around to see Christmas lights
Driving around and looking at everyone's Christmas lights was my favorite thing to do when I was little — and I still love to do it now. I was actually just telling Pete about it yesterday.
This is a free thing to do (except, of course, for the bit of gas you'll spend driving) that's super memorable.
If you're not sure where to go in your neighborhood, check out your town's local Nextdoor page or if you have a community Facebook page. People might be posting the best addresses (ours is).
Watch Christmas movies
During the winter, we all spend a lot of time indoors, most likely streaming all the movies and television shows we missed when we were able to leave the house.
So it's a good time to stay home, make popcorn, snuggle up, and watch Christmas movies.
If you don't own any, you can check out Freeform's 25 Days Of Christmas movies list and see what's on tonight.
Color Christmas cards for family members
For my birthday this year, I got four hand drawn Christmas cards from kids under 12 and it was the best. I hung them all on the fridge immediately.
So, if you have a night with nothing to do, break out the drawing paper and crayons, and have your kids color Christmas cards for family members. The family members who receive them will absolutely love them.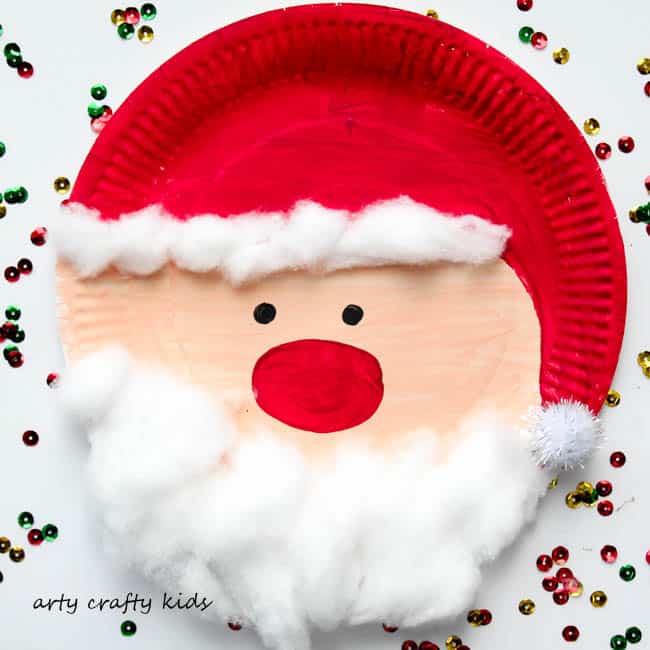 Create a paper plate Santa
I don't think I've ever made a paper plate Santa in my life, not even when I was in elementary school. But, it's one of those crafts that I'm sure you could figure out quickly and you have everything you need for it at home already.
The link above to the tutorial, and the image, aren't ours. But it's adorable, so I think you should make it.
More winter crafts for kids:
We have a few other winter crafts for kids that would be great to make this time of year:
Make a gingerbread house
I won't tell anyone if you purchase a gingerbread house kit instead of actually baking gingerbread cookies to make a gingerbread house.
But.
Have you seen the Charcuterie Chalets out there that are replacing gingerbread houses? It's a holiday house, made of cheese and meats instead of gingerbread cookies and icing. And I'm here for it.
Read a Christmas story
There are a ton of Christmas books out there that you can read with your kids, classics like The Polar Express and classics-to-be like Fritz the Farting Reindeer.
Or, if you don't have any Christmas storybooks, you could just make one up. Tell the tale of a family that went Chrismas tree hunting, came home, decorated it, and watched a Christmas movie together. Oh, you see where I'm going with this?
Sing Christmas carols
My favorite is O Holy Night, in case you want to serenade me.
Speaking of serenading, hear me out. Zoom carolingCall your family on Zoom and sing to them that way. It's a great way to be with family when you can't be with family.
That will definitely be an experience everyone will remember.
Free Printable List of Christmas Things To Do With Kids:
To make this a little easier for you to keep track of, I created the free printable below.
If you right click the image above, you can save it to your computer and print it out. Then, put a Christmas sticker on every number once you do that activity. It's a fun way to keep track of it. You can print a new one every year and keep the fun going.
Christmas Things To Do In The South:
If you live in the south, we have a few great Christmas things to do lists that will help you plan some great christmas things to do with kids.
What are your favorite Christmas things to do with kids? Let us know in the comments.