Celebrate Valentine's Day by making some of the Valentine's Day treats and crafts off this list of 10+ Easy To Make Valentine's Day Crafts and Treats. There are Valentine's Day Craft Kits at the end of the post too.
To help make this holiday special, check out all of our Valentine's Day posts.
Valentine's Day is next month. Crazy, right? That means it's time to start making all the fun crafts and treats for Valentine's Day.
You can't just draw a heart on a piece of paper and say it's a Valentine's craft. I mean, I guess you could, but if you want to put in a little more effort, you're in luck.
We put together this great list with 10+ Crafts and Treats for Valentine's Day.
We split the list up into crafts and treats since you probably want to make either one or the other.
10+ Valentine's Day Crafts And Treats
We'll be updating this list as we add more creative Valentine's Day projects to the blog, so be sure to bookmark this post and come back to it from time to time.
Valentine's Day Crafts
DIY Yarn Hearts
These yarn hearts are the perfect Valentine's Day craft.
Cut out a cardboard base, then wrap yarn around it to make this adorable craft. You can hang it in your car, if you like. I've seen people stick skewer sticks in the bottom and put the hearts in planters.
DIY Mickey & Minnie Love Signs
A piece of cardboard and some paint go a long way when you use them to make these Mickey and Minnie Mouse Love signs.
If you want them to last a little longer, you could make them out of foam board instead of cardboard. After that, the tutorial is the same.
DIY Valentine's Day Toilet Paper Roll Wreath
Upcycle your empty toilet paper rolls into a really pretty wreath for your front door. Just make sure it has completely dried before you hang it up.
This is actually just one of the crafts using toilet paper rolls that we have on Drugstore Divas. If you have extra rolls after making this craft, check out our full list of 10+ Crafts Using Toilet Paper Rolls.
Kisses In A Jar
This Kisses In A Jar craft is one of the easiest on the list. And maybe the most fun one too.
You can constantly wipe off the words on the chalkboard and add a different note daily from now until Valentine's Day. If everyone is checking the note, though, be sure to fill up the chocolate daily too.
DIY Mickey Mouse Valentine's Day Mailbox
Turn an empty tissue box into this cute Mickey Mouse Valentine's Day mailbox for school Valentine's Day parties.
If you're doing remote school or don't have any kids in school, you can just use this as a regular tissue box instead.
Simple I Dig You Treat Bucket
This "I Dig You" treat bucket is really easy to make, especially if you already have mini sand buckets and shovels.
If not, you can order those online and fill them with your favorite treats. Then attach an adorable tag.
Toilet Paper Roll Hearts
These hearts are so easy to make when you upcycle toilet paper rolls.
You can put names on them and set them out for a fancy tea party for Valentine's Day dinner. Which yes, you can totally do if you're celebrating Valentine's Day At Home.
DIY Bubble Wrap Heart Valentine's Day Cards
If you're planning on sending out Valentine's Day cards this year, go ahead and make your own.
These DIY Bubble Wrap Heart Valentine's Day Cards are made from a little bit of paint, cardstock, and bubble wrap. They're fun to make and adorable for your recipients to receive.
Reverse Canvas Heart Wall Art
If you want to add a little Valentine's Day love to your walls, but you don't want to overpay for some wall art, you don't have to. You can easily make your own when you follow this Reverse Canvas Heart Wall Art tutoria.
Of course, you can change the design if you want to include a whole heart, but it looks a little more artsy (and a little less homemade) if you cut the heart off like the tutorial does.
Valentine's Day Treats
Valentine's Day Donut Treat
This Valentine's Day Donut Treat is so incredibly easy. It uses store-bought doughnuts, so you don't have to worry about baking.
And the toppers are already made for you with the free printable included in the post. So all you have to do is print it, staple it to a bag with a doughnut in it, and your treats are done.
Candy Cane Chocolate Hearts
A pair of mini candy canes and some white chocolate melts pair together to easily make these chocolate hearts.
Instead of candy melts, you could use vanilla almond bark as well.
Hershey's Kiss Valentine's Day Mouse Craft
This adorable Valentine's Day mouse is probably the only mouse you'll actually want in your house.
This was originally made from a kit, which isn't available anymore. But it's easy enough to recreate using our tutorial.
Valentine's Day Graham Cracker Chocolate Bark
The closest this Valentine's Day graham cracker bark comes to "cooking" is microwaving the white chocolate chips or vanilla almond bark for the coating
The rest of the recipe is just decorating.
Valentine's Day Chocolate Covered Pretzels
If you're looking for a Valentine's Day treat that's easy to make in bulk and package for your valentine, these Valentine's Day Chocolate Covered Pretzels are it.
The recipe gives you two ways to decorate your chocolate covered pretzels, with sprinkles or with a red candy melt drizzle.
Valentine's Day Chocolate Popcorn
Before sitting down to watch a Valentine's Day movie as a family, you should make this chocolate popcorn.
It's so much fun drizzling the chocolate over the popcorn, shaking the sprinkles, and dropping the candy pieces on top.
Heart-Shaped Pizza
If you're looking for a savory treat for Valentine's Day, this Heart-Shaped Pizza is the way to go.
It's made from the famous 2 Ingredient Dough, which means you don't need to wait for the dough to rise to make the pizza. As soon as you mix the two ingredients together, it's ready to go.
Heart-Shaped Hard Boiled Eggs
If you're looking for a fun recipe for Valentine's Day morning, check out our Heart-Shaped Hard Boiled Eggs.
You'll have to make them the night before, so they can sit overnight, and they'll be ready to go in the morning.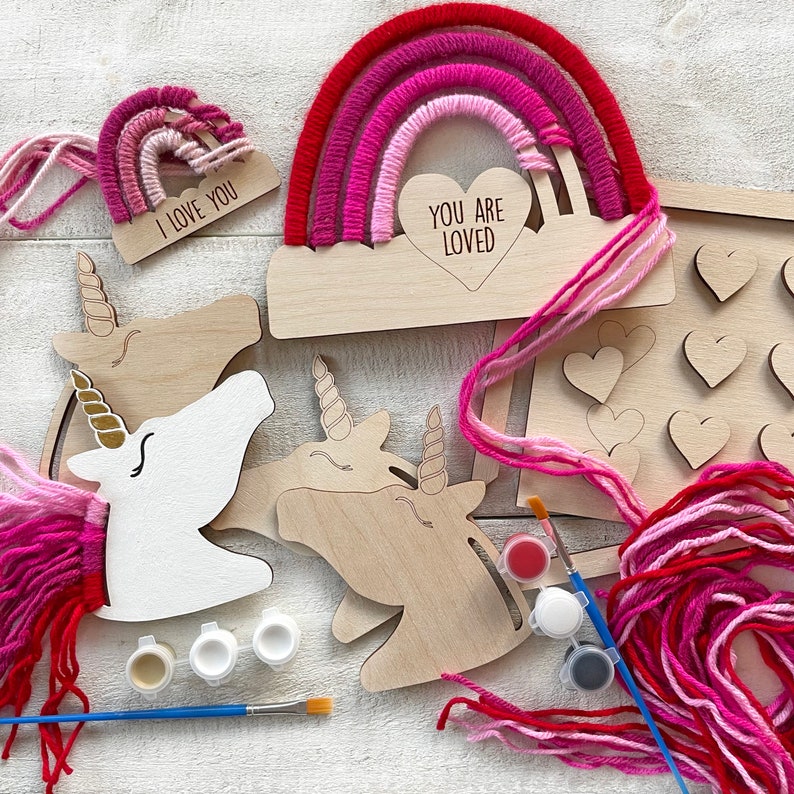 Valentine's Day Craft Kits:
Affiliate links are included in this post and Drugstore Divas may make a small commission if you use them.
If you don't have all the supplies you need to make these Valentine's Day crafts, but you still want to do something, you're in luck.
I found a couple really cute Valentine's Day craft kits that you can order online. When they arrive, they'll come with everything you need to make crafts.
Want more Valentine's Day ideas?
Are you getting ready for Valentine's Day? It'll be here before you know it.
If you're already down the the wire, be sure to check out our list of 10 Last Minute Non-Candy Valentine's Day Gifts For Kids. Pick up a couple of those, tie a ribbon around them, and you have a gift ready to go.
And, if you want a way to celebrate Valentine's Day this year (that doesn't involve sitting in a restaurant because not everyone is comfortable with that right now), check out our list of Where To Buy Heart-Shaped Food For Valentine's Day.
As restaurants update their offerings for this Valentine's Day, we'll be updating that list.
Which of these kids crafts for Valentine's Day is your favorite? Be sure to let us know in the comments.