I always save our toilet paper rolls when they're empty, then use them for crafting. It's such a cheap way to upcycle. Plus, if the craft doesn't come out exactly as planned, well, the only supplies I wasted were literal trash anyway. To inspire you, I put together this list of 10+ Crafts Using Toilet Paper Rolls.
A bunch of them are seasonal, since I usually do more crafting around holidays. But some of them are generic.
I made all but one of them myself (the ghosts I just supervised).
Don't consider these just toilet paper roll crafts for adults though. The only reason I didn't make them with kids is because we don't have kids to make them with.
As I add more toilet paper roll crafts to the blog, I'll update this list. So definitely bookmark this and check back periodically. I have a lot of craft ideas using empty toilet paper rolls left to make, just not enough empty toilet paper rolls to upcycle.
That's the downfall of living with just one other person.
10+ Crafts Using Toilet Paper Rolls
Before we get to the crafts, though, let's answer all the questions you have first.
Crafts Using Toilet Paper Rolls: Frequently Asked Questions
Are toilet paper rolls sanitary for crafts?
Someone asked me before if toilet paper rolls are sanitary for crafting. They definitely are.

Yes, they're sitting in your bathroom, but the chance of bacteria making it into your toilet paper rolls is rare. So I wouldn't be concerned about that.

If you are concerned, you can buy craft rolls online. That's good, too, if you can't wait to save up enough empty toilet paper rolls for crafting.
What can you use besides empty toilet paper rolls?
If you don't have any empty toilet paper rolls, you can use empty paper towel rolls or empty wrapping paper rolls (although those might be hard to cut through).
What is the cardboard in a toilet paper roll called?
Just for a little fun fact, what we've been calling an "empty toilet paper roll" is actually called the "core."
DIY Valentine's Day Toilet Paper Roll Wreath
It's so easy to make hearts out of toilet paper rolls. Paint them, then glue them together to make a cute wreath for Valentine's Day. It can easily be displayed on a wall in your home or on your front door.
DIY Toilet Paper Roll Turkey
These turkeys made from toilet paper rolls are so easy to make. They have a ton of personality too. You can put names on them and set them up as place cards for your Thanksgiving table, or you can set up the supplies as a craft for kids to do on Thanksgiving.
DIY Toilet Paper Roll Ghosts
These toilet paper ghosts are the one craft on this list that I supervised instead of make myself. The kids I helped make these ended up turning these into toilet paper bat ghosts instead of just ghosts. They had a lot of fun, so these are definitely a great craft for kids.
DIY Heart Escort Cards
How adorable would these heart-shaped escort cards be if you used them to set up tables at a wedding or a large dinner party? They're made in a similar fashion to the heart wreath above, except with a banner for a name added.
DIY Patriotic Toilet Paper Rolls Craft
This simple red, white, and blue toilet paper roll craft is the perfect outdoor decoration for a 4th of July or Memorial Day party. You could put tiny tealights in them as well and make them look like fireworks.
DIY Baseball-Shaped Utensil Holders
If you love baseball and you're tailgating (or homegating) before a game, these baseball-shaped utensil holders are the cutest way to decorate your table. You can store them flat, so they're easier to keep between games.
DIY Wedding Table Setting
Toilet paper rolls can turn into simple elegance when you add lace doilies to them and makes these table settings. They would be perfect for a backyard wedding or rehearsal dinner. Plus, you can paint them to match your wedding colors.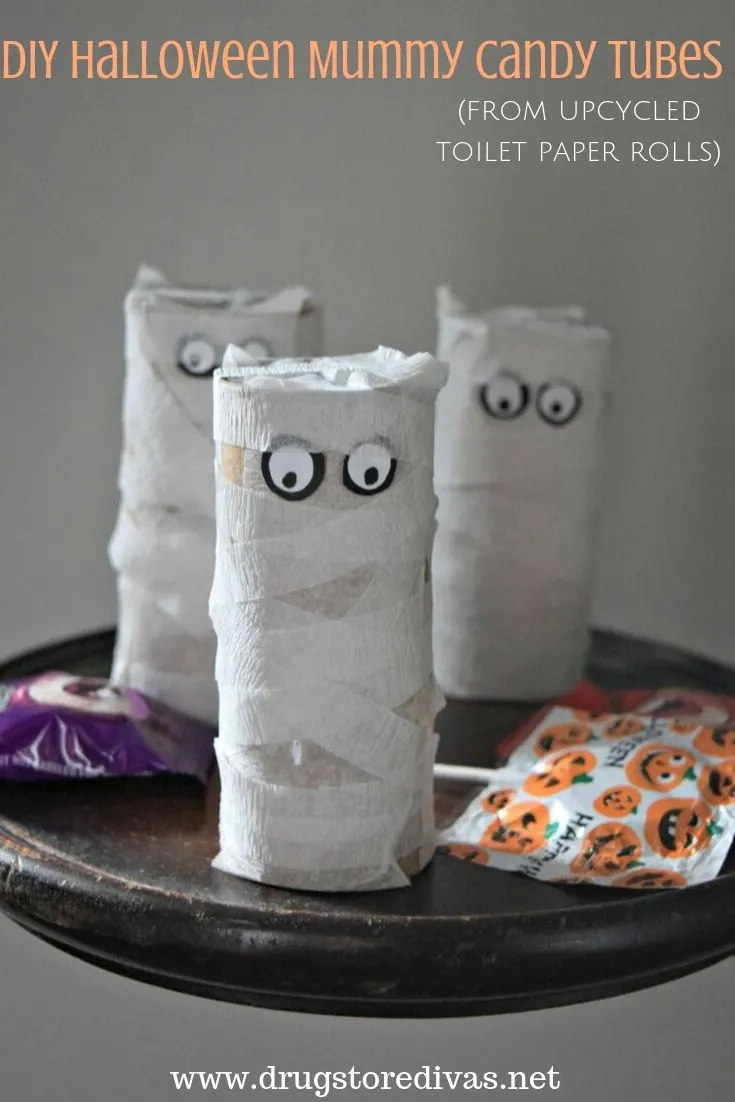 DIY Halloween Mummy Candy Tubes
Streamers act as a simple way to turn toilet paper rolls into mummies. You can easily fill them with candy to give out to any trick-or-treaters who come to your house on Halloween.
DIY Halloween Bat Candy Tubes
Another fun Halloween toilet paper roll craft is to turn them into vampire bats. You can fill them with candy and hand them out to trick-or-treaters on Halloween.
DIY Leprechaun Hats
You might not be able to find a leprechaun's pot of gold on St. Patrick's Day, but you'll be able to find his hat. As long as you make one out our toilet paper rolls, anyway.
DIY Football-Shaped Utensil Holders
If you're hosting a football party, these football-shaped utensil holders are great to put out during your party. They can be reused too. What's great is they store flat, so you can pack them away between parties.
Wedding Popper Favors
If you're looking for easy party favors, these popper favors are it. You wrap the toilet paper roll in tissue paper, after you fill it with treats, and tie it with ribbon. Pull the sides and the treats will pop out.
DIY Toilet Paper Roll Bunnies
These adorable bunnies are made out of a toilet paper roll and a piece of another. They're an easy Easter toilet paper craft for you to make with your kids on a chilly spring weekend.
DIY Toilet Paper Roll Pumpkins
Get ready for fall with these cute pumpkins made out of toilet paper rolls. They're very similar to a craft that makes these out of mason jar lids, but it's a lot easier and cheaper to make them out of toilet paper rolls.
Toilet Paper Roll Snowman
Complete your winter decorations with these adorable snowmen made out of toilet paper rolls. You can vary the scarves with different types of ribbon, making sure that they match your décor.
Autism Awareness Puzzle Piece Toilet Paper Bracelet Craft
If you want to wear blue to support Autism Awareness on World Autism Day, but you don't have any blue, don't worry. Just make our Puzzle Piece Bracelet, made from a toilet paper roll.
Which of these crafts using toilet paper rolls is your favorite? Be sure to let us know in the comments.