Wreaths are so popular right now. Every craft fair I've been to lately has had tons. So of course, I had to make a Valentine's Day Wreath. But, if you've been here a while, you know I save all our toilet paper rolls for crafting. So, of course I had to put my own twist on this and make a DIY Valentine's Day Toilet Paper Roll Wreath.
You could, of course, use a paper towel roll for this instead. Any cardboard tube will work. Except the inside of wrapping paper if you buy really expensive wrapping paper. That tube is too sturdy. Just please, don't buy cardboard to make this. Then it's not the upcycled Valentine's Day craft I imagined.
DIY Valentine's Day Toilet Paper Roll Wreath
What You'll Need:
Three toilet paper rolls
White paint
Red paint
Pink paint
Paint brush
Ruler
Scissors
Clothespins
Glue
What You'll Do:
Flatten the toilet paper roll.
Use the ruler to measure the toilet paper roll so you can cut it into equal pieces. I cut mine into eight half-inch pieces. Cut all three rolls in this manner.
Paint eight pieces white, eight pink, and eight red. Depending on the thickness of your paint, you might need two coats on the outside. One on the inside should be fine.
Let the paint dry completely.
Squeeze the points on the toilet paper pieces to make them a little rounder.
Add a dab of glue on the bottom half of one of the pieces. Affix a second piece, of the same color, to it to form a heart. Put two clothespins at the meeting point so that it stays closed. Set aside.
Continue until you have made 12 hearts. Let them dry completely.
Set them up into the shape you want your wreath to be. You can do form your it to be a circle wreath, an oval wreath, a heart wreath (like me), whatever you like.
Glue the hearts together to form your desired shape, then use the clothespins together to hold the glue.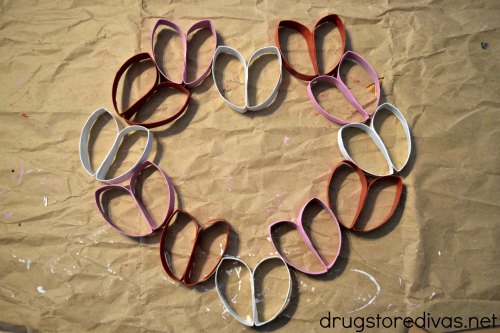 If you want, you can spray it with triple thick glaze if you are going to hang this outdoors and are worried about it fading.
Would you make this DIY Valentine's Day Toilet Paper Wreath to go with your Valentine's Day decor?