Last minute Valentine's Day meal planning? Check out this list of where to buy heart-shaped food for Valentine's Day that you can pick up or ones you can make at home. Updated for 2022!
And, to make sure you make this the best holiday, check out all of our other Valentine's Day posts.
Can you believe Valentine's Day is today? February is flying by.
Which is nuts because 2020 and 2021 lasted for 84 years each and 2022 has been about 45 minutes.
If the holiday caught you unprepared, and you don't have a menu planned yet, don't worry. I put together a really fun list of where to buy heart-shaped food for Valentine's Day. That will make your table so festive — and so easy.
I've actually picked up a few of these for our Valentine's Days in the past because it's all heart-shaped. How could I not?
If you want a few more ways to celebrate Valentine's Day, check out our long list of 10+ Easy To Make Valentine's Day Crafts & Treats.
Where To Buy Heart-Shaped Food For Valentine's Day
Affiliate links are included in this post and Drugstore Divas may make a small commission if you use them.
This list is split into a couple sections. First, there are places to buy heart-shaped food, then there are places to buy Valentine's Day-themed food. And finally, there's heart-shaped food to make at home.
Auntie Anne's
The pretzel shop usually has heart-shaped pretzels, but isn't for 2022.
Baskin-Robbins
Get a heart-shaped ice cream cake that also looks like a box of chocolates. You can get it in either small or large.
You can order online, through the Baskin-Robbins mobile app, or by visiting or calling your local Baskin-Robbins restaurant.
Bojangles'
Get heart-shaped Bo-Berry Biscuits, which are a sweet version of Bojangles' famous biscuit, with Bo-Berries baked in, drizzled with and sweet icing on top.
Buca di Beppo
You and your valentine can get a heart-shaped lasagna for two, plus a Buca Small garlic bread, Buca Small mixed green or Caesar salad, and a mini chocolate chip cannoli.
The offer is valid 2/14/22 and 2/15/22 only. While supplies last.
California Pizza Kitchen
After taking a year off, California Pizza Kitchen is bringing back heart-shaped pizzas for Valentine's Day. They'll be available from February 9 through February 14 to guests who dine in.
If you want to head to the restaurant for date night, there's the "Sweet Deal for Two" menu (for $40 or $50, depending on the option) for one appetizer, two entrees, and one dessert. Plus, diners will receive a BOGO pizza, pasta, or salad card that will be valid February 15 to 22.
Carvel
After skipping last year, Carvel is bringing back the Heart Decadence Cake for 2022.
Chick-fil-A
During breakfast hours, you can get a heart-shaped container with 10-count Chick-fil-A Chick-n-Minis.
During lunch and dinner hours, you can get a heart-shaped container with either a 30-count of Chick-fil-A nuggets, a 12-count of Chocolate Fudge Brownie Halves, or a 6-count of Chocolate Chunk Cookies. Details here.
Cold Stone Creamery
You can get a heart-shaped Fudge Truffle Decadence™ Cake, which has two layers of Red Velvet Cake, between a Sweet Cream Ice Cream with Chocolate Shavings layer and a Fudge Truffle Ice Cream with Chocolate Shavings layer, covered in Fudge Ganache.
Dairy Queen
Dairy Queen is just doing a Red Velvet Cake BLIZZARD of the Month, made with red velvet cake pieces and cream cheese icing.
You can also buy a Cupid Cake, which has chocolatey red velvet cake pieces, cream cheese icing, and vanilla soft serve, which perfectly feeds two people.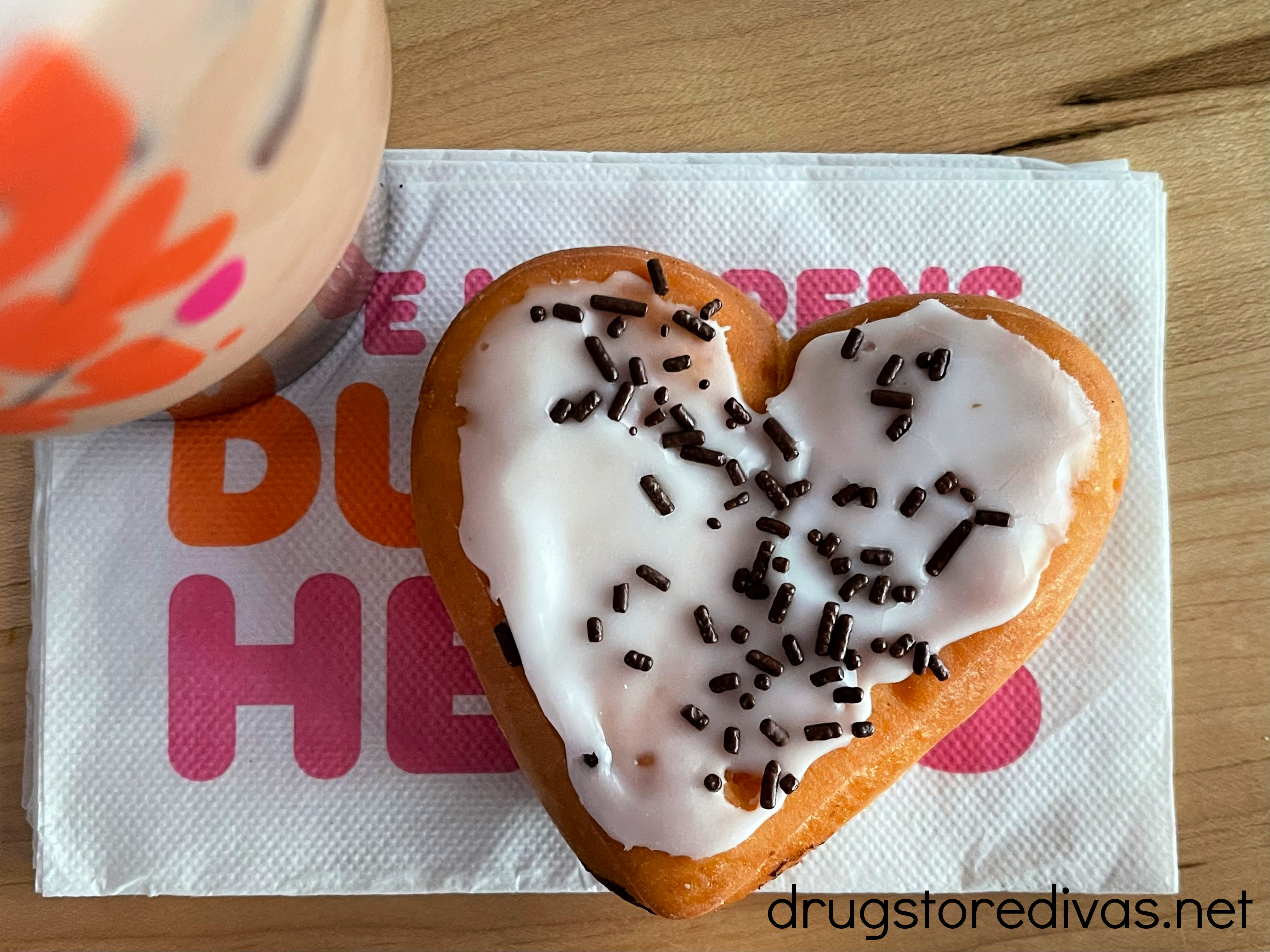 Dunkin' has two heart-shaped donuts, which you may recognize from 2022: Brownie Batter Donut (filled with an eggless brownie batter-flavored buttercreme filling and topped with vanilla flavored icing and chocolate sprinkles) and Cupid's Choice Donut (filled with Bavarian Kreme and topped with strawberry-flavored icing and pink sprinkles).
Dunkin' also has a new Cocoa Mocha Ice Signature Latte and a Mocha Raspberry Latte (featured only in the app).
Great American Cookies
You can purchase a heart-shaped cookie cake or heart-shaped cookies. You can also purchase a Valentine's Day Take And Decorate Kit with heart-shaped cookies.
Hardee's
You can get Heart-shaped Made From Scratch™ Biscuits from February 11 to February 14.
Hungry Howie's
Hungry Howie's has heart-shaped pizzas available from February 12 to 14.
Jet's Pizza
Jet's Pizza is selling heart-shaped Detroit style pizza on Valentine's Day only.
Kilwins'
You can get a heart-shaped box of chocolate.
Krispy Kreme
You can buy heart-shaped doughnuts in four flavors: Beary Best Valentine, My Batter Half, Cookies to my Kreme™ and Bee Mine doughnuts.
You can get them in a limited-edition box with three of each doughnut flavor through Valentine's Day.
Panera Bread
You can get a heart-shaped cookie that's an all-butter shortbread cookie decorated with icing.
Papa John's
You have been able to get a heart-shaped pizza in the past, but the brand isn't offering it in 2022.
Papa Murphy's
You can heart-shaped pizza now through February 14.
Pizza Hut
Pizza Hut is selling heart-shaped pizza through Valentine's Day.
The Fresh Market
You can get the Sweetheart Ribeye Steak, which is a hand-trimmed, heart-shaped, aged for tenderness steak.
Valentino's
You can get a medium heart-shaped pizza on Valentine's Day for $17.99. You do have to reserve it here first.
Where to buy Valentine's Day-themed food for Valentine's Day
Bonefish Grill
Bonefish Grill has a limited-time Valentine's Day menu, running from February 3 to 16.
The main special is Scallop & Shrimp Filet Mignon, but there are additional specials on the restaurant's menu.
Carrabba's
Carrabba's is offering a 4-Course Dinner for Two, starting at $60, through February 21. There's an appetizer to share, a soup or salad for each person, an entrée each, and a dessert to share.
Einstein Bros. Bagels
Einstein Bros. Bagels have had heart-shaped bagels in the past, this year is pushing a Brunch Box for Two.
It'll be available on February 14 only and comes with a Bacon & Cheddar Egg Sandwich, one Farmhouse Sandwich, two twice-baked hash browns, a blueberry muffin and a chocolate chip coffee cake.
PF Chang's
P.F. Chang's is offering a 4-course prix-fixe meal and a champagne toast.
Red Lobster
The seafood giant is only celebrating Lobsterfest giving out free Valentine's Day printables.
Starbucks
Nothing heart-shaped here, but lots of Valentine's Day themed items. You can get a piece of Red Velvet Loaf, a Pink Drink (made with coconutmilk), and a pink Very Berry Hibiscus Starbucks Refresher (with real fruit and whole blackberries).
Personally, my favorite Valentine's Day looking drink at Starbucks is a Strawberry Acai Refresher, which is pink but not on the official Valentine's menu, just the regular menu.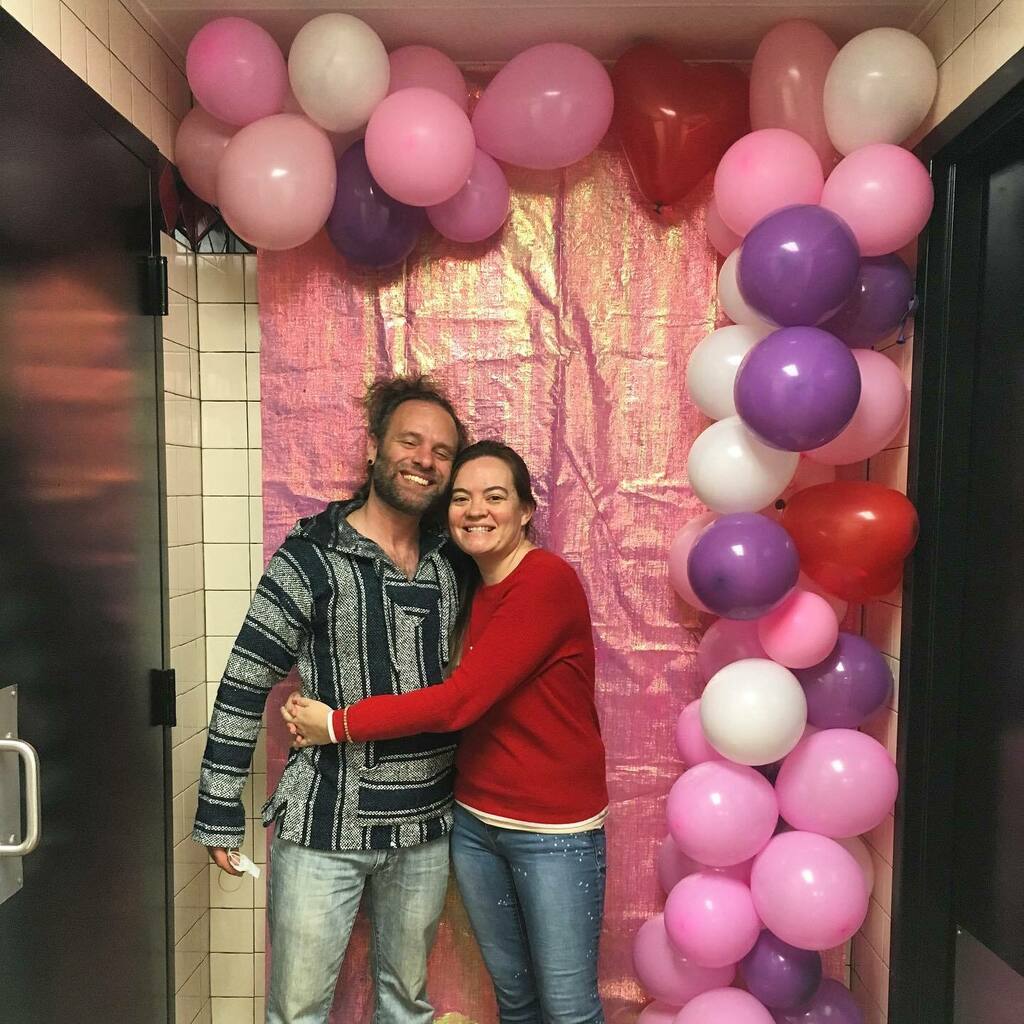 Waffle House
No heart-shaped waffles, but you can make a Valentine's Day reservation for Waffle House. Check out the list of participating locations here.
We actually went to Waffle House for Valentine's Day two years ago and it was great.
Want to make some homemade heart-shaped food?
If you can't make it to any of these restaurants, or just want to celebrate Valentine's Day At Home, don't worry. You can make your own heart-shaped food. Just follow our recipes below:
Order Valentine's Day Meals Online:
If you don't feel like cooking tonight, you can just order Valentine's Day meals online with the following delivery services:
Do you know of any other places serving heart-shaped food for Valentine's Day? Be sure to let us know in the comments.