This Tips To Celebrate Valentine's Day At Home post is sponsored.
Last Valentine's Day was a lot different. We could plan a nice date night out, stay out until the wee hours of the morning, and we didn't think anything of it.
This year is so different.
Vacations have turned into staycations, going out has become staying in, and Valentine's Day is the next celebration at home.
Just because it's at home doesn't mean you can't have the best Valentine's Day. We put together this post to help you celebrate.
Tips To Celebrate Valentine's Day At Home
Set the mood
There's a good chance you've had a date night at home. We all have over the last eleven months. But that doesn't mean you should just put on cozy pants, turn on Netflix, and call that Valentine's Day.
Instead, you want to set the mood.
Dim the lights, light some candles, and set out some flowers.
We learned about the prettiest flowers recently: Lucky You Flowers. You order the flower online and they're delivered to your recipient. That's great if you're like me and still limiting the number of times you leave the house.
Plus, delivery is free.
What's really unique about these flowers is that you basically set them up and that's that. You don't have to water them or really take care of them. All you have to do is set them out and appreciate their beauty.
Which is perfect because honestly, who needs to add one more thing to take care of on their laundry list of things to do, right?
Each floral arrangement comes in a take out food box and has a fortune cookie, which you can use to write a note. Perfect.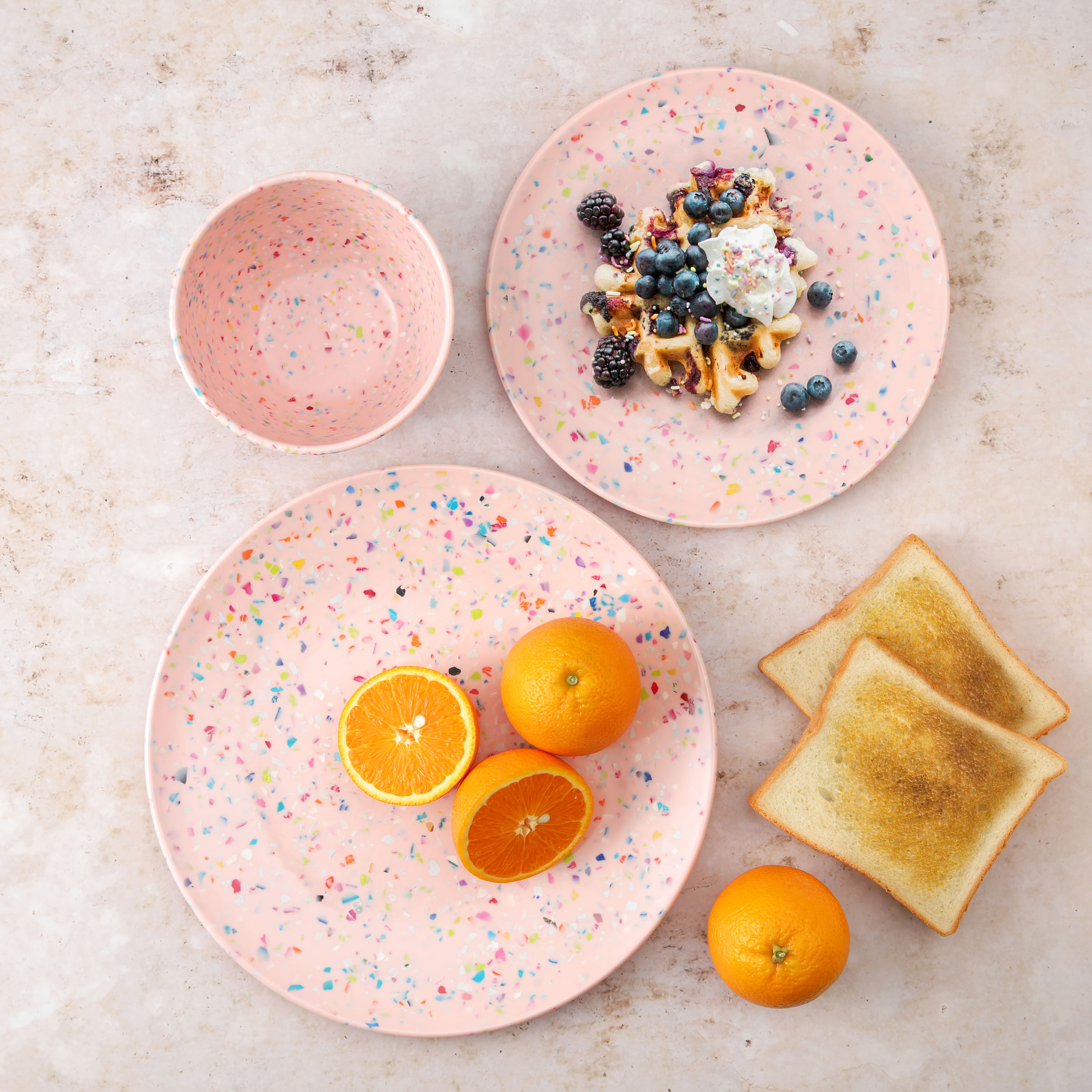 Set a table
You want your date night to look different than your regular meals at home. So, if you have special plates — like fine China you got for your wedding that's just sitting collecting dust — break it out for Valentine's Day at home.
If you're looking for something a little less expensive than those China settings, we love this adorable Confetti Dinnerware Set from Zak designs.
If you don't have an extra set of plates, you can always just spread out a red tablecloth from the dollar store. A little pop of Valentine's goes a long way.
Pick a menu
Dinner
I cook dinner at home every night, but Valentine's Day dinner has to be special. You want to make something that's not your typical pan-fried chicken.
But let's talk about that for a minute.
Because I love chicken. And I love making chicken for dinner. It can definitely be dressed up for a special occasion, like when we make our Sheet Pan Chicken Vesuvio.
You just really have to make sure you cook with love.
And seasoning.
It's all about the seasoning.
Too many people exist in The Land of The Bland and are scared of salt. You guys. Salt is not the enemy. Adding salt after your food is done cooking will make it taste salty. Adding salt while your food is cooking adds flavor.
If you're scared of seasoning, and you're not sure when to use garlic salt as opposed to using garlic and salt, use seasoning blends.
Dessert
We are not the "you are dessert" kind of people. Like no thanks. I'd rather have some chocolate and cookies. And if you can make them chocolate cookies, even better.
But after you've spent quite a bit of time preparing your Valentine's Day dinner, I wouldn't blame you if you called an audible on baking and just order dessert.
If you do, I highly suggest you order Maya's Cookies. The Double Chocolate Cherry Truffle cookies that come in the Valentine's Day Gift Tin are arguably the best cookies I've ever had delivered. They taste so much like cookies you baked in your own kitchen.
If you pretend you did, I won't tell anyone.
Do you remember that commercial from a couple years ago where grandma was too busy flirting and playing bingo to make her homemade chicken fingers, so she bought some, put them on a plate, and everyone thought she made them?
Do that with Maya's Cookies. Everyone will believe you made them … until they ask for the recipe and you can't give it to them. Speaking of the recipe, the cookies are actually vegan. I say it like that "actually vegan" because if I didn't tell you they were vegan, you wouldn't know. There are some vegan sweets that … you know, you taste them and say, "Well they tried." These beyond tried. They succeeded and they're delicious.
There are 15 varieties on the site to choose from and you can order sets of six. We'll steer you towards the chocolate based ones because we loved them more than the non-chocolate ones.
Exchange gifts
Just because you're celebrating Valentine's Day at home this year doesn't mean you should skip the gifts, if you have the means and desire to exchange them.
Gifts for women
Heart-shaped boxes of chocolate are cute, and I'll take them as a gift trust me, but if you want to be a little more creative this year, we have a trio of ideas for you.
So this is actually the gift that Pete got me for Christmas. These bracelets are handcrafted in Bali and customized with coordinates. The one Pete got us has the coordinates of where we met. Swoon.
There are a ton of options, so you can choose a bracelet that really speaks to you and will speak to the heart of your recipient.
You can also get a custom engraved jewelry box, which Pete added to my gift. His note inside was so beautiful, it made me cry. I don't even have the words to explain how special this gift is.
I'm such a fan of snacks. We don't have snack time every night, but if we could, we would. I try to buy fun snacks every month because why not. You gotta enjoy life, ya know? Well, Munch Addict has made our monthly snack time so much easier.
It's a monthly subscription box of snacks (in 5, 10, 15, or 60 plus you can add on a drink). You can order once or set up year's worth of boxes. The snacks are curated from all over the globe. Our box had snacks from Trinidad, Lithuania, Korea, and more.
There's a good chance you haven't had most of these snacks, unless you're a world traveler, so it's definitely a fun way to experience new foods.
Gifts for men
So I mentioned above that Pete is reducing his carb intake, so he's always on the hunt for low carb snacks for work. Any time I'm out, I'll grab some beef jerky for him. So of course, I'm beyond thrilled that the Manly Man's Co. came up with a beef jerky bouquet.
It's exactly what you think it would be: a bouquet of flower-shaped beef jerky. It doesn't come in a vase, though. Oh no. It comes in a pint glass. There are three flavors — hot, teriyaki, and original — and you can get a mixed bouquet with all three. It's brilliant.
If your man is dy-no-mite … tell him so with a dynamite-shaped bunch of hot sauce. My mom actually got Pete a similar one for Christmas, but it's completely taken apart and used, so I couldn't grab a photo of it. This one is pretty close and actually, this packaging is a little nicer than the one my mom bought.
It comes with seven hot sauces in varying degrees of heat, which is a lot of fun. But if your man can't stand the heat, get out of the kitchen. And get to the grill. The brand sells a version with seven barbecue rubs, in a similar dynamite-shaped packaging.
And shh, don't tell Pete but I just impulse bought him the brand's hot sauce keychains because I can't stop laughing over them.