Looking for things to do in Wilmington, NC? Check out this 24 Hours In Wilmington, NC post for restaurants, activities, and more.
If you're planning a trip to the area, check out all of our Wilmington, NC posts.
We kicked off a brand new series here at Drugstore Divas: "24 hours in … " We started spending time in certain cities, then giving you a game plan for when you travel there, if you only have 24 hours. Sometimes, all the time you have to get away is one night, so you want to make the most of it. Us too
Between work, then running a marinara sauce business and selling it at the local farmers' market each week, we're busy people. So I get it.
We started the series off with 24 Hours In Wilmington, NC, mostly because we live here and there are a lot of fun things to do in Wilmington, NC. And if you live in a city like ours, you definitely should kick off a new series with it.
That was over three years ago. And in that time, we've gotten to visit a ton of great cities and wrote a ton of great 24 hours in guides.
And we learned a lot about putting those guides together.
So it felt like the perfect time to revisit this Wilmington, NC travel guide and make it a little bit better.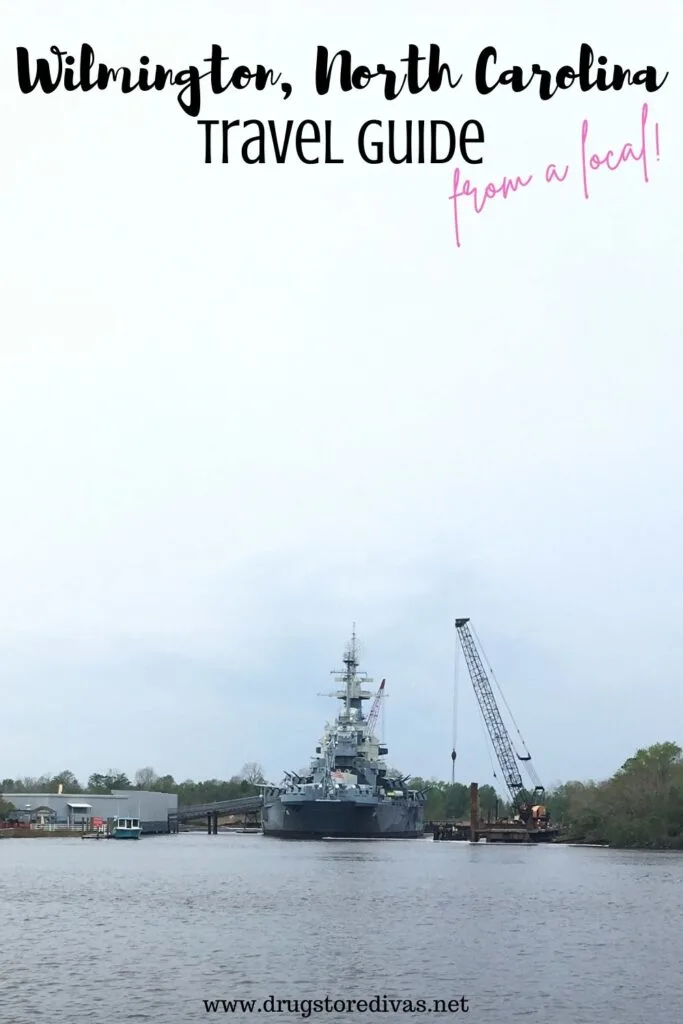 If you're coming to the area for longer than 24 hours, there are so many things to do in town to make it a great trip.
Find other things to do in Wilmington, NC in our Wilmington, North Carolina Travel Guide.
And, if it's raining when you get here, we have a fun post of 10+ Things To Do When It Rains In Wilmington, NC, so don't feel like your trip is ruined because of uncooperative weather.
24 Hours In Wilmington, NC
Affiliate links are included in this post and Drugstore Divas may make a small commission if you use them.
We're starting our 24 hours off at breakfast and continuing until the next day.
Morning
Breakfast:
Wake up and head to The Basics (319 N Front St.). The Crab Cake Eggs Benedict on the brunch menu will change your life. It's that good. It comes with two crab cakes topped with poached eggs, bacon, and hollandaise sauce and is so filling, you might not finish it. It's definitely the perfect meal to power you through the day.
The Basics does get super busy, so be sure to call and get a reservation before you go. If you do have to wait, though, it's located in The Cotton Exchange, which is a partially outdoor/partially indoor collection of stores and restaurants. So you can do some window shopping while you wait for your table.
9 am:
Head to the New Hanover County Arboretum (6206 Oleander Drive). There's no admission fee, and if it's free it's for me. Especially when you're on vacation. I want to do stuff, but I also want to eat. And if I can save money on activities, I can spend more on food.
Plus, the arboretum is really beautiful. There's a huge garden section, which grows food to be donated to a local homeless shelter, there's a section for kids, a large zen garden, and classes too (so be sure to check the schedule before you head over).
Side note: The Arboretum isn't the only free thing to do in town, so be sure to check out our full list of 10 free things to do in Wilmington, NC.
If you have a botanical garden membership, check to see if its part of the American Horticultural Society Reciprocal Admissions Program. Airlie Gardens (300 Airlie Rd) is a botanical garden, down the block from the arboretum, that participates in the program. So, you might be able to get in free with your garden pass.
You'll see beautiful tulips there (if you visit between mid-March and mid-April), a huge live oak in the center of the garden, and more.
Each year, local artists paint sculptures that are hidden throughout the garden. Last year it was owls, the year before, it was squirrels. You can find them as you peruse the garden, which adds a bit of fun to the trip.
If it's a Saturday from March until November, I suggest you head over to the Riverfront Farmers' Market after your done with the gardens. The farmers market is open from 8 am until 1 pm.
The market is on Dock Street, in the heart of downtown Wilmington, between 2nd and Water Streets.
You can pick up local vegetables, eggs, plants, seafood, and (my personal favorite) Rita's Wooden Spoon marinara sauce. That's Pete's business, so we are there each week manning the stand. Come say hi.
Afternoon
Lunch:
If you're still at the arboretum, head across the street to have lunch at The Salt Works (6301 Oleander Drive). It's a small, unassuming restaurant that has been around for over 30 years. It only serves breakfast and lunch, and it only accepts cash, so keep that in mind when you go. I had a very good grilled cheese there, and the Lima bean soup is great (despite what you may think of Lima bean soup).
If you already left that portion of Wilmington, check out Jax 5th Avenue Deli & Ale House (5046 New Center Drive). It's an old diner (I like to think of it as an oversized Airstream) that serves really good deli sandwiches with Boars Head cold cuts and a huge variety of beer. My favorite part about Jax is that when you sit down, you get pickles. Some restaurants give you bread to start; Jax gives you pickles.
1 pm:
If you're with kids, we absolutely love the Children's Museum of Wilmington (116 Orange Street). There's so much for kids to see there (like a teddy bear hospital, a really fun outdoors area, and (our favorite) an amazing fabric tree to climb on).
We used to go once a year when the museum closes down, opens for ages 21-plus, and hosted Pizza Putt. For one night, there was mini golf, pizza, and beer set up throughout the museum. It was so much fun, so we're super bummed the event hasn't happened the last few years.
For the kid in you, you can go bowling at Ten Pin Alley (127 S. College Road). We go there every year to celebrate Pete's birthday. Before it's recent renovations, the bowling alley may have looked familiar to you because HBO filmed Eastbound & Down there.
Actually, a ton of shows were filmed in Wilmington, so you can put together a walking tour of your favorite shows, especially if you loved One Tree Hill. There are a ton of One Tree Hill landmarks in town still. And if you loved Dawson's Creek, you can find a lot of familiar spots as well.
3 pm:
If you want to learn about the history of Wilmington, a museum is a great way to do that. There are so many in the area, from traditional museums to historic homes, so you'll be able to find something for everyone.
If you want to check out the historic home tours, we recommend the Bellamy Mansion (503 Market St) or the Burgwin-Wright House and Gardens (224 Market St), or the Latimer House (126 S 3rd St), where the Lower Cape Fear Historical Society is located.
For kids, there's the Wilmington Railroad Museum (505 Nutt St) in downtown Wilmington. We actually really enjoyed it, so you definitively will. There's a children's portion of the museum, which is great. But it's the Guinness World Record-holding model train in the back that really steals the show.
For more, read our full Wilmington Railroad Museum review.
If you want to take a drive, Poplar Grove Plantation (10200 US-17) is so cool. It's an old historic home with a petting zoo and trails you can walk around. It hosts a weekly farmers market and has events all the time.
4 pm:
Head down on Water Street to walk the riverwalk (and get a great view of the USS North Carolina, a World War II warship), then hop one block up to head into Orton's Pool Room (133 N. Front Street). It's America's oldest billiards and pool hall.
Right now, you just have to walk past it since it hasn't reopened since closing when the world did, but hopefully it'll reopen soon. There used to be pool for free (Sunday till Tuesday) and a very cool bar.
If you're not hungry yet, I have the best coffee shop for you: Bespoke Coffee & Dry Goods (202 Princess Street). We love this place. It serves great coffee (Bespoke serves Counter Culture Coffee, which is good to know if you want to replicate your cup of joe at home).
Bespoke also serves draft and bottled beer, plus has cookies, pastries, succulents, and some clothing items available for sale too. I like coffee, but don't drink beer, and Pete drinks both, so we always dreamed of finding a coffee shop that serves beer. Bespoke is exactly that.
Not into coffee, but you're into ice cream? Go ahead. Spoil your dinner. You're on vacation. There are a ton of ice cream shops in Wilmington, but our go to is Kilwins (16 Market St). I know, I know, it's a chain, but it's not a chain that's everywhere. And the smell of waffle cones in the air will guide you right into the shop.
Evening
Dinner:
My favorite place to eat downtown is Copper Penny (109 Chestnut Street). It's pub grub done really well. I love the French onion soup there. Pair it with the spinach salad and you'll have a happy stomach.
Keep in mind that the Copper Penny is an Eagles bar, so if you're down during football season, you'll likely see the Eagles on TV. And there is a spot on the menu that jokes that Dallas Cowboys fans are charged extra.
We also really love the chicken sandwich and burgers at Fork & Cork (122 Market St), so that's a solid bet.
If you're feeling romantic, The Little Dipper (138 S. Front Street) is a local fondue restaurant. It's also where Pete and I got engaged, so it holds a really special place in my heart.
If you want seafood (and you probably do since you're hanging out in a coastal city), our newest favorite is Origins Food & Drink (102 Autumn Hall Dr. Unit 120). It's a little drive from downtown, but it's totally worth it. Get the poached halibut. Trust me.
And if you're looking for Italian, Pete's favorite Italian restaurant in this entire city is Tarantelli's (102 S 2nd St). It's really good Italian food that makes him cry.
There are a few local restaurants that offer certificates on Restaurant.com. If you can purchase a few ahead of your trip, you'll be able to save on your meals when you get here. Plus, it'll help you from having to walk around and decide where to eat.
Sunset
If you planned it right and you're done with dinner, head over to Wilmington Water Tours and catch a sunset cruise. The 1.5 to 2 hour cruise along the Cape Fear River will show you Wilmington from a perspective most people don't get a chance to see.
If you can't fit the cruise in at sunset, there are a ton of other narrated cruises where you can learn the history of the city as you set sail.
If you prefer land (as I do), you can check out the downtown area and learn the history with a horse-drawn carriage ride from Springbrook Farms Carriage Horse Drawn Tours. They depart from Market Street, right outside of Kilwins.
8 pm:
Now it's time for late night. Depending on the day and season, you have a ton of options if you're looking for things to do in Wilmington, NC at night. Front Street, as you may have realized, is full of bars. You can spend time in any of them and have a good time. If you're looking for something with a little more activity, our favorite ideas are:
Thursday: Dead Crow Comedy Room (511 N. 3rd St) has Open Mic Comedy starting at 8 pm. So if you've ever wanted to get on stage and tell a few jokes, this is the time to do it.
Friday/Saturday: If you're in town from about Memorial Day to Labor Day weekend, you can check out Friday Night Live!, a free concert at the Pier at Marina Grill. A nationally touring cover band takes the stage from 8 pm to 10 pm.
What's very cool is that you are able to drink beer and wine outdoors on the pier, so it makes for a fun activity. If you do want to drink, you just need to buy a wristband at the gate (it costs $1, which is a donation to a local charity) to show you're over 21.
There's a similar concert held on Saturday nights. Also free. Also drinks outdoors. But, instead of a national band, it's a local band.
If you like music, there are a bunch of music venues that get big names. Check out Greenfield Lake Amphitheater (1941 Amphitheater Drive) and Live Oak Bank Pavilion (10 Cowan St). You can also see some great performances at the Kenan Auditorium at UNCW (601 S. College Road). If you're into theater, you can catch fantastic shows at Thalian Hall (310 Chestnut Street) too.
If you just want to barhop, there are tons of bars downtown and breweries in Wilmington for you to do just that.
And if you want to learn more about the town, you can take a walking Ghost Tour or Haunted Pub Crawl.
Bedtime:
We recommend you stay the TownePlace Suites Marriott (305 Eastwood Road). This is the hotel we blocked for our wedding guests used when we got married. It has a BBQ outside (which we used), plus twice a week, there is food catered by a nearby restaurant and beer and water provided, free for hotel guests.
Definitely book through a cash back site like Rakuten or TopCashBack. I always go to those before booking any hotel (or car rental) because you can get a percentage back. And every little bit of savings helps.
The Next Day
8 am:
You're heading out, and there's just enough time for one more breakfast. Good thing you can get that free at the TownePlace Suites Marriott before you check out. My mom was a huge fan of the pancake maker when she stayed there during our wedding week, so try that before you hit the road.
If you do want to stop for a bite to eat before you head home, wake up and head to Breakfast House (formerly known as Ezzell's Breakfast House) (2115 Carolina Beach Road). Everything is good here, but I really recommend the biscuits and gravy. You might get recommendations from others who are dining there since many of the tables are family style — and you often sit there with strangers. That's part of the charm, though. You end up making friendly conversation with someone you don't know and end up making a new friend.
*If you're planning a trip to Wilmington, be sure to click each location's name to be brought to their website. You can find operating hours and more that way. Drugstore Divas has no affiliation with any of the bars or attractions listed.
Breweries/Distilleries In Wilmington
Want a few more options of places to drink that aren't listed in the itinerary above?
Restaurants in Wilmington
Want a few other options of places to grab a bite to eat in Wilmington?
Best Coffee In Wilmington
Love coffee? You'll love these shops.
Cocktail Bars In Wilmington
Get your shaken or stirred cocktail here.
Things To Do With Kids In Wilmington
Here are a few things to do with kids that aren't in the post.
Where to stay in Wilmington
If you're looking for additional hotel recommendations, we have a few:
Famous movies filmed in Wilmington
Wilmington's nickname is "Hollywood East" because of all the television and film production.
Are you planning a visit? Which of these things to do in Wilmington, North Carolina is on the top of your list?