From sunset cruises to dinner with a view to horse drawn carriage rides, there are a ton of romantic things to do in Wilmington, NC.
For more help planning your trip, check out all of our posts about Wilmington, NC.
Wilmington is a perfect destination if you're looking to get away with your significant other. There are a bunch of really great date night spots that you might not find in other areas. There are gorgeous restaurants right in the heart of downtown Wilmington, you can take a stroll on the riverwalk, head to one of the town's gardens, and more.
Honestly, there's so much to do here, so we decided to help you out and put together a list of the most romantic things to do in Wilmington.
These are perfect if you're in town for Valentine's Day and looking for a sweet way to celebrate or if you're just in town for a weekend getaway during the summer months and you're looking for the best date night ideas. Whichever it is, this list will help you out.
What's great is that we live here in Wilmington. So this list is filled with the best things we've actually done and would highly recommend from our personal experience.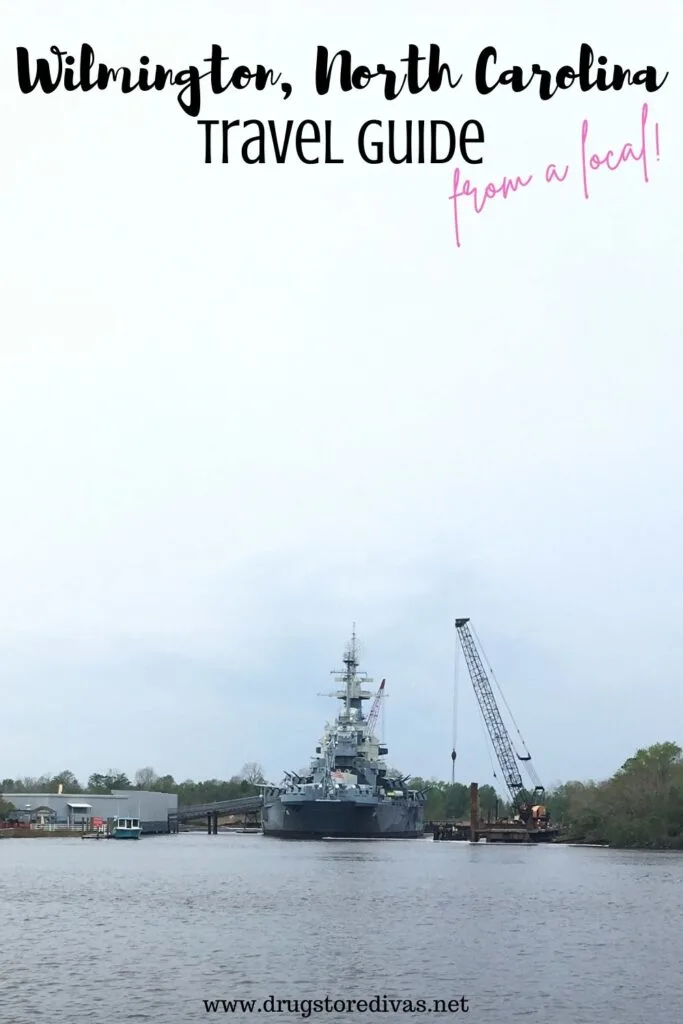 If you're coming to the Cape Fear region, you want to maximize your time here. Get help with that by checking out our Wilmington, North Carolina Travel Guide.
15+ Romantic Things To Do In Wilmington, NC
Affiliate links are included in this post and Drugstore Divas may make a small commission if you use them.
We broke this list down into three categories: Romantic activities, romantic places to eat, and romantic places to drink. The first category are things to do, the second category is filled with either romantic restaurants or spots that have a romantic location, and the last category is are places you'll find great wine or beer that also has a romantic setting.
We also narrowed it down to five-ish in each category so you're sure we're picking the best places in the area.
This list isn't a comprehensive list of all the things to do in Wilmington. For example, you might want to visit the USS Battleship North Carolina when you're in town, but a tour of an old battleship isn't really all that romantic. So it's not on this list. You'll find it on our 24 Hours In Wilmington, NC list though, so be sure to check that post out when you're done with this one to figure out the rest of your trip.
Romantic Activities In Wilmington, NC
If you're looking for a romantic activity for you and your significant other to do when you're in town, this section of the list is for you.
Visit Airlie Gardens
We love Airlie Gardens (300 Airlie Road). We had an annual pass there for a couple years. Actually, it's an American Horticultural Society Reciprocal Garden, so if you have a pass from a participating garden, you can get in for free.
Airlie is 67 acres of gardens with a huge live oak in the center. There are so many hideaways where you can take a romantic stroll and just have some alone time, away from the other garden visitors. It's a fantastic way to spend the afternoon.
Valentine's Day is a little early for the tulips, which is one of the main draws of Airlie Gardens. Those generally bloom from mid- to late-March and will stay in bloom for about three weeks. If you're here during that time, I highly encourage you to go to the gardens. You won't regret it.
Small aside: If you're into botanical gardens, you might want to check out the New Hanover County Arboretum (6206 Oleander Dr) while you're in town. It's a free 7-acre garden, which has a nice Japanese Garden section and a play area for kids. There are often classes and plant giveaways there too, so definitely check it out if plants are your thing.
Take a horse drawn carriage ride
Springbrook Farms Carriage operates a horse drawn carriage tour through historic downtown Wilmington. The tour guides are all really great and tell you the history of the area and the buildings as you pass them. It's definitely a great time.
What's great, though, is during Valentine's Day you can book a romantic Valentine Carriage Ride. That's a personal ride for two, similar to a horse and carriage ride in New York City (just, you know, way less money). Pete and I always call that the "romantic horse."
We actually almost booked it for our wedding, but the timing just didn't work out. But if the timing works for you, this is one of the best ways to spend some quality time with your significant other when you're in town.
Book the Henrietta Cruise
Don't book this for me. I'm not a fan of boats. But, if you're looking for a great place to take someone who does like boats, the Henrietta Cruise (101 S Water Street #1) is a great idea.
There are a few options you can book: a sightseeing tour, a sunset/moonlight cruise, a Black River Nature Cruise, or you can book a private charter. The latter doesn't work for couples, but it's good if you have a group of people.
The tours are narrated to teach you about the area. You ride on the Cape Fear River, learn about Wilmington, see other ships up close, and get a great view of historic buildings and local shops in downtown Wilmington — but from the waterside.
Even though you'll be with other people on the tour, the boat is large enough that you can find a spot to sit just you and your significant other, making it a really sweet trip for the two of you.
Stroll the Wilmington Riverwalk
The river walk in Wilmington is gorgeous. The boardwalk starts at the historic district and travels past the Wilmington Railroad Museum and Convention Center. It's actually a pretty long walk, one that gives you a bunch of time to hold hands.
You can stop at bars and restaurants along the way, if you want to take a break from walking.
The weather is usually pretty nice during Valentine's Day weekend, so you can add a romantic walk to your itinerary.
And, actually, we did stroll the Wilmington Riverwalk right before we got engaged (as part of the engagement scavenger hunt Pete planned for me), so it's definitely romantic in my book.
Book a couple's massage
A couple's massage, if you haven't done one, is so incredibly romantic. You're not interacting with each other at all during the massage, rather, you're just laying on tables in the same room together. But still, it's definitely something you should do as a couple.
Our favorite place to go is Ki Spa Salon (1125 Military Cutoff Rd). We actually try to go together once a year and we've never been disappointed. It's so relaxing, you get this delicious ginger tea while you're waiting, and you leave feeling refreshed.
Have a picnic on the beach
So, full disclosure: I originally left this off my list because technically there aren't any beaches in Wilmington. There are beaches in New Hanover County, the country where Wilmington is located, but not Wilmington proper. But then, Traci Lynn commented on our Facebook page with this suggestion and since she's local to New Hanover, it made the list.
Really though, a picnic on the beach is so romantic.
Pack a blanket and some picnic foods, park, find a spot away from everyone else, and enjoy your significant other. Some local beaches will have a designated picnic area and some won't. If you're heading to one that doesn't, and you're going to eat right on the beach, make sure to pack cans instead of bottles. Most beaches don't allow glass bottles for safety reasons.
Our favorite local beach is Kure Beach because it has a nice dock to walk on, free parking (although that's under review right now), and is more of a local beach than a tourist beach.
Traci Lynn suggests heading even further into New Hanover County to Topsail Beach. We always forget about Topsail, even though it is one of the best beaches in the area, mostly because it's a bit of a drive from us. If you do make the drive for your picnic, Traci Lynn says stop in for dessert at Sugar Island (206 North Topsail Drive, C, Surf City). It's a bookstore that sells coffee and baked good, produce, eggs, and, of course, books.
More Things To Do In Wilmington
If you're looking for more things to do in the Port City, maybe ones that aren't so romantic, check out our 24 Hours In Wilmington, NC list. It'll help you plan the rest of your trip.
And don't forget about our free things to do in Wilmington, NC post too. You'll find free places to see live music, free parks and museums, and more fun activities that won't cost you a penny.
Romantic Places To Eat In Wilmington, NC
If you're looking for the perfect place to have a romantic dinner in Wilmington, this section of the list will help.
The George on The Riverwalk
We absolutely love The George (128 S Water Street). The food is fantastic and the atmosphere is so nice. If you can, book outdoor seating. The tables are right on the riverwalk and you'll have a gorgeous view of the water while you're eating. That might be a little better for the warmer months or before sunset because once the sun goes down, it's cold in February (well, cold for me anyway).
The George is actually really special to us because this is where we went on our first date after getting engaged and started planning our wedding. We highly suggest the shrimp and grits, seabass, or the chicken sandwich.
Elijah's
If you can't get a table at The George, Elijah's (2 Ann Street) is just a couple storefronts down, so it's a great option as well. Elijah's has a huge deck, and you definitely want to book a table on it. It's right on the riverwalk and you'll get a beautiful view of the water.
Elijah's is heavy on the seafood, so if you like seafood, this is the place to go. The menu has a few unique options too, like the Oysters Elijah's (oysters baked in crab dip).
The Little Dipper
The Little Dipper (138 S Front Street) is also really special to us because this is actually where we got engaged. So yes, it's super romantic.
As the name implies, The Little Dipper in a fondue restaurant. If you've never been to one, use your time in Wilmington as an excuse to go. You're interacting with your food and your friends and it's just a lot more fun than sitting, ordering, and then eating.
The Bridge Tender
Wilmington is known for its fresh seafood and The Bridge Tender (1414 Airlie Road) is one of the best places to get it. We actually went here for our first Valentine's Day in Wilmington, so yes, I would say it's a perfect date spot.
You can reserve a table outside on the deck, right on the water, which is just such a gorgeous view. It's different than the one from The George because now you're facing Wrightsville Beach instead of facing Leland.
It's really close to Airlie Gardens, so if you went there for the day, you can book a table here and catch the sunset.
Origins Food And Drink
Origins (102 Autumn Hall Drive, Unit 120) is currently our favorite date spot in the Wilmington area. It's not super private because you're sitting in a wide open dining room. And there's no view because even outside you're just looking onto a major road. But the food is incredible.
Origins is one of the best restaurants we've been to in Wilmington, hands down. We've loved every bite of every thing we've ordered here. From the cocktails to the desserts, everything is top notch.
If you do eat here, make a point to stop in the restroom. Even if you don't have to go. I know, I know, that sounds like such an odd suggestion but this bathroom is the most gorgeous bathroom we've ever seen. Seriously. I'm not kidding.
More Places To Eat In Wilmington, NC
These are the most romantic spots in Wilmington, but not the only places to go for a bite. For more great restaurants to try when you're in town, check out our list of the Must Try Restaurants In Wilmington, NC.
Don't forget about dessert. Find out where to go in our The Best Ice Cream Shops In Wilmington, NC post.
Romantic Places To Drink In Wilmington, NC
If you want to go out for drinks, then cook dinner back in your rental, this section of the list is for you.
Cloud 9 Rooftop Bar
Cloud 9 (9 Estell Lee Place) has, arguably, the best view of any bar in downtown Wilmington. It's located at the Embassy Suites by Hilton Wilmington Riverfront hotel, but the bar is open to the public.
The drinks aren't cheap … because you're paying for the view. So, plan it right. The best time to be at Cloud 9 is at sunset. When you're watching the sun set from up there, you won't even think about the fact that you paid double digits for that drink you're holding.
Caprice Bistro
If you want romance, you want to go to Caprice Bistro (10 Market Street). But, very specifically, you want to sit upstairs in the sofa bar. It offers a small menu compared to the full restaurant downstairs, but a full cocktail menu. So if you're heading out for a drink and a quiet place to canoodle, this is it.
Level 5 (aka The Rooftop Bar at North Front Theater)
I love the view at Level 5 (21 N. Front Street, Fifth Floor). Okay, wait, quick sidenote. Anyone local will call this bar Level 5, regardless of if the actual full name is currently The Rooftop Bar at North Front Theater. It's just Level 5 to anyone else.
I'll be honest. The bar itself is pretty grimy. The walk up to the fifth floor is a pain. But the view when you get there is so worth it. And it's always a fun time … until you have to walk back down those five flights of stairs, anyway.
Floriana Wilmington
Floriana (2 Market Street) is a tough one to put on this list because the food here isn't great. We ate here and were super underwhelmed. But the view. Oh the view. If you can reserve one of the balcony seats that looks over the Cape Fear River, it's perfect and private and romantic and definitely one of the best date ideas in the city.
Quick aside: The balcony at Floriana (although before it was Floriana) is featured in the movie Dream a Little Dream staring "the two Coreys" (Feldman and Haim).
Dram Yard
Dram Yard (101 S 2nd Street) is great. But, if you're looking for a quick date night drink, choose the Gazebo Bar over the actual restaurant. You can order handcrafted cocktails there and enjoy them at a firepit outside.
It's a great spot, a block off the main drag of downtown Wilmington, so you're right in the mix without actually being in the mix. From there, you can walk to Front Street and check out everything else downtown has to offer.
The Blind Elephant
The Blind Elephant (21 N Front Street) is unnecessarily too cool for school. It's a speakeasy down an alley and has that "you need to know the password to enter" vibe. Which is a little pretentious for Wilmington, to be honest. But, if you can look past it, The Blind Elephant serves very good craft cocktails and has a very cool interior.
The Blind Elephant hosts special events often, like a Great Gatsby party this month and a free whiskey tasting last month, so be sure to check its event calendar for when you're in town.
More Places To Drink In Wilmington, NC
North Carolina isn't know as North Craftolina for nothing. Wilmington definitely adds to that with over a dozen local breweries in the area. I wouldn't consider the atmosphere of any of them very romantic (although Flying Machine is very cool), so that's why none of them are highlighted above. However, if you want to check them out, check out The Complete Guide To Breweries In Wilmington, North Carolina.
If spirits are more your thing, there are a half dozen locally to try. They're all listed in the Complete Guide To Distilleries In Wilmington, NC, so use that as a guide.
And, if you're not into alcohol and are on the hunt for the best cup of coffee in town (that's what I always look for when I go somewhere; I want to find the best coffee shop), check out our list of the Best Cups Of Coffee In Wilmington, NC.
Where To Stay In Wilmington, NC:
If you're coming for a romantic weekend and you're looking for places to stay, there are a bunch of hotels in Wilmington. You want to choose where to stay based on where you think you'll be going the rest of the weekend.
We highlighted some hotels within walking distance of downtown, so if you're planning to barhop downtown, those are ones you can safely walk to.
And then, there are hotels that are in Wilmington, closer to midtown, which is closer to the beaches in the area (Kure Beach, Carolina Beach, etc.).
Hotels Within Walking Distance Of Downtown Wilmington:
Hotels In Wilmington:
Which of these romantic things to do in Wilmington are you adding to your to do list? Let us know in the comments.