Wilmington, NC is known for being a craft beer hub, but the Port City has been booming with distilleries as of late. Since 2020, almost a half dozen have opened in the area. Find out all about them in The Complete Guide To Distilleries In Wilmington, NC.
If you're planning a trip to the area, check out all of our Wilmington, NC posts.
Wilmington, NC has over a dozen craft breweries in the area. So it just feels natural that the city is now home to a half dozen distilleries too.
Well, almost a half dozen. It's getting there. Which is wild since in 2020, the Wilmington area's first two distilleries opened. Before that, there were none. So a half dozen in two years feels like a boom.
Generally with these sorts of lists, we wait for a location to be open for a year before we add it to the list. In this case, we're taking our chances and listing them all so that this can be a complete guide to Wilmington's distilleries.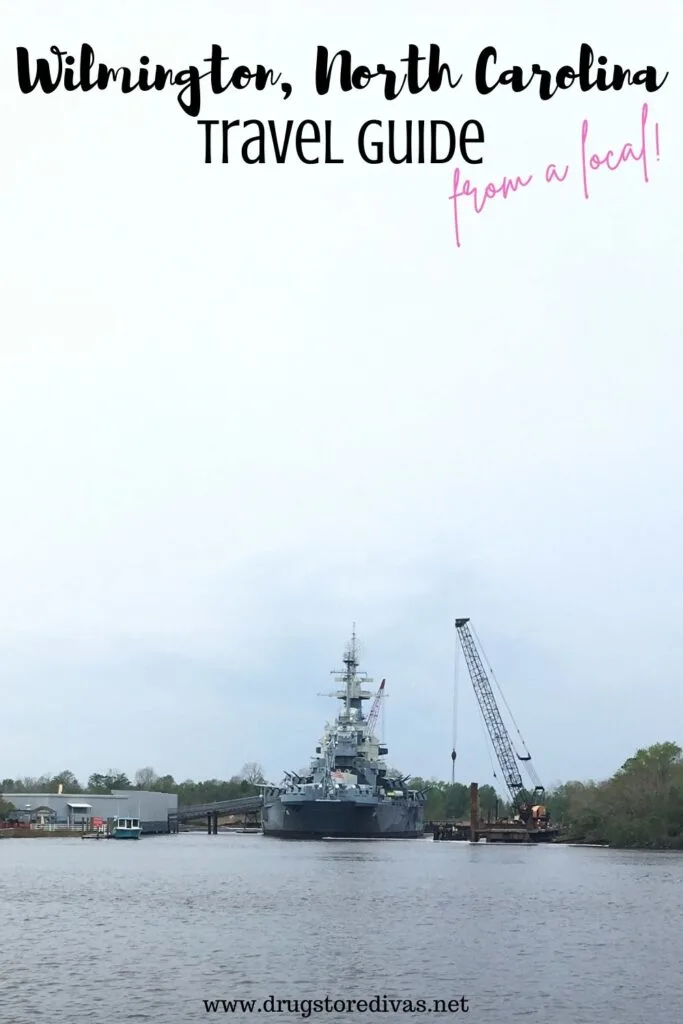 Planning a trip to Wilmington?
There's more to do than drink at the distilleries. Figure out what else the Cape Fear region has to offer in this Wilmington, North Carolina Travel Guide.
The Complete Guide To Distilleries In Wilmington, NC
We don't have any association with any of these distilleries, and our information on hours is based on the most up to date information we can find online.
Be sure to double check the hours before you head out.
Affiliate links are included in this post and Drugstore Divas may make a small commission if you use them.
Blue Shark Vodka
Address: 206 Causeway Drive; Wrightsville Beach
Phone: 910-399-5199
Hours: n/a
Website
So, we're starting this off with a little bit of a stretch. Blue Shark Vodka was Wilmington's first distillery. Except it's technically in Wrightsville Beach, but on the border of Wrightsville and Wilmington.
Blue Shark Vodka sells, you guessed it, vodka. The bottles are adorable because there's a tiny shark suspended in the bottle. Sort of like the worm in tequila, but not alive and not moving. So, maybe not like the worm. But still, an animal in a bottle.
Anyway.
Blue Shark Vodka doesn't have a taproom, so you can't go there and enjoy some cocktails. But you can pick up Blue Shark Vodka in local ABC Stores as well as in huge places like Las Vegas. Seriously. It's sold there. And it was started here. Wild.
End Of Days Distillery
Address: 1815 Castle St.
Phone: 910-399-1133
Hours: Wednesday to Saturday: 11 am to 9 pm; Sunday: open sometimes (check social media); Monday and Tuesday: open by appointment only
Website
End of Days Distillery was Wilmington's first official distillery and the first with a tasting room. The distillery opened in February 2020, which ended up being rough timing. We were actually able to get there the second weekend it was open, before it pivoted to make hand sanitizer, and wrote a full End of Days Distillery review.
The distillery makes rum, vodka, and gin, plus canned cocktails (mules, gin and tonics, and a hurricane). All are available at the shop at the location, so you can purchase those and leave or you can stay and enjoy one of the 19 craft cocktails on the menu.
What's very cool, for people like me who don't drink, are nine of the cocktails can be made non-alcoholic. So you can enjoy a fancy drink and still drive home.
Four Hounds Distilling
Address: 1202 N. Lake Park Blvd.; Carolina Beach
Phone: 910-945-0880
Hours: Saturday: 1 pm to 7 pm; Sunday: 12 pm to 5 pm
Website
Four Hounds Distilling is a little stretch because it's in the Wilmington area, but not Wilmington itself. It's in Carolina Beach, which is Wilmington-adjacent, so we're letting it count. Especially because it has tasting room hours, which many of the others don't have.
Four Hounds has only been open about a year and is already moving into its second location because it outgrew its original location. So that's amazing. It hosted its grand re-opening this past weekend (May 2022).
The distillery has three craft rums (only one has a dog-related name), which you can drink as is or in cocktails with house dried fruit. You can purchase the rums to bring home, plus things like rum soaked smoker chips, which is just a cool souvenir to bring home if you're visiting on vacation.
Mason Inlet Distillery
Address: 6420 Amsterdam Way; Wilmington
Phone: 910-769-2427
Hours: n/a
Website
Mason Inlet Distillery hit the Wilmington scene very shortly after End of Days Distillery, bringing a new product to the area: brandy. Since Mason Inlet Distillery uses fruit, not sugar, it technically makes brandies.
There's the original Coolcumber, plus the Pineapple Express, and Go Bananas. The distillery does have limited edition flavors and the plan to add more in the future.
Everything I've read from the distillery's early days say that the owner planned to host tastings at a small bar within the distillery. But, nothing I've read recently can verify that ever happened. So, instead of going to the distillery to try and purchase the brandy, you're better off heading to a local ABC store.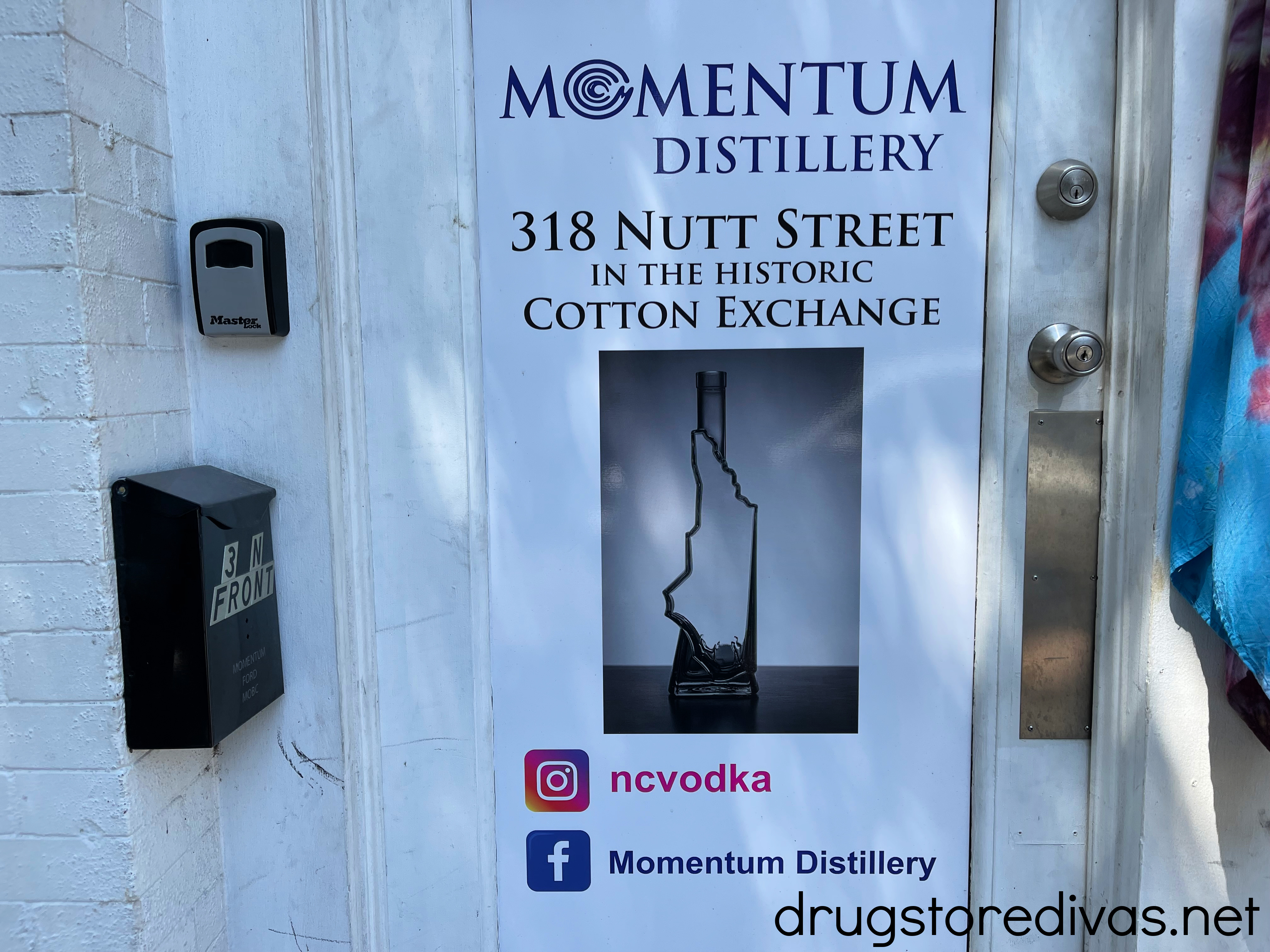 Momentum Distillery
Address: 318 Nutt Street; Wilmington
Phone: 910-599-4999
Hours: Monday to Wednesday: noon to 6 pm; Thursday: noon to 8 pm; Friday and Saturday: noon to 9 pm; Sunday: noon to 5 pm
Website
Momentum, as a brand, may sound very familiar to anyone who has visited Wilmington because it started as a skate and surf shop on Front Street in Downtown Wilmington. There was a long progression from the skate and surf shop, with a stop at owning a popular music venue, to opening the distillery.
Momentum Distillery began in 2020, but didn't open until a soft opening last month (April 2022).
The distillery currently sells vodka, but many posts on its Facebook page talk about limoncello tastings, so look for that in the near future.
Wilmington Distillery
Address: 12 Dock St.; Wilmington
Phone: 910-399-1495
Hours: Thursday: 5 pm to 11 pm; Friday: 5 pm to midnight; Saturday: 11 am to midnight; Sunday: 11 am to 6 pm.
Website
Wilmington Distillery is the brain child of a Wilmington resident who owns IZZYz, a white rum distilled in Jacksonville. He started selling it back in 2018 and it can be found in local ABC stores.
Wilmington Distillery will be the first storefront for IZZYz. It sells rum (white and spiced), vodka, and moonshine. You can purchase bottles at the distillery or sit at the bar at have mixed drinks there.
We stopped in last weekend and the staff was nothing short of fantastic, so you definitely want to see them. As a consensus, though, we decided grabbing some bottles and taking them home to make our own drinks would be better than getting some at the bar.
Wilmington, NC Distilleries: Frequently Asked Questions
How many distilleries are in Wilmington, NC?
As of 2022, there are six distilleries in the Wilmington, NC area.
What is the oldest distillery in Wilmington, NC?
End of Days Distillery is the oldest distillery and tasting room in Wilmington, NC. It opened in February 2020.

Blue Shark Vodka opened before End of Days, but it is located in the Wilmington area, not Wilmington proper.
Where To Stay In Wilmington, NC:
If you're coming into Wilmington, NC and are planning on drinking at the distilleries, you want to stay in the area. Don't drive home after you have been drinking. Instead, stay at a hotel.
Check out a few Wilmington hotels and search for availability below.
Planning a trip to Wilmington, NC?
If you're planning to visit Wilmington and these distilleries, these other posts will help you plan your trip.
And, if you're planning a trip with your significant other, check out some Romantic Things To Do In Wilmington, NC while you're in town.
Which distillery in Wilmington, NC is first on your list? Let us know in the comments.