Update: Tregembo Animal Park in Wilmington, NC is set to open the last weekend in March for the 2021 season.
I'm starting this post with a couple admissions. First, I like the circus. I've been behind the scenes of a couple circuses when I worked at newspapers, often showing up announced, and I never personally witnessed any abuse. And this includes the time I was backstage at The Greatest Show On Earth.
I'm not saying it's not a possibility that it could happen; I'm just saying I never witnessed it.
My second admission is that I like the zoo. I never look at the zoo as a place that is hurting or torturing animals. So it is with these eyes that I always visit the Tregembo Animal Park in Wilmington, NC.
And I say always because I've been there quite a few times since we moved to Wilmington.
The first time we went, we rushed there because some people were trying to pass laws to get private zoos in North Carolina shut down. I saw a news report about it a week or so before we were heading on a two week trip to Japan with a split week in New York as bookends. So I rushed Pete to the Tregembo Animal Park with me, just in case it would be shut down by the time we got back.
We got back four years ago and it's still open.
There are a few more signs around it now, though, ones about what animal hospitals the animals receive their care from and ones about the 24/7 watering system to keep some of the animals hydrated.
These signs, in my opinion, are a result of too many people taking up too many crosses. These same people are why it's almost impossible to get a straw anywhere anymore.
Side note: I also like straws.
Don't at me.
But, back to Tregembo. If you're planning a trip to Wilmington, NC or Carolina Beach, plan an afternoon at the Tregembo Animal Park. It's absolutely worth your time and money and one of the best things to do in Wilmington, NC.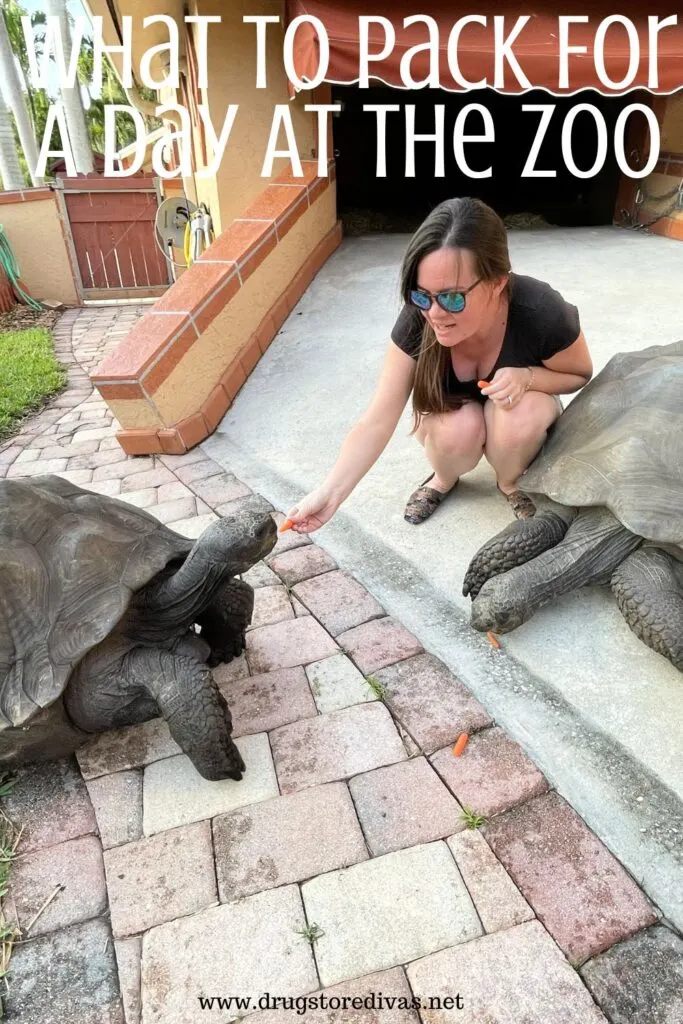 If you're heading to the animal park, be sure to check out our What To Pack For A Day At The Zoo list to make sure you have everything you need.
Everything You Need To Know About Tregembo Animal Park In Wilmington, NC
Where is Tregembo Animal Park located?
It's at 5811 Carolina Beach Road, about 15 or so minutes away from the actual beach. It's off the highway, right before you actually cross into Carolina Beach from Wilmington.
Is it easy to recognize?
The front entrance is shaped as a lion's head, so yes.
How much does it cost?
The costs for 2021 are $12, plus tax, for adults and $8, plus tax, for kids aged 2 to 11. Kids under 2 are free. Prices are subject to change, so bring a little more money with you in case the admission fee is increased.
Cash, Visa, MasterCard, and Discover are accepted.
Are there fees once you get inside?
There are not. I know of other larger zoos that charge you an additional admission fee for certain exhibits. Tregembo Animal Park doesn't do this. Once you're inside, you have access to everything.
When is Tregembo Animal Park open?
The season starts at the end of March and runs through mid-October, weather permitting.
Hours during the summer season (late March until Labor Day) are everyday from 10am to 5pm. The last admission for the day is 4pm.
The fall season is September and October and the park is open Saturday and Sunday from 10am to 5pm with the last admission at 4pm. The park closes for the winter.
When did Tregembo Animal Park open?
Tregembo Animal Park opened in the same location in 1952 by George and June Tregembo. At that point, though it was called the Tote-Em-In Zoo. Tote-Em-In Zoo featured animals and oddities.
It changed its name to Tregembo Animal Park in 2004, after a brief hiatus out of the Tregembo family's ownership, but kept the animals and oddities (like the Assquach — and no, that's not a typo).
Tregembo Animal Park is currently Southeastern North Carolina's oldest zoo and is currently operated by the Tregembo family.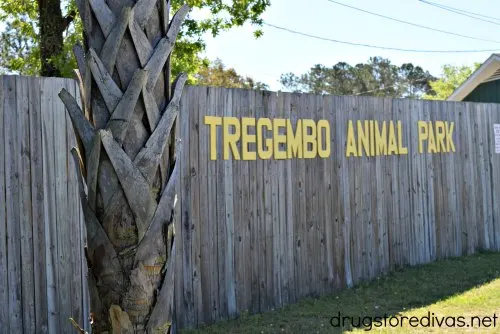 How big is Tregembo Animal Park?
It's over 12 acres. It looks a lot smaller from the outside than it is on the inside.
Is there a map of the park?
There's actually not. That would be a good thing for the park to have, though, because we did miss an entire section on our first visit there.
Is it good for kids?
Absolutely.
How about adults?
As long as the adult likes zoos and animals, yes.
Are the animals in cages?
The majority of them are, but there are some animals, like peacocks and ducks, that roam free. So if you purchase food at the snack bar, be conscious of the roaming animals.
So there's a snack bar?
Yes, it sells snacks and drinks. The snack bar has a few picnic tables so you can sit and enjoy your snacks. There are also drink machines throughout Tregembo Animal Park.
Can you bring in your own food and drinks?
No. Outside food and drinks are not permitted. This includes water.
You cannot bring metal or aluminum containers into the park, but you can bring plastic cups for young infants.
Can you bring in carts?
You can't. Wagons, car-shaped strollers, or other carts for children are not permitted.
Are there restrooms?
Yes, there are restrooms located throughout the park.
What animals are there?
There are currently over 100 species of animals at the park, including amphibians, birds, arthropods, mammals, and reptiles.
You can see a camel, giraffe, lion, pigs, monkeys, lemurs (my favorite!), and more.
There are also dinosaurs. That's my favorite part of the zoo, if I'm being honest. There's a brontosaurus (oh, excuse me … Apatosaurus … sorry, my 8-year-old heart that picked brontosaurus as its favorite dinosaur is still crushed when a scientist deemed it not actually its own species, and, rather, an Apatosaurus). So the brontosaurus is in a cage next to some wallabies.
There are also a ton of dinosaurs in a free-standing structure further into the zoo. And then there's a triceratops outside of it.
I'm not talking about bones of dinosaurs or skeleton remains. These are large replicas. I don't want to say they're life-sized because my knowledge of dinosaurs is based on what I can remember from elementary school and The Land Before Time.
And then, of course, there are actual, live animals too.
Can you feed the animals?
You can feed some of them. At the park's entrance, you can buy bags of corn and peanuts for $1. There are also coin-operated machines in the park that dispense corn for the animals.
On the animal's cages, it will say "peanuts" or "corn" to designate what you can feed them. Read the signs before trying to feed the animals.
Can you take photos?
As long as they're not for commercial use, you can. I brought in my DSLR when we went last month and no one said anything about me having it. You just cannot take photos in the 4,000-square foot gift shop.
Is there reentry?
I'm not exactly sure about this, to be honest. The last time I went to the zoo in Wilmington, I went with my cousin's young kids who got hungry around lunchtime. We asked if we could go to the car for a little, and the worker hesitantly told us, "quickly." So, it seemed that leaving and coming back isn't an actual policy either way.
We ended up not going back in because my cousin's kids were ready for the pool instead, so it's best to ask about this before you enter the zoo.
Planning a trip to Tregembo Animal Park?
If you're planning a trip to Wilmington, NC to visit Hi-Wire Brewing, these posts will help you make your trip complete:
Eat In Wilmington:
Drink In Wilmington:
Enjoy Wilmington:
Have you been to the Tregembo Animal Park in Wilmington, NC? Tell us about your trip in the comments.