Oreo cookies are dessert by themselves. But, they can also be an ingredient in dessert, as this list of The Best Oreo Dessert Recipes will show you. There's candy bark, chocolate dipped Oreo cookies, and more.
If Oreo cookies aren't your thing, try our other dessert recipes instead.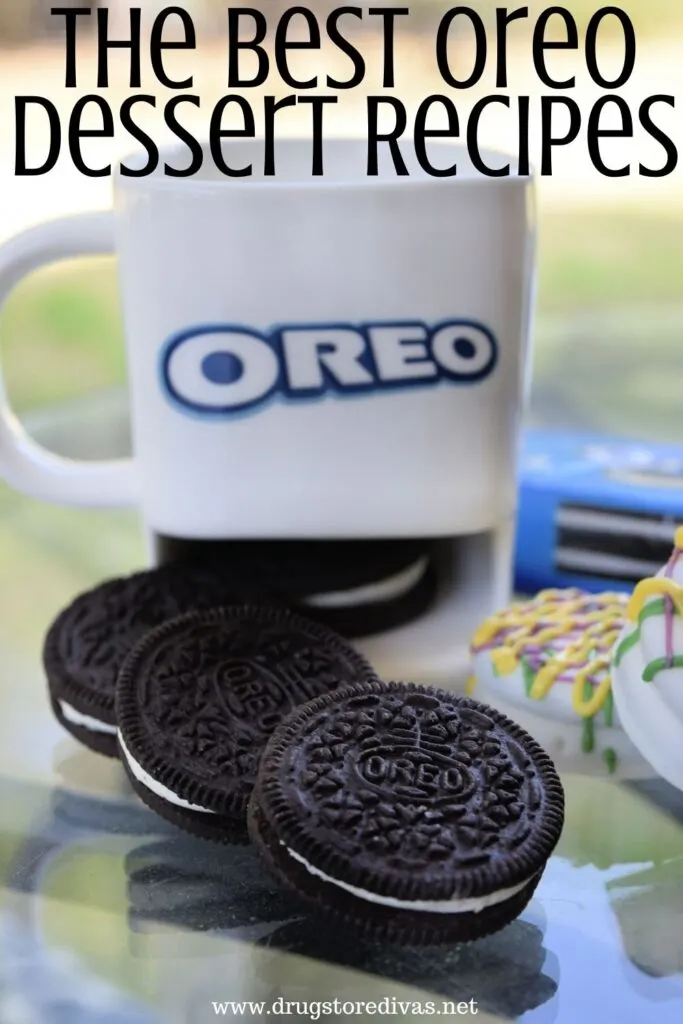 Oreo cookies are so popular. People love them … and people have a lot of rules about them. Do you twist and dunk? Twist and lick? Just dunk?
Or do you balk at all three of those options and decide to use Oreo cookies as an ingredient in recipes.
If you fall into the latter category, you're in luck. We put together a list of our best Oreo Dessert Recipes.
As we add more recipes with Oreo cookies onto Drugstore Divas, we'll be updating this list. So be sure to save it (bookmark it, pin it, whatever you do) and come back to it in the future to see what's new.
The Best Oreo Dessert Recipes
Affiliate links are included in this post and Drugstore Divas may make a small commission if you use them.
Easy 3 Ingredient Oreo Fudge
Oreo cookies are crushed and added both inside and on top of a traditional white fudge recipe to make this tasty Oreo Fudge (also known as cookies and cream fudge).
You only need three ingredients to make this fudge. And, it's made in the microwave (not on the stove top), so you don't need any fancy kitchen tools to make it.
Oreo Chocolate Bark
If you're looking for a neighbors gift, or something different to bring to a pot luck, this Oreo Chocolate Bark is always a big hit. It combines two types of chocolate, plus Oreo cookies to make a tasty treat.
There is peanut butter in the recipe, making it a really easy 3 ingredient Oreo dessert. But keep that peanut butter in mind in case you have an allergy or you're making this for someone who has a peanut allergy. The peanut butter does add to the flavor and the coloring of the chocolate bark, so it is good to add. But if you have to skip it to save someone's life, go ahead and do that.
Oreo Chocolate Bark has Oreo cookies added in the chocolate itself, plus some are reserved to sprinkle on top, so it's really packed with Oreo flavor.
Oreo Sushi
Oreo Sushi is such a fun way to deconstruct Oreo cookies and put it back together in a completely different form. That's why this was a viral TikTok recipe not too long ago.
All you need for this recipe, as far as ingredients go, are some Oreo cookies and a bit of heavy cream (or milk).
There's a process that you need to follow in order to get the beautiful pinwheel look of the Oreo Sushi. It's pretty easy and absolutely impressive.
Homemade Chocolate Covered Oreo Baseballs
These Homemade Chocolate Covered Oreo Baseballs are one of the most simple Oreo desserts recipes on this list.
They look really great, and they're perfect for baseball season or an end of the year party. But I promise, they're so simple.
Why? Because they use a mold.
The mold that's in the post has the indents for the laces for the baseball. So you don't have to worry about painting or piping those on to the cookies by hand. You'll just paint the red chocolate into the mold, let it harden, and then carry on with the recipe.
You don't have to tell everyone the mold did the hard part. Just take credit.
Mardi Gras Oreo Cookies
If you're heading to a Fat Tuesday or Carnival party, these Mardi Gras Oreo Cookies are the perfect treat to bring.
These chocolate covered Oreo cookies aren't as easy as the ones above because instead of using a mold, you'll actually be hand dipping these. And you'll hand pipe each color onto the top of the cookies as well, so they do take a little bit more effort. But they're so worth it.
Once the cookies are done, they look like you picked them up at a fancy bakery or ordered them online from a specialty shop. People will be so impressed that you made them yourself.
Halloween Mummy Oreo Cookies
These Halloween Mummy Oreo Cookies are such a great no bake Oreo dessert. You're not baking, you're not crushing the Oreo cookies, you're not really doing anything besides putting melted chocolate and eyeballs on top of an Oreo cookie.
But, don't let the ease of this fool you. These cookies still look so good when they're done.
They're a really fun treat for a classroom party, if you're allowed to bring homemade treats. I wouldn't recommend them for trick or treaters, since you're making them yourself, but you could give them out to kids that you know who come to your door.
Oreo Dessert Recipes: Frequently Asked Questions
Can you use generic Oreo cookies in these recipes?
Of course. If you don't have brand name Oreo cookies, or they're sold out at your store, generic Oreo cookies will work.
Will any flavor of Oreo cookies work in these recipes?
Personally, we use the classic Oreo cookie when we make Oreo desserts. But Oreo has so many flavors out now, so you can definitely go ahead and try those in any of these recipes.

Personally, I love the chocolate hazelnut Oreo cookies. But you can use your favorite.
How long do Oreo dessert recipes last?
Generally, Oreo dessert recipes will last at least two weeks at room temperature in an airtight container. So you're able to make these ahead of time, if you're making them for gifts or for a party.

If you need them to last longer than that, you can store them in the fridge in an airtight container.

Regardless of if you store them in or out of the fridge, you'll want to add a single layer, then top it with parchment paper before adding a second layer. This will prevent them from sticking together, making it a lot easier for you to gift or eat them.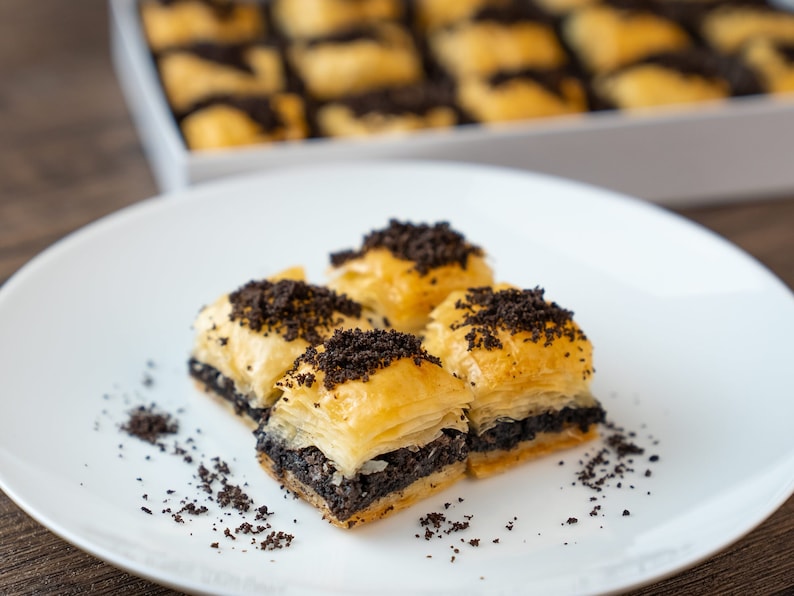 Purchase Desserts With Oreos Online:
If you like the looks of these Oreo dessert recipes, but you don't feel like making them, that's fine. I found a few desserts with Oreos that you can purchase online:
More Desserts Using Cookies:
If you're inspired by this list of desserts with Oreo cookies and now you want to use other cookies in dessert recipes, we've got you covered.
A few of our favorite desserts, using a variety of cookies, is below.
Which of these Oreo dessert recipes will you make first? Let us know in the comments.