Mummies are super popular for Halloween, so we put together this great list of Halloween Mummy Treats And Crafts. There are cookies, candy tubes, and more.
Make this the best holiday with more from our other Halloween posts.
​Holidays are such a fun excuse to make cute themed treats and crafts. If you agree, you'll love all the fun ideas on our list of Halloween Mummy Treats And Crafts.
​We're calling these Halloween because, well, most people don't celebrate any other events where mummies are an appropriate theme. But you really could make these at any time of year if you found this post after Halloween and you don't want to wait all the way until next year to make them.
These aren't all of our Halloween sweets on the blog, just the mummy-themed ones. We have a huge list of Recipes For Halloween Treats if you're looking for more ideas.
Halloween Mummy Treats And Crafts
Affiliate links are included in this post and Drugstore Divas may make a small commission if you use them.
As we add more fun mummy crafts and treats on Drugstore Divas, we'll update this post. So be sure to save it (pin it, bookmark it, however you save things) so you can come back to it later for more adorable mummy craft ideas.
Mummy Rice Krispies Treats
Mummy Rice Krispies Treats are one of the most easy Halloween treats on this list.
You make the classic treats recipe, cut it into squares into 24 pieces, and then decorate each piece with melted white chocolate and candy eyes so your Rice Krispies Treats look like little mummies. They're super cute.
What's great is that a mummy's wrap isn't perfect, so you don't have to worry about making your decorations perfect. That means there's less pressure on your when you're making them, which means you can have so much more fun while you do.
Halloween Breakable Chocolate Mummy
Smash eggs are so popular at Easter. And we've made those. But, if you want to make a Halloween version, look no further than this Halloween Breakable Chocolate Mummy recipe.
You make two molds from melted chocolate, fill one side with treats, then squish them together. Drizzle them with more melted chocolate, add some candy eyes, and your treat is done.
​Your kids will have so much fun breaking them open to seeing the surprises inside. Don't forget to include a wooden hammer with each one.
Mummy Candy Bars
These Mummy Candy Bars are perfect for a Halloween party where you need to bring wrapped treats but you want to be a little extra.
Start with any candy bar. Wrap it with white paper, like crepe paper or streamers. Then, add some eyes. I make eyes out of cardstock but you could use googly eyes to make it a little easier.
If you're making these for a class party, they're definitely something your little kids can easily help with.
Halloween Mummy Oreo Cookies
We're all busy this time of year. And sometimes, you want to make spooky treats for the whole family, but you just don't have the time. Enter our Halloween Mummy Oreo Cookies to the rescue.
All you're doing is decorating Oreo cookies, so you don't have to worry about baking a treat. Just dip the cookies in white chocolate, let them cool, then add eyes and white chocolate lines to look like bandages wrapped around the mummy.
And, if you have leftover Oreo cookies, you can use the rest in our other Oreo Dessert Recipes.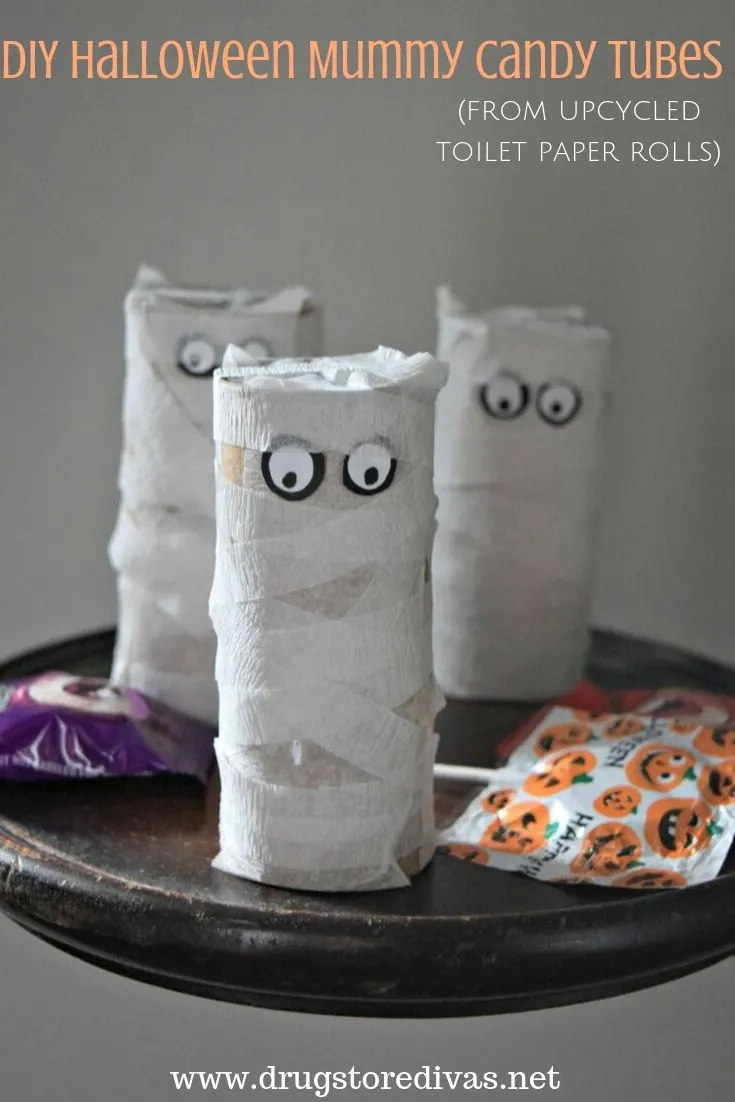 DIY Halloween Mummy Candy Tubes
Save your empty toilet paper rolls to turn them into these DIY Halloween Mummy Candy Tubes. They're a great way to hand out packaged candy to trick-or-treaters without just handing them candy.
Fill the tubes with candy or other fun treats, then wrap them with a long piece of streamer, making sure to cover both holes so the candy stays inside. Then, add a pair of mummy eyes to each tube to finish the fun craft.
Nutter Butter Mummies
Just like the Oreo cookies above, these Nutter Butter Mummies are a great option for when you want a themed treat but just don't that much time to make it.
Take Nutter Butter cookies and dip them in melted white chocolate. Then, add some candy eyes and stripes to mimic a mummy's bandages, and you have some easy cute Halloween treats to stick in your kid's lunchboxes on Halloween.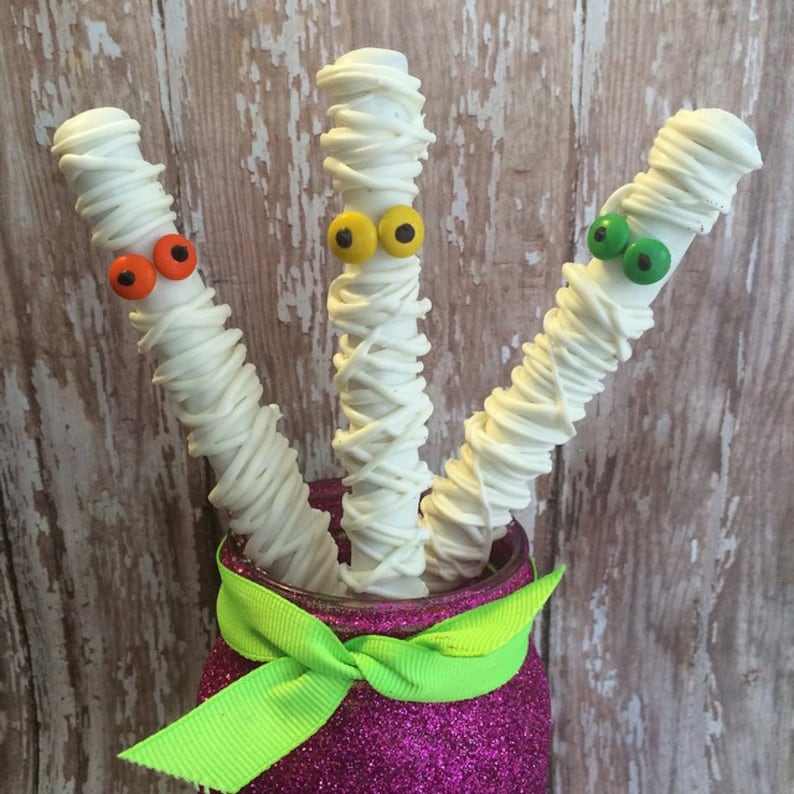 Purchase Mummy Treats Online:
If you like these mummy treats but you don't have even a little bit of time to make them, you can order treats, like the Mummy Pretzels above, online at the following stores:
Be sure to double check the arrival time of your online order before you place it. You want to make sure your mummy snacks arrive in time for your upcoming Halloween parties.
Don't forget, you can also place an order from your local stores via Instacart or Grubhub for quicker delivery.
More Halloween Crafts:
If you're looking for more crafts to make this Halloween season, check out our Easy Halloween Ghost Crafts, Halloween Bat Craft Ideas and Halloween Pumpkin Crafts for more ideas.
Then there's our DIY Spooky Halloween Soap and our DIY Halloween Glow Stick Party Favors. The latter of which comes with free printables for the glow stick holders, so all you have to do is assemble it.
Which of these Halloween Mummy Crafts And Treats is your favorite? Let us know in the comments.