These Budget-Friendly Sausage recipes are sure to be great family dinners. There are ground sausage recipes and recipes using sausage links.
For more ideas of what to cook, check out all of our recipes.
I love using sausage in recipes. It adds such a good flavor to whatever you're cooking, a flavor that you can only get from ground beef or chicken if you add lots of seasoning. If you don't know what to do with sausage, you're in luck. We put together a list of budget-friendly sausage recipes.
The first recipes in the list are ground sausage recipes, followed by sausage links recipes. So, you'll find something to make regardless of what you have on hand.
Any seasoning of sausage will work in these (either hot, sweet, Old Bay, etc.), but not hard summer sausage. That's something completely different.
10+ Budget-Friendly Sausage Recipes
These are all budget sausage recipes, which are recipes using sausage.
You won't find tips for cooking sausage alone, like how to grill pinwheel sausage or anything like that. But you will find link sausage and ground sausage recipes for dinner.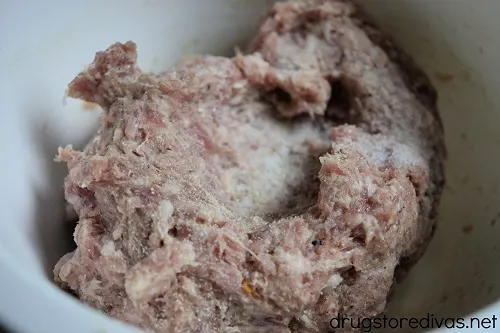 Ground Sausage Recipes
These are really great dinners with ground sausage, which you can buy in logs or you can purchase links and cut the casing to make ground sausage at home.
One Pot Sausage Potato Soup
A full pound of ground sausage starts this One Pot Sausage Potato Soup recipe. Onions, potatoes, broth, chilis, spinach, and corn are then added to make a creamy potato soup that's filling but light.
It's definitely a recipe that you can serve at any time.
Sausage And Peppers Hawaiian Roll Sliders
If you're looking for a recipe to easily feed a crowd, this Sausage And Peppers Hawaiian Roll Sliders recipe is it.
Ground sausage is cooked with peppers and onion, then added to cheese on a pack of slider rolls. The sandwich is baked whole, then cut into a dozen identical sandwiches.
Sausage Stuffed Eggplant
Scoop out the center of the eggplant, chop it up, and cook it along with ground sausage and vegetables. That mixture gets stuffed into the eggplant for a delicious, low carb dinner.
This sausage stuffed eggplant recipe is really filling. You can serve it with a simple side salad, or just as is (since it's chocked full of vegetables, it's a really balanced meal as is).
Sausage And Egg Breakfast Pinwheels
If you're looking for a unique breakfast recipe, these Sausage And Egg Breakfast Pinwheels are the way to go.
Cook your ground sausage, combine it with eggs and a few other ingredients, then stuff it into a crescent roll. Roll it into a pinwheel, cook, and serve.
This is always a big hit when we're having company. Plus, the entire breakfast pinwheel cooks at once. So that means you can serve everyone at once. And that's clutch when you're serving a group.
Sausage And Rice Stuffed Peppers
Ground sausage and rice, plus a few other ingredients, are stuffed into green bell peppers (although, you could use red bell peppers if you prefer those). Bake them, top with cheese, and bake again, and dinner is done.
These are really cute when you serve them for dinner too. They just look adorable on a plate. Plus, for presentation, you can save the top of the pepper and serve them with that piece on top.
Sausage Stuffed Zucchini Boats
Zucchini boats are such a good meal to make when you're thinking about cutting out carbs. These zucchini boats are so tasty and filling, you won't even be thinking about a side of pasta.
Scoop out the zucchini, combine it with ground sausage and a few other ingredients, and then stuff the zucchini boats with the mixture. Bake and dinner is served.
One Pot Lasagna Soup
Oh my gosh. This lasagna soup is so good. It's absolutely one of my favorite soups.
You make it with ground sausage, which is interesting considering most lasagna has ground beef. But, my favorite version of lasagna has sausage added to it. It gives it such a great layer of flavors.
This soup has all the nuances of lasagna — meat, noodles, cheese, and tomatoes — but in soup form. So. Good.
Grilled Ground Sausage Burgers
Beef burgers are good, but grilled ground sausage burgers are even better.
Combine ground sausage and seasoning, then form the mixture into patties. Grill them for (potentially) the best burger you've ever had.
If it's not grilling season, you can make these ground sausage burgers in the oven instead. Of course, you probably shouldn't call them "grilled burgers" if you make them that way, but the process and taste will be the same.
Sausage Stuffed Spaghetti Squash
If you're craving spaghetti, but you're worried about gluten or carbs, go with this sausage stuffed spaghetti squash.
When you cook spaghetti squash, the inside basically turns into spaghetti, hence the name. It has the mouth-feel of spaghetti and twirls in your fork like spaghetti does. But, it's still a vegetable, so you can feel good about what you're eating.
This version is stuffed with ground sausage and vegetables, then topped with cheese for a really tasty dinner.
One Pot Sausage Pasta
An easy weeknight dinner is this one pot sausage pasta. The easiest part about it is that it's made in one pot. That means you only have one pot to clean after dinner, which is fantastic.
Slice your sausage links, add them and pasta to a pan, and you're basically done with dinner.
Wash that one pan and get to relaxing.
Cornbread Sausage Balls
Ground sausage is just one of the three ingredients in these Cornbread Sausage Balls. That makes these super simple to make as a party appetizer or a ball to dunk into soup.
Sausage Links Recipes
Grilled Sausage Kabobs
Sausage links are cut into pieces, then threaded onto skewers with peppers and onions, to make these Grilled Sausage Kabobs.
The sausage in this recipe has a bit of heat to it, so if you're looking for a spicy sausage recipe, this is the one to try for dinner tonight.
Slow Cooker BBQ Sausage Bites
If you're looking for a party appetizer, these slow cooker BBQ sausage bites are such a big hit. They're very similar to the jelly meatballs people usually make for parties, but these are made from sausage rather than frozen meatballs.
They're super easy to make, thanks to the slow cooker. Just slice your sausage links, put all the ingredients in the slow cooker, set it, and that's it.
Chicken & Sausage Bake
If you're looking for something to please everyone, this chicken and sausage bake is a great dinner idea. You start it by cooking some of the ingredients individually, then combine everything — sausage links, chicken, potatoes, and vegetables — in a cake pan. Bake it in the oven and you've got a great dinner.
To make your life easier, while that's baking in the oven, you can wash the skillet you used to cook the other ingredients. Then, you're only left with one pan to clean after dinner.
Sheet Pan Chicken Vesuvio
This easy sheet pan chicken vesuvio is one of our most popular recipes.
All the ingredients, including sliced sausage links, are added to a pan. Add seasoning and wine to the pan, then bake it. That's all. The entire meal cooks in that one pan, making your life super simple.
Sheet Pan Sausage And Peppers
This Sheet Pan Sausage And Peppers recipe is the best way to make sausage and peppers. Everything cooks on one sheet pan, which means you only have one pan to clean at the end of the night.
You can eat it as is or toast rolls to use this to make Sausage and Peppers sandwiches.
Sausage And Egg Breakfast Quesadillas
This Sausage And Egg Breakfast Quesadillas recipe uses sausage links, but you break them into crumbles in order to make it, so you could just start with crumbles and save yourself a step.
Either way, it's a delicious breakfast recipe and one that you'll love making when you have a little time on Sunday mornings.
Want more delicious budget-friendly recipes?
If you're looking for more tasty recipes that are budget-friendly, check out a few of our other posts:
Leave us a comment and let us know which of these budget-friendly sausage recipes you've tried.