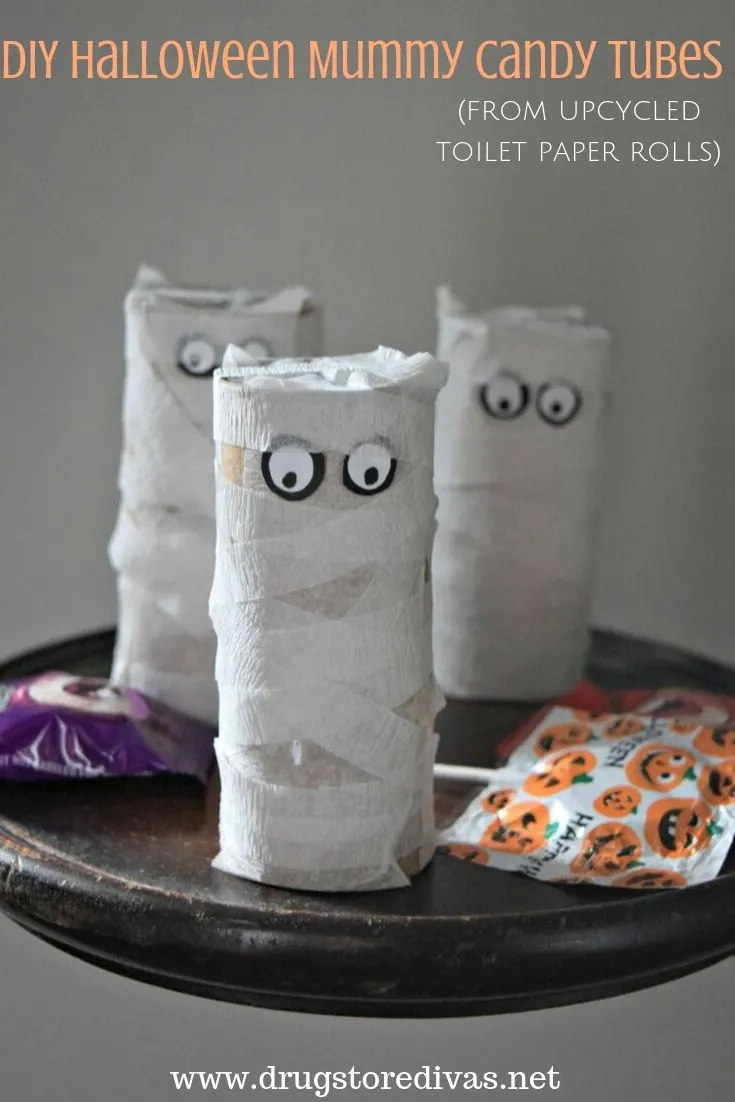 When I was young, we used to go trick-or-treating with my cousins. My mom's two sisters would come over with their kids and we would go around the neighborhood together. Part of the fun was that my aunts would bring us special Halloween bags filled with candy, but the neighborhood kids would only get a piece or two. That's what I thought about while I was putting together this DIY Halloween Mummy Candy Tubes tutorial.
I wasn't able to make them for our entire neighborhood because that would be an insane amount of work. But, I was able to make a couple of them, and pair them with our DIY Halloween Bat Candy Tubes, and have enough for the neighborhood kids we know.
Then, when those kids come over, they're able to pick either a mummy or bat out of our trick-or-treat basket while the rest of the kids just get to choose a loose piece or two of candy.
DIY Halloween Mummy Candy Tubes Tutorial
DIY Halloween Mummy Candy Tubes Supplies:
How To Make DIY Halloween Mummy Candy Tubes:
Cut a piece of streamer long enough to fit around the tube. Tape it down, and stretch it across one of the open holes.
Fill the toilet paper roll with wrapped candy, then pull the streamer across to cover the other open hole. Tape it down.
Cut a long piece of streamer. Cut that into four parts, longways.
Tape down one of the four pieces, then wrap it around the tube. Going haphazardly is better than trying to create a pattern. And it looks better when you have some blank space behind the streamers too.
Each mummy will use three of the four parts.
Now it's time to make the eyes. Cut circles from the black card stock for the eyes. Cut smaller circles from the white card stock and glue them on to the black circles. Then, draw black pupils on to the white circles.
Glue the eyes on to the mummy. It's gonna look best if you can move the streamers in a way so that you can get the eyes under a piece of a streamer.
That's it. This toilet paper mummy craft is so easy.
Did you follow this DIY Halloween Mummy Candy Tubes tutorial? Comment below and let us know how it went.