Do you love sushi? Honestly, I don't eat it. And I'm Japanese. Crazy, right? But I'm just not a fan of fish (and cucumber rolls just have too much rice for a few slivers of cucumber). When we were in Japan, though, Pete was eating all the sushi he could. It was so fresh and delicious — and cheap. If you like sushi, or are married to someone who does, this list is for you. We put together the top ten gifts for sushi lovers.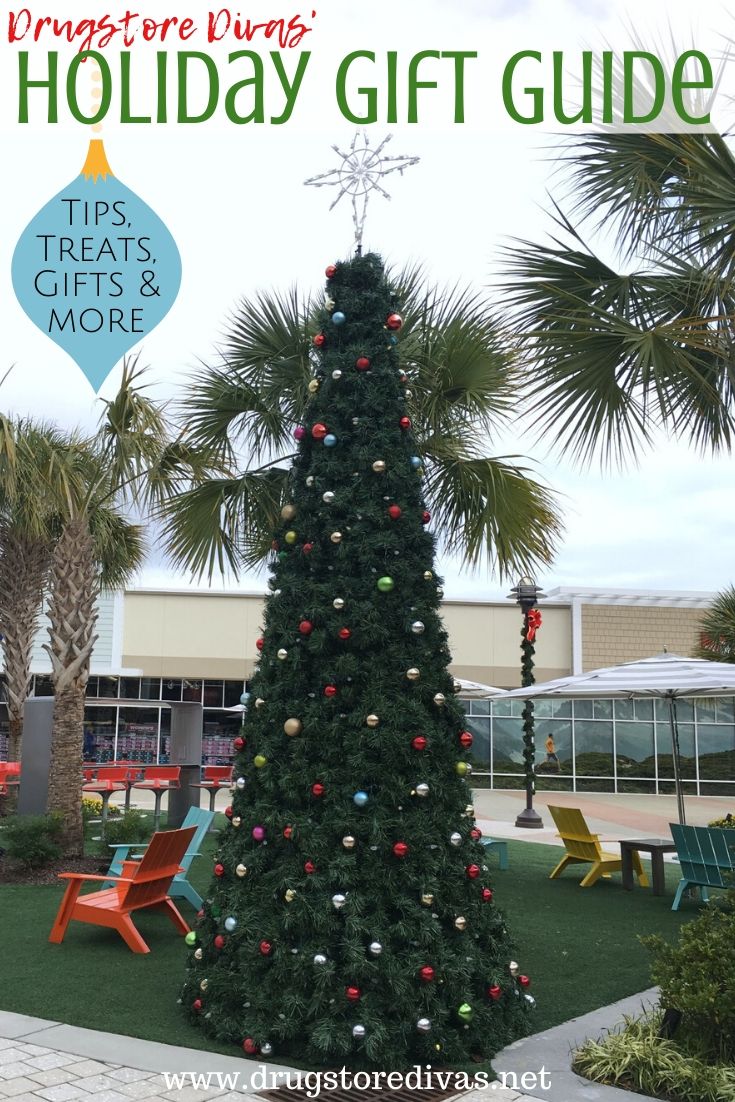 This is not our only gift guide on Drugstore Divas. Be sure to check out our full Drugstore Divas' Holiday Gift Guide for gift guides, holiday recipes, and more.
Top Ten Gifts for Sushi Lovers
Nigiri Sushi & Japanese Don Rice Bowl Sticky Notes
Everyone needs sticky notes. They're a really helpful way to stay organized. I use a few a day, but I usually cut them into pieces because one sticky note is too big.
That's why I love these Nigiri Sushi & Japanese Don Rice Bowl Sticky Notes. They're already cut super small so that you don't feel wasteful using them.
There are eight shaped like sushi and eight shaped like donburi. Pete loves donburi, so I might have to get him these for his Christmas stocking.
Bamboo Travel Utensil Set
We are big fans of bamboo utensils because bamboo holds up really well. Bamboo also grows quickly, so it's less damage on the environment and more sustainable.
Your sushi lover will love this Bamboo Travel Utensil Set, which includes a fork, knife, spoon, and pair of chopsticks in a cloth bag. The set actually comes with four different sets, so this is a great idea for stocking stuffers if you have multiple sushi fans in your home.
Sushi: The Beginner's Guide hardcover book
If your sushi lover is just getting into sushi, the Sushi: The Beginner's Guide hardcover book is perfect. It teaches you everything you need to know about making sushi at home.
What's great about the book is you also learn all the Japanese names for each dish, so you can feel confident that a lot of research and care went into this book.
Sushi PopSocket
Pete really wanted a Rick & Morty PopSocket a few years ago. It was on the top of his Christmas list. But then he got a new phone and a new case, and the PopSocket didn't fit anymore.
Honestly though, PopSockets are amazing and make using your phone so much easier.
So definitely check out this Sushi PopSocket for your sushi fan. Not only is it functional, but it's adorable too.
Sushi Sock Box
I love giving socks for Christmas. But I never give plain white socks. I always make sure to give some crazy funky socks because, as my brother Joe always says, "White socks are a wasted opportunity."
Make your sushi lover's feet happy with this Sushi Sock Box. It's packed like a box of sushi, including soy sauce containers and everything. But, when you roll the socks out, they're patterned (they don't have images of sushi on them).
Bamboo Sushi Making Kit
If your sushi lover wants to become a sushi maker, this Bamboo Sushi Making Kit is great. It comes with 5 pairs of chopsticks, a paddle, a spreader, and, most importantly, a Beginner's Guide.
I have a similar sushi making mat, but I've never used it before. So hopefully your gift recipient gets more use of this than I would.
Sushi Zone Sign
We have a huge kitchen window, and I'm imagining hanging this Sushi Zone Sign on it when Pete decides to start making sushi. It would be super cute for your kitchen.
The only way it would be better is if it had a couple more words and read, "Highway to the Sushi Zone."
No? Just me? Okay.
Japanese Eraser "Conveyor Belt Sushi Blister Set"
One of the places where we ate sushi in Japan was at a Sushi Go Round-like place with a conveyor belt. You grabbed whatever you wanted as it passed. It was so fun. And very similar to this Japanese Eraser "Conveyor Belt Sushi Blister Set." It's exactly like Sushi Go Round! (You can read a little more about that in our post here.)
It comes with six sushi plates and two cups on a conveyor belt table. It would look adorable on your desk, and would come in handy when you need to erase something.
Sushi Cosmetics Bag
My toiletry bag is so old and worn out, but it's one of those things I never think to replace until I'm already packing to go away somewhere. Your sushi lover may be the same way, so surprise her with this Sushi Toiletry Bag.
It's adorable and will fit all her needs for her overnight trips. There are multiple storage components inside, so she can fit everything on her toiletry packing list.
Tea Cup Set
What if your sushi lover has everything sushi? Stay in the Japanese vein, and pick up this gorgeous Tea Cup Set. It comes with two beautiful cups, which are the perfect size to enjoy tea.
You can also add loose leaf green tea and a tea infuser to this gift so your sushi fan has something to drink out of it. And since there are two cups, maybe you'll get a chance to drink tea with your friend too.
And if you are shopping for a tea aficionado, check out our list of gifts for tea lovers too.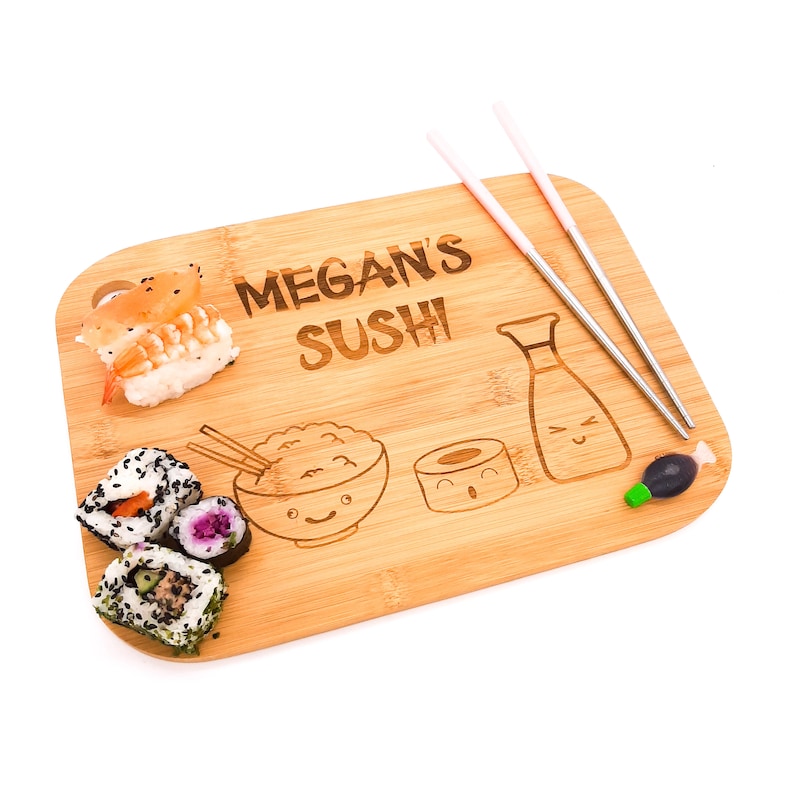 Purchase Gifts For Sushi Lovers Online:
These sushi presents are out top ten ideas, but they're not the only sushi gift ideas out there.
You can find more, like the Personalized Sushi Gift Set (pictured above) at the sites below:
Don't forget to be mindful of the free shipping minimums you need to hit to avoid shipping costs. You can also choose curbside or instore pickup to avoid paying for shipping as well.
Which of these Top 10 Gifts for Sushi Lovers would you buy your sushi fan? Let us know in the comments.