From mugs to shirts to a Bop It game, this list of 10+ Gifts For Star Wars Fans has everything you Star Wars lover would want.
Do you have any Star Wars fans on your holiday shopping list? You're in luck because we've made your shopping very easy. We put together a list of 10+ Star Wars gifts that any Star Wars fan would love.
I updated this gifts for Star Wars fans post for 2020 because, unfortunately, some of the fun items that were originally on this list aren't being sold anyway.
This list started as a non-sponsored post, but I spoke with one of the brands about an out of stock item, and the brand sent a replacement item idea for this list. So technically it's a sponsored post, but mostly it's just cool things that either I found online or friends of ours already have.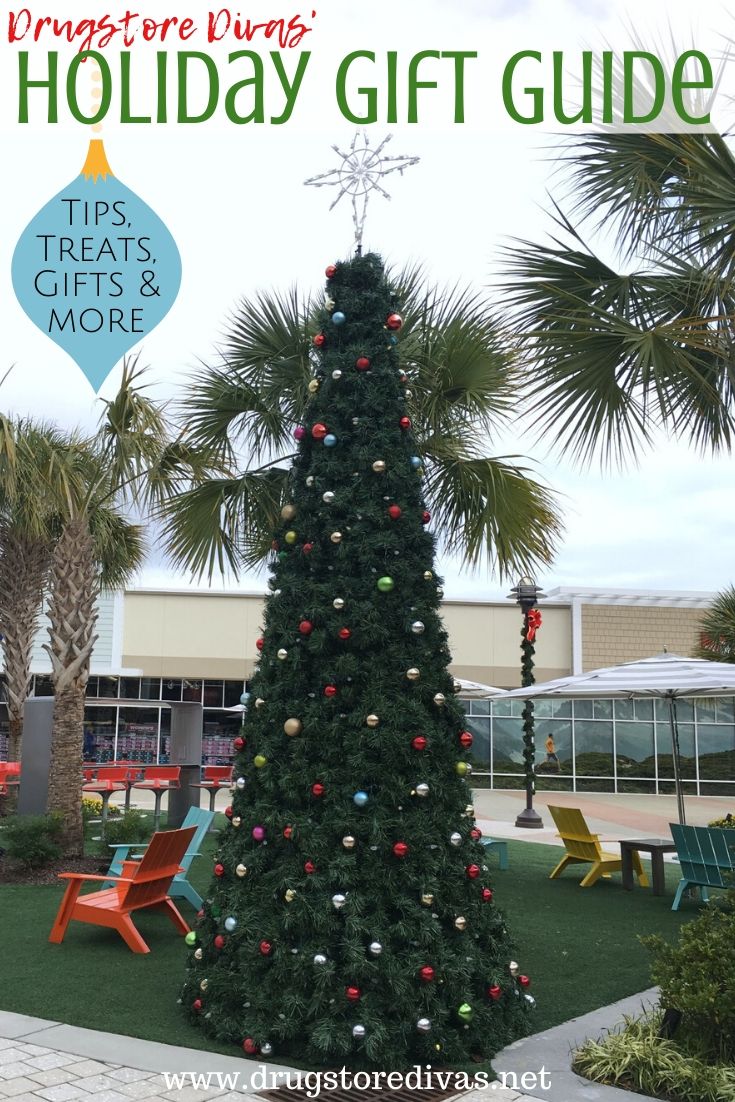 This Gifts For Star Wars Fans list is just one of the gift guides we have on Drugstore Divas in hopes of making your shopping life so much easier.
Be sure to check out Drugstore Divas' Holiday Gift Guide for all of our shopping guides.
10+ Gifts For Star Wars Fans
This 10+ Gifts For Star Wars Fans post is partially sponsored. Also, affiliate links are included in this post and Drugstore Divas may make a small commission if you use them.
Star Wars: The Mandalorian The Child Mug
Star Wars: The Mandalorian starts streaming its second season at the end of this month and the Star Wars fans I know are beyond excited. Everyone I know is grabbing their homemade stuffed The Child dolls (did you see everyone who started making them?) to watch.
Your Stars Wars fan can do one better and grab this Star Wars: The Mandalorian The Child Mug. This coffee mug holds 11.5 oz. of your favorite beverage while The Child is enjoying a frog snack.
The 3D mug is hand painted, so the color may vary. But that just makes it even more special.
Star Wars Accordion Sunshade
Your driver needs this Star Wars Accordion Sunshade so he or she can fight off Darth Vader at the wheel.
I've actually seen this one in real life and it looks great. It's perfect to block the sun, of course, but what's really fun about it is the placement of the Star Wars characters. It really does looks like the gang is riding in your car.
There are a couple different designs of Star Wars sunshades, including this one of Chewie and PORG.
Star Wars Darth Vader Apron
Does your Star Wars lover love to cook? Pick up this Star Wars Darth Vader Apron, and maybe you'll be on the receiving end of a home cooked meal.
The only thing I don't like about this apron is it doesn't have pockets. So if your chef is used to putting things in her pockets as she cooks, this isn't that great. Then again, dresses don't usually have pockets and women do just fine in those.
Star Wars Death Star Popcorn Maker
Pete keeps saying he wants a popcorn maker, but that would render my popcorn making services useless. And I make a mean bowl of popcorn (in the pressure cooker!).
If your Star Wars lover doesn't have a popcorn maker yet, get this Star Wars Death Star Popcorn Maker. The top actually doubles as a bowl, so when you're not making popcorn, this actually looks like a fully formed Death Star on your kitchen counter.
How freaking cool is that?
Star Wars Death Star Waffle Maker
Waffles are delicious. I could honestly have a waffle for breakfast every morning and be totally cool with that.
Your Star Wars fan would be cool with this Star Wars Death Star Waffle Maker. You just pour the batter in (either homemade or from the box) into the waffle maker. There's an indicator light on it so you know when it's ready.
Super easy.
Lightsaber Light Up Chopsticks
I'm Asian, so we use chopsticks all the time in this house. But I've never seen light up ones before. So these Lightsaber Light Up Chopsticks are just fun and perfect.
And if your Star Wars fan doesn't know how to use chopsticks, that's fine. These will honestly just look cool displayed in the kitchen.
Star Wars Darth Vader Lightsaber Tie
I'm obsessed with this Star Wars Darth Vader Lightsaber Tie. Obsessed. It's all proper for a night out or a wedding. And from afar, it just looks like X's and a design all over all over. Cool.
But then, when you get up close, you see it's Darth Vader and lightsabers locked in a duel. And that's amazing.
Star Wars Music Box
I collected music boxes when I was really young. I still have them all, but I haven't added any to the collection in over a decade. But still, this Star Wars Music Box is pulling at my heartstrings.
It's a hand crank music box, which means you don't have to worry about batteries at all. The Star Wars Music Box is pretty small, so it will fit perfectly on your Star Wars fan's nightstand.
Star Wars Bop It Game
Did you ever play Bop It growing up? It's easy. The game says crank it, and you crank. It says bop it, and you bop. But then it gets faster and harder and sometimes just uses sounds. It's intense. And a game everyone can play.
Your Star Wars fan will love this Star Wars Bop It Game. Instead of being a long tube like the original game, it's shaped as R2-D2 and voiced by C-3PO. So fun.
Star Wars Rolling Pin
If your Star Wars fan likes to bake, this Star Wars Rolling Pin is perfect. I wish I could flip the image around to show you how it looks on baked goods, but it doesn't work that way.
The way it works is that you roll out pastry or cookie dough using this, and the Star Wars logo and images are imprinted onto the dough. Then you bake. It's a really fun way to decorate without having to do too much work.
Star Wars Champagne Glasses
If you have a couple on your shopping list, and the couple likes Star Wars, these Star Wars Champagne Glasses are the perfect gift.
One says "I love you" and one says "I know," which is a pretty famous quote between Leia and Han Solo.
If you don't get it, it's okay. Your Star Wars fans will.
Star Wars Periodic Table Of Elements T-Shirt
Star Wars and science collide to make this Star Wars Periodic Table Of Elements t-shirt. The categories are things like Rebels, Jedi, and Creatures, all color coordinated.
The shirt comes in five colors and in men's, women's, and youth sizes.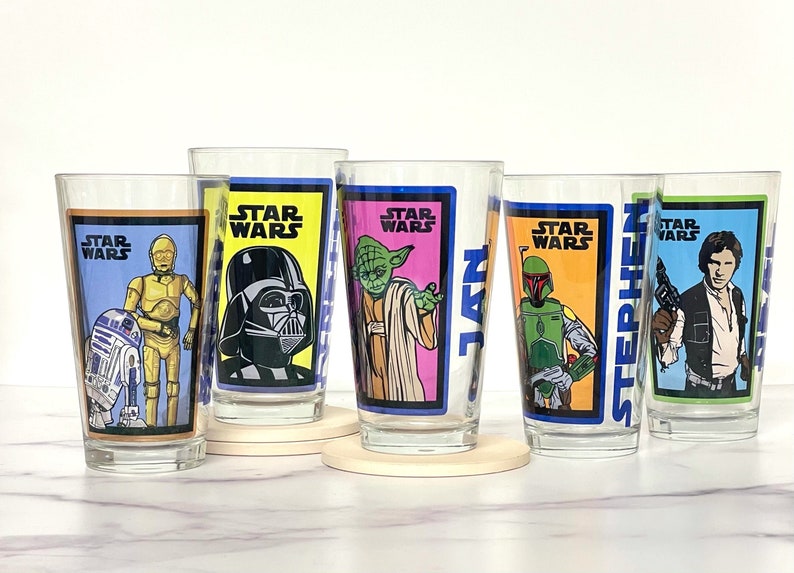 Purchase Star Wars Gifts Online:
These aren't all the Star Wars gifts that are online. Of course, this list is missing some, like the Star Wars Personalized Glass Tumblers above.
For more gifts for Star Wars lovers, check out the following stores below:
Be sure to check a store's cart minimum to qualify for free shipping. Also, consider instore or curbside pickup to avoid shipping charges.
Which of these gifts for Star Wars fans is your favorite? Be sure to let us know in the comments.